Russia's President-To-Be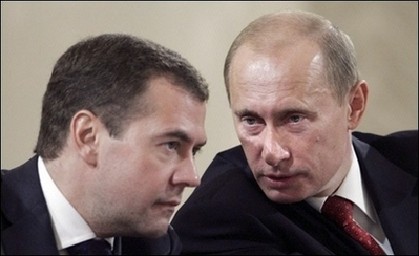 Like a Slavic Mike Huckabee, Dmitri Medvedev has ascended to new prominence from the chaff of presidential candidates.
As a Deputy Prime Minister, Mr. Medvedev was already on the short list for the Russian presidency, along with fellow Deputy PM Sergei Ivanov and Premier Viktor Zubkov. But after Mr. Zubkov's surprising anointment as prime minister just months before the election, he seemed the more likely choice to be Mr. Putin's chosen successor. After all, president (and likely PM-to-be) Putin was suddenly elevated to the post by Boris Yeltsin just before the 1999 presidential election, which brought the former KGB/FSB agent to power. Moreover, there was no obvious reason to promote Mr. Zubkov unless it was to pave the way for his presidency, and that his lack of qualifications for the job would have made him a malleable figurehead for Mr. Putin to control. At any rate, that's how I justify having argued last month that Mr. Zubkov was the most likely choice, but at least I wasn't alone. With the president's backing, there is little doubt that Mr. Medvedev will handily win the March, 2008 presidential election, then confirm Mr. Putin as prime minister.
So why choose Mr. Medvedev, aside from the fact that his surname, which means "of the bear" in Russian, lends itself so well to national and party iconography?
Please click here to read more at Foreign Policy Watch.