Report: Trump's visit to CIA made relations with intell community worse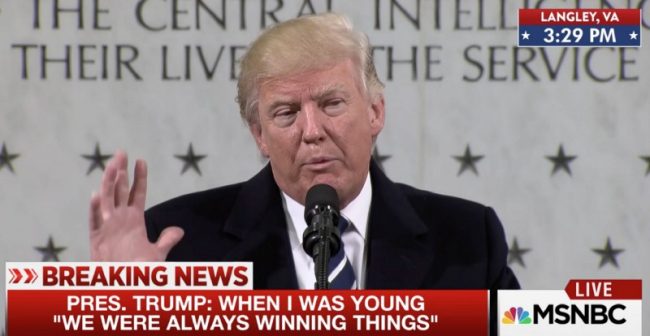 More than any other administration in U.S. history, a pattern has has already emerged with this administration less than a week old. Can we be blunt? Deception and dishonesty. The latest comes in a CBS News report citing government sources that says President Donald Trump's weekend trip to the CIA to basically mend fences due to his dissing them in a series of tweets — not the stated aime since Trump blamed all of that on the news media — made things worse. One reason? They didn't appreciate Trump bringing in campaign supporters to cheer on his speech — a tactic Trump used during a recent press conference as well.
U.S. government sources tell CBS News that there is a sense of unease in the intelligence community after President Trump's visit to CIA headquarters on Saturday.

An official said the visit "made relations with the intelligence community worse" and described the visit as "uncomfortable."
And here's the most importance sentence in the long run, in terms of what is emerging as this young administration's mod
Authorities are also pushing back against the perception that the CIA workforce was cheering for the president. They say the first three rows in front of the president were largely made up of supporters of Mr. Trump's campaign.
Basically, the Trump administration is taking a page out of TV history and instead of using canned laughter is bringing in its own laughing, cheering and booing section.
An official with knowledge of the make-up of the crowd says that there were about 40 people who'd been invited by the Trump, Mike Pence and Rep. Mike Pompeo teams. The Trump team expected Rep. Pompeo, R-Kansas, to be sworn in during the event as the next CIA director, but the vote to confirm him was delayed on Friday by Senate Democrats. Also sitting in the first several rows in front of the president was the CIA's senior leadership, which was not cheering the remarks.

Officials acknowledge that Mr. Trump does have his supporters within the CIA workforce, many of whom were interspersed among the rank and file standing off to the president's right.

There were about 400 members of the workforce who RSVP'd for the event out of thousands who received an invitation in their email late last week. Officials dismiss White House claims that there were people waiting to get into the event.
But the speech most assuredly not wow them. Stunned some of them, yes:
Intelligence sources say many in the workforce were stunned and at times offended by the president's tone which seemed to evolve into a version of speeches he'd used on the campaign trail.

The intelligence community sees itself as above politics even though as president-elect, Mr. Trump was critical of it and accused it of politically motivated leaks.
Then again, much of what we are seeing with how this administration already operates in terms of truth (calling lies "alternative facts") is reinforcing fears that the Trump administration plans to take the United States and its political system in an authoritarian direction. Books were written about the historical and psychological signs of this that deserve a careful reading.