Reaction to the PBS lively Democratic Debate: Clinton vs Sanders (Will any minds change?)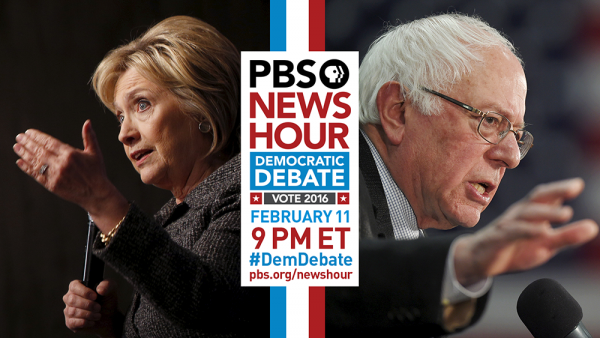 PBS (generously offering CNN the chance to co-broadcast its debate) held a serious Presidential nomination debate that instantaneously made history: three women (the PBS moderate, one candidate) and one man. And now — as is our American political custom — the spin begins on who wo and who lost. The new and old media will seize on a few key moments, pundits will, too and they'll talk about what it's likely to mean. Those predictions don't often come true (although they did in the case of hapless Republican Florida. Sen. Marco Rubio, who self-destructed politically after getting caught in a mind-freeze/rhetorical loop).
There is one certainty. If (as I did) you follow reaction on Twitter closely, you can tell EXACTLY who many people are supporting after two or three tweets. No sooner was former Secretary of State Hillary Clinton on stage than some snarky comments were made about her yellow outfit (all things need to be used against a candidate with whom you disagree). The operative question remains: will any minds be changed by this debate? Who in coming days will be perceived as having advanced due to this debate and be the beneficiary of a new conventional wisdom and new/old media political narrative?
Here's a roundup of some reaction to the debate. Note that these are excepts, so go to the links to read the stories and posts in full. GO HERE for an annotated transcript of the debate.
The New York Times:
Hillary Clinton, scrambling to recover from her double-digit defeat in the New Hampshire primary, repeatedly challenged Bernie Sanders's trillion-dollar policy plans at their presidential debate on Thursday night and portrayed him as a big talker who needed to "level" with voters about the difficulty of accomplishing his agenda.

This new line of attack was a risky attempt to puncture Mr. Sanders's growing popularity before the next nominating contests in Nevada and South Carolina. Mrs. Clinton is wagering that voters will care that Mr. Sanders has not provided a political strategy or clear financing plan to enact Medicare for all and provide free public colleges, and that such details will matter more to voters than his inspiring political message.

Mrs. Clinton pounced from the start, after Mr. Sanders demurred from saying how much his ambitious plans would increase the size of the federal government. She stepped in and said that by her estimates, the government would grow 40 percent under Mr. Sanders. And rather than bashing him as she did at their debate last Thursday, she appeared to try to get under his skin by implying that he had not been transparent about the cost of his programs, such as his proposed expansion of government health care.

"This is not about math — this is about people's lives, and we should level with the American people," Mrs. Clinton said. "Every progressive economist who has analyzed that say the numbers don't add up." She then repeated a jab at Mr. Sanders's reputation as a truth-teller that she would return to during the debate: "We should level with the American people about what we can do to get quality affordable health care."

"I don't know what economists Secretary Clinton is talking to," Mr. Sanders responded, insisting that families could come out with savings. "That is absolutely inaccurate."

Mr. Sanders, who has exuded confidence since his New Hampshire win, raising more than $6 million in the 24 hours after the polls closed there, was more pointed and even belittling of Mrs. Clinton at points. He said bluntly that some of her attacks were wrong-headed, and he was dismissive after she talked about her plans to increase federal spending by about $100 billion a year. After Mrs. Clinton responded to a question by saying, "once I'm in the White House," he began his next answer by saying, "Secretary Clinton, you're not in the White House yet," drawing some murmurs and jeers.

Mr. Sanders, who is facing pressure to appeal to racially diverse voters in Nevada and South Carolina, demonstrated little capacity to broaden his political message in compelling new directions beyond overhauling the economy, campaign finance and health care.
Days removed from a humbling defeat in New Hampshire that stirred fresh concern about her candidacy, Hillary Clinton questioned the feasibility of the platform that has fueled Bernie Sanders' unlikely insurgency, challenging her rival during a nationally televised debate to "level with the American people" about the true cost of his plans.

From the debate's opening moments, Clinton went on the offensive, saying that Sanders' plans would "increase the size of the federal government by about 40%."

Sanders' "numbers don't add up," she said. Both she and Sanders must be "held to account" for what they propose to do as president, she said, adding that "we should level with the American people" about how their proposals would work.

Sanders rebutted Clinton's assertion that his plan would undermine the Affordable Care Act, President Obama's signature domestic achievement, saying his life's work has been dedicated to ensuring healthcare was "a right for all people."

"We're not going to dismantle everything," he said.

But Clinton contended that her vision for building on the president's healthcare law was both more affordable and more politically viable.

"We have to also be very clear, especially with young people, about what kind of government is going to do what for them and what it will cost," she said.

"Secretary Clinton, you're not in the White House yet," Sanders shot back.

Sanders sidestepped the question of how much larger the government would grow under his plans, but repeated his assertion that his biggest proposal, a "Medicare for all" single-payer healthcare program, would save money for average Americans.

Clinton challenged that assertion as well, citing estimates by liberal economists who have said a plan of the sort Sanders has backed would cost vastly more than he has said.

"We both share the goal of universal healthcare coverage," she said, one of several times she asserted that she and Sanders are in basic agreement on goals but disagree on how to achieve them.

The tough exchanges were proof of how much the race has changed after Sanders' big victory in New Hampshire. Clinton now faces a very real threat that she may not win her party's nomination.
The Washington Post's Chris Cilliza offered winners and losers. Here's part of what he said.
Winners
* Hillary Clinton: Beginning to end, this was Clinton's best debate of the election. In the first half hour, Clinton poked a series of holes in Sanders's health-care proposal and broadly cast the Vermont senator as someone who talks a big game but simply can't hope to achieve his goals. She was calm and cool throughout — even when fighting on Sanders's home turf on wage inequality. Clinton also effectively cast Sanders as insufficiently loyal to President Obama, a point that will resound with black voters among whom Obama remains extremely popular.

* Barack Obama: It's sort of hard to believe that the Hillary Clinton currently embracing Barack Obama on every issue she actually ran — and ran hard — against him for two years back in 2007 and 2008. At every turn, Clinton found ways to praise Obama's bravery, his forethought and his judgment. And, even Sanders, put on defense by Clinton's rabid pro-Obamaism, did what he could to tie himself to the outgoing president — going as far as to note that Obama campaigned for him in Vermont….

Losers
* Bernie Sanders: If the challenge for Sanders was to show that he could be a candidate for people other than those who already love him, he didn't make much progress toward that goal Thursday night. Sanders did come across as more well-versed on foreign policy than in debates past — a low bar — but he struggled to score clean hits on Clinton during the first hour of the debate, which focused exclusively on domestic policy, which should have been his strong suit. Sanders, at times during that first hour, sounded like a broken record — citing millionaires and billionaires and Wall Street to explain almost anything he was asked.

Then there was Sanders's insistence that he would be better on race relations than Obama, a slip that you can be sure that the Clinton campaign will make sure African American voters hear about (and then hear about some more) in the coming days and weeks…
Henry Kissinger: Who the heck would have predicted that Kissinger would a) come up in the debate or b) come under such withering attack from Sanders. Both happened!
The Atlantic has a long list of some excellent reaction from a slew of its writers. Here's just a tiny part of it, in order of most recent:
10:54 PM RUSSELL BERMANLINK
Quick winners and losers analysis of this debate. Winner: Barack Obama. Loser: Henry Kissinger.

10:53 PM CONOR FRIEDERSDORFLINK
In closing as in opening, it seems to me that Bernie Sanders was foolish in a Democratic primary to refrain from specifically mentioning the identity groups that Hillary Clinton has just ticked off in her closing statement.

10:52 PM RUSSELL BERMANLINK
The bickering aside, it really is fascinating to see just how passionately Clinton is defending Obama given everything she said about him in 2008.

10:52 PM RUSSELL BERMANLINK
"I am not a single-issue candidate, and I do not believe we live in a single-issue country," Clinton says in a direct hit at Sanders in her closing statement.

10:51 PM MOLLY BALLLINK
Sanders may not have run against Obama, but he called for a primary challenge to Obama in 2012, something he tries to obscure these days.

10:49 PM CONOR FRIEDERSDORFLINK
Hillary Clinton makes her play for black voters by highlighting Bernie Sanders's criticism of President Obama. "Madam Secretary," Sanders replies, "that is a low blow. I worked with President Obama for seven years."

"Do senators have the right to disagree with the president?" he snaps at Clinton.

And then: "One of us ran against Barack Obama. I was not one of them."

10:46 PM DAVID A. GRAHAMLINK
I can't believe that Sanders just spent tons of energy talking about how awful Kissinger was, then spoke of his admiration for arch bigot and racist Winston Churchill.

Clinton has turned the knife on Sanders, naming Barack Obama as one of her two inspirational leaders (the other was Nelson Mandela) and decrying Sanders's criticisms of the president.
Hillary Clinton easily won the debate. She was confident, knew the issues and didn't let Sanders rattle her. The New York Times reported she had media training this week and it showed.

In contrast, Sanders seemed tired, rarely smiled and was best when he was angry. He's still great at framing the key issues of the campaign. But his phrasing is so similar in every debate that he may soon be accused of having a Marco Rubio robot problem.

In the end, this debate isn't likely to change many minds.
A low-key debate turned fiery at the very end on Thursday night as Hillary Clinton unleashed a series of points to try and paint Bernie Sanders as opposed to President Barack Obama — a tack that Sanders forcefully rebutted.
"Today Senator Sanders said President Obama failed the presidential leadership test," Clinton said of Sanders' disagreements with the president. Obama remains popular with Democratic primary voters, especially African-American ones like those that make up more than half of the electorate in South Carolina, one of the next states to vote in the party's contest.
Sanders responded that the criticism was a "low blow."
The exchange was perhaps the most contentious of the two-hour showdown on the heels of Sanders' commanding win in New Hampshire two nights earlier. Both candidates were noticeably more subdued than at their last debate a week ago. When Sanders attacked, tweaking Clinton on Wall Street, foreign policy and other issues, the former secretary of state remained even-keeled, arguing there's little daylight between their plans and that she offers the more realistic chance for progressive change.
Indeed, Clinton returned repeatedly to a recurring theme of her campaign: that Sanders' ideas sound great but have no chance in the real world.
As Clinton looks to rebound from her drubbing in New Hampshire, she clearly sees her alliance with Obama — and Sanders' occasional criticism of the president — as a potent weapon.

A CROSS SECTION OF TWEETS:
Here's the first post debate poll that I ran across.

Bernie is winning so far by about 92% https://t.co/sNLXHRZvwu

— Alison Spalding (@AlisonSpalding2) February 12, 2016
Dems faced w/ an impossible choice: a socialist who took honeymoon in Soviet Union or serial flip-flopper under FBI investigation #DemDebate

— Reince Priebus (@Reince) February 12, 2016
What I enjoy about same-party debates is the enormous energy devoted to exaggerating modest differences that exist among opponents.

— Larry Sabato (@LarrySabato) February 12, 2016
Strong closing statement by @HillaryClinton …. She hit that one out of the park!
Hands down, #Hillary won #DemDebate

— T (@southerntalker) February 12, 2016
Fact Check: Hillary Clinton said Bernie Sanders had pushed for regime change in Libya. True indeed. https://t.co/O5JT0WuCiR

— The New York Times (@nytimes) February 12, 2016
Bernie can't win by losing both blacks and unions by big margins.

Hillary knows what to say and to whom. #DemDebate https://t.co/ySSdD2cVoE

— Frank Luntz (@FrankLuntz) February 12, 2016
I feel like I'm watching an old couple argue about shades of white paint chips at Home Depot. #DemDebate

— Amy (@AmyOtto8) February 12, 2016
To follow more blog reaction GO HERE