Reaction to Hillary Clinton's Big South Carolina Primary Victory (Roundup)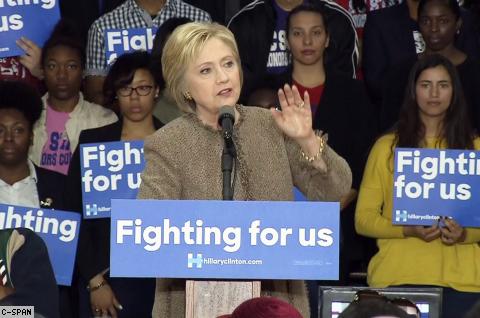 Former Secretary of State Hillary Clinton's win in South Carolina was a big one. Hours before the voting closed, analysts on one cable station were saying Clinton's camp had hoped to win by 22 percent over Vermont Sen. Bernie Sanders, the margin of his victory in the largely white state of New Hampshire — because Clinton's camp wanted to get Big Mo by showing she could attract votes from a wider variety of groups. The Huffington Posts's multiple headlines said it all: "SAVED..LANDSLIDE… Wins Bigger Share Of Black Voters Than Obama Did… Most Important Win Yet… Sanders Stalled: Disastrous Night… Clinton Takes On Trump…"
And now the spin will begin.
Clinton, who will have an advantage in super delegates, will try to generalize this victory and use it for Big Mo on Super Tuesday. Sanders' supporters will say it's a fluke or say it shows how the Clinton machine operates. They can't say the whopping margin was largely due to African-American voters, since it could be taken the wrong way and hurt them with a voting block they need. Meanwhile, on many websites Sanders supporters are now echoing what some Democrats said in 2000 when they said there was little difference between Al Gore and George W. Bush so they voted for Ralph Nader. It turned out there was (ahem) some different. One Democrat on one liberal site said if Clinton gets the nomination he won't vote for her and the party deserves to lose the White House, Congress and the Supreme Court. What's that theme Democrats often use about why they can't figure out why some Republicans voters vote Republican despite those voters' own values and interests?
But the above are merely the thoughts of a longtime independent voter.
Here's an extensive roundup of reaction to Clinton's lopsided victory.
The New York Times:
Drawing overwhelming support from the African-American voters who deserted her here eight years ago, Hillary Clinton won her first resounding victory of the 2016 campaign in South Carolina on Saturday, delivering a blow to Senator Bernie Sanders of Vermont as their fight turns to the 11 states where Democrats vote on Tuesday.

After supporting Barack Obama in 2008, black voters, who will be the dominant force in the coming Southern primaries, turned out in droves for Mrs. Clinton here. They chose her over Mr. Sanders by more than six to one, while white voters narrowly favored her as well, according to exit polls.

The rout was both politically and psychologically meaningful for Mrs. Clinton and her allies, who have been waiting for a moment that validated her candidacy with the level of unqualified intensity that South Carolina delivered. The huge margin of victory — she won nearly 74 percent of the vote — will extend her lead over Mr. Sanders in delegates needed to clinch the Democratic nomination. But the results also helped her extinguish any doubts about her ability to win big with Democrats and about her broad appeal among minority voters, who will be decisive in many delegate-rich primaries in March.

Mr. Sanders vowed to fight on, expressing confidence Saturday night that he would notch some victories and win delegates on Tuesday. But Mrs. Clinton and her supporters were elated, describing South Carolina as a turning point in the campaign.

"We, tonight, have started Hillary Clinton on her way to the White House," said Representative James E. Clyburn, the state's most powerful black Democrat, as he introduced Mrs. Clinton at a victory rally here.

Taking the stage at the University of South Carolina to cheers of "Madam President," Mrs. Clinton promised to continue courting voters aggressively in the coming weeks, but she also began looking past Mr. Sanders to the leading Republican candidate, Donald J. Trump.

"Tomorrow, this campaign goes national!" Mrs. Clinton said as she dedicated her victory to parents, teachers and "the entrepreneur who told me more dreams die in the parking lots of banks than anywhere else," particularly among women and minorities.
Bernie Sanders couldn't have asked for a better electorate than the one he saw in New Hampshire. It was mostly white — a group with which he does much better. It was 40 percent independents (same) and two-thirds liberal (same). It was the state next to his home state. It was a state he should have won big and a state he won big.

South Carolina was the same for Hillary Clinton.

According to preliminary exit poll data reported by CNN, the electorate in Saturday's primary voting was heavily African-American — even more heavily black than in the 2008 election that gave Barack Obama a 2-to-1 victory. Exit polls suggest that black voters supported Clinton at a 4-to-1 margin.

In 2008, 78 percent of black voters supported Barack Obama to 19 percent who supported Clinton. This year, the preliminary figures suggest that Clinton did even better. What's more, 4-in-5 voters said that race relations were important in deciding their vote — and about 7 in 10 of those voters picked Clinton.

It was also a more moderate electorate than the first three states — though it was slightly less moderate than in the Democrats' two most recent contested nomination fights in South Carolina — which itself keeps with the trend so far this year. About 7 in 10 moderate voters supported Clinton in South Carolina.

[Here's what Hillary Clinton's nonwhite firewall looks like]

Seven in 10 voters also want to continue Obama's policies, versus moving in a more liberal direction. Guess what! They supported Clinton — who has made a point of bear-hugging Obama — at a 4-to-1 margin, too. Turnout among young voters appears to be about the same as it was in the state in 2008, but that's slightly lower than we saw in Iowa and Nevada. Those 65-and-over backed Clinton with 4 out of every 5 votes.

South Carolina was intended to be one of the bricks in Hillary Clinton's "firewall" against a Bernie Sanders surge. That was because of her strong support from black voters. An interesting rift has emerged, though, between young black and Hispanic voters and older ones. The former appear to back Sanders; the latter Clinton. That's particularly a problem for Sanders because younger voters turn out less heavily. The question from South Carolina, then, was if Sanders could make headway with non-white voters.
After winning South Carolina's Democratic primary eight years ago, Senator Barack Obama declared that "after four great contests, we have the most votes, the most delegates, and have the broadest coalition for change." Tonight it is his former opponent, Hillary Clinton, who can now make the same claim.

She has won South Carolina in a rout, 73.5 percent to 26 percent, exceeding Mr. Obama's own 29-point victory in 2008. She did it the same way that Mr. Obama did: with overwhelming support from black voters, who favored Mrs. Clinton over Bernie Sanders by a stunning margin of 87 to 13, according to updated exit polls — a tally that would be larger than Mr. Obama's victory among black voters eight years earlier. Black voters represented 62 percent of the electorate, according to exit polls, even higher than in 2008.

The result positions Mrs. Clinton for a sweep of the South in a few days on Super Tuesday and puts the burden on Mr. Sanders to post decisive victories elsewhere. If he does not — and the polls, at least so far, are not encouraging — Mrs. Clinton seems likely to amass a significant and possibly irreversible lead.

For Mrs. Clinton, the path to the presidential nomination is straightforward: fight Mr. Sanders to a draw among the nonblack voters who dominate the party's contests in many Northern and Western states, and win by huge margins among black voters, who represent about a quarter of Democratic voters nationally. They represent the majority of Democrats in the South, which will play a crucial role on Super Tuesday.

The results in South Carolina — as well as in Nevada, where Mrs. Clinton also won black voters by a wide margin — suggest that she can count on big wins in six Super Tuesday states where black voters represent an above-average share of Democratic voters: Alabama, Texas, Virginia, Tennessee, Arkansas and Georgia. The polls say the same thing.

As a result, the Sanders campaign has effectively conceded the South on Super Tuesday. The campaign is not airing advertisements there, according to NBC News data. It's instead concentrating resources in five states with far fewer black voters and far fewer delegates: Oklahoma, Minnesota, Colorado, Massachusetts and Vermont. It is a strategy that aims to maximize Mr. Sanders's chance of winning states, but it doesn't necessarily prevent Mrs. Clinton from running up huge delegate leads from the South.

The likelihood of a Clinton landslide in the delegate-rich South means that Mr. Sanders can't compensate with a few narrow, feel-good wins outside the South. The thing to watch on Tuesday night is whether Mr. Sanders can win by big — even double-digit — margins in states like Minnesota or Massachusetts. The margins matter, because delegates are awarded proportionally in the Democratic nomination contest.

A simple rule of thumb: Mr. Sanders needs to win nonblack voters by one-third as much as Mrs. Clinton wins black voters. With Mrs. Clinton ahead among black voters by 50 or 60 points, based on results in Nevada and South Carolina, Mr. Sanders needs to win nonblack voters — and nonblack states — by something like 20 points.
To truly assess the state of the race, we need to assess the candidates' performance relative to the demographics both of the states they've competed in, and the rest of the country. Nate Silver and the team at 538 help us do that by creating a demographics-based breakdown of how we would expect Clinton and Sanders to perform in each state if they tied 50:50 in a national primary. That tells us, for example, that if the race were tied naturally we would expect Clinton to win South Carolina by 20 points a big win, but smaller than the crushing 37 percent victory she actually scored.

By this metric, Clinton has outperformed her goal in every state.

*Based on demographics alone, Iowa should have given Sanders a 19-percentage-point edge. They tied.
*Based on demographics alone, New Hampshire should have given Sanders a 32-point edge. He won by 22.
(Based on demographics alone, Nevada should have been a tie. Clinton won by 5.
The moral of the story is that while Sanders is certainly doing well enough to win many states in New England and on the plains, he is losing the election — perhaps more solidly than his supporters realize.
Clinton victory speech:

Sanders concession speech:
https://www.youtube.com/watch?v=qTUKqIHsS20
Bernie Sanders struck a hopeful note following his decisive loss to Hillary Clinton in the South Carolina Democratic primary. "Let me be clear on one thing tonight," he said in a statement after the election results were announced: "This campaign is just beginning."

Sanders is already looking ahead to the Super Tuesday primaries and caucuses on March 1. "In just three days, Democrats in 11 states will pick 10 times more pledged delegates on one day than were selected in the four early states so far in this campaign," he remarked, adding, "Our grassroots political revolution is growing state by state, and we won't stop now."
Democratic presidential candidate Hillary Clinton won the party's South Carolina primary on Saturday with what is expected to be her biggest margin yet.
Clinton secured her victory by appealing to the largely-black electorate in the Palmetto state. The South Carolina Election Commission reported that 71 percent of the state's early voters were black, and early exit polls put that number at 61 percent of voters Saturday.
In the days leading up to the primary, both candidates touted endorsements from black leaders. Clinton took to the campaign trail with the mothers of Trayvon Martin, Sandra Bland, Jordan Davis, Dontre Hamilton, and Eric Garner, who said they believe Clinton is the best candidate to addres issues with guns, policing, and criminal justice in the United States.
Critics pointed to her controversial history when it comes to incarceration and welfare, but the mothers argued that her support for the 1994 crime bill should not stop voters from supporting Clinton today.
"I want everyone to know that we're not looking at what Bill did," Geneva Reed-Veal, Sandra Bland's mother, told ThinkProgress last week. "We're not looking at his campaign, so we're not judging her based on what he did. Let's give her her own shot. We're supporting her solely based on her own merits, not what she did as First Lady."
The conservative blog Powerline:
A few weeks ago, I heard a young black female Bernie Sanders supporter say: "We [black people] built this country; we're not anyone's firewall." How these two propositions might relate to one another, the woman did not say. Logic is not the strong suit of BlackLivesMatter.

In any case, both propositions are false. Black people did not build this country, though they contributed significantly to certain aspects of its development. And blacks are Hillary Clinton's firewall.

Any doubt about the second point should be dispelled by tonight's results from South Carolina. In white Iowa, Clinton eked a tie with Sanders. In white New Hampshire, Sanders trounced her. In Nevada, where Hispanic representation is sizable, Clinton won narrowly.

But in South Carolina, where blacks make up a clear majority of the Democratic electorate, the Countess of Chappaqua is walloping the Vermont socialist. With about one quarter of the vote in, Clinton leads Sanders by a ratio of roughly 3-1.

Clinton's firewall will continue to hold throughout the South, it seems certain. Sanders will probably be competitive in many states and may well win some of them. But only legal difficulties can block Clinton's march to the nomination.

It would be heartening to see the socialist halted by Democratic voters if his demise had anything to do with his socialism. But that it doesn't. If Clinton were the socialist and Sanders the candidate stopping just short of the socialist line, Clinton would still be winning. Her firewall isn't anti-socialist, it's simply pro-Clinton (in the absence of a black in the campaign).

Give Sanders credit, though. By running so strongly, he hasn't just "mainstreamed" socialism within the Democratic Party. He has also positioned himself to make a serious bid for the nomination if Clinton's legal difficulty sink her candidacy.
This is nuts. Yesterday Pollster had Hillary Clinton ahead in South Carolina by about 20 points. Today they added one new poll, and they have her ahead by 50 points—which is about what she won by.

Did Bernie really lose 30 points of support in the past two weeks? That's what the polls seem to show. But why? And how did the press not pick up on this? Most of the coverage I've seen has suggested that, sure, Hillary is going to win, but she's really being pressed in the black community and Bernie could do better than expected. But according to the exit polls, she ended up winning 84 percent of the black vote. And perhaps even more worryingly for Bernie, she even crushed him among voters who agree that our economic system favors the wealthy. That's his wheelhouse, and he won only 30 percent of their vote.
The results of tonight's South Carolina Democratic primary are stunning. Yes, everyone expected Hillary Clinton to win, but it seems fair to say that no one was expecting such an overwhelming victory. With a bit over 60 percent of the vote counted, Clinton is leading by nearly 50 points, getting nearly 90 percent of the black vote and upwards of 70 percent of the women's vote.