Race For Control of U.S. Senate Super Close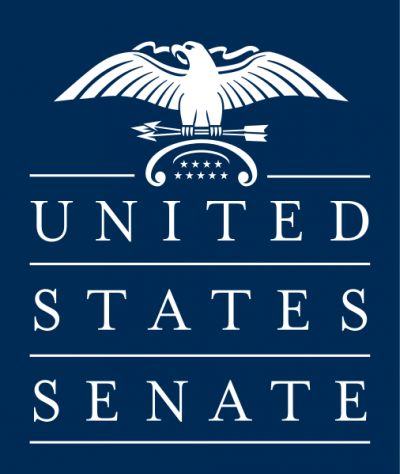 While not nearly as exciting or as riveting as the Presidential race, the battle for control of the U.S. Senate is important. It is also close – and it will probably stay that way until the early morning hours of Wednesday November 9th or beyond (many remember the 2008 Minnesota recount that prevented Al Franken from taking his seat until the following July).
It's easy to see why the Republicans are worried. They hold 24 of the 34 seats going before the voters this year which in many ways is due to riches from two previous elections this class faced. After dominating the elections of 1986, 1992 and '98, Democrats were decimated in 2004, mostly by losing five Senate seats and whittled down in other parts of the country in 2010 by losing six more. This year, Democrats are hoping to take command and indications are they are right on the cusp of gaining the four seats that would create a tie if Tim Kaine becomes Vice-President. Because the 2018 Senate landscape features many more Democratic incumbents, the party would obviously like to pad their margin so it is not a bare majority. Can they get over?
Democrats are all-but assured of adding at least two new Senators to their ranks, both in the upper-Midwest.The first is the Senate seat Barack Obama once held and incumbent Republican Mark Kirk hasn't led a single poll all cycle. Kirk has not been shy about signifying his displeasure about Donald Trump in a state that he'll lose resoundingly, but his Democratic foe, Congresswoman Tammy Duckworth, is favored to take the seat.
The second seat is Wisconsin. It's no stunner that Russ Feingold is poised to win, but it is a mild-surprise that national Republicans have thrown Johnson to the wolves this early (they've just cancelled the ad buys that were designed to aid him). But for everything there is a reason and in this case, it's an acknowledgement that both parties need to zero-in on the five-six seats that will determine which party controls the Senate. Indeed, if the party picked up Illinois and Wisconsin, they'd likely be halfway to retaking control of the upper chamber. But Nevada has the potential to set them back somewhat and that is the lone seat held by Democrats that is teetering, even if it is ever-so-slightly, in the other direction.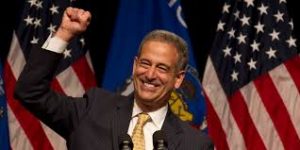 Russ Feingold now seems a sure-bet to regain the seat he lost to Ron Johnson in 2010
Photo via the Huffington Post
Nevada is the one state that has confounded many and that is the case on the Presidential level as well. When Senate Minority Leader Harry Reid announced his retirement, Democrats thought they had a prized recruit in Attorney General Catherine Cortez Masto. But Congressman Joe Heck captured the GOP nod and has capitalized on his ability to hold a swing-district.
Masto hasn't made any missteps but Heck has never surrendered the polling lead, though his margins have been tenuous. If Masto is within that distance come Election Day, many think the legendary "Reid machine" can pull her over. The party had initially hoped the Latino surge would cushion her as well but Trump has managed to keep Nevada in play. This will likely go to the wire and while this is the only Democratic held seat Democrats are in danger of losing, lose it they may. And that would leave them at an almost irreversible disadvantage for taking back the Senate.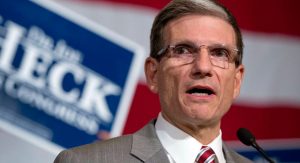 Joe Heck gives Republicans its sole opportunity to pick up a democratic held Senate seat
Democrats had expected the favorable landscape of Wisconsin to have been playing out in another upper Midwestern seat – Indiana. For a time, Republicans were fearful that it would as well but so far, it has not happened. Evan Bayh may still reclaim the seat he gave up in 2010 but his path toward doing so has been far rockier than anyone expected.
Bayh was a titan in the Hoosier State for two decades, having served as Governor for eight years before becoming a Senator, but stayed in Washington as a lobbyist after his Senate term ended. When he yielded to the entreaties from the man who would become the next Majority Leader should Democrats reclaim control, New York Senator Chuck Schumer, Bayh appeared a shoe-in. But the Indiana Chamber of Commerce, who had long backed Bayh, made ad buys supporting Republican Congressman Todd Young.
Bayh was also clumsy with embracing Indiana ("we like it," he told reporters after noting that he had recently slept at his Indianapolis home) and Republicans have brandished ads with testimonials from Bayh's neighbors stating how they have rarely seen him. Bayh's field operation is noticeably weak – and said to be non-existent in some counties, and a new poll reveals that Bayh's once dominating lead has dwindled to a dead heat. The last few weeks have demonstrated that anything is possible in politics but for Democrats, this one may be slipping away.
Pennsylvania and New Hampshire are a microcosm of the hurdles Republicans face this cycle and these two races will indicate whether Democrats are having a decent night. If both go their way, they'll be giddy. With just one pickup, they'll be satisfied but not overjoyed. But not getting either one would be a bitter disappointment. Republicans know how high the stakes are and the PAC of Majority Leader Mitch McConnell has flooded the state with millions.
Pennsylvania's Pat Toomey is an example of a Senator who, but for the national environment, would probably be favored to win again. He is armed with money and despite being elected as head of the Club for Growth, has tried to put forth a moderate image, particularly on the issue of gun control where he sponsored background checks. That was enough to earn him the backing of Gabby Giffords. But McGinty and her allies are firing back by pointing to his abortion views. "At some point, doctors performing abortions I think would be subject to that sort of penalty."
Indisputably, the expected spike in turnout alone in a Presidential year would seem enough to finish him. In 2010, he lost Philadelphia by 290,000 votes while prevailing statewide by 80,000 but turnout there was paltry. In 2012, Obama won the city by 492,000. And his money advantage has not been enough to finish McGinty. In fact, despite a ferocious onslaught that has kept her media presence in the minority, McGinty has managed to stay tied or even slightly ahead of Toomey. Republicans note that Senator Arlen Specter held his seat as Bill Clinton won but the number of ticket splitters has dwindled and Toomey's appeal across party lines, while not non-existent, is not nearly as legendary nor as durable as Specter. This is the only seat in the Mid-Atlantic (and one of three in the Northeast) that the GOP still holds so losing Toomey would mean complete annihilation. So would losing another of those three – New Hampshire's Kelly Ayotte.
Senate Republicans hopes for a majority could rise and fall with Pat Toomey
Photo via the Huffington Post
New Hampshire is a true battle of political giants. Incumbent Ayotte was New Hampshire's Attorney General before being elected Senator and Maggie Hassan has served as Governor of the Granite State for the past four years. Appropriately, the race is close as neither woman has been able to outdistance the other in polls. New Hampshire is a small, retail oriented state and it's up for grabs at how voters will feel about the outside money (McConnell's PAC will be spending $21 million to boost Ayotte before Election Day). Hassan has hit her for past votes to defund Planned Parenthood, to which Ayotte has responded by handing out condoms on college campuses.
Here more than anywhere, Ayotte may be haunted by the specter of Trump. For much of the year, she has taken heat for saying she "supports but doesn't endorse" the man leading her party's top of the ticket. Ayotte has recently handled the Trump sex tape by withdrawing her "support" and vowing to write-in vice-presidential nominee Mike Pence. But it's not clear whether Pence's hard-line stance on abortion and gay-rights will help. Her biggest problem is the national environment toward Republicans. She has hit Hassan on her response to the It is often said that politically speaking, "when the nation sneezes, New Hampshire gets the flu." If that's the case, Ayotte is in deep trouble.
Photo via Wikipedia
The betting is that if Trump loses Pennsylvania and New Hampshire by more than 8-10%,Toomey and Ayotte should start looking for other jobs. Their states have shown a propensity to split tickets in the past but the electorate is more polarized.But the reverse Trump affect may loom here. If Republicans sense that Donald Trump will lose, they may ask voters to send Toomey and Ayotte back to serve as a "check" on Clinton. The strategy was widely believed to have spared Republicans further House losses in 1996 as Bob Dole was losing to Bill Clinton. Whether that'll happen this year is unclear.
Finally, North Carolina and Missouri are two states that as recently as the beginning of the year, looked like long-shots to fall. But incumbents Richard Burr have been subjected to the national winds, a strong candidate and campaign styles that have not met the preparedness necessary to withstand the environment they never expected to be facing.
Many Republicans concede Burr has been slow to take his re-election bid seriously (he initially vowed not to start full-time campaigning until the Senate adjourned). It was a scenario much like Russ Feingold who in 2010 was blindsided by Johnson. And Feingold was well-known. Burr's name recognition, after twelve years in office, is not high. t's not that Burr doesn't work hard, it's that he doesn't seek out headlines. More ominously, the state has slowly turned "purple," helped by the transplant of Northeasterners.
Deborah Ross was far from Democrats first choice for the seat. One reason is that she is a not particularly well-known, having served ten years in the NC State House. But it is her tenure as head of the state ACLU that the GOP wants to use against her but a recent spot might have already backfired when the sponsor of the legislation praised Ross.
In Missouri, Democrat Jason Kander launched what may be the single-most memorable ad of the cycle. He loaded a semi-automatic rifle blindfolded. As now Senator Joni Ernst showed in nearby Iowa as she castrated a pig and vowed to "make them (Washington) squeal," ads like this change the trajectory of campaigns, succeeding in boosting often sleepy campaigns into the hottest commodity as well.
Indeed, as Missouri's Secretary of State, Kander was initially expected to provide Democrats a credible, though-not career-threatening foe to Blunt. Instead, both sides agree that he has turned the race into a razor-tight affair that at the end of the day, may send the connsummate insider Blunt into political oblivian.
Recognizing the impact of Kander's ad, Blunt immediately fired back by reminding rural Missourians that a vote for Kander is a vote for the anti-gun Senate leadership. He has also tied Kander to Clinton. It's easy to see why. Prior to this week, Trump had been expected to carry Missouri easily. But in 2012, Mitt Romney defeated Obama in the state by 10% and Claire McCaskill held her seat by 16% in 2012 and, though Congressman Todd Akin, her Republican opponent, saw his campaign collapse after his "legitimate rape" comment, most were genuinely surprised at the size of her margin.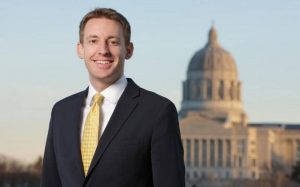 Jason Kander is a surprising but crucial ingredient for a Democratic senate
Photo via the Missouri Democratic Party
Another surprise is Blunt. He has been so durable in Missouri politics that so many are stunned that his campaign has been off. In that vein, Kander is hitting his family for being lobbyists and using it to drop favors into bills, and it has been gaining traction. This has quickly become a tossup.
Finally, if anything, John McCain was expected to face a tenuous ride for a sixth term in the GOP primary. But his challenger, Kelli Ward, turned out to be off personally and politically (she said that McCain, 80, might not live to serve the next six years) and McCain won, albeit by only 13%.
His Democratic rival, Congresswoman Ann Kirkpatrick, is tenacious, having held a competitive House seat that is larger than Pennsylvania. McCain has a cash-edge and a lead in polls that has shifted between comfortable and overwhelming. But Kirkpatrick has kept pace with funds and has raised the change arguement.
Arizona has seen a Democratic shift of late, in part thanks to the Latino surge, and the party still hopes that – as well as lukewarm backing McCain has had from Trumpers (which may only increase after McCain called on Trump to step aside) can deny him re-election. For now, however, he is favored to win.
Finally, Democratic hopes to make Iowa Senator Chuck Grassley and Ohio's Rob Portman sweat have not materialized and the pair seems to be a rare sigh of relief for Senate Republicans.
In short, Senate Democrats can probably count on getting to 49 seats and, if all goes well, may get to as high as 53. But with so much up in the air, it may be days past November 8th before determining control is possible.
LOGO: U.S. Senate [Public domain], via Wikimedia Commons