Profile: A Taiwanese LGBT Star Visits New York City: Mr. Chia Wei Chi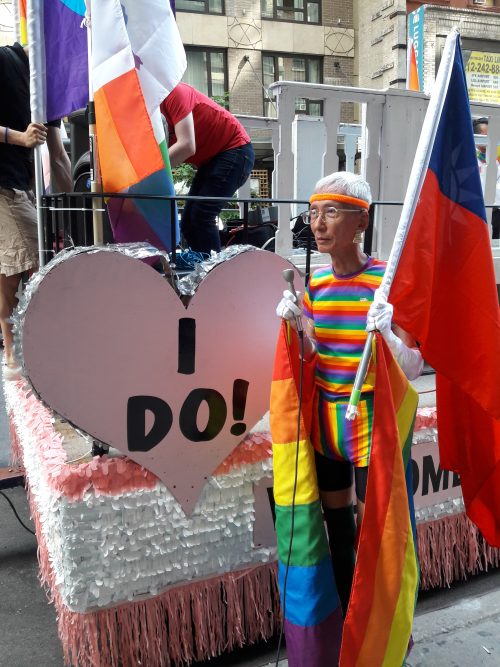 Successful political movements need an organizing force: a charismatic leader whose determination motivates and organizes a struggle. In today's shockingly fast changing times the latest battle has been for LGBT rights. It started in broad minded Western Europe and gradually spread to other parts of the world. While some regions lag behind, such as the Islamosphere and Africa, the next area of change is looking like East Asia. Liberal minded Taiwan (Republic of China) is leading the way and the human spearhead of the movement there is a man named Mr. Chia Wei Chi.
On a recent trip to New York City he sat down, between a mess of other media interviews, with your correspondent as well as documentary producer Christina Hu, and biographer Felicia Lin before drinks at the nearby Stonewall Bar: the world's first LBGT public monument and national park.
Earlier last year he was invited to New York by the Taiwanese American Association to head its float in the LGBT Parade down Fifth Ave in Manhattan before jumping floats to guest-star on the Heritage Float where only the grandees and big shots of the LGBT movement were honored.
His lifelong story of tenacity is worth a look. Mr. Chi came of age and came out at a time and in a place where it wasn't either cool or safe to do so. In fact, his coming out at 15 years old in 1975 when Taiwan was still a dark military dictatorship was courageous enough to be almost reckless. Over the decades rather than be crushed by the harsh government then and battling headwinds of a Confucius society unaccepting of homosexuality, he managed to bend the dynamics of his country to his will. In fact he was so successful that now Taiwan is on track to become the first East Asian country to legalize gay marriage. He's an old soldier now at 57, happy but still not totally satisfied with his remarkable achievements.
During our interview he projected a steely resolve with a strident demeanor. In his rapid fire responses he ascribed his achievements in large part to the influence of his parents, free thinkers who didn't abide by the conservative nature of traditional Taiwan. They provided a background of support for his mission which was buttressed by the support of a sympathetic teacher in high school.
His battle started in 1986 when he applied to have his marriage legitimized by the legislature. He was denied. So he organized and approached the executive, the presidency, in 1992. Denied again. Finally, running out of branches of government to harass, he took on the judiciary. Twenty five years and many battles later in court: Accepted! Gay marriage is not legal quite yet, but it seems extremely likely with the judicial decision of the country's highest court.
To contextualize his struggle: when he started it in 1986 Taiwan was a right wing military dictatorship, such civic "hooliganism" as homosexuality wasn't only unpopular, it was dangerous. Even basic freedoms of speech and association were terribly iffy. Comes then Mr. Chi wanting, demanding loudly… gay marriage! Of all outrages!
Optimistically he speculates that the current world trend towards full LGBT acceptance will be "achieved" by 2032. When pressed on the precise year, he explains it was calculated by looking at the rate of death for the older generation holding on to traditional gender roles. Bigots die off, he argues, which doesn't account for the new production of them, a possible flaw in his system. Still, he wants to make the changes happen faster because without equal rights or human rights he thinks people could die: both literally and figuratively.
Once a reporter asked him after a speech how many minds in the room did he think he changed to which he replied he changed 100%. The reporter said that is impossible, to which he quipped: "That's because you think that people who don't believe in common decency and human rights can be defined as human beings."
He sees Taiwan's achievement not as a Taiwanese endgame in itself, but rather the first in a series of East Asian dominos to fall when it comes to LBGT rights. Analyzing the geo-political situation the last holdouts in East Asia will probably be where Catholicism (Philippines, East Timor) or Islam (Indonesia, Malaysia, Bangladesh) hold sway. It's not all bleak, there are rumblings in Japan: liberal Shibuya Ward in Tokyo recently recognized domestic partnerships, a typical first step towards full liberation though in Japan there's a ways to go societally.
Korea is an interesting case also and last year's annual Korean Queer Cultural Festival was very well attended. Interestingly, as Mr. Chi found
in Taiwan, and in the US, in Korea the judiciary is LGBT's best friend. The battle in Korea seems to be making progress.
Mr. Chi is also a Taiwan activist with that goal being the formal independence of Taiwan from the People's Republic of China. Taiwan activists have a low profile and little brand recognition in the US: they don't hijack planes or blow themselves up, but rather pursue a steady and civilized course of change, in Mr. Chi's case regarding both Taiwanese independence and LGBT rights. He is an inspiring example of the human spirit and determination. It took him decades and tenacity to outlast martial law then fight for awkward social change, to arrive in NYC last year and declare that total worldwide victory is still in the future. He and his advanced country are an inspiration to all those who seek equality.

David Anderson is an Australian-American attorney living in New York City. He writes on international politics and law for Themoderatevoice, Forbes and Counterpunch. His fellow interviewers and translators were Christina Hu, a Taiwanese documentary film producer and Harvard alum and podcaster and biographer Felicia Lin.