Poll: McCain Widening Lead As Floridians Vote In Florida Presidential Primary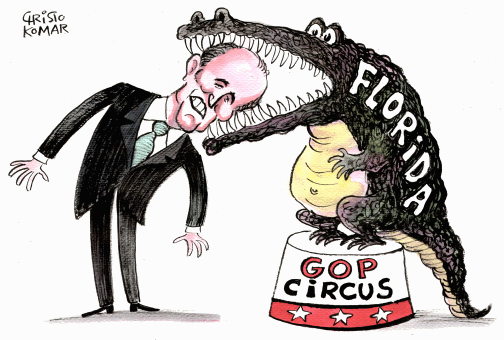 As Floridians go to the polls today to vote in the state's Presidential primary a new poll shows Senator John McCain widening his leading over Massachusetts former Gov. Mitt Romney — and suggests news editors should have their political obituaries ready to run about former New York Mayor Rudy Giuliani:
Arizona Sen. John McCain's lead over former Massachusetts Gov. Mitt Romney is growing wider as the Republican campaign ends and Election Day dawns, the results of a new Reuters/C-SPAN/Zogby telephone two-day tracking poll shows.

McCain now has 35% support in Florida and stands four points ahead of Romney. The poll, which surveyed 941 likely Republican voters in Florida on Jan. 27-28, 2008, carries a margin for error of +/-3.3 percentage points.

It is the second consecutive day of upward movement for McCain after his campaign won the endorsement from Republican Florida Gov. Charlie Crist. McCain and Romney were tied in the tracking poll released two days ago. The doubts over whether the maverick Arizona senator could succeed in winning over GOP voters in a state where independent voters are not allowed to vote in the GOP primary election appear on the way to being assuaged.
If McCain wins, it could mean he finally might get enough Big Mo to encourage more and more members of the GOP establishment to get behind him. He has been a major target of denunciation by most top conservative talk show hosts in the country.
[UPDATE: Another poll shows the race in a tie.]
Meanwhile, Giuliani is about to go down in the political science textbooks as someone who ran a flawless campaign…to lose his party's nomination:

n what is shaping up as a battle for third place, former New York City Mayor Rudy Giuliani and former Arkansas Gov. Mike Huckabee are tied at 13% support each and battling for the advantage. Giuliani had sunk much time and campaign treasury into his Florida campaign, to little effect, the survey shows. Months ago, Giuliani led in Florida by a wide margin.
And, indeed, the former Mayor has been dropping hints that he might drop out. But that's reality: after not having won anything and seen his poll numbers fall it's clear the days when "America's Mayor" sought to be "America's President" are over and he'll have to become "America's Mayor Who Does High Paid Corporate Speaking Gigs" real soon…
Meanwhile, the campaign between McCain (who is clearly in his Last Hurrah campaign) and Romney (who no matter what happens tonight will be around on the GOP scene for a while) has gotten REAL ugly.
How ugly?
They have accused each other of being — get ready — LIBERALS:
In a tight battle in Florida, John McCain and Mitt Romney competed to stick each other with the "liberal" tag, a harsh smear among conservative Republicans whose votes could be decisive in Tuesday's voting for presidential contenders.

Republican candidates scrambled in buses and jets across the nation's fourth-largest state on Monday in a final hunt for votes on the eve of their biggest nomination test yet in the most wide open White House race in more than 50 years.
Romney used that fighting word against McCain:
Romney, a former Massachusetts governor, branded three of McCain's signature pieces of legislation — on energy, immigration and campaign finance reform — as "liberal."

He also sought to associate the Arizona senator with a liberal standard-bearer, Sen. John Kerry, the 2004 Democratic presidential nominee.

In West Palm Beach, Romney reminded voters that McCain once said he would entertain the idea of joining Kerry's 2004 campaign as a vice presidential running mate.

"Had someone asked me that question, there would not have been a nanosecond of thought about it," Romney told a rally. "It would've been an immediate laugh."
And McCain used that fighting word against Romney:
On Monday, McCain laughed off the criticism, accusing Romney of lacking conservative credentials, citing the near-universal health care legislation Romney signed with Massachusetts' Democratic-controlled legislature in 2006.

"Certainly his big government mandated health care system for the state of Massachusetts … is not conservative," McCain told reporters at a shipyard in Jacksonville.

"He is consistent in that he has flip-flopped on every single major issue. As the liberal governor of Massachusetts, he raised taxes by $730 million."
The Wall Street Journal notes that the fighting is going right down to the wire:
John McCain and Mitt Romney hammered each other on the economy and national security as voting began Tuesday in a pivotal Florida primary that could anoint a Republican presidential front-runner and end Rudy Giuliani's bid for the White House.

Critical phone calls, negative radio ads, and bitter personal exchanges marked the final hours before the primary. The contest offers the winner the state's 57 delegates to this summer's Republican national convention and a big burst of energy in the weeklong sprint to Super Tuesday on Feb. 5 when 22 states hold nominating contests with more than 1,000 delegates at stake.

So what will happen?
All predictions are risky. If you look at poll numbers, even that may not tell the whole story about the dynamics of the race on the GOP side. For instance, Marc Ambinder notes that "Mitt Romney's had an 8 to 1 television ad advantage in Florida… part of the reason why he's made the competitive."
How much of that imagery and message will be solidified in the minds of voters voting today?
And what will it mean? The Miami Herald says Florida could be a barometer for the nation:
The biggest and most diverse swing state is about to render its verdict on the presidency and politics, and here's what it will say to the nation:

• The Hispanic vote — and racial politics in general — will be critical in the Democratic race. Hillary Clinton is expected to win Florida by a large margin, with Hispanic voters backing her over Barack Obama by about a 3-1 ratio.

• John McCain might be conservative enough to win a closed GOP primary in which only Republicans can vote.

• Mitt Romney's Mormon religion might not be so big a deal for evangelical Christian voters. They comprise between 20 percent and 40 percent of the Florida GOP primary vote.

• Mike Huckabee is a force to be reckoned with — for now. With little money and seat-of-the-pants last-minute campaigning, he stretched his dollar and folksy presence in Florida so well that he was tied in polls with Rudy Giuliani, who practically moved into the state.

• Giuliani is in serious trouble. He showed that Florida doesn't exist in a political vacuum — its voters are paying close attention to how previous states voted.

• The top three issues in the election are the economy, the economy and the economy. The war is of secondary importance. And immigration isn't moving voters.
So stay tuned tonight. Nothing is certain..
Well, one thing seems certain:
After tonight, you might as well throw away your Giuliani for President buttons.