'January' by Tramps of Days: A Thrilling, Micro-Ambitious Stepping Stone Towards the Bold and New (Album Review)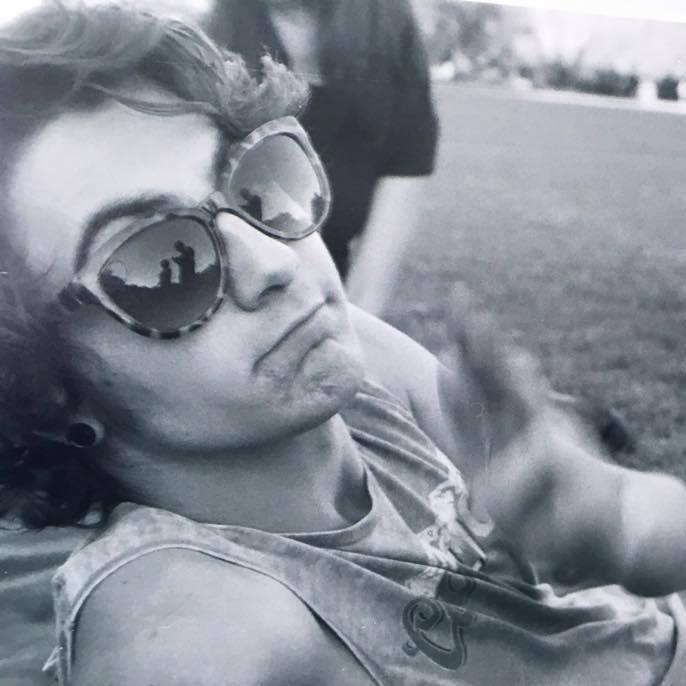 Any angsty teenager who can't get laid can pick up a guitar, get their bearings, and pluck away their growing pains through the catharsis of song. That's the natural way, and it's been the beginning of some of music's most iconic and influential figures. But amidst an overabundance of polished-but-samey rock and indie pop imitators that spring from that tradition, a compilation like January, the 2014 debut mixtape of Lowcountry artist Tramps of Days (Tom Crenshaw), feels like a strike of lightening from a clear blue sky; there is no preparing for it.
Of course, anyone in my life would peg me as the first to paint such a glowing, hyperbolic picture of Tom Crenshaw. I've had the pleasure of knowing him personally for nearly 10 years, and to see him slowly blossom into a potent musical chemist has been a humbling experience. So in the name of integrity, I admit that the album is not a masterpiece; by design, it shouldn't be. It is a collection of fragments, impressions, and ideas that come together to create a kind of musical sampler to push and humor his various sonic fascinations. And what a sampler it is.
Crenshaw made the album with middling resources, utilizing a consumer-grade microcassette recorder and a kaleidoscope of influences, ranging from the tender folk of Nick Drake to the forlorn ambience of Brian Eno, to create a rich and immersive DIY soundscape that at times evokes both the grainy warmth of home video as much the underground discovery of bands like Black Moth Super Rainbow and even filmmakers like Harmony Korine. Here, I thought on first listen, is a work by an artist, however young and budding, who is not the net sum of his inspirations  — he has thrown off the training wheels and dared to explore for its own sake the soft-tissue of musical anatomy, however deceptively and modestly.
Track-by-track, the collection breaks down as follows:
Track 1: "The Freewheelin' Tom Crenshaw"
Perhaps the most modest track on the whole tape, "Freewheeling'" is little more than brief guitar strum  that reveals a pleasing if slight structure. What it does, however, is introduce to the whir-and-buzz of the analog bath in which the whole album is drenched, and it renders even the most incomplete idea pleasing and cozy. 
Track 2: "The Catfish and the Gambler"
Here is where Crenshaw's mischievousness is perhaps most proudly on display. Essentially a collection of noise effects reminiscent of works like Brian Wilson's Pet Sounds, a song like Catfish proves that Tom Crenshaw truly has nothing to prove. You feel invited into the artist's musical invention; through trial-and-error, he is building his signature sound right in front of you, and he isn't necessarily afraid of how it looks.
Track 3: "Pterocarpus Angolensis"
 On "Pterocarpus", Crenshaw gently dips the listener into a pool of stretching, guitar-driven ambience. Simple, but effective.
Track 4: "No Shame, These Angels Sing Out For My Tape (feat. Odysseus Trap)"
A strange song, "No Shame" evolves from minimalist to vaguely tropical to something that can only be described as unapologetically whacky. And I love just about everything in it. The track is a perfect example of how the seemingly random experimentation often reveals a subtle, surprising structure that eventually shoots through the whole collection.
Track 5: "Fruiths (Interlude)"
A brief 45-second track of heavily muffled dialog, featuring the microcassette sound at its most thickly analog. Not much to add here.
Track 6: "The Trials of Thomas Smith, Fish"
 Were it not for the final track of the album, this would be the highlight for me. Here, Crenshaw blends the playfulness of "The Catfish and the Gambler" and "No Shame" with a strange poignancy that's difficult to pin down. And all the better for it.
Track 7: "It's Told to be Easy to Escape from the Machine, Yet Here We Remain"
What's this? Menace? Anxiety? On an album that's thus far been just as freewheelin' as its first track promised? And yet because of Tom's attention to detail and the overall consistency of the analog sound, the paranoid synths of "It's Told…" feels of a piece with everything that preceded it. It is here that we see the beginnings of an artist of true vision, someone who can take as many twists and turns as he likes while still staying the course.
Track 8: "Chrysanthemum Palace (Andrew and Danny, feat. Tom)"
This is the first true collaboration of the tape, and by incorporating background chatter to accompany the barely-audible vocals, Tom (credited as "featuring" on the track) captures a lazy, 10PM-after-work sense of place that allows the listener to step inside the song and feel present in its making.
Track 9: "PSR-270 (Interlude)"
A kind of channel-flipping, dial-turning interlude that hints at the further, more complex experimentations Tramps may have swimming about his mind.
Track 10: "Sanders Rd."
The most homesick song on the record, evoking memories of Brian Eno's Discreet Music. It's simple construction might not be enough for some, but at only 88 seconds, I'm astounded by how deeply and cleanly it cuts. Definitely a highlight.
Track 11: "A Walk Down U.S. Highway 17"
 A warm memory; an ode to long-gone optimism; "A Walk Down U.S. Highway 17" suffers slightly from excessive simplicity, but the track's sunniness comes through so clearly that it easily transcends a few flaws.
Track 12: "John Jameson"
Am I a sentimentalist for picking this as my favorite cut from the album? On second thought, I don't give a damn. Fashioned from an impromptu recording session in which Crenshaw drunkenly sang the text on the back of a bottle of Jameson, it is the only song from the collection to feature Tom singing, his unguarded voice piercing through a dense analog mist and some top-notch guitar playing to create a song as classically soulful and ringing with legacy as it is lo-fi and jokey. I have no qualms calling this the most enjoyable song of the bunch, and it's as much a punctuation of the album as it is a look at what's to come— it says, "I've shown you what I can do. Now here's who I am." All that from a whiskey label. Imagine.
Yet as in love as I am with January, it nevertheless leaves me with a nagging sense of preamble. It's the sound of an artist gearing up rather than fully throwing caution to the wind, a work full of great beginnings without the necessary grand slams. Its loose-knit form does come together to form a greater picture, and it's a good picture, but it's also a picture of artist who has yet to fully step outside of himself. There remains a shyness in the songs that is at once vulnerable and a little bit too timid; one gets the sense that he is embarrassed, perhaps even frightened, by the very honesty that makes him and his talents such privileges to behold.
But implicit in the tape's shortcomings are all the promises of something right on the cusp of being extraordinary. The whole piece is a cohesive testament to Tom Crenshaw's singular mind and preternatural grasp on the clockwork of music, a grasp I fully expect will tighten when he's ready. Seeing as January was the last full-length release from Tramps of Days since 2014, I can't be sure when (or if) he'll make his explosive return to the world of scintillating musicianship, but when it happens, I assure him that the world will be exactly where he left it, ready when he is.
On your count, Tramps. Hit the ground running. We're right behind you.
Stream and download January by Tramps of Days for free on Bandcamp.
---
Spencer Moleda is a freelance writer, script supervisor, and motion picture researcher residing in Los Angeles, California. His experience ranges from reviewing movies to providing creative guidance to fledgling film projects. You can reach him at: [email protected]