Our Presidents, 'Up Close and Personal'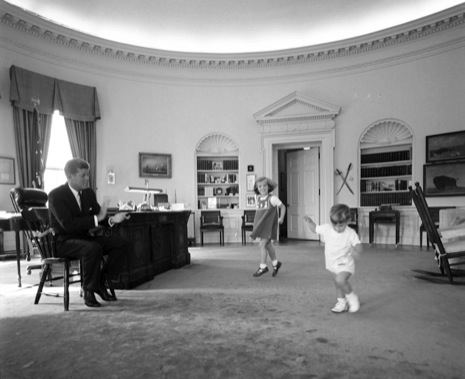 Did you know that President Kennedy was the first U.S. president to have one?
Did you know that President Carter did not appoint one to that role?
Who were the following men?
Cecil W. Stoughton
Yoichi Okamoto
Ollie Atkins
David Hume Kennerly
Michael Evans
Eric Draper
Bob McNeely
Pete Souza
If one didn't know the answer, the very last name on the list (Pete Souza) may have given readers a clue.
Of course, Pete Souza is the current, acclaimed Official Chief White House Photographer for President Barack Obama.
Souza was also the official White House photographer from 1983 to 1989 during Ronald Regan's presidency.
As to the other questions, President John Kennedy appointed the first official White House photographer, Cecil Stoughton. All (unofficial) predecessors were either military (U.S. Navy) or members of the Park Service.
Who can forget the idyllic photograph, above, by Cecil Stoughton.
In describing the book, "The President's Photographer," National Geographic puts the work of these professionals into perspective: "Expressive close-ups of presidents reveal moments of joy, reflection, and turmoil over public issues and private challenges. Unexpected angles cast new light on historic events."
From a 1999 White House note:
Whether photographing the President as he works in the Oval Office, enjoys quiet moments with his family, delivers a speech, or makes a crucial decision affecting our nation's future, White House photographers have a front row seat to history in the making.
Perhaps the most iconic and memorable presidential photograph reflecting most of these aspects is the one taken by Kennedy's photographer, Stoughton, of Lyndon Baines Johnson's swearing-in aboard Air Force One after the assassination of President Kennedy. (Below)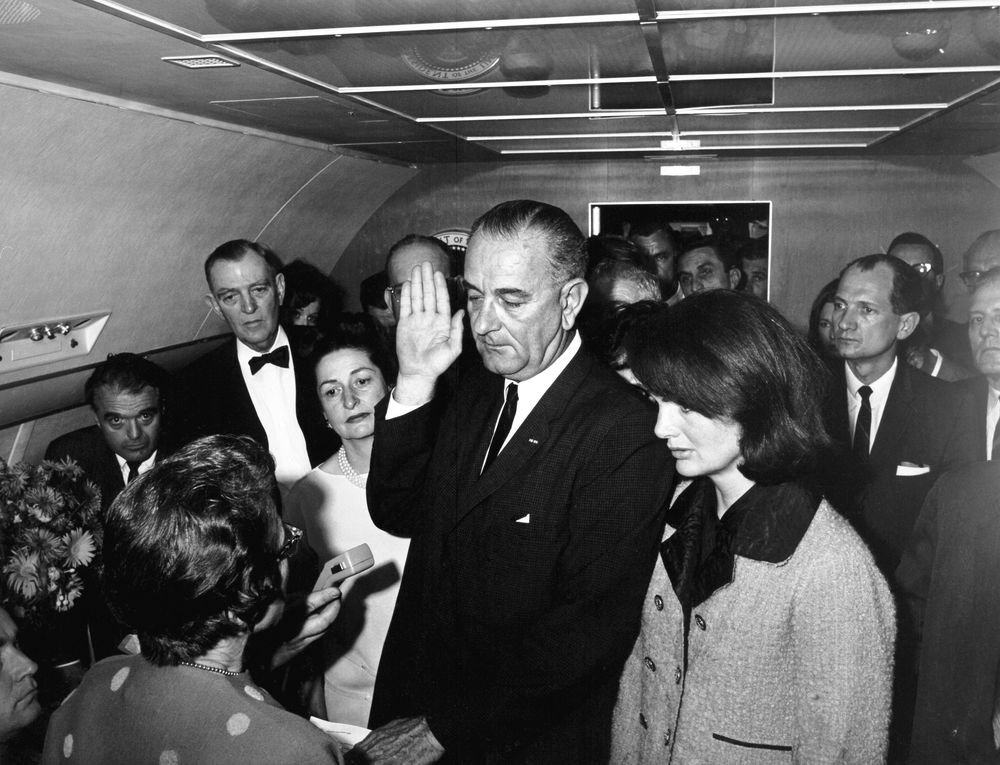 Yoichi Okamoto would later become Johnson's official Chief White House photographer
The answer to the second question is President Jimmy Carter who "eschewed having an official photographer entirely."
Nevertheless, there were "unofficial" White House photographers to record historic events of Carter's presidency, such as the September 1978 "Camp David Accords"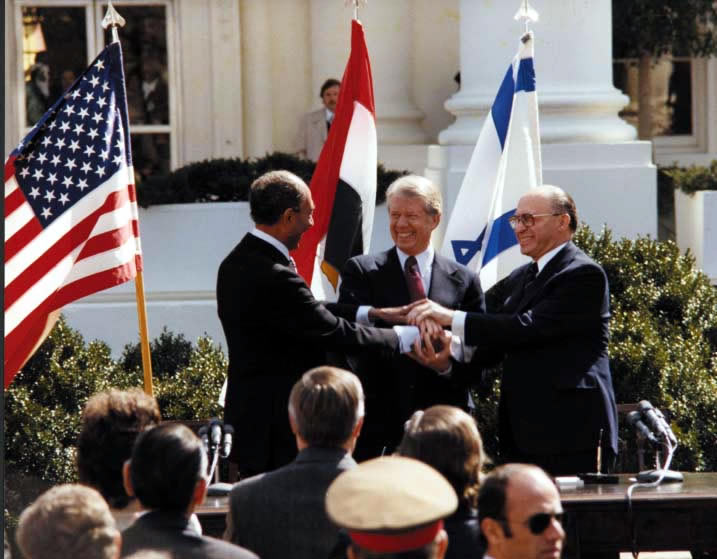 Credit: Jimmy Carter Presidential Library and Museum
Pete Souza, a native of South Dartmouth, Mass. is the current Chief Official White House photographer. He worked previously as an Assistant Professor of Photojournalism at Ohio University, the national photographer for the Chicago Tribune based in their Washington bureau, a freelancer for National Geographic, and as Official White House Photographer for President Reagan.
Taking an average of twenty thousand photographs of President Obama each month, Souza must have taken approximately two million photographs of President Obama and his family during the last eight years.
Several of them are posted each month at the White House's "Flickr page."
One of the most historic photos by Souza is the one of President Barack Obama and Vice President Joe Biden, along with members of the national security team, receive an update on the mission against Osama bin Laden in the Situation Room of the White House, May 1, 2011, below.(Note: a classified document seen in this photograph has been obscured.)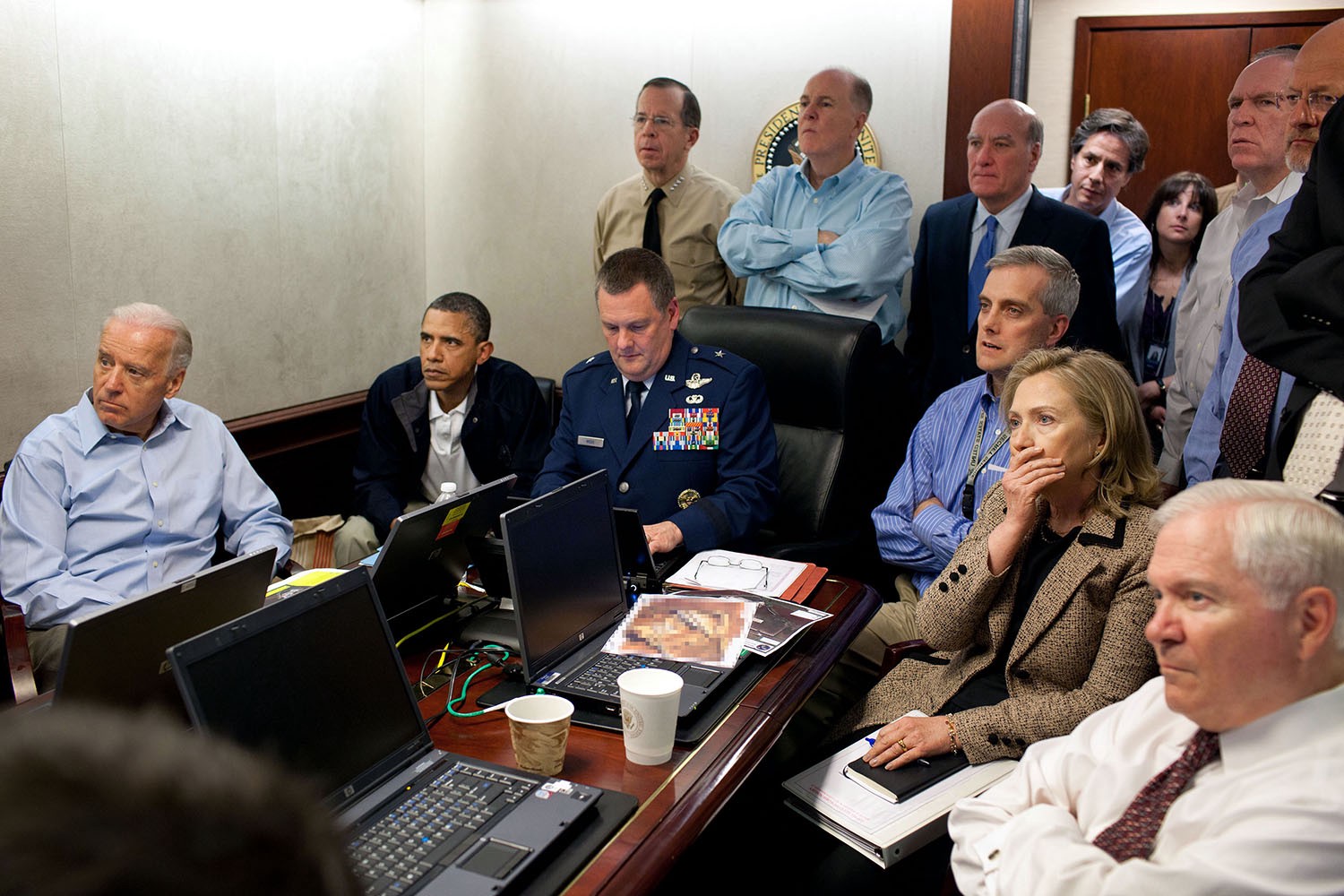 As President Obama's presidency comes to an end, so will most probably Souza's stint as official White House photographer.
But, before leaving, Souza has once again published, for the eighth and final time, his annual "Year in Photographs," all taken either by Souza or by a White House photographer on his staff.
As always, the editing for this project is both subjective and personal. Yes, there are some historic moments included but mostly I was looking for behind-the-scenes moments that give people a more personal look at the President and First Lady. And I've included a few that I thought were just cool photos.

I hope you enjoy this final Year in Photographs of the Obama administration. It's been the honor of a lifetime to be a witness to history these past eight years.
Here are some of those photos which this author considers particularly "cool." All photos by Pete Souza, unless otherwise indicated. To see all the photos, please click here.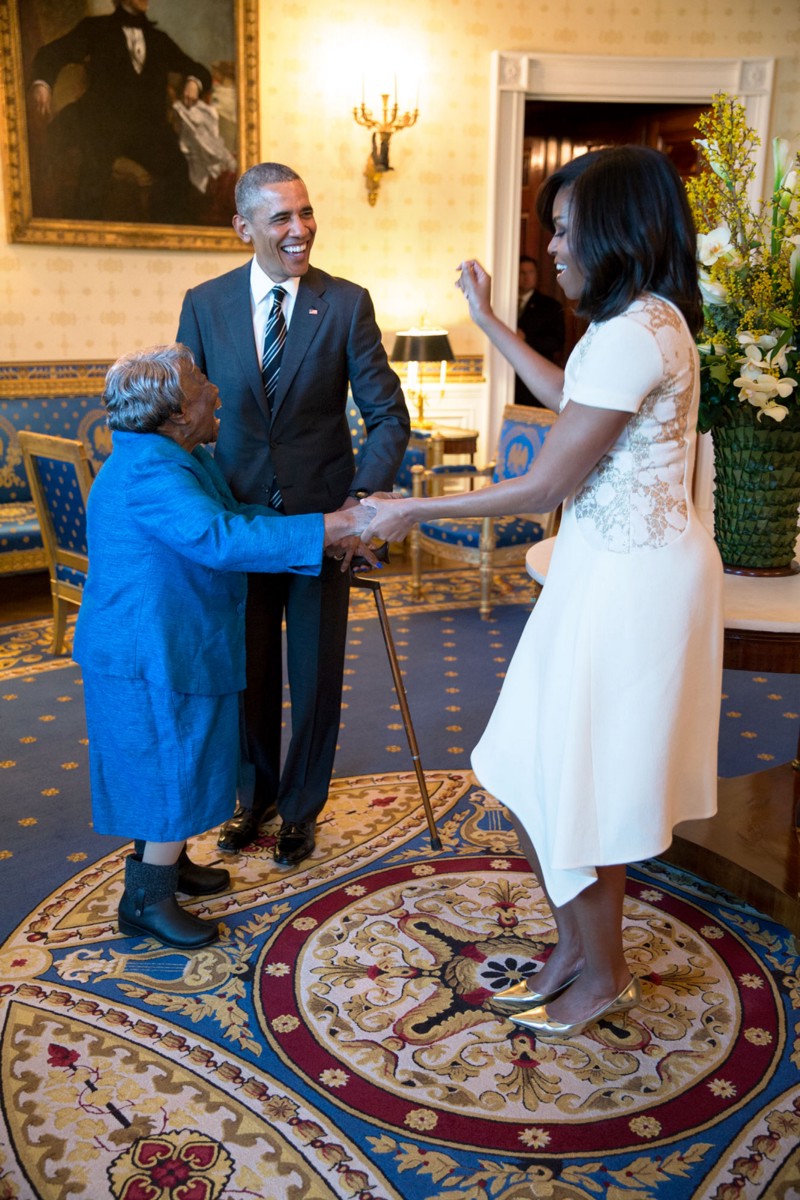 "President Obama watches the First Lady dance with 106-year-old Virginia McLaurin in the Blue Room of the White House prior to a reception celebrating African American History Month."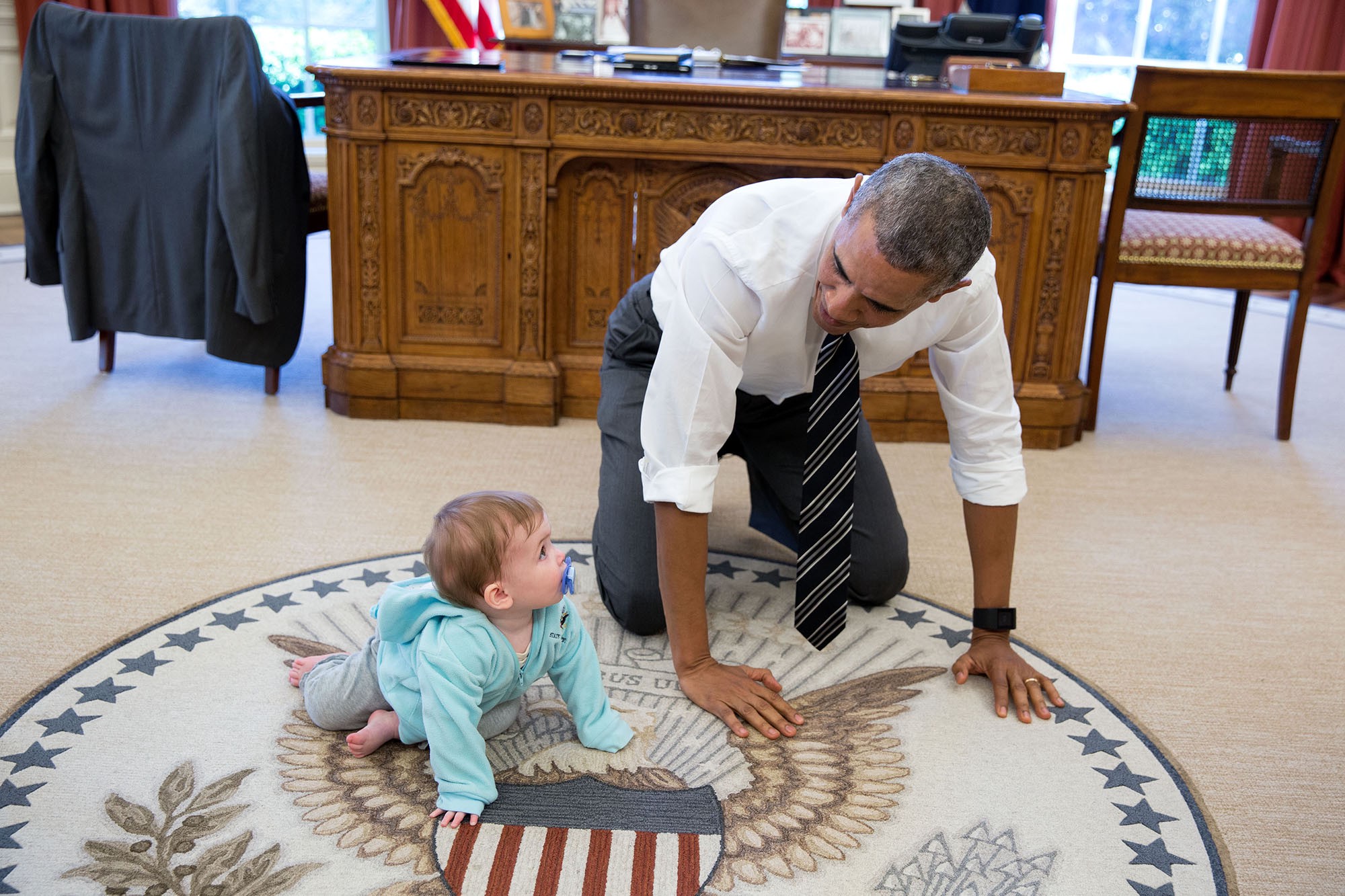 "The President is always asking staff to bring their babies and young kids by for a visit. Here, during a break between meetings one afternoon, the President crawled around in the Oval Office with Communications Director Jen Psaki's daughter Vivi."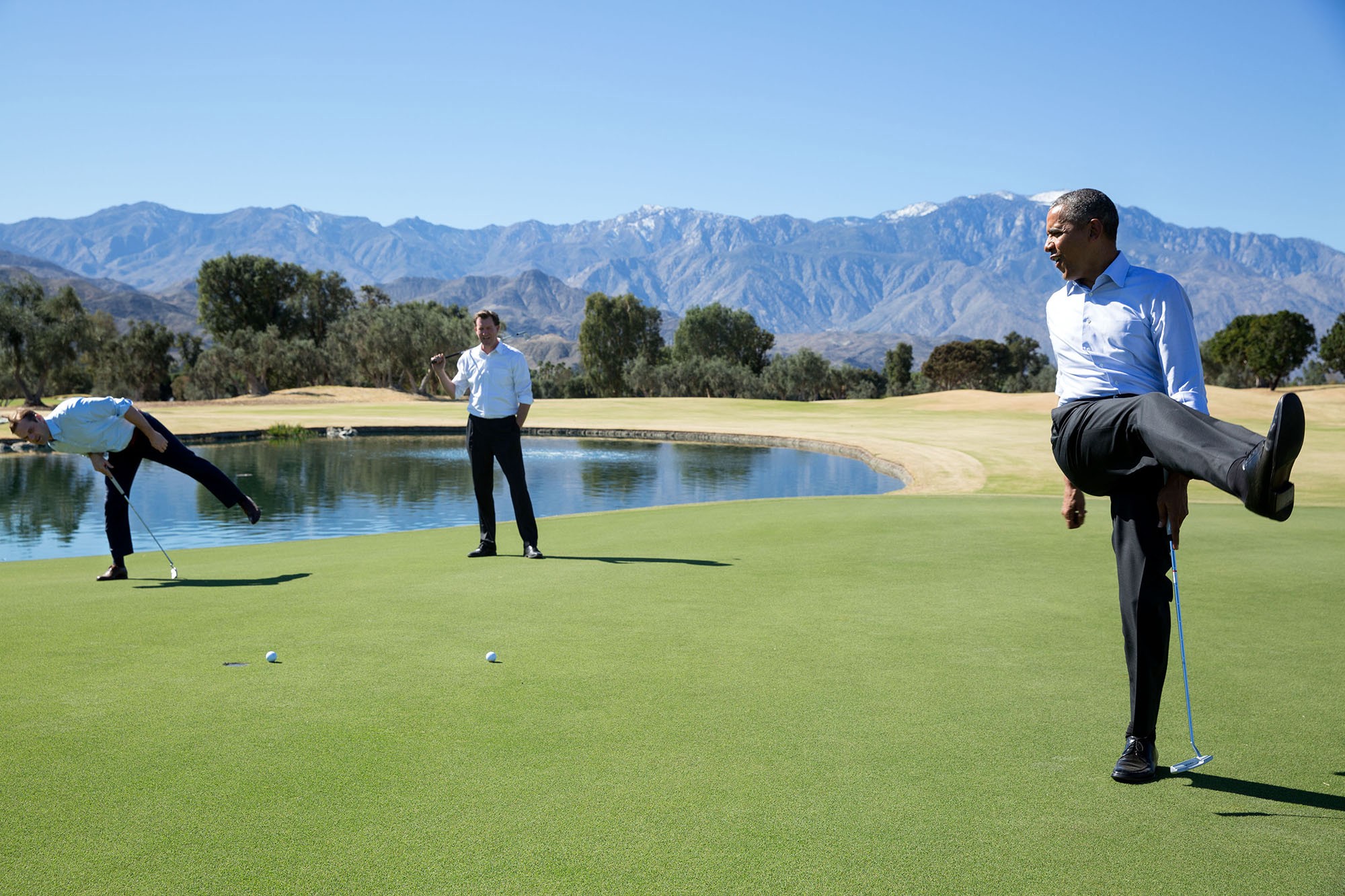 "President Obama reacts as his putt falls just short during an impromptu hole of golf with staffers Joe Paulsen, left, and Marvin Nicholson after the U.S.-ASEAN Summit at the Annenberg Retreat at Sunnylands in Rancho Mirage, Calif."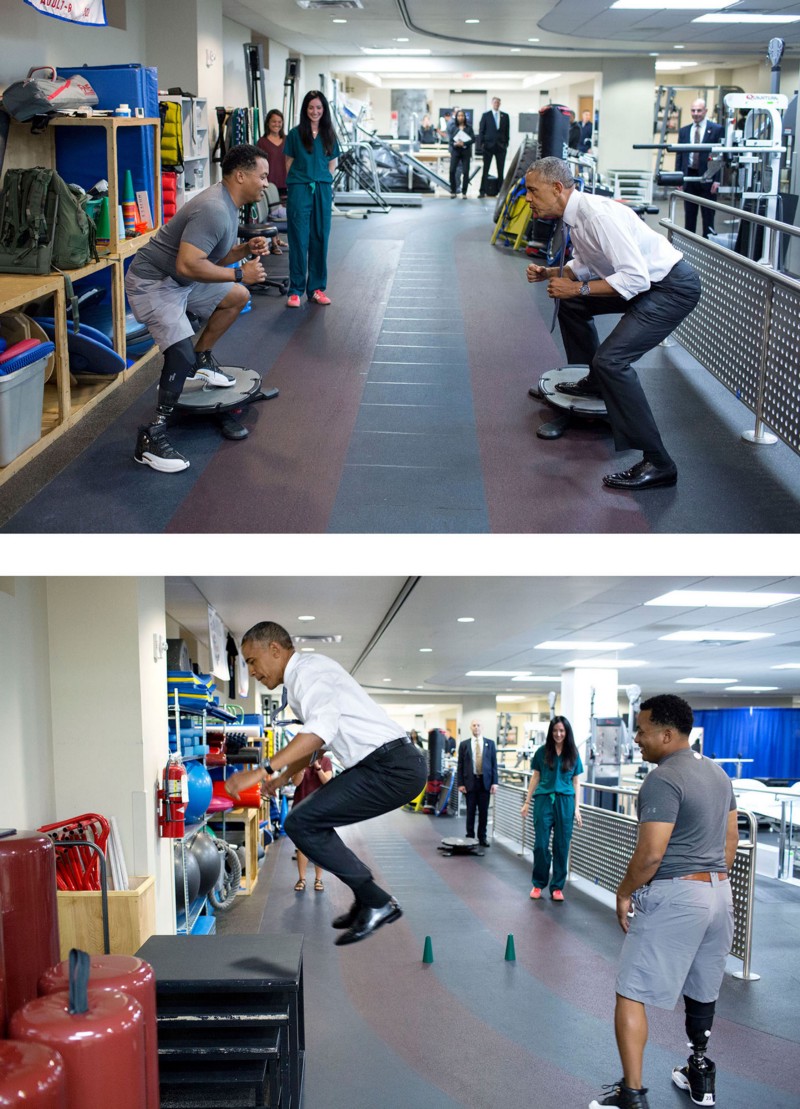 "For eight years, President Obama has visited wounded warriors on a regular basis at Walter Reed National Military Medical Center. Here he participates in an agility drill (top) and box jump with Navy Lt. Cmdr. John "Jae" Terry."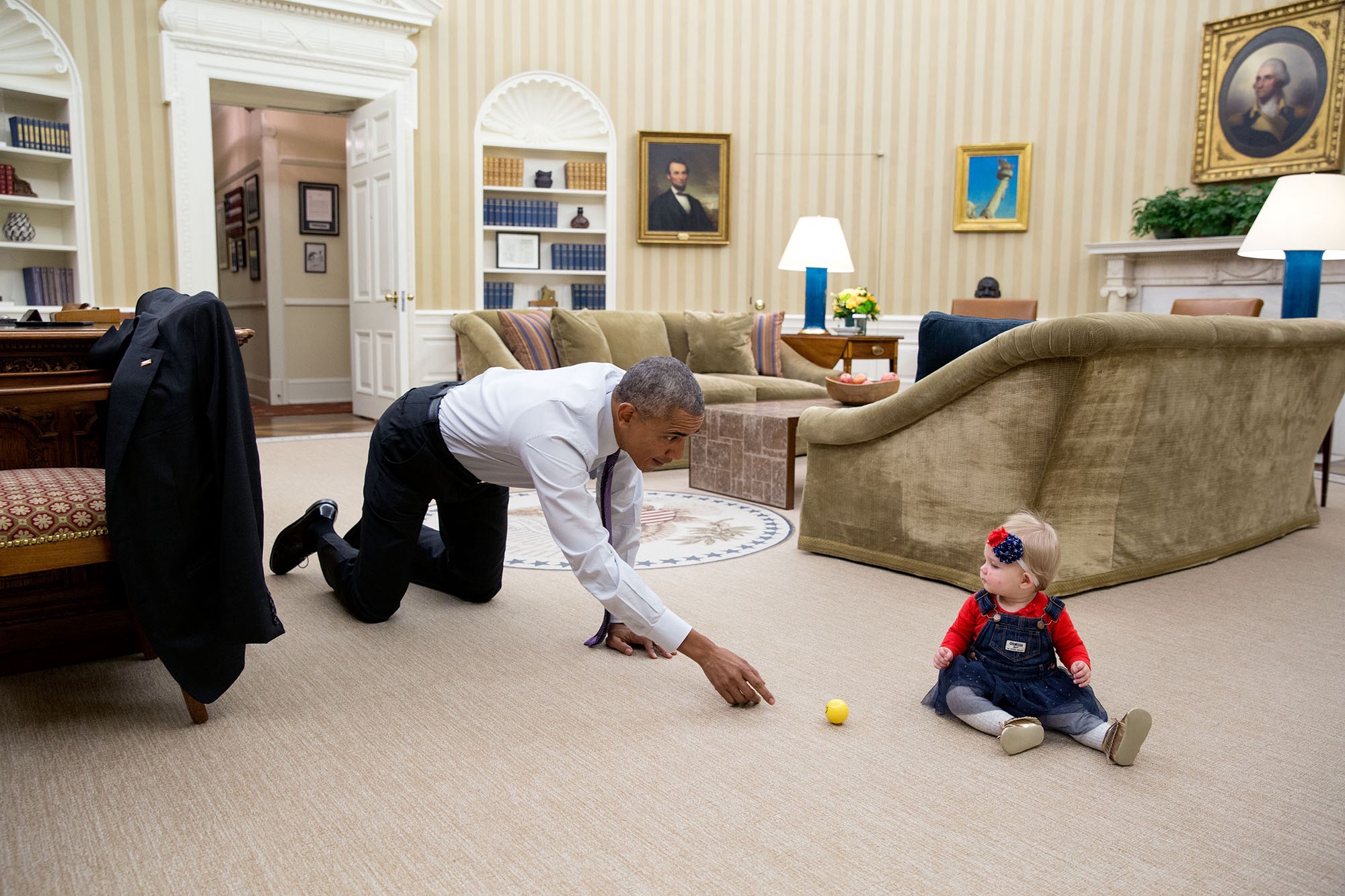 "The President had just walked in from the dining room and sitting on the floor in the Oval Office was Evelyn 'Evie' Cushman, daughter of Chase Cushman, Director of Scheduling and Advance. He immediately dropped down to his hands and knees and began tossing a ball back and forth with her."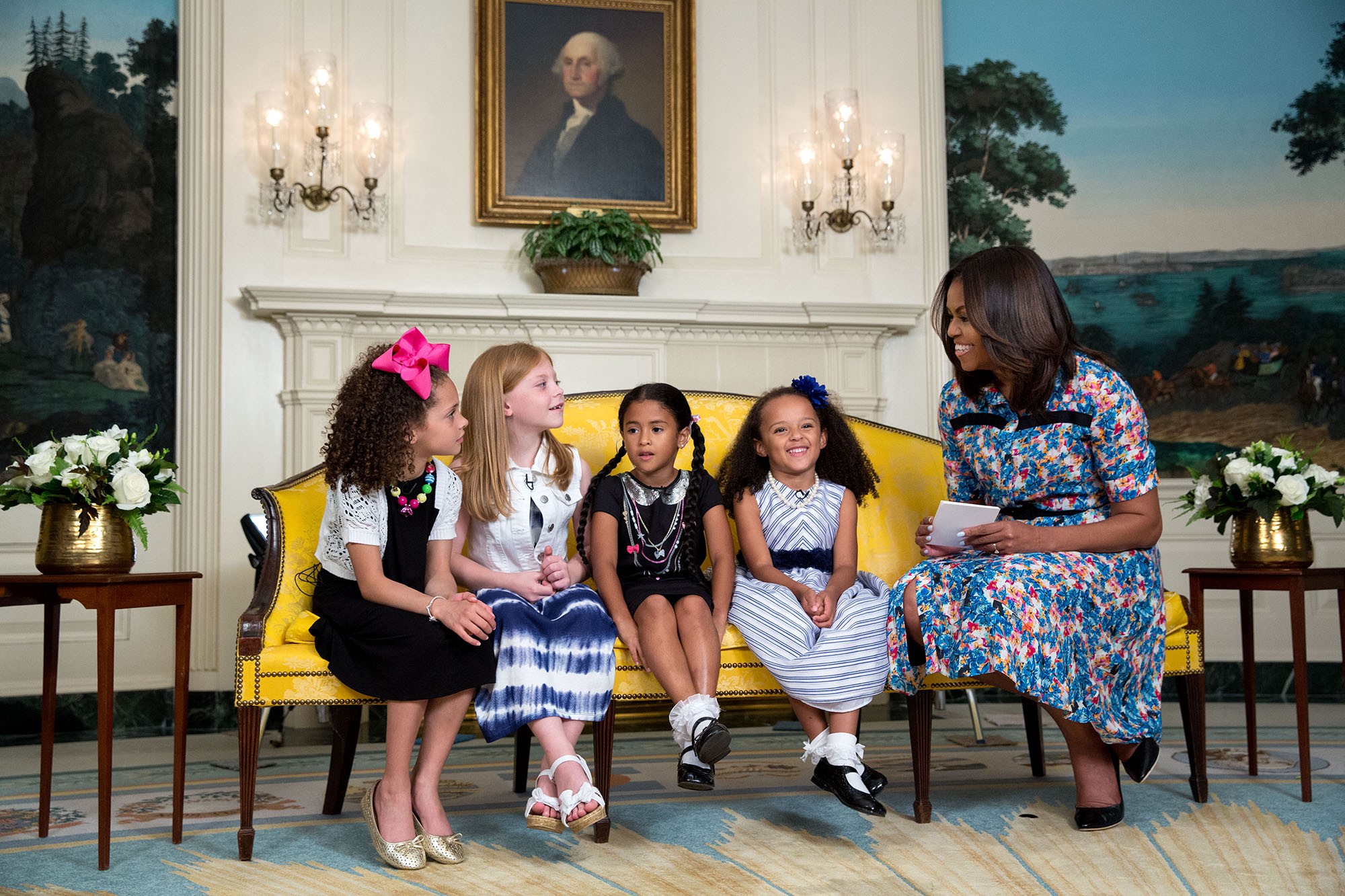 "A nice moment captured by Amanda Lucidon as the First Lady interacted with, left to right, Emma Belle Gaskins, Jill McCormick, Zoe Abigail Rogers and Avery Parlier during 'Cosmopolitan Couch Talk' in the Diplomatic Reception Room of the White House." (Official White House Photo by Amanda Lucidon)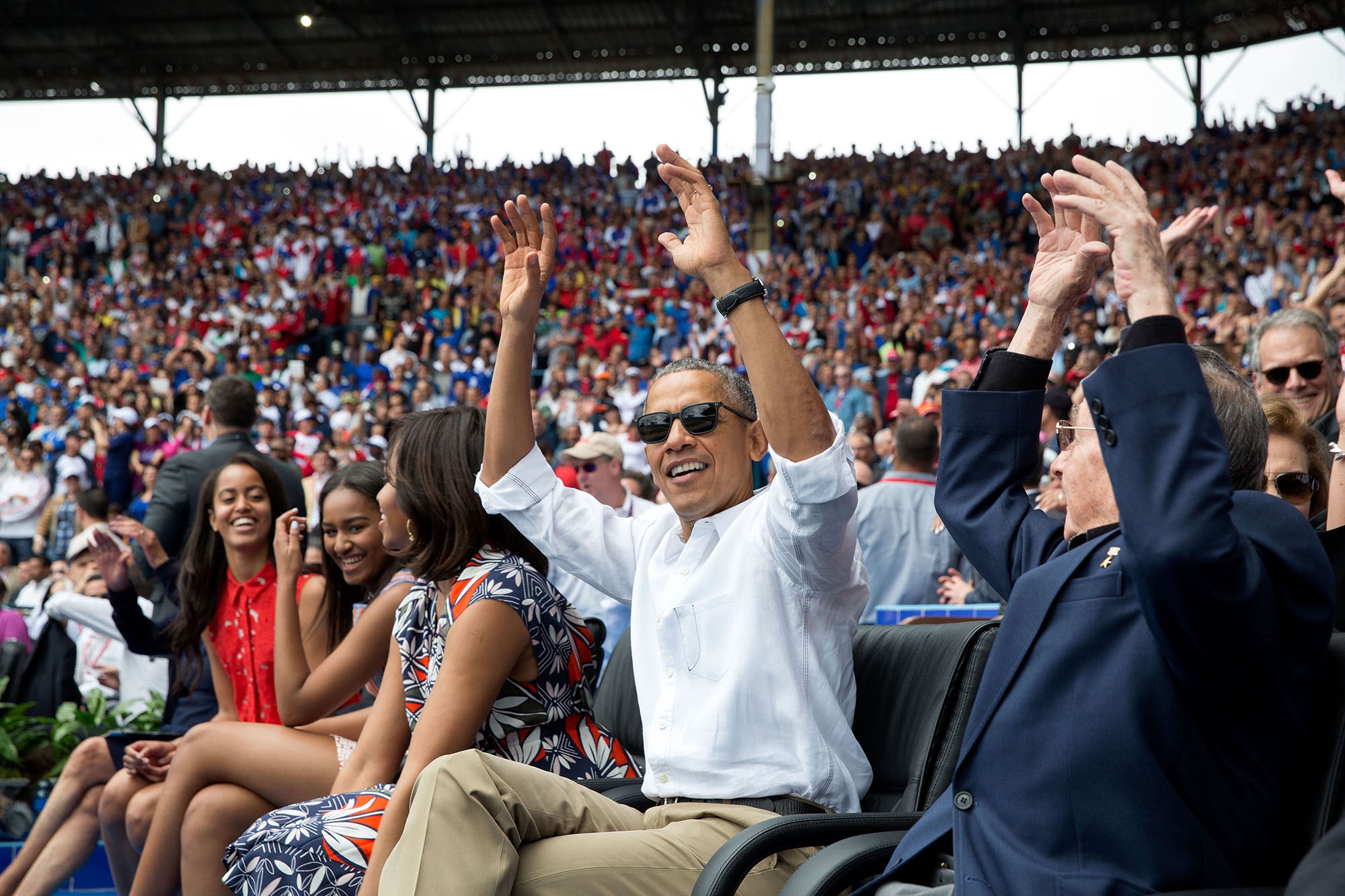 "During an exhibition baseball game between the Tampa Bay Rays and the Cuban National Team in Havana, Cuba, President Obama and President Raúl Castro of Cuba spontaneously joined in 'the wave' that others in the crowd had started."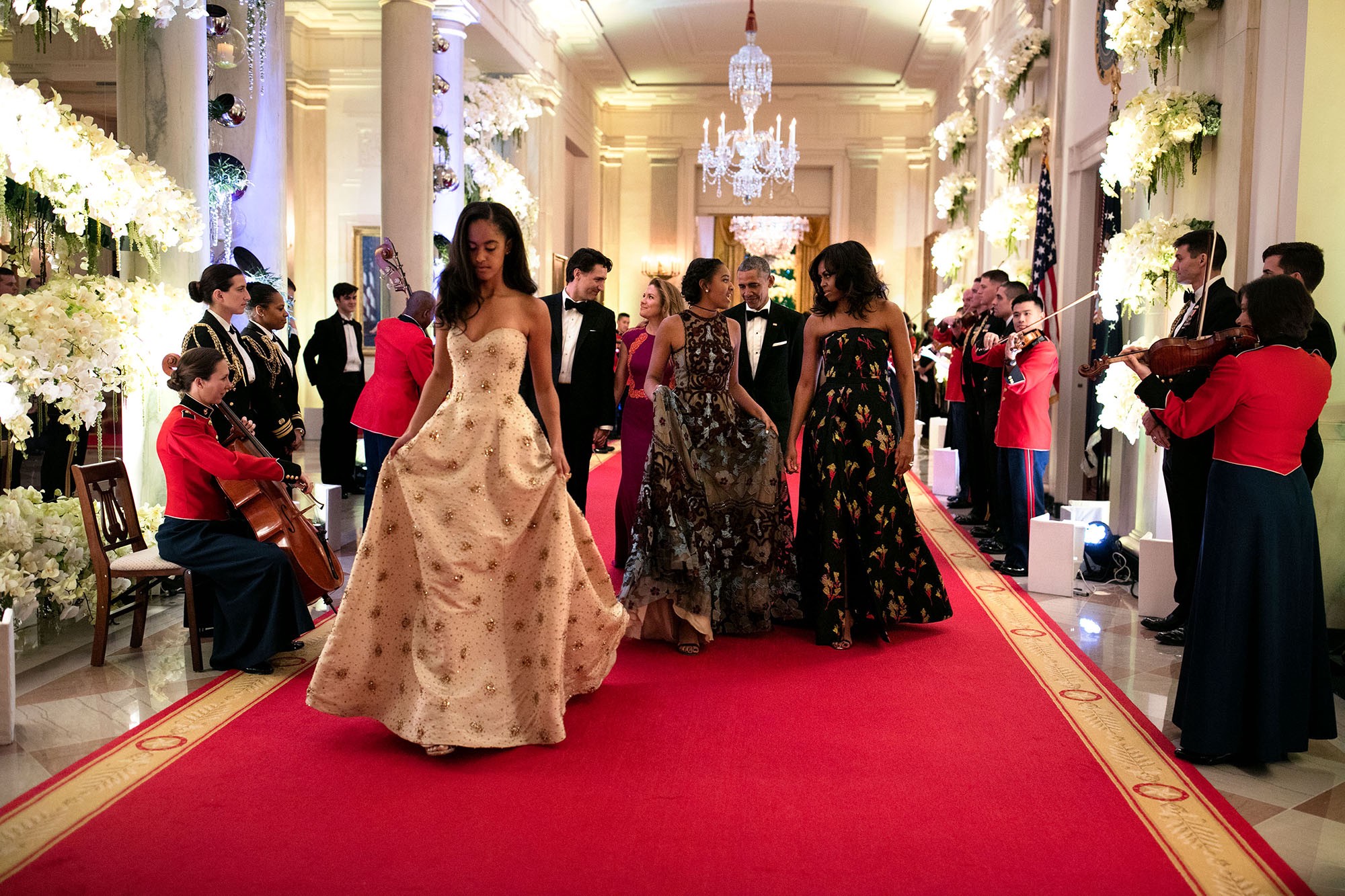 "What an honor to watch these girls grow up. Malia, foreground, and Sasha were both invited guests for the State Dinner in honor of Prime Minister Justin Trudeau of Canada and Mrs. Sophie Grégoire-Trudeau. Following the actual sit-down dinner in the East Room, they made their way down the Great Hall to the State Dining Room for the musical entertainment."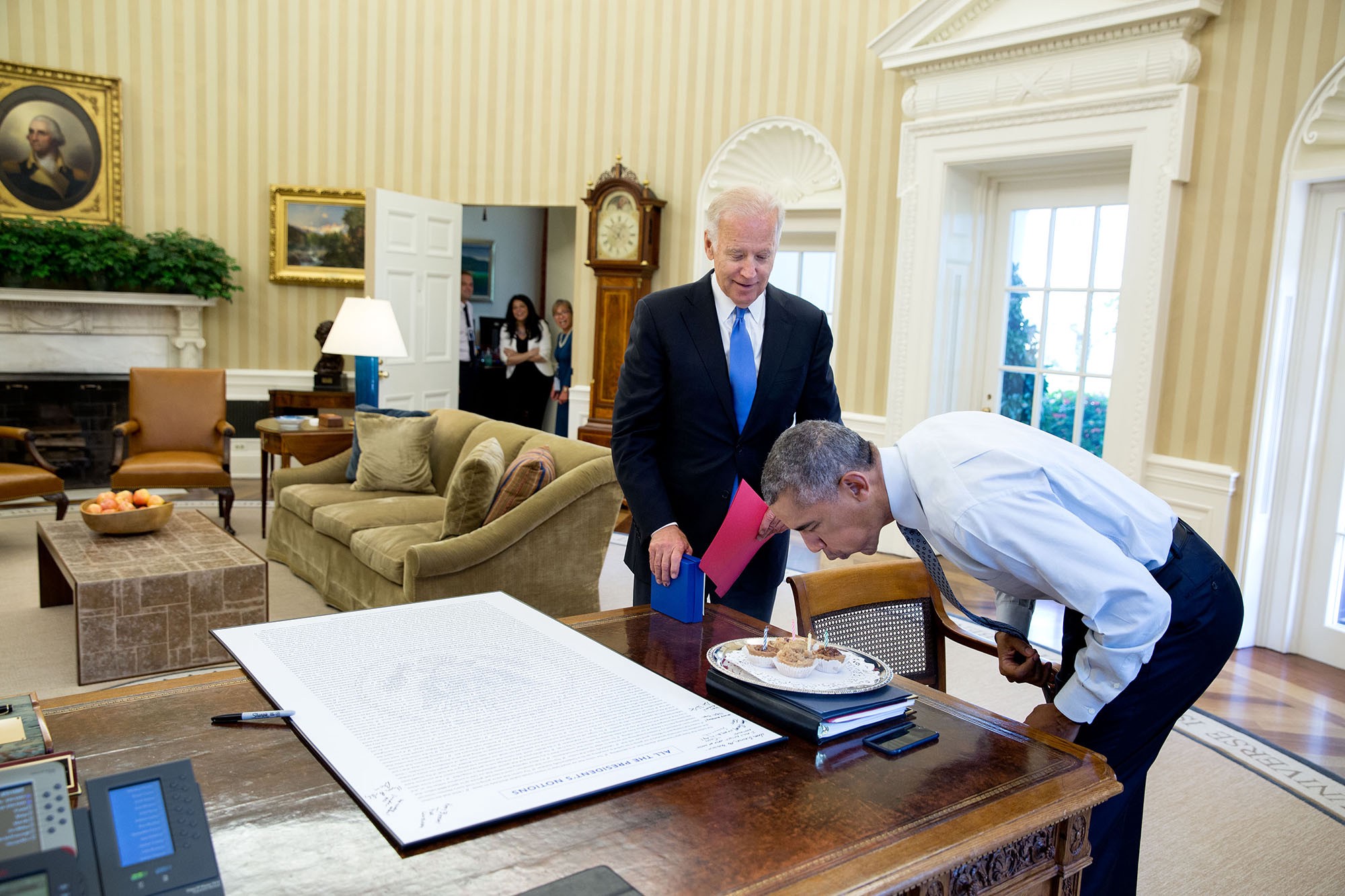 "With some staff watching in the background, President Obama blows out candles after the Vice President surprised him with some birthday cupcakes."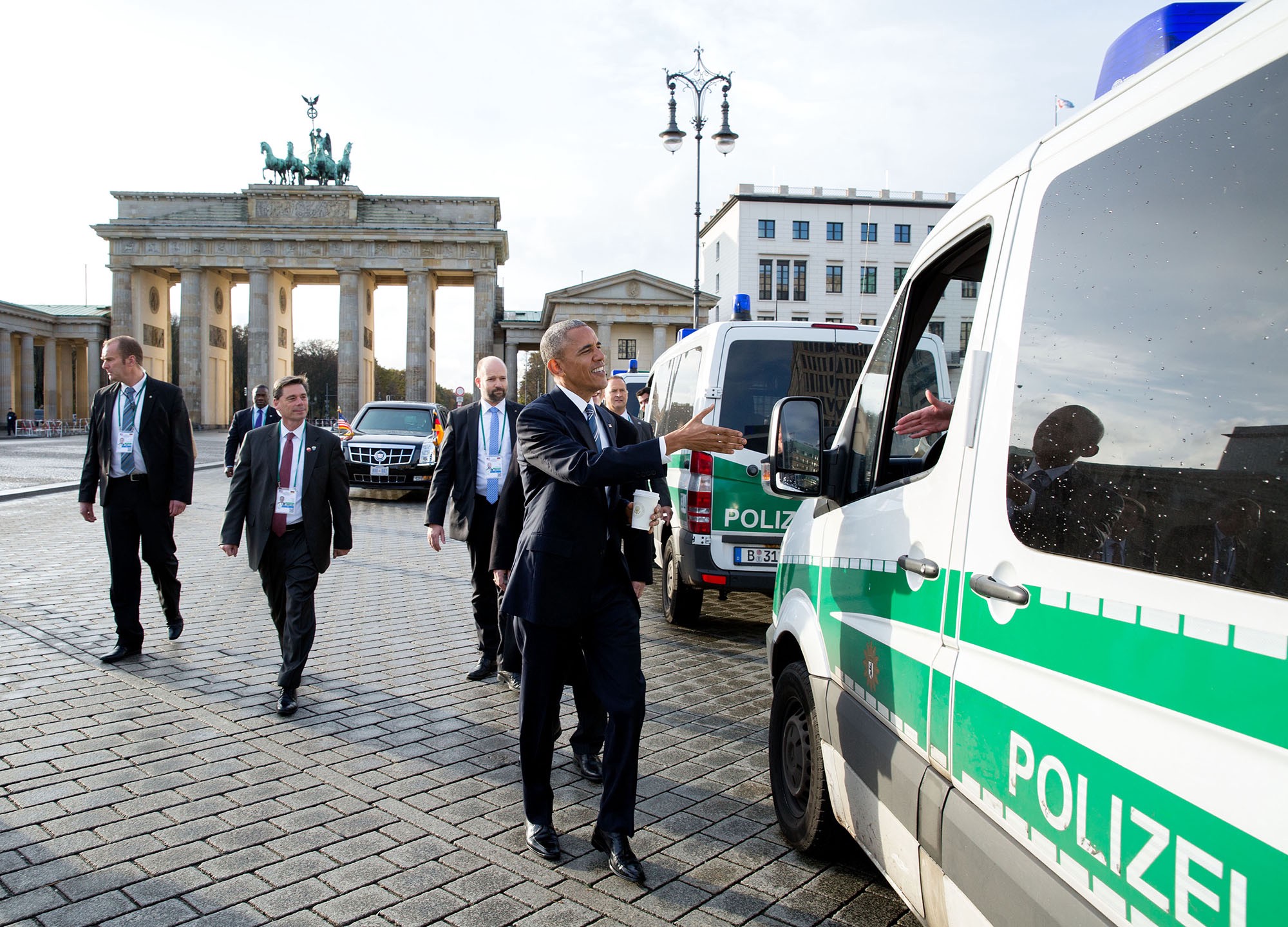 "Following lunch at the U.S. Embassy, the President decided at the last minute to walk instead of motorcade back to his hotel in Berlin, Germany. I was trying to keep the Brandenburg Gate lined up in the background when he walked over to greet local police."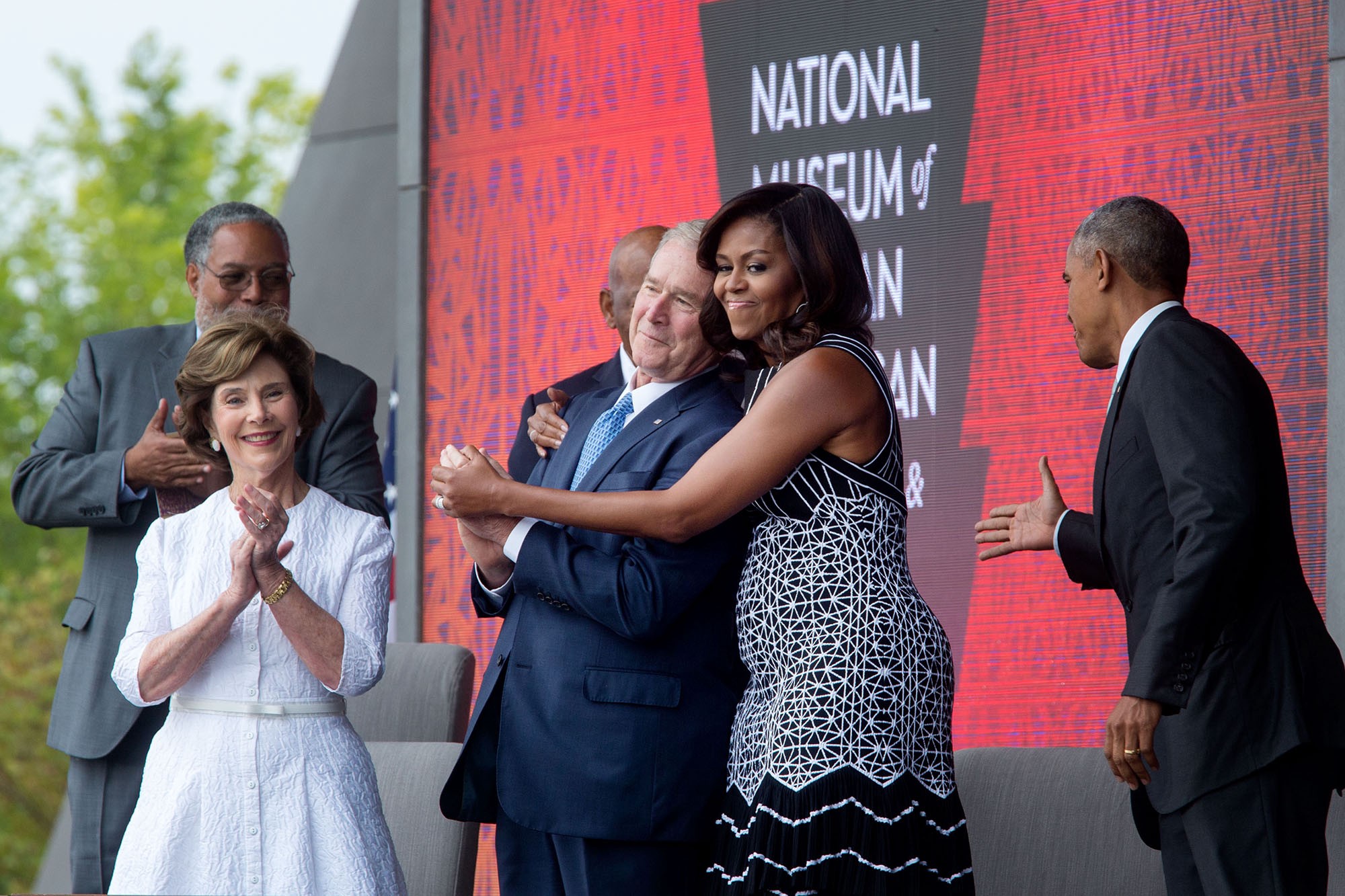 "The First Lady hugs former President George W. Bush as she and President Obama take the stage during the opening ceremony of the Smithsonian National Museum of African American History and Culture in Washington, D.C." (Official White House Photo by Chuck Kennedy)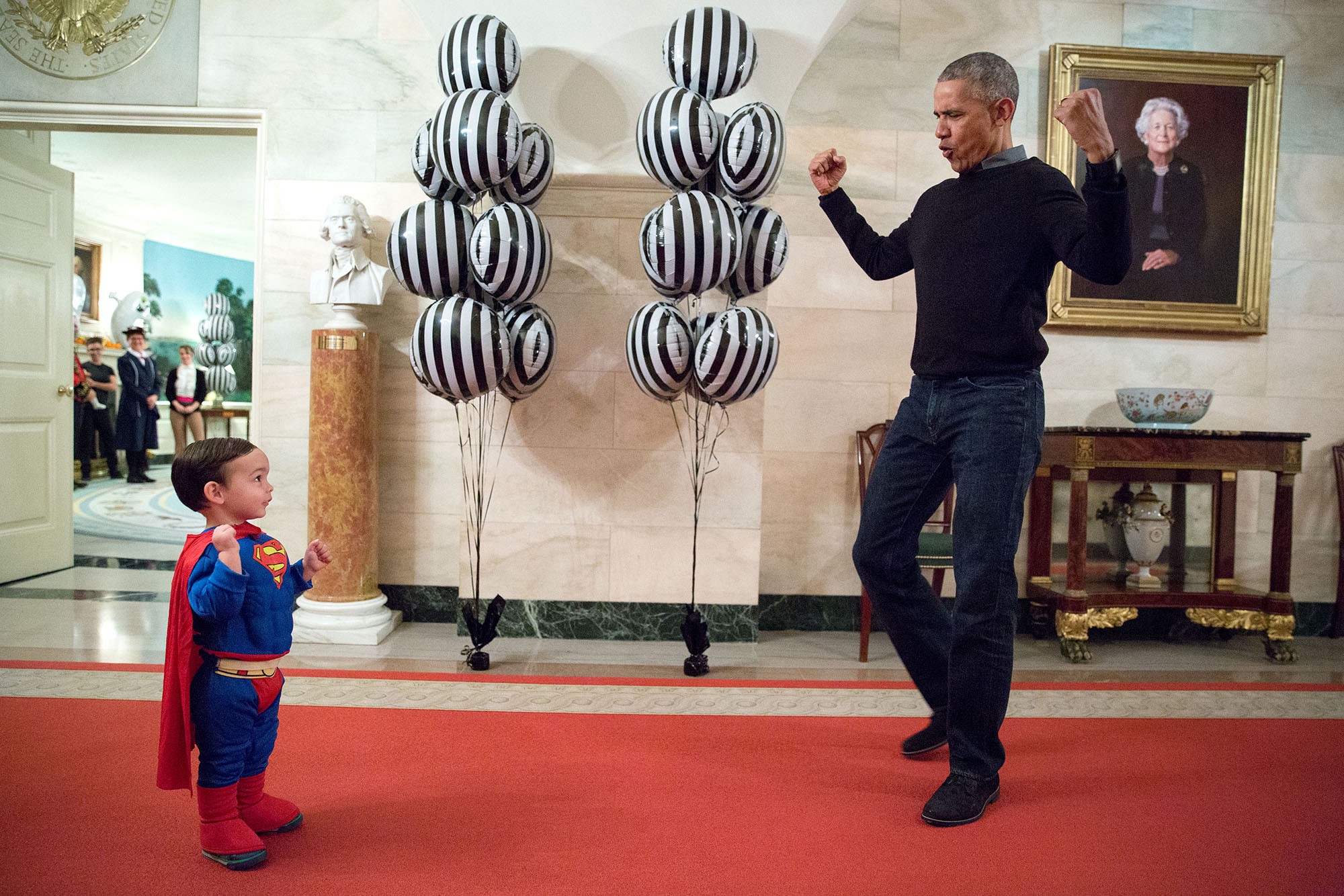 "The President was about to welcome local children for Halloween trick-or-treating when he ran into Superman Walker Earnest, son of Press Secretary Josh Earnest, in the Ground Floor Corridor of the White House. 'Flex those muscles,' he said to Walker."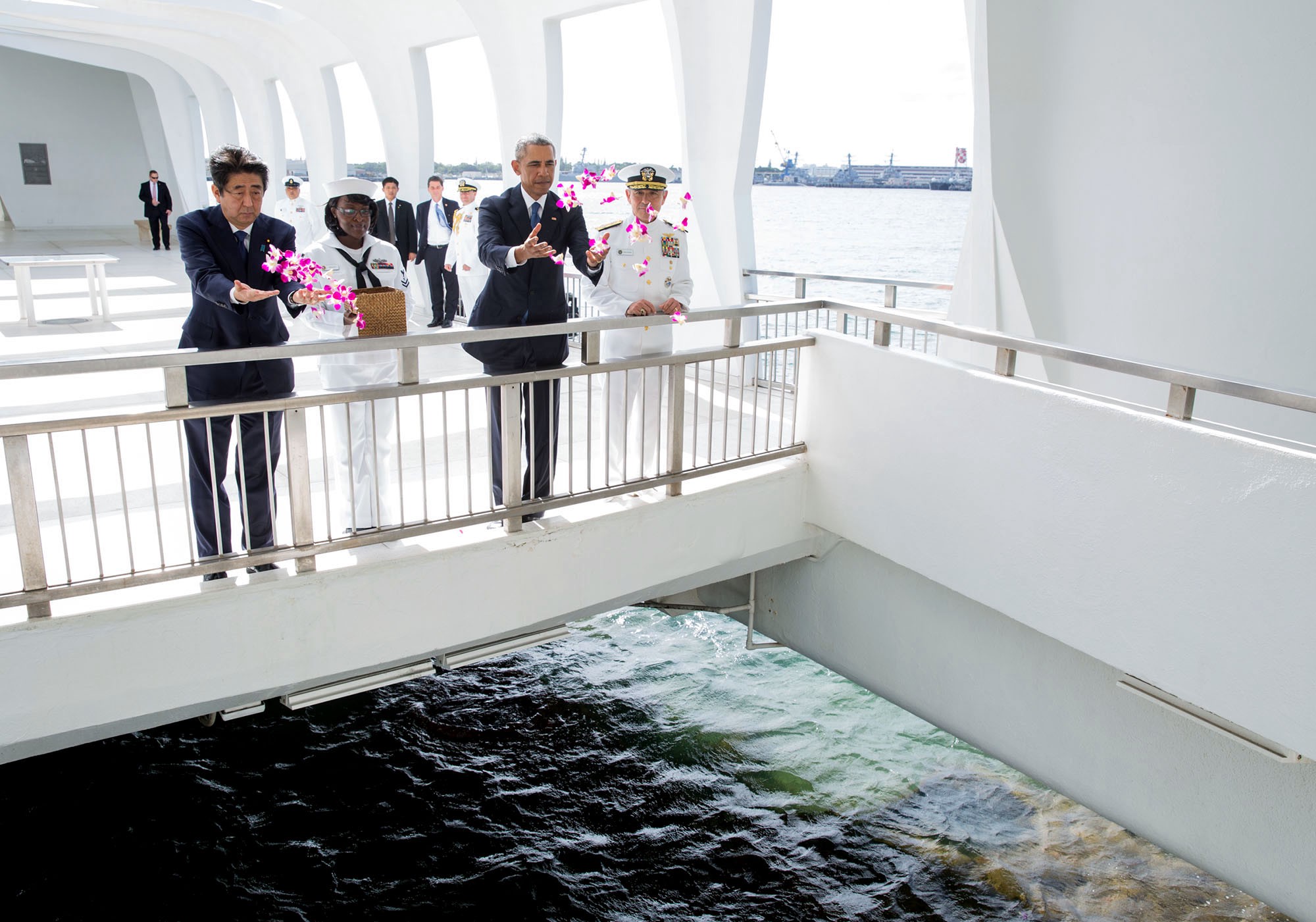 "President Obama and Prime Minister Shinzo Abe of Japan toss flowers at the wishing well after laying a wreath at the USS Arizona Memorial in Pearl Harbor."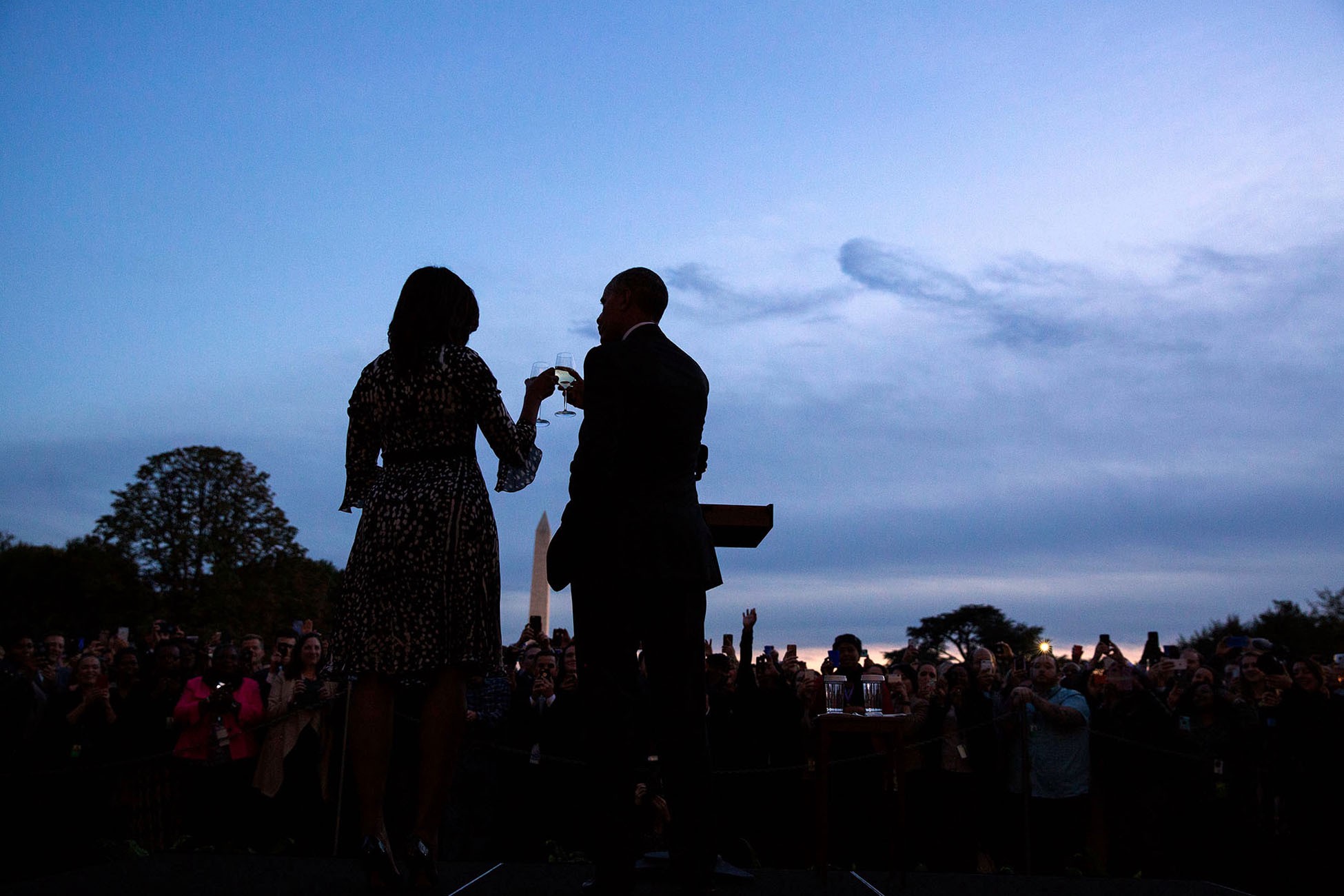 "There was almost no light remaining at the end of the day when the President and First Lady walked out to the South Lawn for a 'Fourth Quarter' toast to White House staff."