The Oscars Were a Horror Show!
February 27, 2017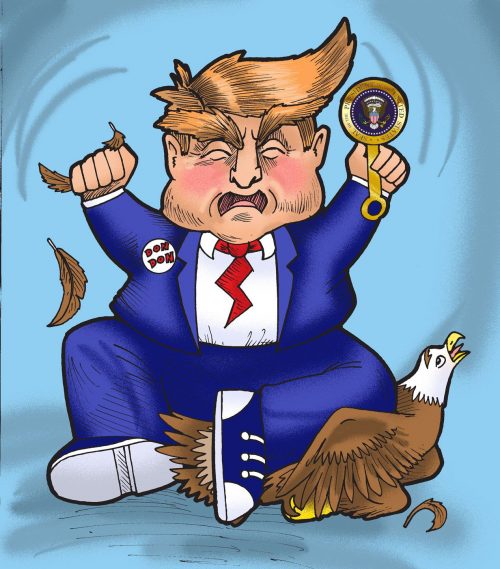 Note to readers: This is the latest entry in Super Baby DonDon's diary. The series imagines that President Donald Trump has the emotional make-up of a five-year-old and confides his deepest thoughts—such as they are—to Andrew Feinberg, and to readers, every day. In his private moments, he always thinks of himself as Super Baby DonDon.
So, those radical asstards in Hollywood think they can dump on Trump all night and there won't be consequences? I know people at PricewaterhouseCoopers. You think the snafu with the Best Picture announcement was an accident? Hah! Made that liberal ex-stud Warren Beatty look like a total LOSER. And Faye Dunaway, what happened to her face? Is she in witness protection and trying not to look like Faye Dunaway?
And the nerve of the Academy for giving so many awards to the blacks—wouldn't two have been enough?—but neglecting the work of Dr. Ben Carson, my African-American. Shame! I cry shame! Some of the black winners will have accidents, mark my words. If they set foot in Chicago, they're as good as dead. Hey, everyone who sets foot in Chicago is as good as dead. Chicago is a disaster.
The Academy is a disaster! And Jimmy Kimmel? There's a movie about him. It's called Dead Man Walking. You just watch.
Spoiler alert: Rosebud is the sled. Screw you.
Andrew Feinberg is the author of Four Score and Seven (https://www.amazon.com/Four-Score-Seven-Andrew-Feinberg/dp/0692664009), a novel that imagines that Abe Lincoln comes back to life for two weeks during the 2016 campaign and encounters a candidate who, some say, resembles Donald Trump. He also writes an anti-Trump humor page at www.babydondon.com or https://www.facebook.com/MeBabyDonDon.