One 'Cool' Pilot (Updates: …and a Hero)



UPDATE II:
News sources have reported that the First Officer of Southwest Flight 1380 is also a veteran, a former U.S. Air Force pilot.
Yesterday, Southwest Airlines released a statement on behalf of Capt. Tammie Jo Shults and First Officer Darren Ellisor:
As Captain and First Officer of the crew of five who worked to serve our Customers aboard Flight 1380 yesterday, we all feel we were simply doing our jobs. Our hearts are heavy. On behalf of the entire Crew, we appreciate the outpouring of support from the public and our coworkers as we all reflect on one family's profound loss. We joined our Company today in focused work and interviews with investigators. We are not conducting media interviews and we ask that the public and the media respect our focus.
Update I:
No news yet from the Navy on the pilot of Southwest Flight 1380, whom many are now calling a hero.
However, a 1993 article in "All Hands" ("The Plane Doesn't Care") provides a glimpse not only into Tammie Jo Shults' early days as a Naval aviator, but also into the small group of Navy women who helped make the Navy "stronger and more efficient": the members of Tactical Electronic Warfare Squadron (VAQ) 34, an "electronic aggressor squadron."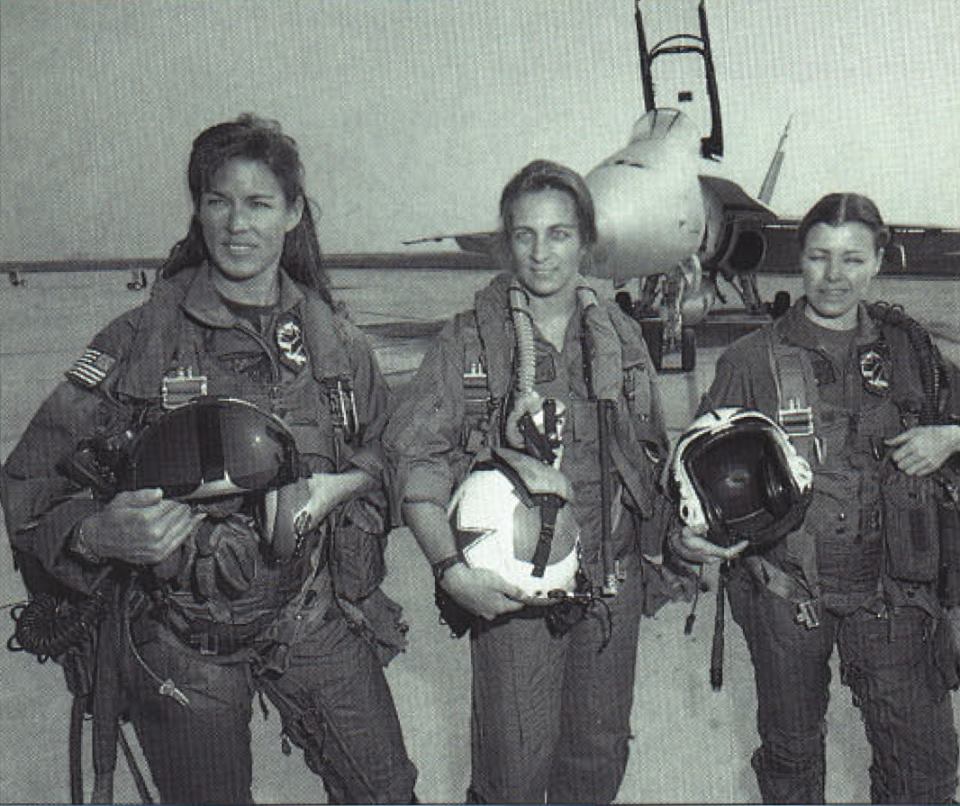 Fellow pilots from Squadron 34 (All Hands Magazine)
At the time, the squadron had eight F/A-18 aircraft and 200 sailors.
Tammie Jo Shults, a Navy Lieutenant then, was an instructor on EA-6B Prowlers and F/A-18 Hornets.
Matt Neely, the author:
LT Tammi Jo Shults has been in the Navy since March 1985. This New Mexico native has flown A-7 and F/A-18 aircraft. "In AOCS [Aviation Officer Candidate School], if you're a woman [or different in any way], you're a high profile; you're under more scrutiny," Shults said. Chances for women to gain as much knowledge about the aviation community are limited. "It would be nice if they would take away the ceilings [women] have over our heads," Shults said. "In VAQ-34, gender doesn't matter.
On Tuesday, April 17, at 32,000 feet when the left engine on her Boeing 737 "exploded," there certainly was no ceiling to this woman's skills and "nerves of steel."
Read more about this group of plucky women on page four of Neely's article that ends with the words and hopes "for the future of women in the Navy – pilots in particular" of then LT Pamela Lyons:
I want to go to a ship…Women have been doing it for 10 years as helicopter pilots. They've been on cruises and do everything their male counterparts do.
Twenty-five years later, women are serving on ships, submarines and fly combat missions.
More on this in a future article.
Original Post:
We have all heard by now of the near-catastrophe that befell Southwest Flight 1380 at 32,000 feet after the left engine "exploded" while en route to Dallas Love airport from New York City.
While, tragically, one passenger was killed and some were injured, the credit for the accident not turning into a far worse disaster goes largely to the pilot with "nerves of steel," who kept her cool under very trying circumstances and was able to safely land her badly damaged Boeing 737 with 149 souls on board in Philadelphia.
Yes, "her cool," because the pilot happened to be Tammie Jo Shults, who "was among the first female fighter pilots for the U.S. Navy, according to her alma mater, MidAmerica Nazarene University, from which she graduated in 1983," says the Navy Times.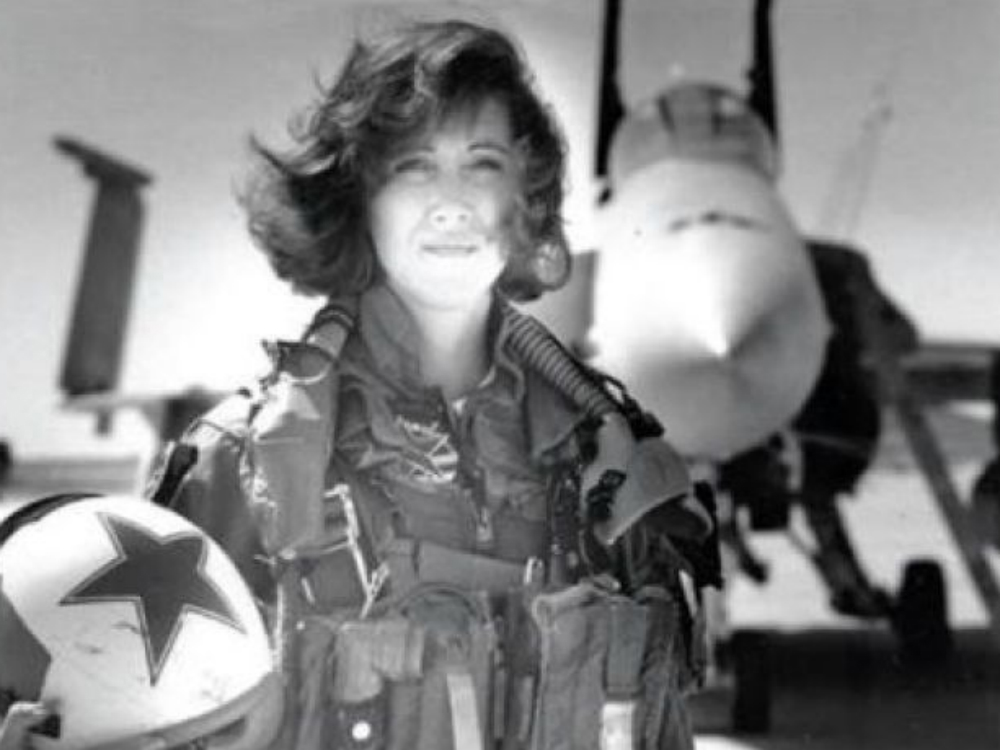 Tammie Jo Shults – Source: FaceBook /Courtesy of Linda Maloney
While the U.S. Navy has not confirmed the report, the Washington Post provides additional information from various sources, including Cindy Foster who went to college with Shults, the book "Military Fly Moms," by Linda Maloney and from Shults's own writings:
"Shults's persistence in becoming a pilot goes back to her upbringing on a New Mexico ranch, near Holloman Air Force Base…"
"Some people grow up around aviation. I grew up under it," Shults said. Watching the daily air show, she knew she "just had to fly."
When Shults met a woman in college who had received her Air Force wings, she tried to "break into the club," but the Air Force "wasn't interested" in talking to her, so she applied to attend the Navy's aviation officer candidate school, "but there did not seem to be a demand for women pilots."
Finally, she was accepted into the Navy's aviation officer candidate school in Pensacola, Fla., and after graduation she "was assigned to a training squadron at Naval Air Station Chase Field in Beeville, Tex., as an instructor pilot teaching student aviators how to fly the Navy T-2 trainer. She later left to fly the A-7 Corsair in Lemoore, Calif."
Because of the combat exclusion law, Shults was prohibited from flying in a combat squadron, but later "became one of the first women to fly what was then the Navy's newest fighter, the F/A-18 Hornet, but again in a support role."
[Shults] served in the Navy for 10 years, reaching the rank of Navy lieutenant commander. She left the Navy in 1993, and now lives in the San Antonio area with her husband. She has two children — a teenage son and a daughter in her early 20s.
When the U.S. Navy fleshes out her story, as I am sure it will, this story will be updated.
For now, her cool, calm behavior under conditions of incredible stress, says everything about this cool pilot who had the time and the grace to tell the Philadelphia control tower, "Thank you…Thanks, guys, for the help" after she safely landed her crippled aircraft.