National Ovarian Cancer Awareness Month (Guest Voice)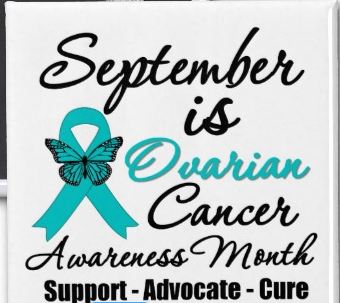 We as Americans hope to be in the throes of someone at an opportune time in our adulthood. We look to have formidable families that stay together as we are supposed to be like juice with Vitamin C or like electricity in a galaxy. We all desire babies to be on the way for the good of our civilization, world, and God. So, we have to be in good health to rear these children. We have to have a childhood: we are not Adam and Eve — or Gary Coleman. God wanted men and women to be parents in his name. A child cannot raise himself or herself without loving parents. September is National Ovarian Cancer Awareness Month. These are some tips to have healthy ovaries:
1. Be careful with your calories in your diet. Eat lots of fruits and vegetables.
2. Watch the amount of foods that raise your blood sugar. Nuts, rye bread, beans, most fresh fruits, and non-starchy vegetables.
3. Look at the portions of food you eat. Too much of anything is no good.
4. Vitamin D is good for bone health, which helps the ovaries. Mushrooms, eggs, salmon, milk, and the sun are good sources for this.
5. Antioxidants are beneficial for ovaries because they keep your egg count up. Fruits and vegetables have a lot of it, and berries as well.
6. Omega-3 fatty acids are terrific for your heart and ovaries. They can be found in fatty fish, pumpkin seeds, soy oil, soy beans, and walnuts.
7. Exercise is wonderful for your ovaries. Working out 20 minutes a day can keep you from being overweight, which can lead to ovarian cancer.
8. L-arginine is a helpful supplement to take because it increases ovarian response.
9. Herbs have antioxidants that lower risks for cancer. Chinese herbs and brassica vegetable extracts have a bunch of antioxidants in it.
There was a gamecock before there was an egg. The supply of the methods where we pick up knowledge came before us, our Ultimate Supplier of good things is God. We did not self-create ourselves. God said he will bless you with blessings of the womb. Our lives are God's blessings and we should treat our body as temples. We didn't self-create ourselves and we must realize God owns our purposes.
Jordan Thomas Cooper is a 2015 graduate of the University of South Carolina with a degree in History and a 2010 graduate of the RealEstate School of Success in Irmo. He is the first African-American to serve in both the governor and lieutenant governor's office as an aide and first to serve in the Inspector General's Office in S.C. (Haley) He is also the first person to serve in the top three offices in the gubernatorial line of succession in South Carolina (Haley, Bauer, McConnell). He says research shows he is the second black presidential campaign speechwriter in American history and the first for a GOP presidential campaign (Bush 2015). He also played football for Coach Steve Spurrier.