Moscow Home Movies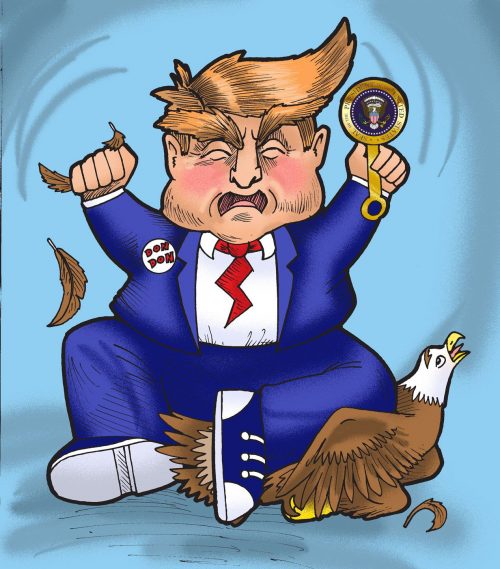 January 10, 2017
Note to readers: This is the latest entry in Super Baby DonDon's diary. The series imagines that President-elect Donald Trump has the emotional make-up of a five-year-old and confides his deepest thoughts—such as they are—to Andrew Feinberg, and to readers, every day. In his private moments, he always thinks of himself as Super Baby DonDon.
So tonight the New York Times reports that the intelligence agency chiefs who briefed me last week mentioned some unsubstantiated reports that Russia had collected "compromising and salacious" information on Exalted Super Baby DonDon, including videos of me having sex with some exalted, super-hot prostitutes in a Moscow hotel in 2013.
I have two things to say. First, the tapes don't exist. And you can trust me on this, because I have never lied to you and I will never lie to you.
Unless I feel like it. Or have no choice because I don't know what else to say.
Second, I want to arrange a private screening of these non-existent tapes for Senator Marco Rubio so he can see how wrong he was to say those nasty, untrue things about the size of my hands.
Andrew Feinberg is the author of Four Score and Seven (https://www.amazon.com/Four-Score-Seven-Andrew-Feinberg/dp/0692664009), a novel that imagines that Abe Lincoln comes back to life for two weeks during the 2016 campaign and encounters a candidate who, some say, resembles Donald Trump. He also writes an anti-Trump humor page at www.babydondon.com or https://www.facebook.com/MeBabyDonDon.