Military Weekend: Your U.S. Air Force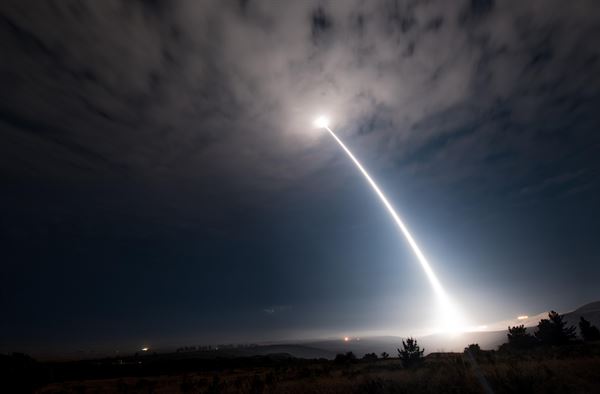 Although they have probably not been missed, I have been somewhat remiss with "Military Weekend" posts.
This weekend, your U.S. Air Force at work, including one organization that has been somewhat in the news this week in view of North Korea's budding intercontinental ballistic missile capabilities, the Air Force Global Strike Command, responsible for the nation's three intercontinental ballistic missile wings, the Air Force's entire bomber force and the Long-Range Strike Bomber program with 31,000 professionals assigned to it.
First, these images: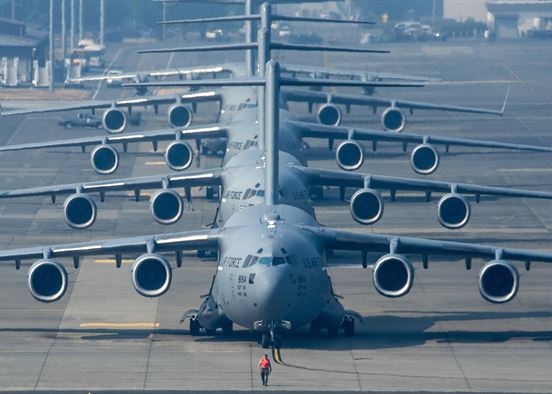 Four C-17 Globemaster III's and a C-130 Hercules line up in preparation for Mobility Guardian's elephant walk, Joint Base Lewis-McChord, Wash., Aug. 2, 2017. More than 3,000 Airmen, Soldiers, Sailors, Marines and international partners converged on the state of Washington in support of Mobility Guardian. The exercise is intended to test the abilities of the Mobility Air Forces to execute rapid global mobility missions in dynamic, contested environments. (U.S. Air Force photo/Tech. Sgt. Jodi Martinez)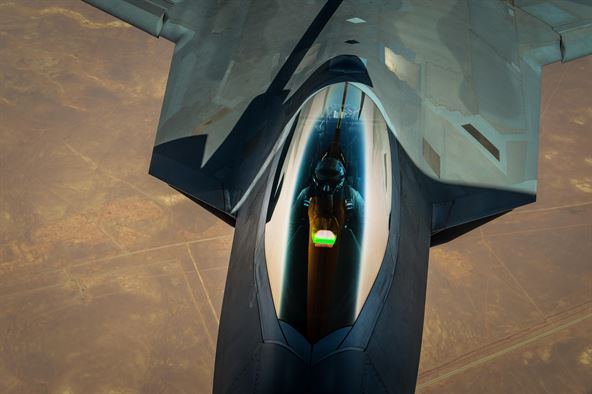 An F-22 Raptor receives fuel from a KC-135 Stratotanker during a mission in support of Operation Inherent Resolve July 31, 2017. The F-22 is a component of the Global Strike Task Force, supporting U.S. and Coalition forces working to liberate territory and people under the control of the Islamic State in Iraq and Syria. (U.S. Air Force photo/Staff Sgt. Michael Battles)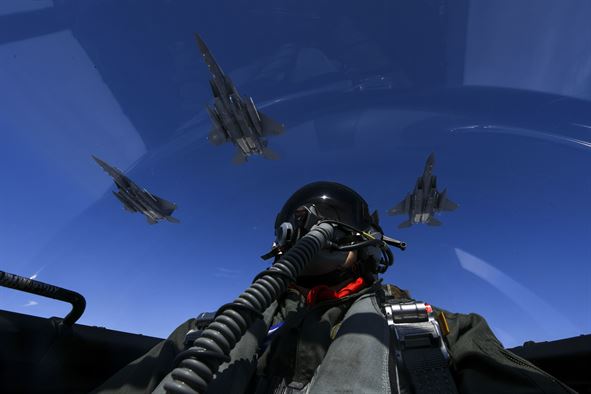 Two B-1B Lancers (not pictured) joined up with Republic of Korea air force F-15s during a 10-hour mission from Andersen Air Force Base, Guam, into Japanese airspace and over the Korean Peninsula, July 30, 2017. The B-1s first made contact with Japan Air Self-Defense Force F-2 fighter jets in Japanese airspace, then proceeded over the Korean Peninsula and were joined by South Korean F-15 fighter jets. This mission is part of the continuing demonstration of ironclad U.S. commitment to its allies. (Courtesy photo)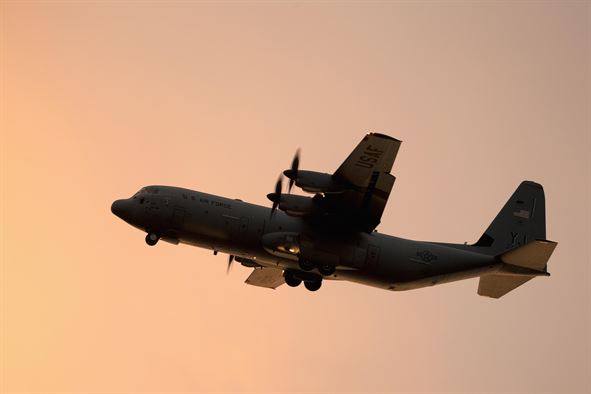 A C-130J Super Hercules from the 36th Airlift Squadron conducts a flight mission over Yokota Air Base, Japan, July 31, 2017. The C-130J provides tactical airlift worldwide and its flexible design allows it to operate in austere environments. (U.S. Air Force photo/Yasuo Osakabe)

Now the Global Strike Command:
Below and lead photo, an unarmed Minuteman III intercontinental ballistic missile launches during an operational test at Vandenberg Air Force Base, Calif. on Aug. 2, 2017. (U.S. Air Force photos/Senior Airman Ian Dudley)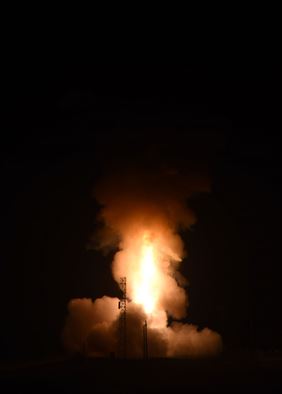 From Air Force Global Strike Command Public Affairs:
"A team of Air Force Global Strike Command Airmen from the 90th Missile Wing at F.E. Warren Air Force Base, Wyoming, launched an unarmed Minuteman III intercontinental ballistic missile equipped with a single test reentry vehicle Aug. 2, 2017 at 2:10 a.m. Pacific Daylight Time from Vandenberg AFB, California.
While not a response to recent North Korean actions, the test demonstrated the U.S.' nuclear enterprise is safe, secure, effective and ready to deter, detect and defend against attacks on the U.S. and its allies.
The ICBM's reentry vehicle, which contained a telemetry package used for operational testing, traveled approximately 4,200 miles to the Kwajalein Atoll in the Marshall Islands. These test launches verify the accuracy and reliability of the ICBM weapon system, providing valuable data to ensure a continued safe, secure and effective nuclear deterrent.
::
F.E. Warren AFB is one of three missile bases with crew members standing alert 24 hours a day, year-round, overseeing the nation's ICBM alert forces.
::
The ICBM community, including the Department of Defense, Department of Energy and U.S. Strategic Command, uses data collected from test launches for continuing force development evaluation. The ICBM test launch program demonstrates the operational capability of the Minuteman III and ensures the U.S.' ability to maintain a strong, credible nuclear deterrent as a key element of U.S. national security and the security of U.S. allies and partners."
Watch the video below.