Military Weekend: 'Service Dogs Get Paws-On Training' (Updates)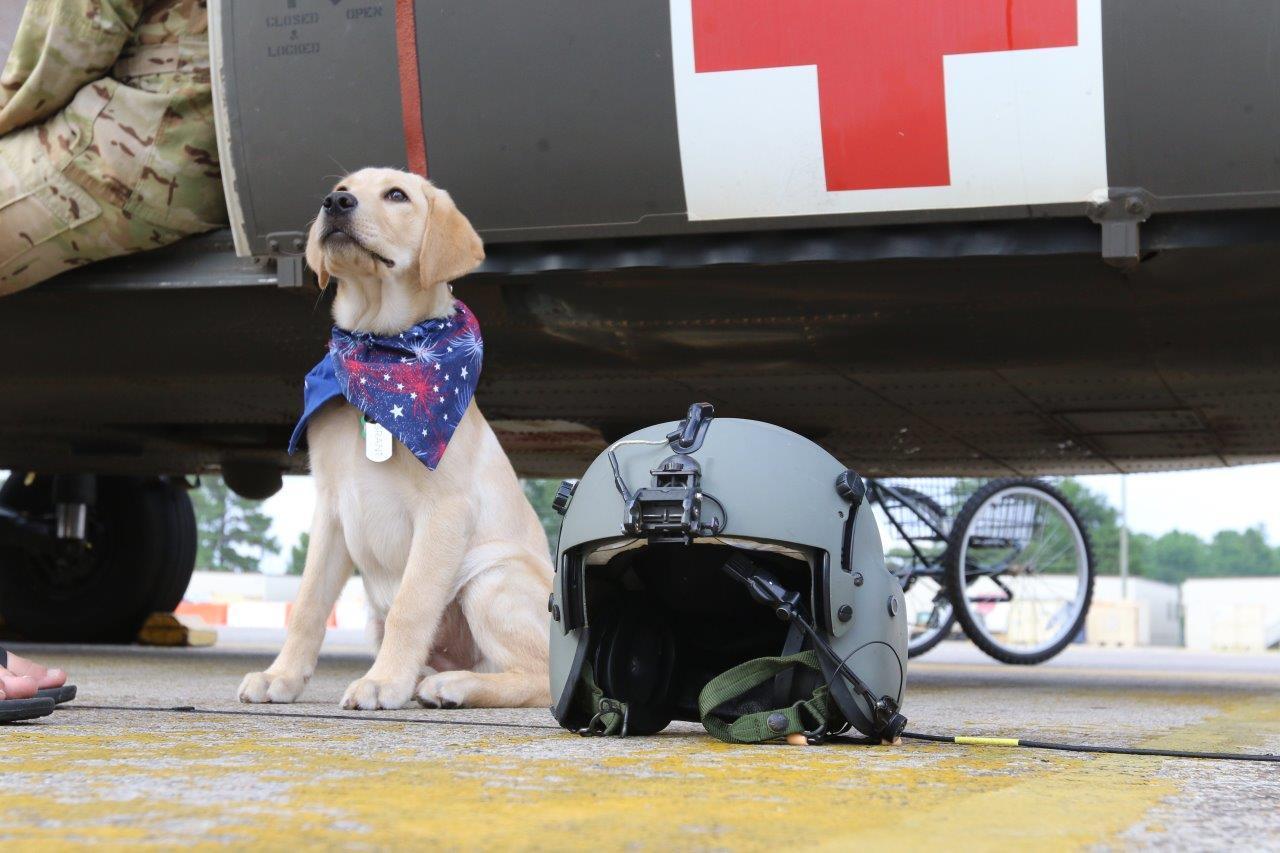 Update II:
One of my "faults," at least according to my wife, is pointing out a person and excitedly explaining how much that person looks like another person we know.
Most of the time, again according to my beloved wife, I am dead wrong – no similarity whatsoever.
So, here I go out on a limb again – this time with dogs.
As our readers at TMV know, a loyal and dear reader lost her beloved dog and companion, "Mister Brownie," sometime ago.
Commenting on this story about service dogs, "Brownies Girl" (BG) reminisces on how smart and regal Mr. Brownie was, how much she misses him and how great of a service dog he would have made.
BG posted a photo of Mr. Brownie, below.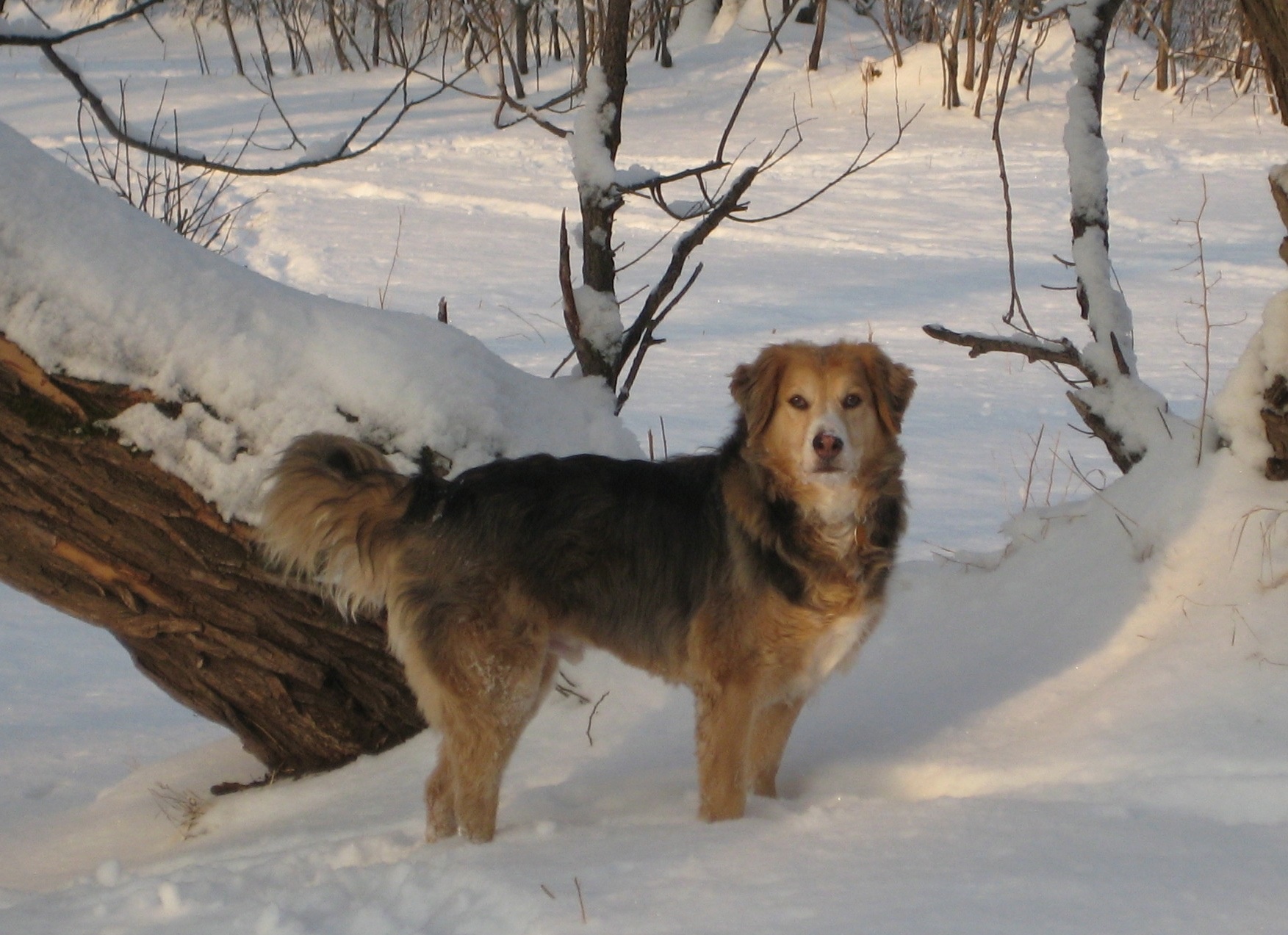 Well, it so happens that today I read the story of a service dog named Moxie who, along with other service dogs, participated in the opening ceremonies for the 2017 Department of Defense Warrior Games for ill and injured service members and veterans.
Here is Moxie's photo, leading the Warrior Games opening parade.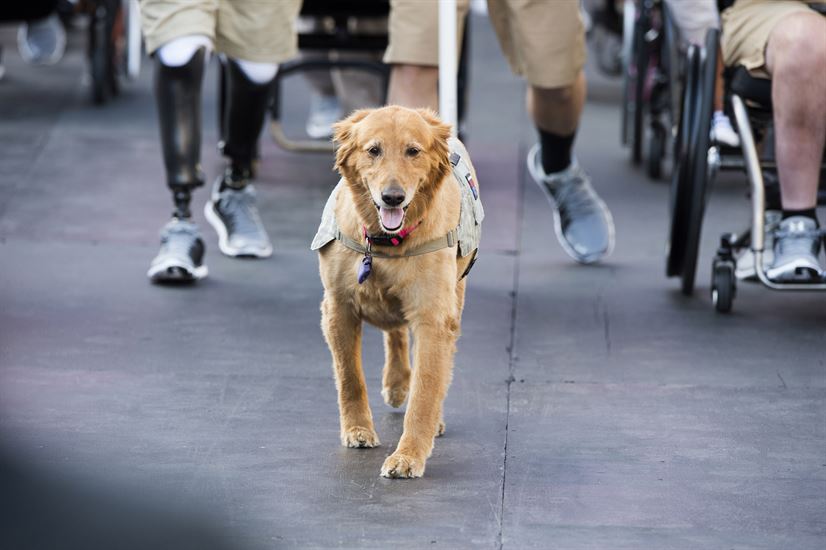 DoD photo by EJ Hersom
I think there is a striking resemblance between Mr. Brownie and Moxie.
I have not shown these photos to my wife as I am afraid of the verdict.
Anyway, thank you for your contributions to TMV, BG, and especially for sharing your memories of Mr. Brownie.
Here is Moxie's story as told by Shannon Collins at DoD News, Defense Media Activity:
Medically retired Army Sgt. Christina Gardner has had Moxie, a golden retriever, for seven years.
"She's for assistance, as well as for seizure alert and response, so she helps a lot with detecting and alerting me to my seizures and then fetching and carrying things," Gardner said.
"She's pretty awesome," she added. "She's loving all the attention and everything, but it's funny. Sometimes when she knows it's a task I ask her to do that I can do for myself, she just gives me a look like, 'Are you kidding me? Go do it yourself.'"
Moxie is the only service dog here for Team Army, so Gardner said she's become the team mascot. "Everybody's been loving on her. She's getting very spoiled. She loves this attention," Gardner said.
Moxie is wearing the Army combat uniform Gardner was wearing when she was injured. "The Red Cross at Walter Reed [National Military Medical Center] takes our uniform after we're injured and makes that into her uniform," Gardner said. "It puts her in uniform, too. She's my battle buddy everywhere I go. She serves just as much as I do."
Update I:
Just had to update this post with an ABC News clip of the police in my native country holding a retirement ceremony for 16 of their loyal K-9 officers.
Original Post:
It has been a while since I have written about my favorite subject: our four-legged warriors, military working dogs, service dogs.
Due to travel, I have had very little time to write and post during the past few weeks.
Fortunately, Army Staff Sgt. Kellen Stuart, 3rd Combat Aviation Brigade, Hunter Army Field, Ga., has just posted a great story about how some puppies are selected, nurtured and trained to become a guide dog, service dog, therapy dog or "a gifted canine, — a dog that is hand-selected to serve in law enforcement, provide emotional support to veterans with disabilities, or support a Gold Star Family."
"Southeastern Guide Dogs," mentioned in the story, is a non-profit that trains dogs for blind people and in particular for veterans living with Post-Traumatic Stress Disorder (PTSD).
To learn more about this noble organization please click here. Also, please watch the video below, titled "You Are Not Alone," courtesy Southeastern Guide Dogs.
We all know the saying, "Dogs are man's best friend." They become a part of the family and share in every aspect of the household from holidays to birthdays and even graduations.
On June 26, the 3rd Combat Aviation Brigade here hosted a walk-through for a special group of dogs in training to become service dogs for veterans with post-traumatic stress and the visually impaired.
"Southeastern Guide Dogs transforms lives by creating and nurturing extraordinary partnerships between people and dogs," said Kerstin Ramus, from Southeastern Guide Dogs. The national organization employs the latest in canine development and behavior research to train dogs of the highest pedigree for people who are blind and for veterans, she said.
Puppies perched their paws on a variety of pilot gear to become familiar with equipment they may encounter as a service dog for an active-duty service member or veteran.
"We are giving them an opportunity to make positive association with every day, normal life situations, which is the reason why we are meeting at Hunter today — we do provide veterans with psychiatric service animals," Ramus said. "We provide service animals to people who can't see or have seen too much. Some of our [clients] are still on active duty, so the dog very well may be asked to work in this environment."
Army Chief Warrant Officer 4 Chris Hellums, assigned to Bravo Company, 603rd Aviation Support Battalion, his son, Gabriel, and daughter, Aliciona, each care for puppies preparing to become service dog candidates.
"About a year-and-a-half ago, my daughter Aliciona expressed some interest with raising a service dog puppy," Hellums said. "So, we went through the application process, met Kerstin, [were] approved and got Cinnamon, who graduated today."
Training Process
From birth until about age 2, Cinnamon, like the other dogs in training, went through an education that included socialization skills, basic obedience and house manners. During this period, the dogs' unique aptitudes and abilities become clear, Ramus said, and dogs pursue a "major" based on their personality, health, temperament, trainability and suitability for specific careers.
A majority of the dogs in training pursue a path toward becoming a guide dog, service dog, facility therapy dog or a gifted canine, — a dog that is hand-selected to serve in law enforcement, provide emotional support to veterans with disabilities, or support a Gold Star Family, she added.
Kyle is a black Labrador who was selected as an ambassador dog for Southeastern Guide Dogs and is now paired with Hellums as he goes through the medical discharge process.
"Kyle was the first official dog I raised on my own," said Christel-Ann Ramus, a volunteer with Southeastern Guide Dogs. "I learned of the responsibility that comes with raising a guide dog, which means getting up in the morning 20 minutes earlier. I got to experience the challenges of everyday life plus the dog, and it's a humbling experience."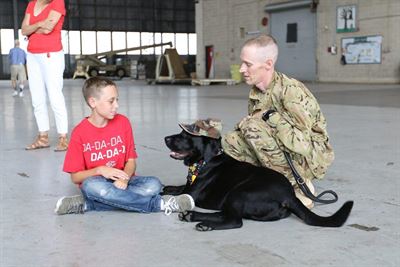 Army Chief Warrant Officer 4 Chris Hellums and his son, Gabriel, sit with Kyle at Hunter Army Airfield, Ga., June 26, 2017. Army photo by Staff Sgt. Kellen Stuart.
People can raise money to name a Southeastern Guide Dog puppy in honor of a loved one.
"I will be getting my third official dog in July," Christel-Ann Ramus said. "My best friend in high school, Allie Laungh, a nursing major at Georgia Southern University, unfortunately died in a car crash a few years back. She was an organ donor, so parts of her live in others but nobody gets to call her name anymore. I started raising the money two years ago and now I raised enough, so the puppy that I will be raising will be named Laungh, her last name in honor of her. So that somebody will get to call her name as people get to live with parts of her."
Chris Kyle's family also raised money to name two dogs in his honor, she explained. His family has a puppy that helps them with the loss of the former Navy SEAL.
Kyle, the black Lab paired with Hellums, is named in Chris Kyle's honor.
"Kyle couldn't be a full-time service dog because of a possible injury," Hellums said. "So he was returned back to the area to become the ambassador dog for Southeastern Guide Dogs. Since I am medically retiring he is going to hang out with me, and we're going to continue to work with together to get through our medical issues as I transition out of the Army."
Lead photo: A guide dog in training sits next to a pilot's helmet at Hunter Army Airfield, Ga., June 26, 2017. The dog is in its first phase of training, and is learning to socialize and become confident in different environments. Army photo by Staff Sgt. Kellen Stuart