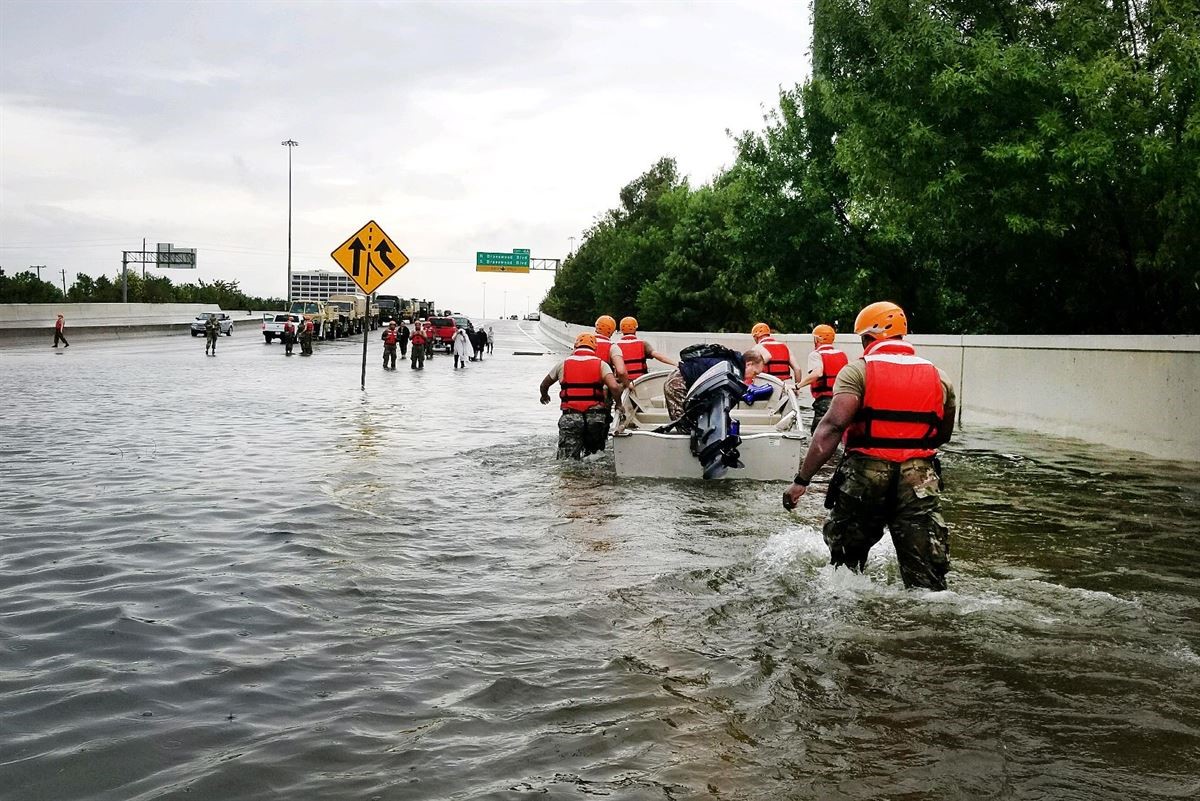 Update Sept. 2:
Activities aboard USS Kearsarge enroute to Gulf Coast to provide humanitarian and disaster relief for the areas affected by Hurricane Harvey.
Update, Sept. 2
Nothing says it like images: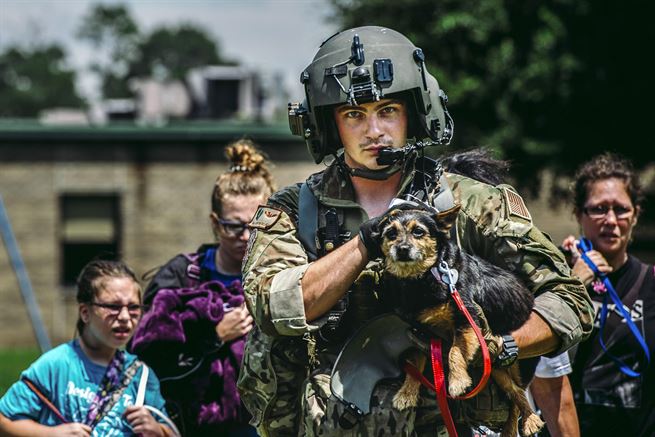 Air Force Senior Airman Austin Hellweg leads a family to an HH-60 Pave Hawk helicopter in Beaumont, Texas, Aug. 31, 2017, for transport to a safer location during Harvey relief efforts. Air Force photo by Staff Sgt. Jordan Castelan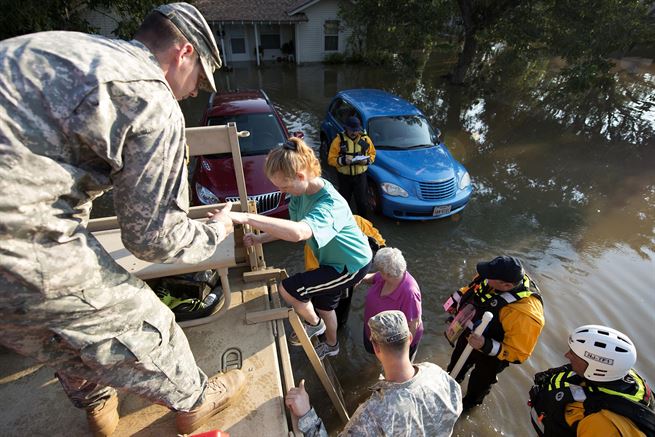 Army National Guard Staff Sgt. Class Richard Call and members of New Jersey Task Force 1, assist evacuees displaced by Hurricane Harvey into a Light Medium Tactical Vehicle to during water rescue operations in Wharton, Texas, Aug. 31, 2017. Air National Guard photo by Senior Master Sgt. Robert Shelley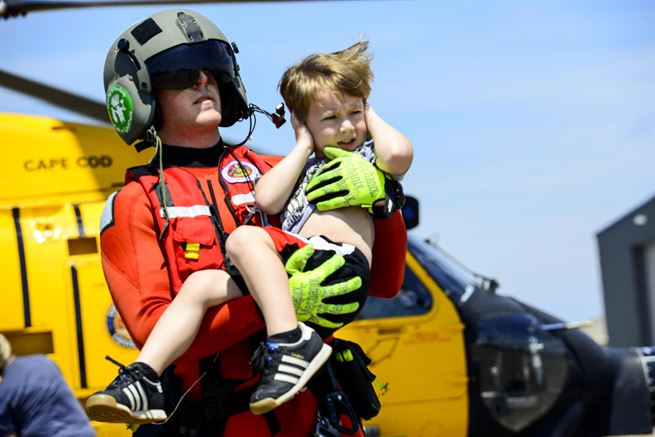 Coast Guard Petty Officer 3rd Class Evan Gallant, a rescue swimmer assigned Air Station Miami, carries a boy from an MH-60 Jayhawk helicopter in Beaumont, Texas, Aug. 31, 2017, while helping move people from a shelter to a regional airport. Coast Guard photo by Petty Officer 3rd Class Corinne Zilnicki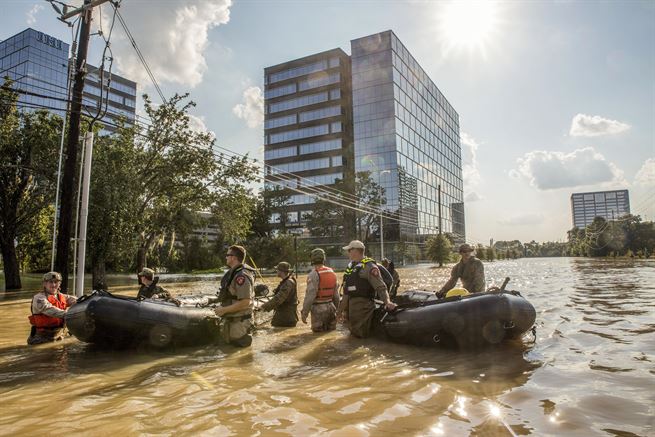 Marines Corps reservists work with members of the Texas State Guard and Texas Highway Patrol to pull Marine Corps combat rubber raiding craft through a flooded street in Houston, Aug. 31, 2017, while supporting Harvey relief efforts. Marine Corps photo by Lance Cpl. Niles Lee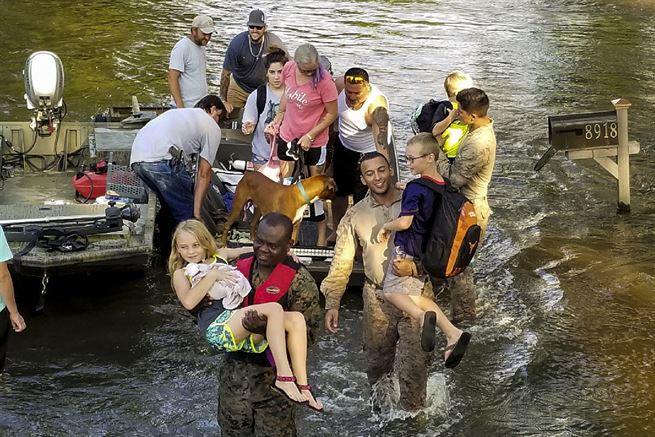 From left, Navy Petty Officer 1st Class Komi Gayakpa and Marine Corps Lance Cpls. Arturo Platamartinez and Alejandro Lopez carry children to safety while performing search and rescue operations in Lumberton, Texas, Aug. 31, 2017, in Harvey's aftermath. Courtesy photo

Update, Sept. 2
National Guard Units from several states have been supporting humanitarian aid and evacuation missions in hurricane Harvey devastated areas.
Air National Guard (ANG) units in particular have been contributing to the efforts.
As of August 29, the following ANG units were represented:
— Alaska: About 13 airmen with the 176th Rescue Wing;
— California: About 90 airmen with the 129th Rescue Wing;
— Connecticut: A C-130 Hercules transport plane with eight airmen from the 103rd Airlift Wing;
— Florida: Nearly 100 airmen with the 920th Rescue Wing;
— Kentucky: Nearly 20 airmen with the 123rd Special Tactics Squadron;
— New York: More than 100 airmen, a C-130, three HH-60 Pave Hawk search-and-rescue helicopters and two C-17 transport jets with the 106th Rescue Wing; and
— Oregon: About 15 members of the 125th Special Tactics Squadron whose missions include rescue as well as restoring airfields so supplies can be flown in.
Additionally, six helicopters from units in Utah, Nebraska and North Carolina were heading to Texas, National Guard Bureau officials said. Other Guard missions in the stricken areas include bridging, water rescue, logistics movement, airfield openings and medical water purification.
The Kentucky Air Guard has been heavily involved in hurricane relief operations:
Two C-130 Hercules aircraft and 14 airmen from the 123rd Airlift Wing deployed Sept. 1 from the Kentucky Air National Guard base in Louisville, Ky., for Texas, where they will operate out of Carswell Field and fly missions into Beaumont, Texas — the site of some of the worst flooding — to pick up dislocated residents and transport them to Dallas Love Field. Residents will then be moved to safe shelter by emergency responders on the ground. (Below – Air National Guard photo by Lt. Col. Dale Greer)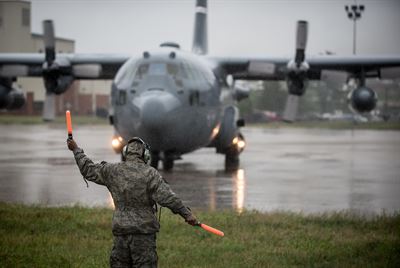 Air Force Lt. Col. Dale Greer 123rd Airlift :
The deployment is the third this week for members of the Kentucky Air Guard. The unit sent 18 members of its 123rd Special Tactics Squadron to the Houston area Aug. 27, where they have been conducting water patrol missions with inflatable motorboats. To date, those airmen have rescued more than 330 residents stranded by high water, and controlled air traffic for multiple helicopter landing zones. With the need for rooftop rescues now largely abated, those airmen are expected to return to Louisville early today.

On Aug. 30, the Kentucky Air Guard's 123rd Contingency Response deployed 43 airmen, augmented by six troops from the Mississippi Air Guard, to establish an air hub in Houston for air cargo and aeromedical evacuation operations.
The various teams are working together to help save lives such as in Orange Texas, where a team of National Guardsmen, Coast Guardsmen, and Austin-Travis County Emergency Medical Service swift-water rescue technicians and volunteers worked together Aug. 30 to rescue and airlift a patient needing special medical attention from severe flooding caused by the hurricane to a safe medical facility (Below – Photo by Capt. Martha Nigrelle).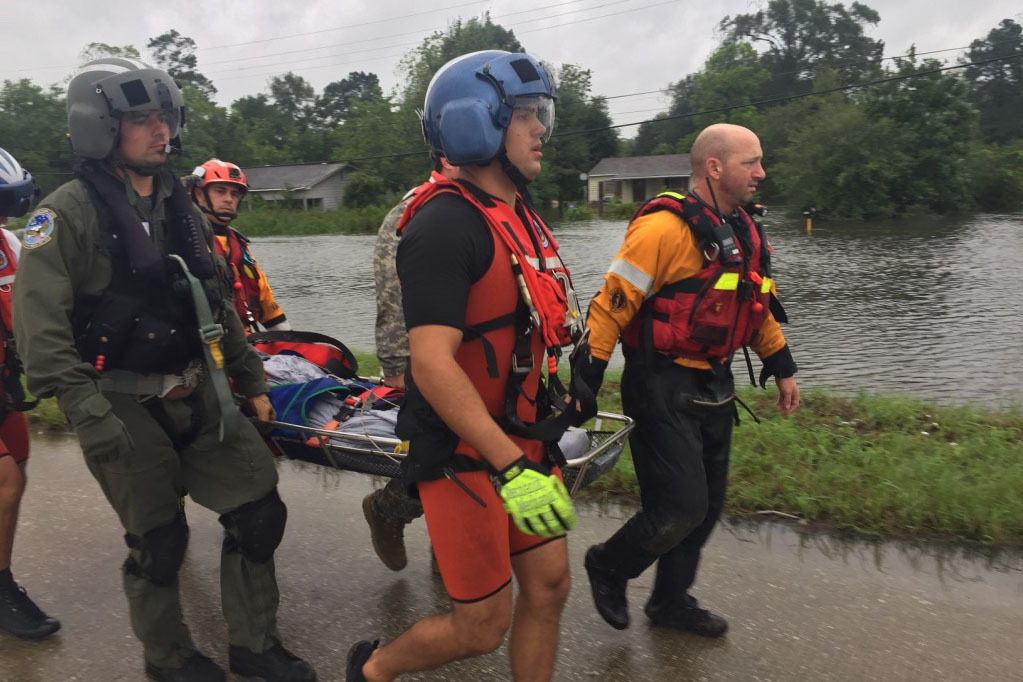 Updates, August 31:
The Texas Army National Guard's 386th Engineer Battalion teamed up with Texas Task Force 1 and the Cypress Creek Fire Department yesterday to bring 1,000 Cypress Creek residents to safety from high-rising waters as heavy rains from Hurricane Harvey continued to fall.
The National Guard response to Hurricane Harvey will be a long-term, sustained effort, a senior National Guard official said today, adding that up 30,000 Guard members stand ready to assist with those efforts if needed.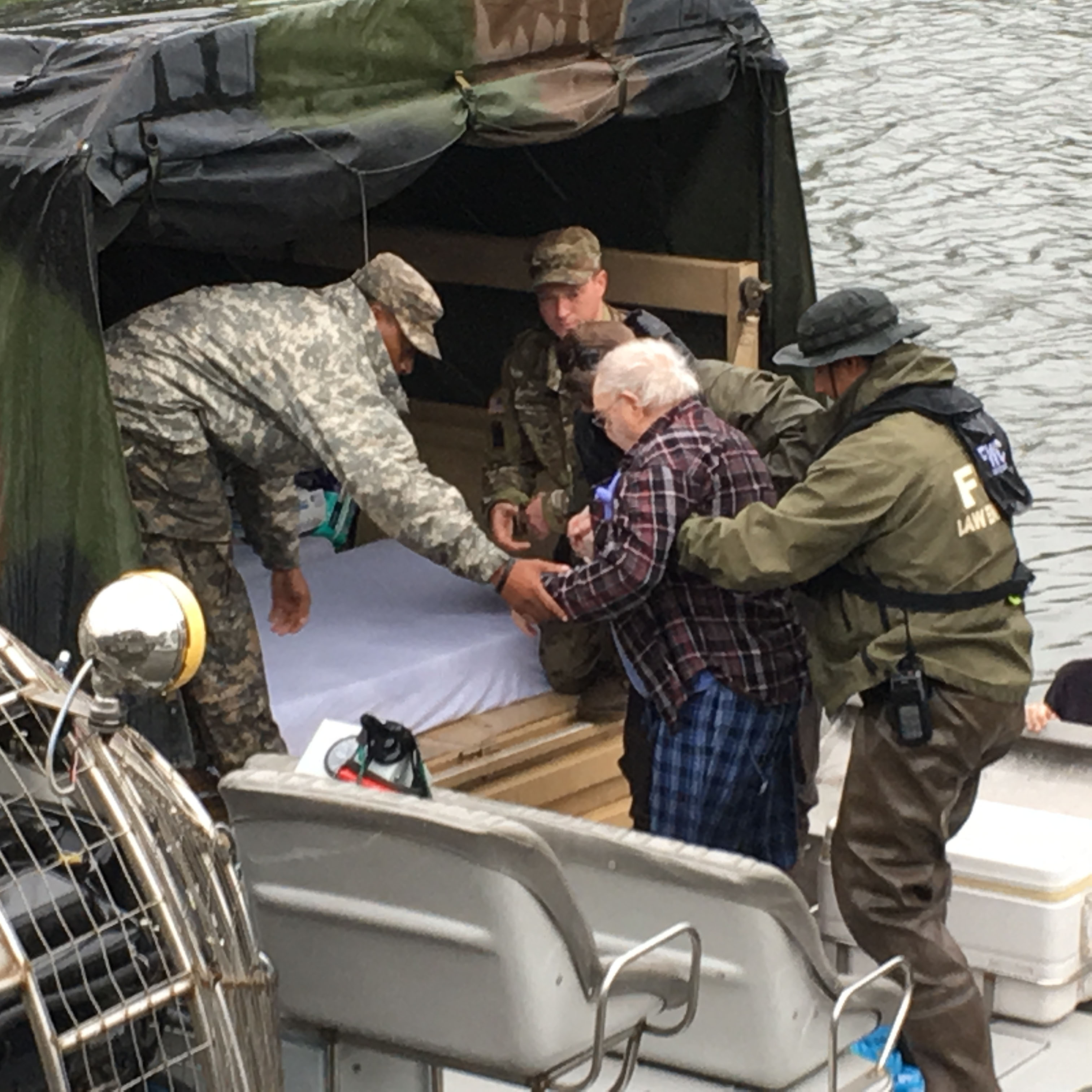 Louisiana National Guard members from the 256th Infantry Brigade Combat Team assist with the evacuation of a nursing home in Orange, Texas, Aug. 30, 2017. Louisiana National Guard photo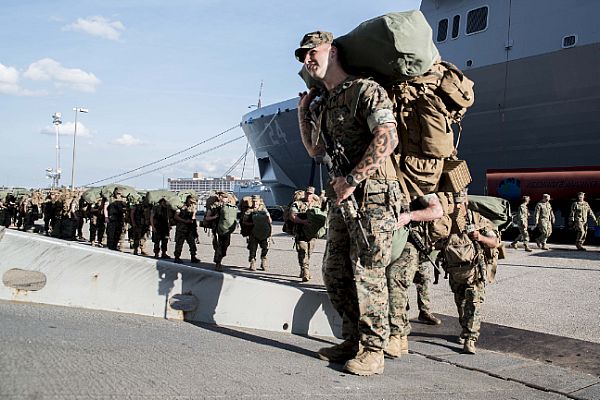 Marines assigned to the 26th Marine Expeditionary Unit (26th MEU) embark the amphibious assault ship USS Kearsarge (LHD 3). Kearsarge is onloading personnel, equipment and supplies in preparation to assist with disaster relief efforts in the aftermath of Hurricane Harvey. (U.S. Navy photo by Mass Communication Specialist 1st Class Deven B. King/Released)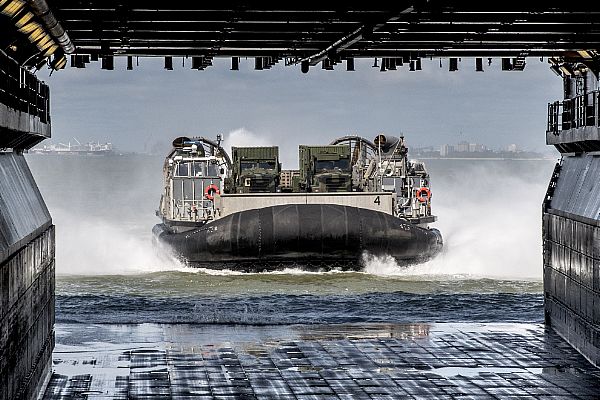 A landing craft, air cushion assigned to Assault Craft Unit 4 enters the well deck of the amphibious assault ship USS Kearsarge (U.S. Navy photo by Mass Communication Specialist 3rd Class Kaitlyn E. Eads/Released)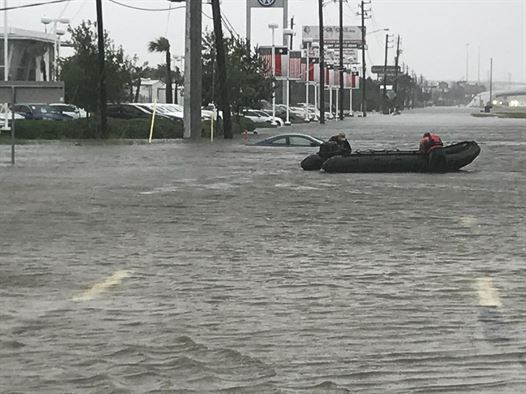 Kentucky Air National Guardsmen conduct water rescue missions in Friendswood, Texas, Aug. 29, 2017, in the wake of Hurricane Harvey. (U.S. Air National Guard photo)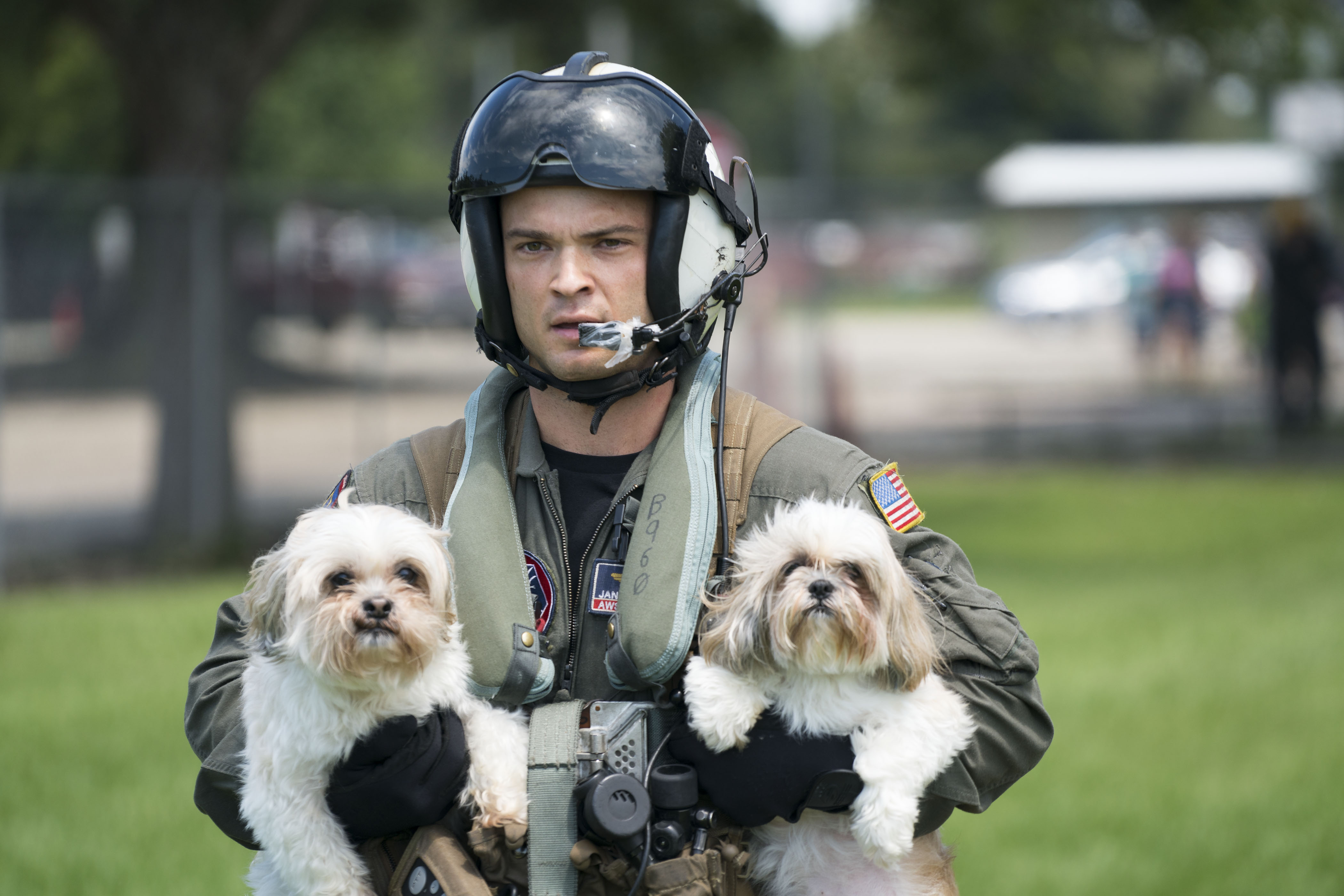 Naval Aircrewman (Helicopter) 2nd Class Jansen Schamp, a native of Denver, Colorado and assigned to the Dragon Whales of Helicopter Sea Combat Squadron (HSC) 28, reassures a family after a rescue at Pine Forrest Elementary School, a shelter that required evacuation after flood waters from Hurricane Harvey reached its grounds. The mission resulted in the rescue of seven adults, seven children and four dogs.. (U.S. Navy Video by Mass Communication Specialist 1st Class Christopher
Update 30 August:
Thousands of people have been rescued over the past several days in the Houston and other Harvey-devastated areas.
The military have played an important role in these rescues, and continue to do so, as described below.
Sometimes overlooked is the fate of people's pets: dogs, cats, etc.
As the photos below reflect, the rescuers are doing everything in their power to save these animals, too.
Photos below show just one example of these efforts: Texas National Guardsmen rescuing residents and animals from severe flooding in Cypress Creek, Aug. 28, 2017. Army National Guard photos by Capt. Martha Nigrelle