Leonard Cohen, the Dark Poet King of Song, has Died.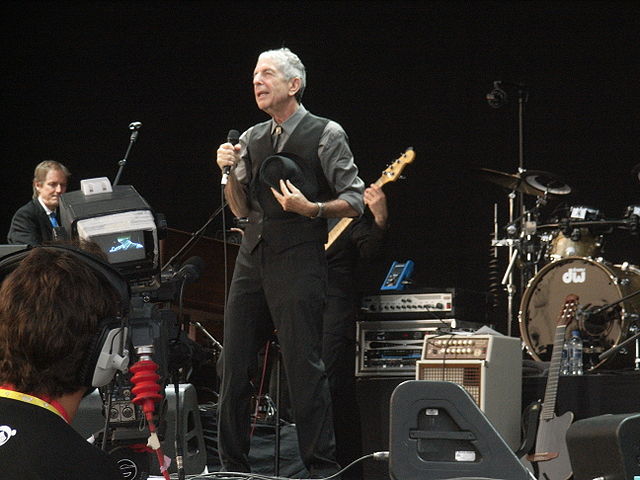 As a young man, Leonard Cohen was a skinny little guy with a head full of dark curls– and a beautiful deep singing voice that made the world go away for many a person.
By the time he was an old man with a white buzz cut and a narrow brimmed perpetual fedora… Cohen had written and sang some of the most iconic songs of two centuries: including "Hallelujah," "So Long Marianne,""First We Take Manhattan" and "Tower of Song," and the deeply sensory "I'm Your Man"… his lyrics evocative of longing fulfilled, and never quite fulfilled, but intense of presence in body, spirit and mind.
He died today at age 82, just having released his 14th album of more beautiful songs, some as always, melancholic.
He was influenced by his own Jewish background, as well as his interest in Buddhism, that came as a result of his self-healing stay at a Buddhist monastery to come to better terms with his rolling depression that went on all his life.
His most recent album is entitled, "You Want It Darker" ? that mixes death and love and longing and beauty, all together in one place.
Rest in peace Leonard, you awakened many persons to the sweetness of longing and life… and were a giant exemplar in keeping going despite all emotional challenges.
"I'm Your Man"
If you want a lover
I'll do anything you ask me to
And if you want another kind of love
I'll wear a mask for you
If you want a partner
Take my hand
Or if you want to strike me down in anger
Here I stand
I'm your man
If you want a boxer
I will step into the ring for you
And if you want a doctor
I'll examine every inch of you
If you want a driver
Climb inside
Or if you want to take me for a ride
You know you can
I'm your man
Ah, the moon's too bright
The chain's too tight
The beast won't go to sleep
I've been running through these promises to you
That I made and I could not keep
Ah but a man never got a woman back
Not by begging on his knees
Or I'd crawl to you baby
And I'd fall at your feet
And I'd howl at your beauty
Like a dog in heat
And I'd claw at your heart
And I'd tear at your sheet
I'd say please, please
I'm your man
And if you've got to sleep
A moment on the road
I will steer for you
And if you want to work the street alone
I'll disappear for you
If you want a father for your child
Or only want to walk with me a while
Across the sand
I'm your man
If you want a lover
I'll do anything you ask me to
And if you want another kind of love
I'll wear a mask for you
Photo by Baggio (Own work) [CC BY 3.0 (http://creativecommons.org/licenses/by/3.0)], via Wikimedia Commons