Laugh Factory Owner Says Jackson Should Pay Fine For N Word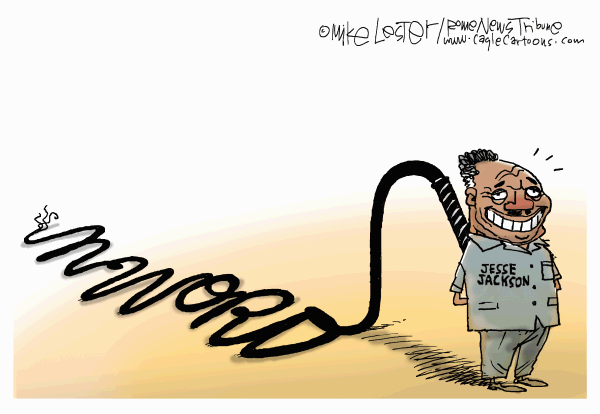 Poor Jesse Jackson. It's tough enough being caught with your verbal pants down in an unscripted moment using bad language about Democratic presumptive nominee Sen. Barack Obama, and then apologizing for it. And it's even more of a downer when it later leaks out that, in an un-aired part of the off-the-air tape, you used the hated "N word" that you campaigned against anyone ever using again.
So you apologized once more as you watch more strands of your once-considerable national clout disintegrate during Campaign 2008. But now the owner of the popular Laugh Factory comedy club is refreshing everyone's memory a bit more — and thinks that more than a verbal apology is in order:
When Michael Richards stunned a nightclub audience two years ago by shouting the N-word at a black patron, Laugh Factory owner Jamie Masada was quick to join the Rev. Jesse Jackson in calling for a ban on the word's use.

Now that Jackson has let the word slip out, Masada says he wants the civil rights leader to do what comics do every time they say the word on a Laugh Factory stage — pay a fine.

"Unfortunately, Jesse Jackson has broken his own principles," Masada told The Associated Press on Thursday. "Jesse embraced the notion of fining talent for using such a word and he should be held to his own standards."
What? Holding someone to their own rhetorical standards?
If this standard was imposed on everyone, it could obliterate many talk show discussions, limit Obama's and Republican presumptive nominee Sen. John McCain's rhetoric, eliminate Democratic and Republican political party spin-masters on TV, curtail many partisans' blog posts and shorten debates in the upcoming political campaign to a just few minutes. What a terrible idea.
Jackson's latest attempt to defuse the deconstruction of the self-destruction of his decades-in-the-making image came after it was revealed by a website that the un-aired portion of the Fox News tape showed Jackson using the word N-word that Jackson so passionately and publicly had campaigned against being used.
The Laugh Factory owner said he fines comedians $50 each time they use the word in their act so he wants Jackson to cough up the same amount, which he says would be given to the Museum of Tolerance in LA. He told the AP that he banned the use of the word shortly after the Richards' fiasco and that some comics do use the word, but quickly pay the fines.
Meanwhile, this debate isn't over by a long shot:
–The issue has become: is it OK if blacks use it? The Chicago Sun Times' Deborah Douglas has a long must-read. Part of it:
I guess the Rev. Jesse Jackson and I have this in common. In a so-now-we-know moment this week, his full controversial off-mike comments on Fox News were leaked: "He's talking down to black people . . . telling n – – – – – – how to behave," said Jackson in the same tones he used in whispering about castrating Barack Obama.

Now hypocrite-watchers are pointing fingers at Jackson because this is the same guy who implored African Americans to avoid using the word. He called it a "hate" word. I can't argue with them, so I won't. The question is: Can I, should I, overcome my addiction to the n-word?

America has a complex relationship with that word. Dead presidents like Abraham Lincoln and Lyndon Johnson peppered their language with it daily to reinforce white hegemony, according to Jabari Asim's The N Word: Who Can Say It, Who Shouldn't and Why. It has been used as a sort of rhetorical glue to uphold institutional racism. Like most weapons, the word has been turned against its original users, and is now used by some African Americans as a term of endearment, chastisement, or like Jackson, an assumption of groupthink.

Conflicted, I've gone off the n-word in long stretches (along with meat, potato chips and candy bars) only to come back to it. I signed up for that a-word-a-day e-mail to boost my vocabulary. But sometimes I don't want to use nice language. Sometimes it's not enough to say, "I have a visceral antipathy to my boss' viewpoint on X." Given that I have a small voice, I don't want folks misunderstanding that I really mean, "That's damn crazy."

Like many taboo words, the n-word is used as a cultural signifier.

Read the entire column.
–Jackson's use of the word sparked a heated and (yet another) brimming-on-tears discussion on The View. Access Hollywood:
In a scene reminiscent of Rosie O'Donnell's days on "The View," hosts Elisabeth Hasselbeck and Whoopi Goldberg got into a heated exchange over the use of the "N" word on Thursday morning.

…"We live in a world where pop culture uses that term and we're trying to get to a place where we feel like we're in the same place," Elisabeth said. "How are we supposed to then…move forward if we keep using terms that bring back such pain?"

"I can tell you how, here's how we do it, you listen and say 'Okay, this is how we're using this word and this is why we do it,' and you have to say, 'I understand that, but let's find a new way to move forward,'" Whoopi fired back.

"We don't live in different worlds," Elisabeth insisted, "We live in the same world."

However, Whoopi fiercely disagreed with her co-host, saying, "We do live in different worlds, it's just that way. It is Elisabeth."

When Elisabeth became visibly upset, tearing up, Barbara Walters jumped in the middle of the disagreement.

"Take a breath, let someone else talk," "The View" creator snapped.
–And Fox News then ran a video of The View talking about the video:
We'll post the next video talking about the Fox News video talking about The View talking about the Jackson video as soon as it surfaces…
—Black Voices writes this after posting the View video:
(which makes it the video about the video):
Anyone who thinks the move toward racial equality and harmony in this country rests on who uses or does not use the 'n-word' does not even begin to comprehend the kind of gut wrenching self examination and barrier blasting work it will take to build a color neutral society in America.
—News Blaze looks at the use of the "n-word" by prominent people over the years and some consequences, and at the Jackson flap and who is defending him and concludes:
Which leads to the Big Question: Just how offensive is the "N" word?

The answer: It all depends on your race and political affiliation!

And the debate will go on.
Cartoon by Mike Lester, The Rome News-Tribune