You Know Where You Can Put Your "Indoor Voice"
March 2, 2017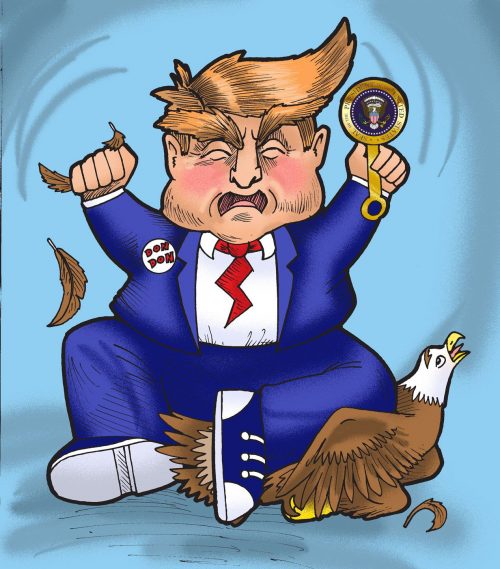 Note to readers: This is the latest entry in Super Baby DonDon's diary. The series imagines that President Donald Trump has the emotional make-up of a five-year-old and confides his deepest thoughts—such as they are—to Andrew Feinberg, and to readers, every day. In his private moments, he always thinks of himself as Super Baby DonDon.
Oh, someone will pay. I think I'll bring waterboarding to the White House.
One of my guys told Joshua Green of Bloomberg that my speech to Congress was "nationalism with an indoor voice." How dare he/she/it? Then some media turnips pointed out that "indoor voice" is a phrase used to discipline toddlers. Oh, Super Baby DonDon is so mad he will thorw a hissy fit like you won't believe!
Now, I don't know much about toddlers and I know nothing about discipline–obviously. I didn't spend time with my girls until they developed extraordinary, truly remarkable breasts and my boys until they could cheat contractors on their own. Since then we've become very close.
Just so you know.
Steve Bannon says I have to go bask in my triumph now.
Andrew Feinberg is the author of Four Score and Seven (https://www.amazon.com/Four-Score-Seven-Andrew-Feinberg/dp/0692664009), a novel that imagines that Abe Lincoln comes back to life for two weeks during the 2016 campaign and encounters a candidate who, some say, resembles Donald Trump. He also writes an anti-Trump humor page at www.babydondon.com or https://www.facebook.com/MeBabyDonDon.