UPSET: Democrat Jones Beats Republican Moore in Alabama (UPDATE 2)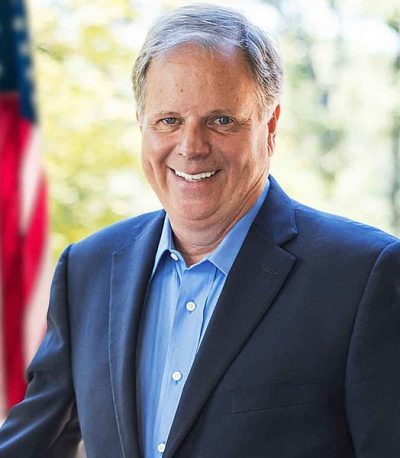 In the first version of this post, it simply my own projection and not anything official from networks. But based on the fact that most of the outstanding vote is from strongly Democratic Jefferson and Mobile counties I do not see how Moore can win.
My guess is Jones by 1-2 points.
Now it's official.
Reuters:
Democrat Doug Jones won a bitter fight for a U.S. Senate seat in deeply conservative Alabama on Tuesday, U.S. media projected, dealing a political blow to President Donald Trump in a race marked by accusations of sexual misconduct against Republican candidate Roy Moore.

The stunning upset by Jones makes him the first Democrat elected to the U.S. Senate from Alabama in a quarter-century and will trim the Republicans' already narrow Senate majority to 51-49, endangering Trump's agenda and opening the door for Democrats to possibly retake the chamber in next year's congressional elections.

The ugly campaign drew national attention and split the Republican Party over accusations from several women that Moore pursued them when they were teens and he was in his 30s.
Doug Jones, a Democratic former prosecutor who mounted a seemingly quixotic Senate campaign in the face of Republican dominance here, defeated his scandal-scarred opponent, Roy S. Moore, after a brutal campaign marked by accusations of sexual abuse and child molestation against the Republican, according to The Associated Press.

The upset delivered an unimagined victory for Democrats and shaved Republicans' unstable Senate majority to a single seat.

Mr. Jones's victory could have drastic consequences on the national level, snarling Republicans' legislative agenda in Washington and opening, for the first time, a realistic but still difficult path for Democrats to capture the Senate next year. It amounted to a stinging snub of President Trump, who broke with much of his party and fully embraced Mr. Moore's candidacy, seeking to rally support for him in the closing days of the campaign.

Sue Bell Cobb, a former chief judge of the Alabama Supreme Court, said Mr. Jones had overcome a culture of "toxic partisanship," reaching out to Republicans and electrifying restive Democrats.

"Never has there been this level of civic engagement," said Ms. Cobb, who is planning to run for governor next year. "Never has it happened."

Propelled by a backlash against Mr. Moore, an intensely polarizing former judge who was accused of sexually assaulting young girls, Mr. Jones overcame the state's daunting demographics and deep cultural conservatism. His campaign targeted African-American voters with a sprawling, muscular turnout operation, and appealed to educated whites to turn their backs on the Republican Party.

Those pleas paid off on Tuesday, as precincts in Birmingham and its suburbs handed Mr. Jones overwhelming margins while he also won convincingly in Huntsville and other urban centers. The abandonment of Mr. Moore by affluent white voters along with strong support from black voters proved decisive, allowing Mr. Jones to transcend Alabama's rigid racial polarization and assemble a winning coalition. And solidifying Mr. Jones's victory were the Republican-leaning Alabamians who chose to write in the name of a third candidate rather than back one of the two major party nominees. Over 20,000 voters here cast write-in ballots.

….The election is a painful setback for Republicans in Washington, who have already struggled to enact policies of any scale and now face even tougher legislative math. Mr. Moore's success in the Republican primary here, and the subsequent general-election fiasco, may deter mainstream Republicans from seeking office in 2018 and could prompt entrenched incumbents to consider retirement.

But there is also a measure of relief for some party leaders that Mr. Moore will not join the chamber, carrying with him a radioactive cloud of scandal. A number of Republicans, including Senator Mitch McConnell of Kentucky, the majority leader, had indicated that Mr. Moore would face an ethics investigation if he were elected, and possibly expulsion from the Senate.

Mr. Trump and Republican activists would most likely have opposed such a measure, setting up a potentially drastic, monthslong clash within the Republican Party, now averted thanks to Mr. Jones.
This time, Donald Trump's playbook didn't work.

Republican Roy Moore faced serious accusations of sexual misconduct in his bid to become Alabama's next senator. But instead of bowing down and backing out, he stayed in the race and went on the attack ? just like Trump did in last year's presidential race. He accused the media and the establishment of orchestrating a conspiracy against him, and cast the race as pitting good against evil, Christians versus everyone else.

Both Trump and Moore bet that their conservative base would stick by them and push them to victory.

But on Tuesday, Alabama sent a message that this time it wouldn't work, not even in a conservative state that Trump won by 28 percentage points in 2016.

Voters instead elected Doug Jones, making him the first Democrat to win a U.S. Senate seat in the state in 25 years. The Associated Press called the race for Jones 2½ hours after polls closed in the state.

….While Republicans are no doubt unhappy to lose a Senate seat, there are also some sighs of relief. There's a solid case to be made that they'll be able to win it back during the regular election in 2020, if they have a more traditional candidate. And now, they won't have to constantly be on the defensive about being a party that harbors an accused child molester.

They will still, however, have to contend with being the party that has a man accused of sexual misconduct by 19 women sitting in the White House.

Special elections aren't reliable predictors for what will happen during a regular election. But Jones' win gives a boost to the resistance movement that formed after Trump's victory last year, and it underscores the importance for the party of investing in all 50 states ? so that when a Moore-like opportunity comes around, Democrats are ready to take advantage of it.

It also showed yes, there are some allegations too grotesque for voters to stomach, even when a candidate follows Trump's playbook.
Narratives that just died:

— African Americans won't turn out

— Trump's formidable last minute entry will swing election

— Pro-choice stance doomed Jones

— Bannon's use of Nazi/Soviet propaganda techniques was fiendishly brilliant

— Greg Sargent (@ThePlumLineGS) December 13, 2017
One GOP strategist on Bannon's impact: pic.twitter.com/39x2R4IZlD

— Al Weaver (@alweaver22) December 13, 2017
Earlier tonight, Neil Stevens on the conservative website Red State predicted what would happen if Jones won the race:
So I'm going to call it now, exactly what will happen if Jones wins. We're going to hear it first on Prison Planet, then on Breitbart, and eventually it will trickle down to Fox News, but the theory will spread that the Democrats held back their precinct returns to find out how much Moore "won" by, and therefore manufactured fraudulent ballots in order to make up the difference.

It's such an easy, unprovable conspiracy theory. They'll point to existing examples of fraud in the past, in other places, as all the "proof" they ever need, and it will become a Known Fact™ that Roy Moore actually won, but he was cheated.

If Doug Jones wins tonight, Alabama will be the latest Stab in the Back theory that Trump hardliners will never stop whining about. I'm laying the marker now.
(It's hard to verify the veracity of this popular Twitter account…but…)
After Jones win, Trump called Bannon, enraged – blamed him for "wrecking America." Bannon already extremely drunk, hung up on Trump.

— Rogue WH Snr Advisor (@RogueSNRadvisor) December 13, 2017
Roy Moore lost.
Steve Bannon lost.
Donald Trump lost.
Pedophilia lost.
Bigotry lost.
Homophobia lost.
Racism lost.

Doug Jones won.
Mitch McConnell won.
African-Americans won.
Women won.
Victims won.
Justice won.
Morality won.
Values won.
Sanity won.
Decency won.
America won.

— Ana Navarro (@ananavarro) December 13, 2017
If you are thanking the black women of Alabama tonight for defeating Roy Moore

maybe tomorrow you can start thinking about how to repay them

— Ijeoma Oluo (@IjeomaOluo) December 13, 2017
Everyone said, "It'll take a miracle for Doug Jones to win in Alabama." Apparently, the heavens opened up and a miracle fell to earth. SENATOR-ELECT DOUG JONES (D-AL).

— Larry Sabato (@LarrySabato) December 13, 2017
Now with 49 Democrats in the Senate, a path to a 2018 D Senate majority is possible–still very tough given the seats up, but possible. Must hold many threatened D incumbents plus pick off NV and AZ (or substitute another state). #ALSenate

— Larry Sabato (@LarrySabato) December 13, 2017
The Daily Beast:
A Democrat was just elected as a senator from Alabama. It took the most flawed Senate candidate in recent memory to make it happen.

Doug Jones, making his first run for elected office, defeated former State Supreme Court Chief Justice Roy Moore on Tuesday night, according to the Associated Press, breaking a decades long dry spell for Democrats in the Yellowhammer State. In doing so, Jones delivered a stunning rebuke to the White House and some Republicans who lined up behind the deeply flawed Moore.

At first Jones seemed like a long shot. A Democrat had not been elected statewide in Alabama since 1996. But after allegations surfaced of Moore's sexually harassing teenage girls while in his thirties—including one woman who was 14 at the time of Moore's alleged advances—Jones' prospects skyrocketed.

More than anyone else, Jones' win is a blow for Donald Trump. The president had initially endorsed Moore's primary opponent Sen. Luther Strange (R-AL). And after the allegations against Moore first surfaced, he stayed away from the candidate. But in the eleventh hour, Trump changed his tune, cutting a robocall for Moore and holding a political rally in nearby Florida in which he touted his campaign.

The president insisted that Moore's vote was vital in moving his agenda. His loss, instead, will reduce the Republican Party's majority in the Senate to one (51-49). And though GOP leadership seems poised to try and rush a vote on their massive tax cut package before Jones is seated, his vote will have an impact on numerous other legislative items and judicial nominations.
Is someone sending Roy Moore a menorah delivered on horseback? Someone should.

— Preet Bharara (@PreetBharara) December 13, 2017
Charles Barkley calls #ALSen special election "one of the greatest nights of my life": "I'm really just proud of the people of Alabama. They've been beat down for so long…They rose up tonight." #DougJones #TheResistance #AMJoy pic.twitter.com/uTbKKjg2GV

— Scott Dworkin (@funder) December 13, 2017
The Coalition of the Decent has spoken again. This is a proud night for Alabama and should send a clear message to GOP leadership: Continue to appease the populist, nationalist movement of Bannon and Trump at your peril.

— Evan McMullin (@Evan_McMullin) December 13, 2017
Steve Bannon turned a state that Trump won by 28% and Romney won by 22% into a competitive race. Total political genius.

— Garrett Ventry (@GarrettVentry) December 13, 2017
Hard to overstate how stunning this is. Or what a ghastly defeat it is for Trump, Bannon and MAGA World. https://t.co/miLu1Z5VAw

— Charlie Sykes (@SykesCharlie) December 13, 2017
PHOTO: By Digital Campaign Manager Doug Jones for Senate (Doug Jones for Senate Committee) [CC BY-SA 4.0 (https://creativecommons.org/licenses/by-sa/4.0)], via Wikimedia Commons