BEFORE Jefferson Beauregard Sessions Spoke for Trump, and AFTER: Responses
BEFORE Jefferson Beauregard Sessions Spoke for Trump, I'd labored through the night to create this prayer poster for the Dreamers — who are beloved to myself, my family and millions of people in our country.
I'd offered the prayer with a letter to my facebook page of 135,000 readers… they were in tight agreement that Trump should keep his promise to 'protect the dreamers'. But we had heard distant thunder that he was going to go back on his word… again. So this: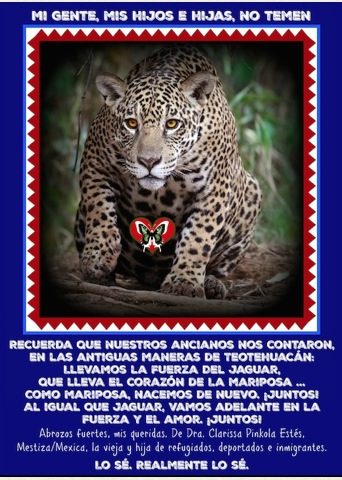 "My Dear Brave Souls; I ask your prayers and mighty powers to still the hand of any person attempting to hurt "the Dreamers" who are young people brought to USA, often as infants and children, and who have lived here all their lives– many are now in their teens, twenties and thirties.
"There has been a compassionate program in our nation [emphasis on 'our' nation], called DACA, that allowed the kids and young adults to be here legally, but the man who was elected president of our nation, said last week that today he will either threaten to reduce dramatically or end the program entirely that protects our young here in the usa–
"threatening to tear 760,000+-800,000 families apart who have lived here for decades often, and the children never having seen or been in the country of their parents. Their home is the United States since they were young. They are cultural United Statesians.
"The persons here enrolled in DACA are not aliens, but souls. They belong to us here in the USA; they are ours.
"They, as a group of persons without final papers, have the highest numbers of high school and college graduates, accomplished persons in all fields. They have been vetted by state and federal governments in ways persons born here have never had to endure. They are in that sense USA certified as good people atop of already being good people.
"I ask your deepest good thoughts and prayers for MERCY on the children and young adults who were brought here, most often in the arms of their parents long ago.
"There is in our completely 'dead on arrival' immigration system in the USA. There is NO line for the Dreamers to stand in to become citizens, without going back to the country of their parents [that they themselves have no home nor community in… and praying that the embassies will grant visas.
"Let me tell you in spades about that process of 'going back to home country to apply." It is not a farce, it is a misdirection with the US not even remotely moving to bring people back to the US, letting them languish, literally, til they die. We lost to these unjust and insane immigration laws, one of our aged relatives over ten years ago, who dutifully went back to Mexico to try to comply, and is STILL waiting to be granted a visa to come to USA — even though 'family reunification' is promised by law, it is insofar as our experience a broken promise that as eyewitnesses we know has caused immense harms and expenses to the old abuelo and the entire family.
"Many of you know my life growing up was immersed in every way in the midst of deportees, refugees and immigrants: my family. I cannot tell you in words how deeply my heart is with the Dreamers. I know many of your hearts are with the Dreamers too.
To help, you can look up the closest Dreamer/ DACA group nearest you, call them and ask how you can help. There are many ways.
This prayer poster above is a kind of love letter I made for our Dreamers and all persons who strive to stay in safety and freedom, is in Spanish, and it says this translated into English:
My people,
my sons and daughters, do not fear.
Remember our ancestors told us, in the old ways/manners of Teotehuacán:
We carry the strength of Jaguar, who carries the heart of the Butterfly …
Like butterfly, we are ever born anew. Together!
Like Jaguar, we go forward in strength and love. Together!
with strong embraces to my beloveds, from dr. clarissa pinkola estés, mestiza/ Mexica, old woman, and daughter of refugees, deportees, and immigrants.
I know. I truly know.

This comes with love, and I am here, keeping vigil through the night and morning til I hear what will come next. If one can weep hot tears of compassion to try to melt any frozen heart, that is my striving now….
I love you.
dr.e
AFTER Jefferson Beauregard Sessions Spoke for Trump.
So, I stayed up and stayed up without sleeping to hear the news conference of Jefferson Beauregard Sessions who spoke for Trump today Sept 5, 2017… in which Sessions attempted to speak for 'all Americans,' said he.
Pushed aside but not bowed. I can promise, not bowed.
Thus I wrote to the hearts who were avidly awaiting in highest hopes and abject fear what Trump would declare about DACA…
"Dear Brave Souls: Just minutes ago, in a news conference with the Press, USA attorney general Jefferson Beauregard Sessions has rescinded DACA, removing protections from the Dreamers to stay in this country, continue in college, be with their families, throwing the immense tangle of all decades-long broken immigration systems to a fragmented Congress who cannot agree on many matters thus far. Seemed a deliberate ploy to build a bridge to nowhere except to Blametown and across the river the town of Blameless. Leaving actual human beings kicked to the ground.
"At the moment, I'd say this…. with Jaguar in one eye, Butterfly in the other, for certain. Onward we go mis comadres y compadres. The line has been drawn. People of freedom respect justice, but not lines arbitrarily drawn against people who were brought to this country without choice for they were babies and toddlers and very young children. They are innocents.
"Their employers and teachers and family love and cherish them. They have NO country to go back to as the most crass of elected officials have suggested. THIS is their country also; they have never been in any other country since childhood. The dreamers belong here and they belong to us.
__________________ "Just some points from Sessions' speech, heavy for some reason on his using the word 'compassion' re[peatedly. Jefferson Beauregard Sessions claimed it is his "duty to ensure laws of United States are enforced, preserving the impartial rule of law."
"He said that "the rule of law creating DACA was 'human whim'." Thereby it was being rescinded.
He claimed hundreds of thousands of jobs have wrongfully gone to DACA persons. [He forgetting most Dreamers came as infants and young children and took no one's jobs.] [Just to mention, in my refugee/ deportee/ immigrant family, we suffered under the same slurs… that all these 'furriners' were taking other people's jobs. The idea was to divide people, to create opprobrium against the newly arrived without proofs, rather only innuendo and fantasy which few bothered to or had the means to investigate for truths].
"Sessions says all persons "simply cannot be accepted into the usa, that they are not bad, or disrespected but USA cannot hold everyone."
"He says "Department of Homeland Security is to begin winding down DACA." [which ominously sounds like deportation at will, even as from being in close touch with many Dreamers, I feel certain– legions by tonight will be fighting this in full dress jaguar and butterfly.]
"Sessions said "If we are to further strengthen our rule of law we cannot allow this extended reach" [of DACA].
"He said, "All immigration policies should serve the people of the United States. The people want government leaders to 'serve the national interest." [His people only, is would seem.]
"He said "We are a compassionate people, but there is nothing compassionate about failing to enforce laws."
"He said "The compassionate thing to do is to end the law … and as seen by our Founders"… [providing for rule of law to be enforced.]
"Sessions said "This administration has made great progress re immigration in the last few months, and it has made us safer and more secure."
He said, "We at the Department of Justice are proud to advance this vision for the American people."
Sessions refused to answer questions from the press, and exited from the room quickly.
_______________________________ Suggest strongly if you are called, to be in touch with your local DACA group, and lend your expertise and helps, your butterfly and jaguar both, not one or the other, but both.

I believe there will be lawsuits from several states against the federal government, New York and Texas, first. Very conservative judges have questioned whether President and crew, have authority to rescind a major program.
This is from our Latino heritage. At the time of our ancestors, there was a giant stelae carved of  a jaguar which inhabited ancient Mexico. The jaguar of such power is shown as having a butterfly for a heart.
Thus useful to remember too: Jaguar has enormous teeth like a saber toothed tiger, to bite through prey who wear thick protective shells.
Butterfly can fly high in the sky to evade predators.
Just saying. Be wise. Remain wild, meaning be Butterfly to all. Be Jaguar as needed.
Regarding Dreamers: This is not over. Not even close. Despite the grief and deep apprehension many of us feel — and to add…for many of us it truly is a repeat of past governmental promises that were broken time and again when we las viejas, now old ones were once children of parents newly arrived.
The difference between our childhoods of struggle, and now, is two fold at least. We, unlike our parents and grandparents often, are NOT uneducated, not naive about systems and policy making and activism. We are in a way the worst nightmare of some, come true: Educated Latinos of service and family life.
But we are often the best dream of our antepasados, our ancestors, for the same reason, we are educated Latinos who serve and bring deep family life often, and if we don't know, we know where to find out how to proceed with massive effectiveness and thereby hopeful and humane outcome.
Secondly while Sessions tries to speak in tone and wording from another century, as though he is standing on an outdoor wooden platform hung with red, white and blue bunting, the Dreamers can find and say and do in two seconds flat, online, what it would take the seemingly stove-pipe hatted Sessions days and weeks and months to do.
In that sense of being an accurate communicator of verifiable facts, instead of untested opines, especially assuming what 'all Americans' think and want regarding the Dreamers according to Sessions, not sure we have an able Atty Gen'l of depth and clarity. Seems today more like a small town, red-suited, aging preacher prissying on and on about see-unn, sin.
There is much to do and say, to enact that is goodness personified, progress personified for the Dreamers and their families. We will.  As my father used to say, "Come with, or stand aside, either way."  I hope our allies' hearts, minds, souls, and spirits will help us support the young who are the Dreamers.
Strength of Jaguar, Heart of Butterfly… ¡Adelante, forward!
BRIEF BIOGRAPHY:
Diplomate psychoanalyst [Certified IAAP, Zurich] and Specialist in critical incidents and post-trauma recovery, who developed psychological recovery protocol for, amongst other traumatic disasters, the Armenian earthquake rescue; The Mexico City earthquake, the Los Angeles earthquake, The Rocky Mountain forest fires and floods, and their aftermaths. She served at Columbine High School and community for 3 years after the massacre; and worked with 9-11 survivor families on both US coasts.
Dr. Clarissa Pinkola Estés is Mestiza Latina [Native American/ Mexica Spanish], presently in her seventies. She grew up in the now vanished oral tradition of her war-torn immigrant, refugee families who could not read nor write, or did so haltingly, and for whom English was their third language overlying their ancient natal languages.
She is a lifelong activist in service of the voiceless; as a post-trauma recovery specialist and psychoanalyst of 48 years clinical practice with persons traumatized by war, including exilos and torture victims; and as a journalist covering stories of human suffering and hope.