(And Then There Were Three) Updates to 'Irma, Here We Come'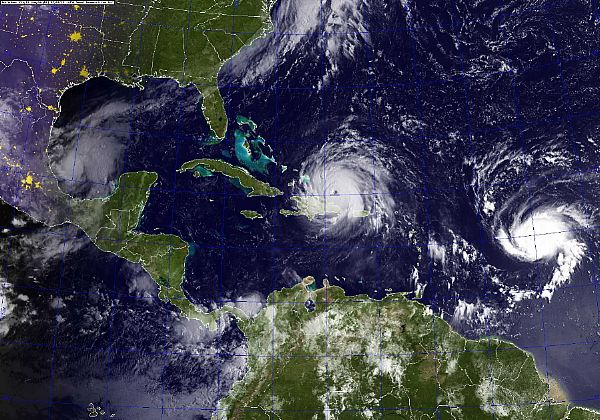 And then there were three
As if monster category 5 Hurricane Irma was not enough of a mortal threat to the US and to nearby land areas, two other active hurricanes "could join Irma striking land this weekend."
Hurricane Jose, now a category 3 hurricane is following on a similar path behind Irma, while Katia, a system in the western Gulf of Mexico, has been upgraded to a category 1 hurricane.
Please see the NOAA graphic below for their locations as of 8:00 pm EDT,Sept. 7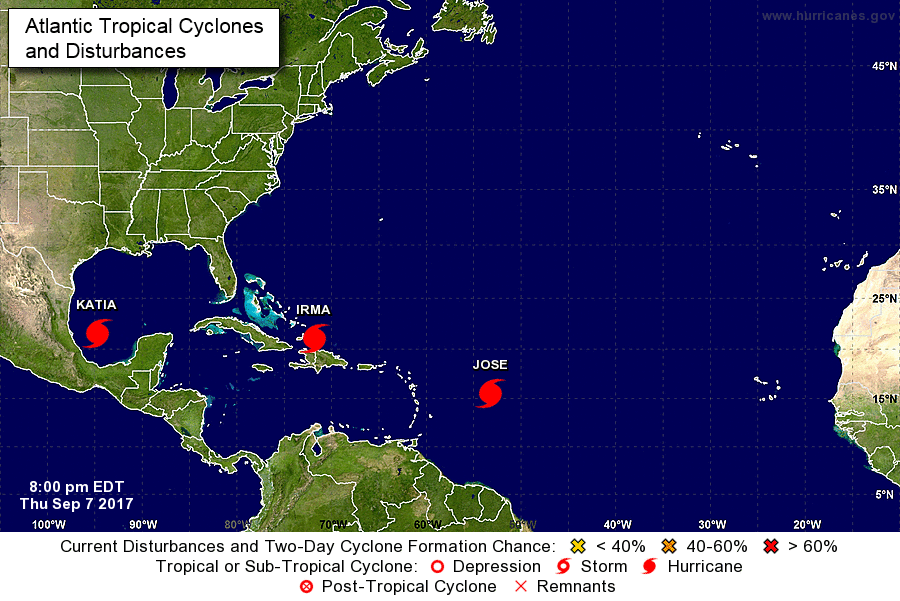 UPDATES:
The NOAA's Hurricane Hunter airplane flies through the eye of Hurricane Irma as it churns toward the Caribbean. Courtesy NOAA/CNN
The following two NOAA graphics say it all: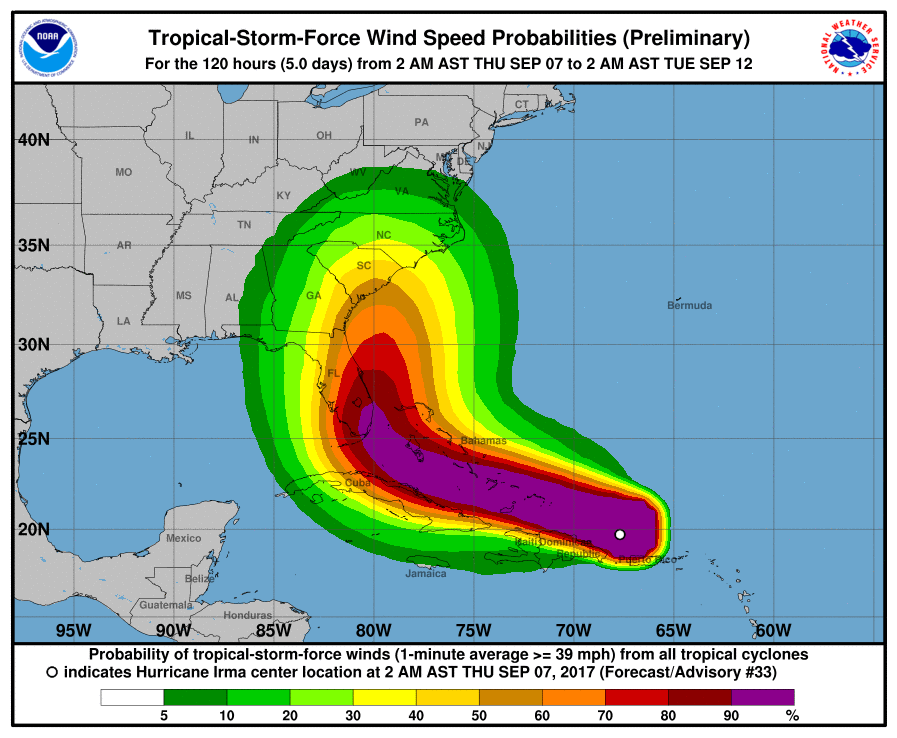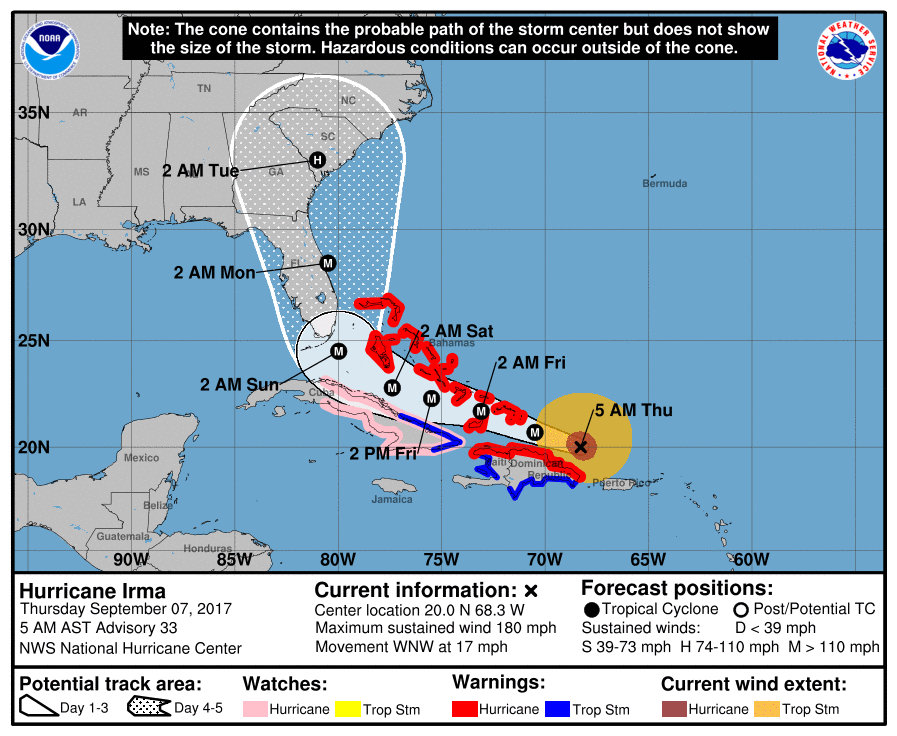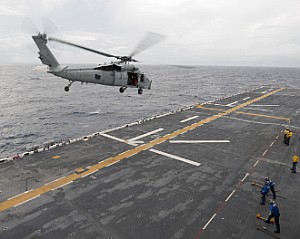 An MH-60S Sea Hawk helicopter departs USS Wasp (LHD 1) en route to the U.S. Virgin Islands in the wake of Hurricane Irma. Wasp's helicopters are conducting medical evacuations for critical care patients from St. Thomas to St. Croix and conducting damage assessment in support of the local government. Wasp, the first Navy ship to arrive in the vicinity of the U.S. Virgin Islands, is capable of providing medium and heavy lift helicopters to transport people and supplies. (U.S. Navy photo by Mass Communication Specialist 3rd Class Sean Galbreath/Released)
September 7, 2017
Below: Airmen from the 14th Airlift Squadron at Joint Base Charleston, South Carolina deliver relief vehicles and supplies to San Juan, Puerto Rico.
Navy Times:
The Navy now has four warships preparing for Hurricane Irma response
Navy officials have ordered a second set of amphibious ships to be ready should they be needed to support rescue and relief efforts in the wake of Hurricane Irma, which is currently heading through the Caribbean Sea and toward Florida coast.

The amphibious assault ship Iwo Jima and landing platform dock New York, both based in Mayport, Fla., departed on Aug. 5th and are slated to arrive in Norfolk to onload relief supplies as well as an additional 300 plus Marines from the 26th Marine Expeditionary Unit and 2nd Marine Aircraft Wing, a Navy official familiar with the planning told Navy Times Sept. 6.

In addition, the Navy has begun to move most of its remaining ships at Naval Station Mayport out to sea or other locations to wait out the storm.
::
The ship movements come after Tuesday's announcement of the mandatory evacuation of nearly 5,000 sailors and family members from Naval Air Station, Key West, Fla…

Remaining behind to weather out the storm will be 50-60 mission essential personnel to maintain essential functions on the installation, according to a press release issued Sept. 6 from Navy Region Southeast.

Also evacuated were 166 non-essential personnel, family members along with 97 pets from the Atlantic Undersea Test and Evaluation Center, off the Florida coast.
Original Post:
"The strongest hurricane ever recorded in the Atlantic Basin, outside of the Caribbean Sea and the Gulf of Mexico" — Category 5 "Irma" – is threatening Puerto Rico and the U.S. Virgin Islands and then will head towards the U.S. and "could hit Florida, Georgia or the Carolinas, or even head into the eastern Gulf of Mexico." (USA TODAY)
Even while still dealing with the aftermath of Harvey, the U.S. military are getting ready to aid those in Irma's path.
The Department of Defense:
The Illinois National Guard's 182nd Airlift Wing sent a Peoria-based C-130 Hercules aircraft and a seven-member crew to the U.S. Virgin Islands to deliver key response capabilities ahead of the storm's anticipated arrival. The C-130 stopped en route in Colorado to pick up a National Guard Bureau joint enabling team, which coordinates support to areas affected by natural disasters or other emergencies through advanced communications equipment and experts in disaster response operations, intelligence, logistics, personnel and public affairs.
Yesterday, the Rhode Island Air National Guard's 143rd Airlift Wing sent a C-130J Super Hercules aircraft and aircrew to support the preparation effort. The airmen first headed to New Jersey, where the crew will load boxes of packaged meals, and will transport the cargo to St. Croix and St. Thomas ahead of the forecasted storm.
Meanwhile, in "Harvey country," where more than 18,000 National Guard personnel are on duty (Read more here):
• Ten soldiers from the Pennsylvania Army National Guard left Fort Indiantown Gap on Sept. 1 in two CH-47 Chinook helicopters, to deliver food and water to stranded people and rescue those still in need.
• On Aug. 31, an Illinois Air Guard C-130 from the 182nd Airlift Wing joined the federal Hurricane Harvey relief and recovery efforts and has been transporting people, supplies and equipment.
• By the early morning of Sept. 2, that crew had transported more than 60 evacuees out of danger, including 20 children, four disabled adults and some 3,000 pounds of personal belongings. The crew also had delivered more than 7,500 pounds of relief supplies and equipment.
• In addition, two Illinois Air Guard airmen from the Springfield -based 183rd Wing's183rd Air Mobility Squadron traveled Sept. 1 to Tyndall Air Force Base in Florida to assist 1st Air Force in the operations center that is coordinating the Air Force's portion of the relief efforts.
• Also on Sept. 1, two C-130 Hercules aircraft and 14 more airmen deployed from the Kentucky Air National Guard base in Louisville to fly humanitarian aid and airlift evacuation missions in Texas.
Lead image (Update): A GOES satellite image taken Sept. 7, 2017 at 8:45 a.m. EST shows Hurricane Irma, center, and Hurricane Jose, right, in the Atlantic Ocean, and Hurricane Katia in the Gulf of Mexico. Hurricane Irma is a category 5 hurricane with sustained winds of more than 180 mph and is moving west-northwest at 17 mph. the storm is expected to impact the southeastern United States. (U.S. Navy photo/Released))