Ideologues present propaganda as "news"
This is not what technological optimists foresaw when the Internet launched a million publishers after making the printing press quasi-obsolete.
In a saga that began in late 2016, the estranged mother of a 17-year-old learned that she had begun hormone treatments. Identified in a Minnesota court only as E.J.K., she had lived in a dysfunctional family dynamic where "unstable parents struggled with substance abuse." At age 15, she began living on her own.
E.J.K. said she has identified as a girl since she was a young child and began to seek treatment in the summer of 2015, once she was living on her own. "I was not pressured in any way by my providers to consent to this treatment," she said in court papers. "My providers had no involvement in my decision not to involve my mother in my health care decisions."
Nevertheless, claiming that her rights as a parent had been violated, E.J.K.'s mother, Anmarie Calgaro, sued the school district, the county health board, and a local health care entity.
Acknowledging that state law provided no clear path to regaining her parental rights, Calgaro asked the federal court to intervene, order a stop to the teen's hormone treatment and award her financial damages.
Notice that little twist: the absent mother wants financial damages.
A federal judge in Minnesota ruled against Calgaro.
The judge also wrote that Calgaro failed to plausibly allege that the school district's policy deprived her of parental rights and found that Fairview and Park Nicollet — private, nonprofit health organizations — did not violate Calgaro's parental rights because they were not acting as government actors carrying out a state law.
The sweeping lawsuit was brought by the Thomas More Society. Here's their current home page, featuring radical-right propaganda which has been thoroughly debunked.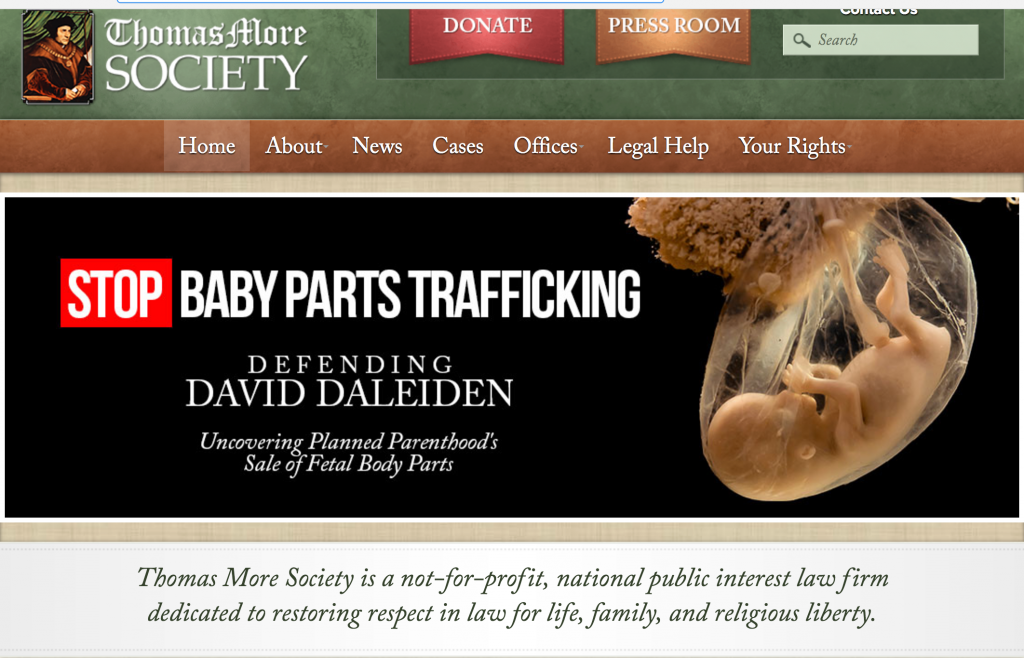 The firm is defending David Daleiden, the discredited propagandist who accused Planned Parenthood of trafficking in fetal organs.
David Daleiden, leader of a group called the Center for Medical Progress, and an employee, Sandra Merritt, posed as fetal researchers to gain entry to the conventions of the National Abortion Federation in San Francisco in 2014 and Baltimore in 2015.

The two said afterward they had been acting as investigative journalists to expose alleged plots by Planned Parenthood and other abortion providers to sell fetal parts. Lawyers for the abortion federation say its members were subjected to harassment and death threats after Daleiden's group posted edited versions of the recordings online.
On Wednesday 3 August, Thomas More filed a petition with the U.S. Supreme Court, asking that a gag order be lifted so that Daleiden can release more videos taken under false pretenses. This news hook is what pushed this (old) story into my timeline.
How did the Christian right report this story?
LifeSiteNews implies that E.J.K. is 15 years old (not almost 18) and provided no details about the unstable childhood that lead E.J.K. to leave home.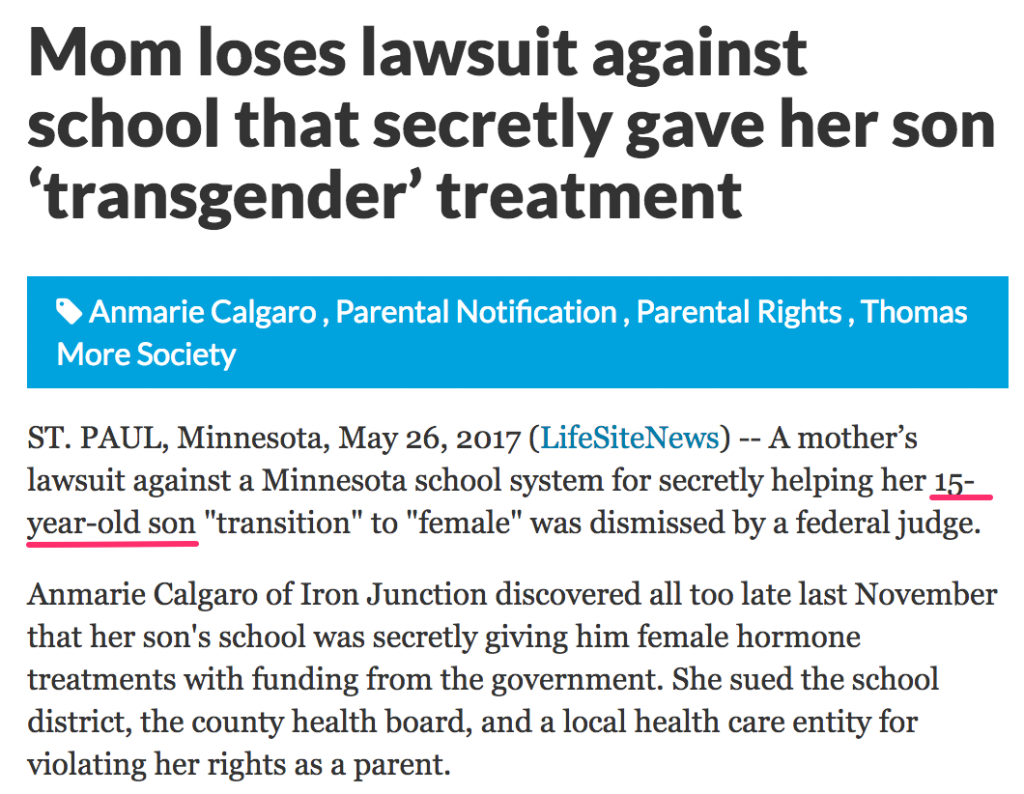 What is LifeSiteNews? A "news" site started by the Campaign Life Coalition (CLC), a pro-life organization headquartered in Toronto, Canada. Managing director Steve Jalsevac and editor-in-chief John-Henry Westen were founding staff in 1997.
According to the Christian Post, Calgaro filed an appeal on Monday, even though E.J.K. turned 18 in July.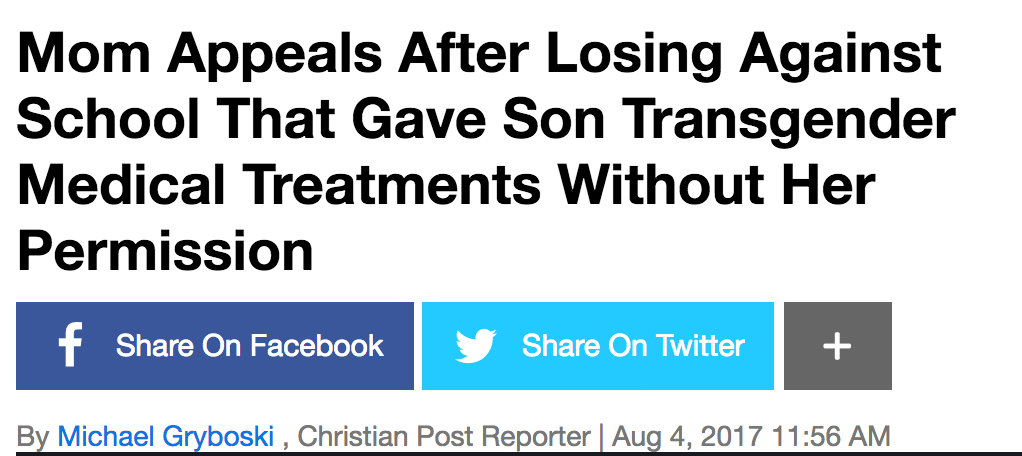 Through headline and selective narrative, the story perpetuates the myth that Minnesota schools overruled her wishes in E.J.K's case. This did not happen. Rather, Calgaro was so disconnected from her son's life that she was unaware that he had begun a program to reassign his gender two years prior.
ChristianPost.com is the nation's most comprehensive Christian news website and was launched in March 2004, incorporated with the vision of delivering up-to-date news, information, and commentaries relevant to Christians across denominational lines.
The ChristianPost has 10 million unique visitors a month. LifeSiteNews claims 2 million visitors a month (not uniques).
Willful ignorance
Early founders of the Internet envisioned widespread "information sharing and communal activity among individuals, businesses, other organizations and government actors."
Instead of the WWW ushering in an era of exploration, research and broadening horizons, the Internet has become an echo chamber full of ever-more-narrow filter bubbles. Some of that is through personal choice; some is through computerized algorithms that shape news feeds in digital networks like Facebook.
In 2014, Pew Research examined political polarization in America. Researchers found that consistent conservatives:
Are tightly clustered around a single news source, far more than any other group in the survey, with 47% citing Fox News as their main source for news about government and politics.
News sources like these two — the Christian Post and LifeSite News — are rarely factored into studies like this one because they are not true news sources. Nor are they aggregators.
Instead, they rewrite legitimate news items — so and so filed a lawsuit about such and such — as propaganda. Thus they offer a veneer of "truthfulness" — the information reported is not fake — that is consciously slanted to one political point of view.
When people gather in groups that reinforce their beliefs, those ">groups tend to become more extreme in their opinions and decisions.
Christian right organizations are not the only actors who engage in propaganda. The question for those of us who are concerned about the future of democracy in America is this: how do we debate and conduct policy in a world where many dispute or deliberately ignore facts and context? What disincentives can we create to dampen the attractiveness offered by propaganda which contributes to divisiveness and extremes?