George P. Bush: Docent to the American Dream"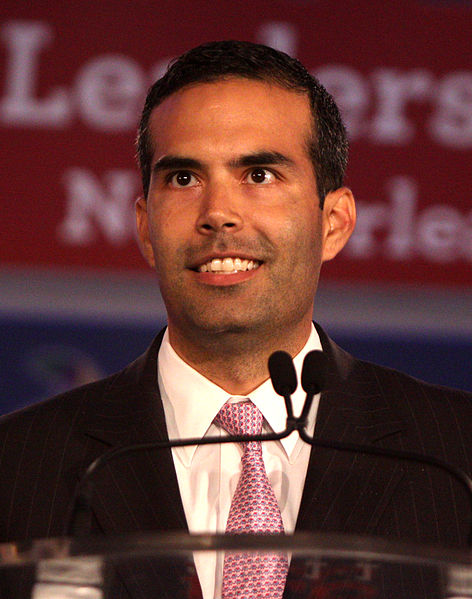 George P. Bush: Docent to the American Dream
by Jordan Cooper
In America we are a cultural melting pot with a population over 300 million. Also it is growing very fast with the ethnic minority population going to be about 40 percent of the total population in 2025. Therefore, there is a need for a public servant to enlighten citizens about the socioeconomic disparities that have a potential to be wider for minorities before 2025 and the habits that need to be cultivated to make the most well rounded citizens.
The aspiring leader for our country that has the potential to do this is George P. Bush. I had the distinction of social media organizing for George P.'s Land Commissioner Campaign in 2013 when I took my gap year from undergrad. I happened to be the first African-American social media organizer for a Land Commissioner Campaign in Texas. This is very esoteric to the guys who still use rotary phones to communicate. His brother Jeb Jr. connected me with his campaign aides Ash Wright and Trey Newton. I have over a dozen relatives in Texas from my mother's side of the family and I thought a social media page for George P. for youth and young professionals would be supportive.
A collegiate academy janitor probably has more followers on his social media than the page I made. However, I had help from Baylor Law Graduate Tanner Franklin, U.S. Army Officer James Wilson, and University of Houston-Victoria Student Body President Moses Olukoya to keep me ashore. My biological brother Elliott's phone conversation with President George W. Bush in the 2000s was not going to be enough for me to keep going–this time. Anyhow, George P. has the physical appearance of a soap opera actor on Univision and is a team playe: he may have learned from being a walk-on baseball player at Rice.
I am not as ugly as sin myself since I had offers to model for Abercrombie and Fitch and Banana Republic as a teenager. I was a practice squad college football player like Fformer Florida Gov. Charlie Crist. Fox News Commentator and author Raoul Contreras may have described me as not being on 'the team' as he did with Gov. Crist, but that is his personal opinion not the National Collegiate Athletic Association's. Still Bush's sights are set on the content of the people's hearts and minds rather than what's on the outside.
George has the brainpower of the creme of the crop for a law school and has a lot of time to learn how to put it in fruition. Besides, George defended our country and allies in other ways when he was deployed toAfghanistan. Demonstrating his grasp of our economic interests and civic initiatives across the world. Moreover, this gave him even more discipline to serve the people's needs and to address the constituents' interests.
Consequently, his run for land commissioner was a modest office considering his political pedigree shows his affinity for public service. George desires to be in public office to make America an energy producer again and have the residual effect of creating more jobs. George knows that we cannot depend on the tumultuous Russia or Arab World to keep energy prices from zooming up. He understands that America must be able to stand alone and he is willing to stand alone as long as it is beside the people.
Minorities need to ask themselves if their families in their original lands would be interested in meeting them today. Are we making an impact where our homeland relatives would be happy to meet us? We need all people to influence their communities positively to be symbols of encouragement for our families in our native countries.

Jordan Thomas Cooper is a 2015 graduate of the University of South Carolina with a degree in History and a 2010 graduate of the RealEstate School of Success in Irmo. He is the first African-American to serve in both the governor and lieutenant governor's office as an aide and first to serve in the Inspector General's Office in S.C. (Haley) He is also the first person to serve in the top three offices in the gubernatorial line of succession in South Carolina (Haley, Bauer, McConnell). He says research shows he is the second black presidential campaign speechwriter in American history and the first for a GOP presidential campaign (Bush 2015). He also played football for Coach Steve Spurrier.
Photo by Gage Skidmore [CC BY-SA 3.0 (http://creativecommons.org/licenses/by-sa/3.0)], via Wikimedia Commons