Finding the human bond in Mongolia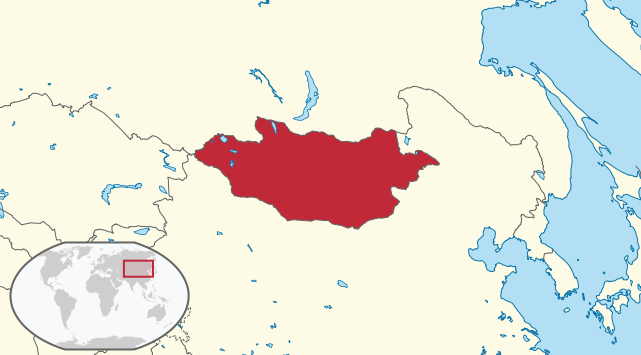 This is Mongolia, nestled between China and Russia and home to my daughter-in-law's family. Ever since I read the TMV article about the Kindness of Strangers, I have thought about writing about my experiences in Mongolia which we have visited numerous times. Understand first that Mongolia is a huge country, about half the land mass of America, but with only 3 million residents, half of whom live in the capital of Ulan Bator. Understanding this limited population/square mile is the key to understanding Mongolian society. Outside of Ulan Bator there are no roads. You travel via the sun and a compass and you can easily go 50 miles without seeing a single indication of human civilization.
Our daughter-in-law grew up in the Mongolian wilderness. Schooling consisted of itinerant teachers wandering the hinterlands, dropping off whatever textbooks they had and picking up those that the children had finished. Formal schooling in classrooms did not start until High School and even that was a hardship for those who attended. Our daughter-in-law, Chimgee, had a day's ride on horseback to get to High School. She stayed with local families for the 4 days a week that High School met and then rode back to her home. Her home was the traditional Ger, the round building made out of stretched canvas that can be assembled and moved in a few hours. The reason for Gers is that Mongolian families in the outback frequently move because most of them are raising sheep, horses and a few cattle and they have to move after the animals have consumed most of the grazing land.
On our first trip to Mongolia to meet Chimgee's family they wanted to show us their country. So off we went in two rented 4 wheel drive Toyota LandCruisers to visit a horse farm about 250 miles away. One Toyota carried supplies, food and giant cans of gasoline. A Horse farm is where the Mongolians catch wild horses ( there are 10's of thousands of them in the outback), They "break" them and train them to accept riders and then sell them to other families. Most Mongolian travel is by horseback since cars are expensive and outside Ulan Bator there are very few gas stations. One interesting observation of spending time at a horse farm ( yes, we slept in a Ger that we assembled from supplies carried in the second truck) was the horse families always spent the night each in a tight circle – mom, dad and any horse children in a tight circle nose to nose so on any given night your would see 30 or 40 horse family circles scattered around the land.
Even more interesting was a sky blue American toilet off in the distance. When they heard a bunch of Americans were coming to visit, they were very worried about how we would handle bathroom duties in no mans land. So they traded a horse to a Mongolian family who had this sky blue toilet which had never been used or installed. So a couple hundred yards away from camp they dug a hole and put the toilet on top along with a bucket of water and a pile of fat leaves for us. This image of a sky blue toilet sitting out on the plains with nothing else in sight for miles will stay with me forever,
In traveling the land, sometimes you had to cross a river. Since there are no maps, road signs to tell you where it was safe to cross the river, whether by horse or vehicle Mongolians look for two 3 or 4 foot towers of rocks where previous travelers have indicated it's safe to cross between the two rock piles.
As to the kindness of strangers, since Mongolian people are scattered about they rarely see anyone besides their immediate family. So when they would see the dust kicked by our Toyotas in the distance they would quickly run out and stop us and invite us to eat with them. Since we might be their first guests in a month or two, the Mongolians always tried to make the visit special.
On one visit when we were traveling in the Mongolian hinterlands, Chimgee yelled at us to stop and go left. In the distance we could see a few wooden buildings. Chimgee said that's a reindeer farm, raised primarily for food. A little old man came running out to greet us. With Chimgee as translator we found out that when the old man was a child, they had met a Canadian photographer who spent a day with his family taking pictures. We were the first non-Mongolians he had met since the Canadian man 55 years earlier.
He motioned for us to follow him and he wanted to show us something special. He took us to a pen where there was only one reindeer. He went inside and brought the reindeer out and proudly pointed to it exclaiming "Rudy" , "Rudy". With the reindeers nose covered in red paint, we quickly guessed the genesis of the name. When we all started to laugh and chatter about Rudolph the red nosed Reindeer, the look on that man's face was sheer JOY. He had connected across time and space as one human to another. By the time we finished hugging, everyone was in tears – the human to human bond was once again firmly in place.

After a long career as a Senior Executive with Prudential, jdledell took early retirement to teach piano with his wife of 48 years, Cinder. The two of them established Castle LeDell Music in their home and have 130 weekly students spread out over 7 days a week. In spite of teaching being literally a full-time job, jdledell finds the time to consume vast quantities of Internet commentary and to communicate with his children and other relatives scattered around the globe. While jdledell got polio when he was two years old and now uses a wheelchair full-time, it doesn't keep him from leading a rich and fulfilling life in Basking Ridge, NJ.