(Updated) Father and Daughter: A Contrast in Moral Values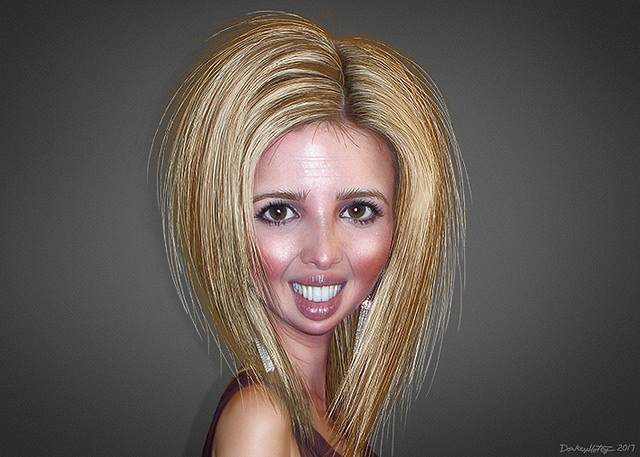 Update:
Perhaps seeing parallels between Roy Moore's predicament and his own during the presidential campaign, Trump has now come out full blast in support of Moore's candidacy, unabashedly stating that he believes Moore's denials of the many credible sexual harassment and misconduct accusations against him.
In doing so, Trump has stirred up the lurid hornet's nest surrounding his own slew of sexual assault accusations that haunted him during his presidential campaign, exacerbated by the infamous "Access Hollywood" tape.
Thus, it is no surprise that several news sources are now once again delving into those accusations, with additional details, updates, corroborators and witnesses.
Here is one such list of "13 women who have publicly come forward with claims that Trump had physically touched them inappropriately in some way, and the witnesses they provided." The Washington Post adds that it does not include "claims that were made only through Facebook posts or other social media, or in lawsuits that subsequently were withdrawn."
What is that saying, "Let sleeping dogs lie"?
Original Post:
Ivanka Trump, referring to Alabama's Roy Moore, has said, "There's a special place in hell for people who prey on children, and I have no reason to doubt the victims' accounts."
Her father, the president of the United States, however — after days of silence — has now effectively said there is a special place in the U.S. Senate for the accused pedophile.
"I can tell you one thing for sure: We don't need a liberal person in there, a Democrat, Jones," Trump said before departing for Florida for the Thanksgiving holidays.
According to NBC News, when asked whether he had a personal message for women "amid the onslaught of sexual misconduct allegations that have surfaced recently against politicians, prominent members of the media and Hollywood figures," Trump said:
"Women are very special. I think it's a very special time, a lot of things are coming out, and I think that's good for our society and I think it's very very good for women and I'm very happy."
Just moments before, however, Trump had claimed that he believed Moore -– that he had done nothing wrong — according to NBC News.
"He totally denies it. He says it didn't happen. And you know, you have to listen to him also," Trump said.
During the presidential campaign, and before, Trump was accused by more than a dozen women of sexual misconduct, "from groping to rape."
Trump has called the accusations "all fabricated…pure fiction…outright lies," has called the women liars and other names and threatened to sue them.
So much for these "special women" and "special times."
And why do I doubt this man's sincerity when he says that these "things coming out" is "good for our society," is "very very good for women" and that he is "very very happy" for all this?
Lead image:Courtesy donkeyhotey.com