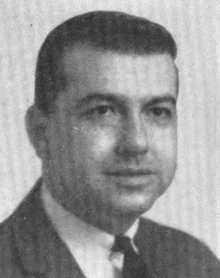 Ex-Iowa Congressman Greigg's Signature On Watergate Break-in Complaint Gave History Changing Event Legs
Historic Quote: "Did you catch the kids?" – Democratic National Committee Deputy Chair Stanley Greigg upon being informed of a break-in by the Washington D.C. police chief at the party's headquarters at the Watergate apartment complex. The police chief replied, "No, sir, these men we arrested were in business suits."
This June marked the 45th anniversary of the break-in at the Democratic National Committee. It's one of the most talked about scandals that opened the door to Watergate and the only resignation of a president in U.S. history. Yet one big detail rarely comes up? How did the break-in of the Democratic National Committee headquarters become a crime? The answer: Stanley Greigg, the deputy national chair of the party, was contacted by the Washington D.C. Metropolitan Police in the middle of the night and was asked to report to the station. The burglars had been caught in his outer-office where his receptionist sat and it fell on Greigg to signed the complaint, thus opening the most public political investigation in history and giving Greigg a link to history far more colorful than his single, albeit very productive term as a Democratic representative from Iowa.
When Greigg witnessed the police line-up, he recognized one man: he was the director of national security at CREEP (the Committee to Re-elect the President). Greigg then proceeded to prepare a memo to his boss, the DNC Committee's chair, Larry O'Brien, in which he told him "all hell had broken loose. In the ensuing months, Washington Post reporter Carl Bernstein spent a great deal of time in Greigg's office.
When he embarked on his bid for Congress in 1964, Greigg could hardly have expected that his name would become a footnote to a major historical occurrence. He had been serving as Mayor of Sioux City but had been pursuing what seemed to be a longshot bid for a Congressional seat in a district that had, for the most part, been fertile territory for Republicans.
Greigg was born in Ireton, Iowa and grew up in Sioux City. He received his Bachelor's from Morningside College and a Master's in public policy from Syracuse University. After serving in the Navy, he returned to Morningside as its dean of men and a Professor of History. It was where he also operated a restaurant. His political career began when he won a seat on the Sioux City Council in 1960. At 29, he was the youngest person to sit on council in the city's history, a distinction only surpassed by two people since. The Council selected Griegg as Mayor in early 1964, again setting a record. Not long after, he began running for Congress.
The race was to succeed Charles Hoeven, the one-time Minority Whip of the House before he was dispossessed of that post by a more junior Representative from Michigan, Gerald Ford. Hoeven was retiring after ten terms and at the outset, the GOP appeared to be in decent shape to hold the seat.
State Representative Howard Sokol was the Republican candidate. Sokol had faced a cacophonous primary in which he had actually placed third (he and two others each garnered 18%). Because no one had received the required 35%, the field headed to a convention where Sokol was selected and, calling Greigg "a tough opponent," vowed to "carry a big stick" to the fight. He spoke of "cutting expenses first and taxes second" and was critical of Democrats for unemployment. Congressional Quarterly noted that Griegg responded by saying that while "everyone should be concerned with the national debt," the gross product was increasing "faster."
On the trail, Greigg, on the other hand, spoke of unity. "We cannot afford the luxury of pitting one group against another: the farmer against the laborer; the laborer against the businessman; the businessman against the farmer. We must realize that our problems will only be solved by unity of purpose." To that end, he hit Sokol for opposing a Medicare proposal and a beef import program.
The race was considered to have no clear favorite headed into Election Day but Lyndon Johnson's landslide over Barry Goldwater propelled him into the seat with 53% (he carried eleven of the eighteen counties, including 62% in populous Woodbury). The 58% Johnson received in the district was actually his lowest in the state and the only one in which he received below 60%. He was assigned to the all-important Agriculture Committee.
As a freshman, Greigg passed two pieces of legislation. One was the Emergency Feed Grain Bill while the second called for surplus buildings to be given to "area communities, organizations, and non-profit industrial development corporations." The Algona Upper Des Moines newspaper quoted a Congressional leader as calling it "indeed unique in the history of the house." For Greigg, that time would be immensely auspicious. During his first summer in Washington, he would marry Cathryn Thomson, whom he had met at Morningside College when he was the College Dean and she a student. They would eventually have three daughters. Meanwhile, 1966 would be a year of revolt against the Johnson administration and the members of Congress most impacted were the freshmen in marginal districts. That impacted Greigg.
Greigg would be facing Wiley Mayne, a prominent attorney. During the campaign, Democrats expressed optimism that Greigg could hang on. The Mason City Globe surveyed the various Democratic county chairs in the district in early October who cited "his numerous appearances in the district" and "youth and vitality" as reasons they thought he'd prevail. One said, "Greigg has met his constituents and has done his job. It's easy to get our workers enthused where he is involved."
The result was not close. Mayne took a 20,000 vote plurality and more than 57%. In 1968, after the Democratic nominee against Mayne dropped out, Greigg was courted by local Democrats to run but declined. He had been put in charge of the United States Post Office Department's Office of Regional Administration and that fall, would be coordinating the Humphrey-Muskie field operation in Northern California, an area where Humphrey outperformed expectations even while losing the state. That attracted much attention as he soon was tapped to join the Democratic National Committee as director of the Office of Campaigns and Party Organizations, a role in which he served as liaison to members of Congress. Before long, he was a deputy. Greigg was immensely loyal to the DNC's chair, Lawrence "Larry O. Brien,"
Upon being notified of the DNC break-in, Greigg's first question to the officer was, "Did you catch the kids?" The police chief replied, "No, sir, these men we arrested were in business suits." When Greigg went down to the station and viewed the line-up, he recognized one of the men. At that point, he had been in contact with O'Brien once, to inform him of its occurrence. But after the line-up, he'd place another call to O'Brien to tell him that "all hell had broken loose." O'Brien would be challenged as DNC head the following month and Greigg steadfastly defended him and whipped up support. But the uncertainty over whether he would keep his role caused Greigg to ponder his own future, and he decided to resign that July. Shortly after, he was named director of the Lawrence F. O'Brien Center at Dag Hammarskjold College.
Greigg thought about making another run for Congress in 1974 but he opted against challenging Berkley Bedell, who had very nearly sent Mayne packing in '72 (and would unseat him by a solid margin in the fall). Instead, he joined the Congressional Budget Office. By the time he retired 23 years later, he was Director of International Government Relations under the agency's director Alice Rivlin.
Rivlin became acquainted with Greigg in early 1975 when Senate Budget Committee leaders prevailed over their House counterparts in hiring Rivlin as Director of the new Congressional Budget Office. Someone had recommended him and she immediately hired him. It was a decision she'd never regret. She called him, "incredible," as well as a "nice, engaging man."
Rivlin particularly needed help navigating the House side of the Capitol, quelling the suspicion among members because their candidate had been defeated. She calls Greigg invaluable to, "helping me learn the names on the Hill." She also credits him with serving as her liaison on the Hill, taking her to Capitol receptions, and hiring "some terrific people." On top of that, Greigg had to deal with the early responsibilities of acquiring furniture and hooking up telephones. What most impressed Rivlin was that he had only served in the chamber for two years and that had been nearly a decade earlier but he still had "kept up his contacts, and not just among Democrats" (he knew the Senate also). Rivlin described him as both "hard-working and cheerful" and took pride in getting to know his family.
On a lighter note, The Sioux City Journal said Greigg was" a civil war buff and collected antiques with a soda fountain motif." Later in life, he loved to visit history classes and talk about his experiences during Watergate.
Greigg died suddenly in 2002 in Roanoke while at a church convention. He was 71. Those around him remembered him lauded him endlessly. A fellow Sioux City Mayor, Earle Grueskin, who served with Greigg on council, called him, "100 percent honest in his approach. He never backed down, he had a great sense of humor, a boisterous sense of humor."
Meanwhile, the Watergate affair would give the Greigg family one last moment in the spotlight following his death. In 2005, when Mark Felt was identified as "Deep Throat," the Washington Post had republished an excerpt of coverage in which Greigg's phone number had been printed. Cathryn Greigg still resided at that home and the number was still in use. That prompted the curious to begin calling. Family members said they took it in stride. After all, Greigg would have done the same.
Click here for reuse options!


Copyright 2017 The Moderate Voice