Eric Bolling out at Fox News after lewd texts scandal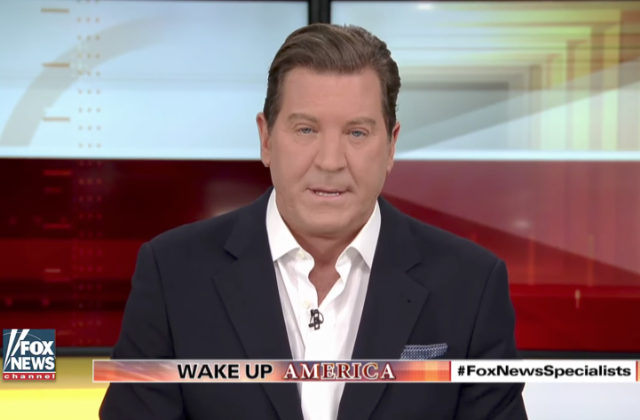 The big media news: Fox News and conservative host Eric Bolling are going their separate ways after a scandal sparked by a Huffington Post report that he sent lewd text messages — some apparently Anthony Weiner style — to female employees. The company launched an investigation and now they're parting company.
I'm sure Bolling had wanted to stick it out at Fox a bit longer:
Fox News has parted ways with host Eric Bolling, the network confirmed Friday, just over a month after an exclusive HuffPost report revealed Bolling sent inappropriate text messages to current and former female colleagues.

News of the departure comes after two HuffPost reports revealed a pattern of inappropriate behavior by Bolling, who co-hosts "Fox News Specialists." Fox News will cancel the program, it said in a statement.

"Eric Bolling and Fox have agreed to part ways amicably," the network said. "We thank Eric for his ten years of service to our loyal viewers and wish him the best of luck."

HuffPost's report, which was based on 14 sources, revealed that at least three current and former Fox colleagues said they had received inappropriate text messages from Bolling, including photos of male genitalia
The Daily Beast's headline reads: 'Penis Pic' Probe Ends Eric Bolling's Odious Run at Fox News" and notes:
The host sued (Huffington Post reporter Yashir) Ali for defamation, and has not withdrawn the $50 million complaint even after his split with Fox suggests there was meat to the reporting.
Bolling's 10-year tenure with the right-wing cable outlet was one marked by casual on-air sexism, racism, and the unabashed dabbling in debunked conspiracy theories. Though he came to the network as a former commodities trader with ostensible business insight, his career at Fox more resembled that of a right-wing rodeo clown.
Bolling was among the first Fox News personalities to publicly promote the debunked conspiracy theory that President Obama's birth certificate was a fraud and that Obama was actually born in Kenya. In one particularly notorious segment of his long-ago-canceled Fox Business Network show, Follow the Money, Bolling and anti-Islam activist Pamela Geller combed over a poster-board print of the then-president's birth certificate with a green laser-pointer, alleging parts of it were digitally manipulated.
What's going on at Fox? Sex issues have led to the downfall of the late Roger Ailes, Bill O'Reilly and now Bolling.
Friendly advice to female employees at Fox News: if a Fox bigwig asks you what you want for Christmas, do not say "a Christmas goose."
Eric Bolling has been a sexist idiot on the air at Fox News for years. Here is a montage. pic.twitter.com/BO5M5P1ypM

— Leanne Naramore (@LeanneNaramore) September 8, 2017
Eric Bolling being politely escorted out of the Fox News studios: pic.twitter.com/juPzhjYRMB

— TrumpsTaxes (@TrumpsTaxes) September 8, 2017
so eric bolling is getting a white house job right

— Alazar Moges ?? (@zarzarbinkss) September 8, 2017
Dick pics gets Eric Bolling fired from FOXNews. I still don't see any issue with these pics. Sad!@seanhannity @TuckerCarlson @billoreilly pic.twitter.com/p86HPM5L3n

— Donald J. Trump (@AKADonaldTrump) September 8, 2017