Election-Winning GOP Coalition Could Splinter Amid Wide-Open Presidential Race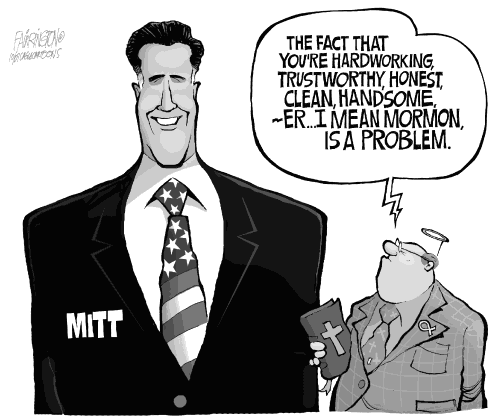 Is the winning coalition that not just held the Republican Party together in recent years, but impressively sprung into action during Presidential campaigns about to splinter?
If it isn't getting ready to splinter, it's surely being tested more than ever amid a highly dramatic Presidential race and segments of the coalition that seemingly want to dig in their no-compromise heels.
And just as the word "bigotry" is starting to be used among journalists and bloggers regarding the Hillary Clinton camp's tactics against Illinois Senator Barack Obama, the word "bigotry" is out there now with the religious "problem" former Massachusetts Gov. Mitt Romney faces.
Result: The weekend before Christmas — and less than two weeks before the Iowa caucuses — the Republican race looks wide open and it's likely that whoever gets the nomination this time will have to spend some quality time unifying his party…much more so than past nominees.
Writing in the Washington Post, Michael D. Shear and David S. Broder take a look at this unity issue. And the profound nature of what is essentially now a battle for the GOP's identity crisis becomes even more clear when you at specific campaign developments.
Shear and Broder don't mince words:
For three decades, the Republican presidential nominating contest has served to unify the national party's coalition of social, economic and foreign policy conservatives in advance of a general election fight with Democrats.

This year, it is ripping that coalition apart.

Is the GOP grounded in the social issues embodied by Baptist preacher Mike Huckabee or the foreign policy experience of former POW John McCain? Do Republicans see their futures in a former CEO such as Mitt Romney, who promises to tackle Washington incompetence, or in a leader such as Rudolph W. Giuliani, who talks tough on terrorism and crime? Should the party embrace anger about immigration or optimism about America's potential?
And, they write, this is a PROFOUND identity crisis which goes right down the Republican ranks– not just a creation of journalists (or bloggers) looking for a topic about which to write:
Among members of Congress, the lobbying shops on K Street and the local GOP committees in Iowa and New Hampshire, Republicans are divided, confused and sometimes demoralized about their choices for president. With less than two weeks left before voting begins, the party's rank and file are being asked to ratify a new direction for the GOP amid the clash of a chaotic and wide-open campaign.
Perhaps the only good news for the GOP, in political terms, is that the Democrats seem to be slipping into an increasingly-bitter contest and will face an election in which Democratic rank-and-file voters give North Pole-low marks to their party leadership on delivering what they thought would be increased decision-making power in Washington. Instead, the Congressional Democrats got trumped and politically outfoxed by the executive branch.
On the other hand, the continued bad news for the GOP, as the Post points out, is that, more than Democrats, the Republicans tend to choose as the nominee someone who is perceived to be "next in line" for the nomination.
That political custom seems to be inoperative this year: Vice President Dick Cheney isn't running — and, unless former Florida Governor Jeb Bush wants to change his name, 2008 ain't gonna be his year (unless he changes his name to "None Of The Above").
But a look at developments on the GOP campaign front underscore how the nomination is not just up for grabs but there will likely be some rough grabbing going on in the comings months…weeks…and even not-so-far away days.
Consider all this:
–John McCain Is Closing In On Romney In New Hampshire…FAST:
Senator John McCain of Arizona, whose bid for the Republican presidential nomination was all but dead this summer, has made a dramatic recovery in the Granite State 2 1/2 weeks before the 2008 vote, pulling within 3 percentage points of front-runner Mitt Romney, a new Boston Globe poll indicates.

McCain, the darling of New Hampshire voters in the 2000 primary, has the support of 25 percent of likely Republican voters, compared with 28 percent for Romney. Former New York mayor Rudy Giuliani has slid into third place, with 14 percent. A Globe poll of New Hampshire voters last month had Romney at 32 percent, Giuliani at 20 percent, and McCain at 17 percent.
Unlike Iowa, a McCain win in New Hampshire is unlikely to be seen as largely due to Romney's problem with the religious issue. McCain, in fact, is in high throttle in his latest incarnation — closer to the "maverick" 2000 John McCain than to the post 2001 party-panderer John McCain who was flitting around the country telling all and sundry who opposed him in the past how he actually agrees with them now. These days, McCain actually seems to be having FUN.
A McCain win in New Hampshire, particularly if it followed a win by Arkansas Governor Mike Huckabee in Iowa, would create the most open GOP nomination fight in years.
–Romney Is Blasted By A New Hampshire Newspaper In No Uncertain Terms.
This is catastrophic in terms of imagery. And Romney can be sure his opponents will quote from this editorial repudiation for the duration of the campaign. Here's the beginning and the end of it:
If you were building a Republican presidential candidate from a kit, imagine what pieces you might use: an athletic build, ramrod posture, Reaganesque hair, a charismatic speaking style and a crisp dark suit. You'd add a beautiful wife and family, a wildly successful business career and just enough executive government experience. You'd pour in some old GOP bromides – spending cuts and lower taxes – plus some new positions for 2008: anti-immigrant rhetoric and a focus on faith.

Add it all up and you get Mitt Romney, a disquieting figure who sure looks like the next president and most surely must be stopped.
The Monitor isn't going after Romney's religion. It goes into detail about the fact that in terms of concrete policy Mitt Romney has more flip flops than Wal-Mart during a summer sale. The end of the editorial:
When New Hampshire partisans are asked to defend the state's first-in-the-nation primary, we talk about our ability to see the candidates up close, ask tough questions and see through the baloney. If a candidate is a phony, we assure ourselves and the rest of the world, we'll know it.

Mitt Romney is such a candidate. New Hampshire Republicans and independents must vote no.
Meanwhile, in Romney's home state, the Boston Herald has endorsed……John McCain, too…
–Polls Show Former Mayor Rudy Giuliani Needs Political Viagra But Stories About His Health Dominate News Cycle.
Here's a typical one from the L.A. Times:
Republican presidential hopeful Rudolph W. Giuliani was back campaigning Saturday, feeling well after what were described as flu-like symptoms had triggered an overnight hospital stay earlier in the week.

"It was a severe headache, yeah, and everything has turned out fine," the former New York mayor said Saturday. "All the tests turned out 100%. As you can see, I'm very healthy." Giuliani met with supporters and undecided voters at the home of Manchester Mayor Frank Guinta late in the afternoon.

Though his campaign canceled a town hall meeting Friday in Merrimack and removed an Exeter house party from his public schedule in New Hampshire today, Giuliani insisted his campaign was back in full swing. "Now we're right on schedule," he said.

Giuliani, 63, en route home to New York on Wednesday after a full day of campaigning across Missouri, ordered his plane to turn around and return to St. Louis. There, on advice of his New York doctor, Giuliani spent the night in Barnes-Jewish Hospital, which specializes in cardiac care. Giuliani's staff cited flu-like symptoms, which they said had been worsening all day.

Giuliani, a prostate cancer survivor, underwent additional tests after his return to New York. He said his doctor pronounced him in good health.
Voters are often reluctant to vote for candidates who are in ill-health, but will give a pass to those who HAD health issues. The late Senator Paul Tsongas was in the running for the Democratic presidential nomination after battling cancer. And former actor Fred Thompson's campaign wasn't hurt by revelations that he had battled cancer too (his campaign seemed hurt by Thompson's waiting too long).
But Giuliani's health crisis story hasn't played itself out yet: his doctor is even promising an update.
So what do you see?
(1) Signs that Huckabee will take Iowa, at least partly because voters there aren't buying Romney's efforts to lay the religious issue to rest — and because Huckabee is proving to be a different kind of Republican (so it's no surprise he finds himself locked in a battle with conservative talk show Rush Limbaugh after a Huckabee aide made a comment about Limbaugh. Limbaugh more often than not reflects establishment GOP thinking. He is part of the GOP establishment and moves in those circles.) Huckabee has criticized Bush on foreign policy and some of his backers reportedly believe in using government for things such as battling poverty.
(2) A possibility that McCain will check-mate Romney in New Hampshire. Could John McCain in the end wind up the Last Man Standing as the party's other factions battle each other?
(3) No signs yet in polls that the incredible Rep. Ron Paul fundraising effort and enthusiastic volunteers will translate into voting day power and hard-nosed party political clout.
(4) Social conservatives who have felt their clout and power within the GOP want to have it continue and to expand it. The GOP powers that be empowered and enabled this segment of the party. In 2008 will the tail more than ever wag the dog?
(5) Bush loyalists among the party's core, talk show hosts, and in the party's levers of power don't want a candidate that will break too much with the Bush administration or in any way repudiate it and give Democrats an opening.
(6) Traditional Goldwater conservatives (and many other non-conservative Republicans who supported Bush 41) who feel not only did the current administration not act conservative but it has given conservatism itself a bad — and in terms of GWB's brand inaccurate — name. Will they go (again) with a Republican they feel can win versus one who authentically holds the tenets Goldwater and the late Ronald Reagan embraced?
This list could also be expanded even more.
But it shows how the party's nominee is going to have to bring all factions together, advocate enough programs to ensure some parts of the coalition don't stay home on election day, and rally the GOPers against the Democrats. Some feel the Republicans could be so dispirited that party turnout will be a problem.
What could rally Republicans? This Cagle Cartoon by conservative cartoonist Brian Fairrington answers that question: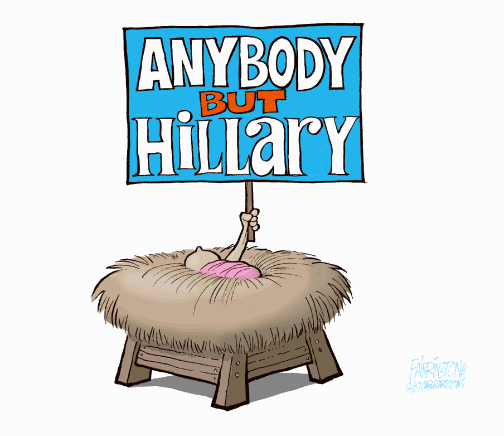 A CROSS SECTION OF OTHER WEBLOG OPINION ON THIS ISSUE (these are excerpts so click on link to read entire post):
—Political scientist Steven Taylor:
When all this started, I thought that McCain would eventually be the nominee, and then it seemed like that was highly unlikely. Still, as I argued in brief the other day, I think that McCain may well be the last man standing on the GOP side when all is said and done. Part it is that I simply have a hard time seeing any of the other candidates actually winning the nomination, aside from McCain. However, we shall see.

At a minimum, a win or second place finish for McCain in NH will propel him back into a top tier, semi-frontrunner status.
In a news story, he says Republicans are splintered ("With less than two weeks left before voting begins, the party's rank and file are being asked to ratify a new direction for the GOP amid the clash of a chaotic and wide-open campaign.") because no one candidate has emerged from the pack.

The same is true for Democrats.

If it were a column, I'd give him a pass. But it is a news story and even though it is a feature, it should abide by the same rules of objectivity. If that is peevish, well I am far from perfect.
Factor in that "roughly 40 percent of likely voters in both parties indicated they are still undecided" and the poll has a margin of error of +/-4.9 percent. But one thing is clear, voters are moving around in New Hampshire — and the movement is benefitting McCain on the GOP side and Obama on the Democratic side. Also, remember, New Hampshire voters are notoriously fickle, so this could change overnight — especially over the night of January 3rd, the Iowa caucus.
Concord Monitor's ed board a few weeks ago admonished voters, it's time to get serious. Ed board recognizes its first-in-the-nation duty to play coy, however. Gets wistful about the marginal Biden, and unendorses Romney. It's a little like the buildup in a reality TV vote-off: "Those whose names I didn't call … will find out after the commercial break whether they get to stay!" The New Hampshire primary is the nation's longest-running reality TV show, and the podunk paper's quadrennial national moment, so I guess that makes sense.
The rise of Huckabee, and the apparent resurgence of McCain, spells double trouble for Mitt Romney. The other losers? They would be Fred Thompson and Rudy Giuliani….increasingly left out of the discussion.

Romney's strategy all along was to narrow the race down to him and Giuliani, painting himself as "the true conservative" and – armed with the support of the religious right – defeat Rudy for his apostasy on "social issues." But Huckabee's ascent has ruined all that.