Democrat Vs. Democrat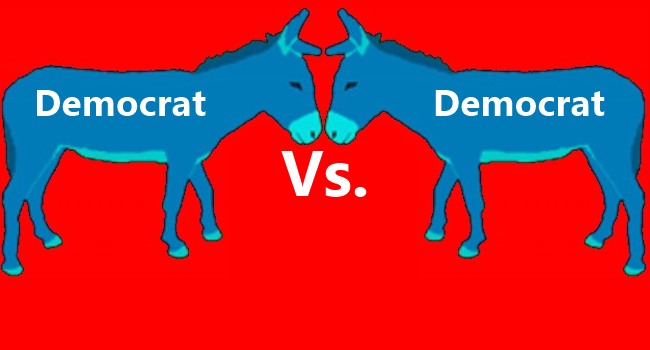 Barbara Boxer favors fish over Californians. Diane Feinstein favors Californians over fish.
That is the takeaway from The Hill story "Senate Dem blocks own bill over California drought language":
"Retiring Sen. Barbara Boxer was expecting to score one final legislative victory with a major water resources package just before the holidays. But the California Democrat instead got what she would consider a lump of coal: a last-minute policy rider that is now causing her to block her own bill. "It breaks my heart," Boxer said during a lengthy and impassioned floor speech on Friday. "Here I am, standing up, making a big fuss over my own bill, saying vote no. It's really painful for me to have to filibuster my own bill." At issue is the last-minute inclusion of controversial California drought language in a Water Resources Development Act (WRDA). Majority Leader Kevin McCarthy (R-Calif.) and Sen. Diane Feinstein (D-Calif.) successfully slipped in long-desired language to provide drought relief to central and southern California. It would temporarily relax environmental standards and instruct federal officials to divert more water to farms and other users in the federal water infrastructure in the Golden State."
From the Wall Street Journal:
"Barbara Boxer has torpedoed more legislation than she's helped pass during her four terms in the Senate. Before retiring for good (literally), the Bay Area Democrat is trying to sink a water bill that could provide modest relief to farmers in California's parched Central Valley. Congress plans to vote this week on bipartisan legislation that would authorize a variety of water projects including port dredging, reservoirs, fish hatcheries, lake recreation and wetlands restoration. The package also includes $120 million to fix Flint, Michigan's corroded pipes and other aging municipal water systems. Yet Ms. Boxer has blown a gasket over a rider inserted by House Republicans and her Democratic colleague Dianne Feinstein that would direct the Departments of Interior and Commerce to operate the pumps in the Sacramento-San Joaquin River Delta at the maximum levels allowed by law. "There is no place for that as long as I am breathing," Ms. Boxer declared."
From the Los Angeles Times:
"When she spoke on the Senate floor hours later, Feinstein laid out why she supports the plan, calling it "the result of three years of painstaking public work." "California is home… to more than 40 million people, and our major water infrastructure hasn't been significantly changed in the past 50 years when we had 16 million," Feinstein said. "We must modernize the system, both infrastructure and operational flexibility, or I fear we risk eventually becoming a desert state."The final language includes chunks of a bill Feinstein introduced in February, which was considered twice by the Senate Energy and Natural Resources Committee but never made it to the full Senate. Feinstein has called it one of the most difficult bills she has ever worked on."We have addressed, to the best of our ability and on and on and on, concerns raised by environmentalists, water districts, federal and state agencies and the [agriculture] sector," she said. "I believe that these provisions will place California on a long-term path to drought resiliency.""
What with Boxer retiring from the U.S. Senate, she has nothing to lose politically by favoring fish over Californians.
In her speech in favor of the fish, Boxer states, "There is no place for that [operating pumps at maximum levels allowed by law ] as long as I am breathing."
In that case, Boxer should star in a new movie.