In Defense of George W. Bush (Guest Voice)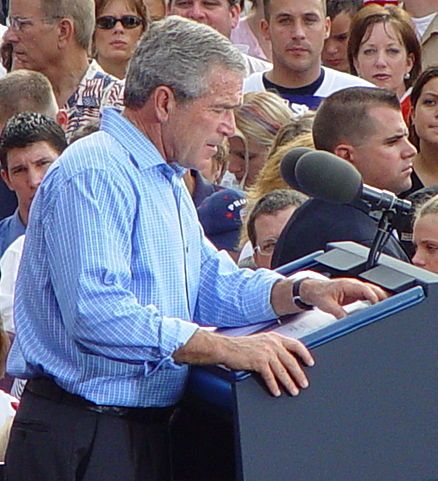 98 percent of historians from the History Channel said George W. Bush's presidency was a failure. 61 percent of these historians said he was the worst president ever in American history. I beg to differ about this.
George W. Bush has cut taxes for all, created agencies to protect our homeland from terrorism, and has placed minorities in the shining foyer of American eminence. I was driven to write this because of the recent biography made by Dr. Jean Edward Smith. Dr. Smith is an historian and I'm have a Bachelor's Degree in History from University of South Carolina-Columbia and my opinion should be beholden by its quality; not by the terminal degree. George W. Bush has been through many things that would snap a normal American's motivation.
Bush has had to rehabilitate himself from a drinking problem. Bush has been jailed a few times. Bush's wife Laura had potentially life-threatening pregnancy complications before she had their twins. Also, Bush is rumored to be the only Harvard Business School Graduate who did not have a job after graduation, even though he had 53 interviews with Fortune 500 companies.
Bush has had more pressure on him than a pressure cooker in a soul food restaurant in Baltimore. Bush has been more of a friend to multiculturalism than an international food festival in your state's capital. He appointed the first Hispanic attorney general of the United States. He appointed the first black Secretary of State in the United States. He established the starts of the National Museum for the American Latino and the National Museum for African American History and Culture. Hispanics and Blacks make up the majority of minorities in the United States. So, he has left never to be forgotten acts on our American family.
Most of all, he has emphasized that freedoms are not based on money, they are based on your legacy. I did not get a chance to work in George W. Bush's government offices. But he has written me a few times and seems like a polite person. I did serve on his little brother Gov. Jeb Bush's presidential campaign and he should not have had to endure the public perception that was concocted for his brother. Jeb had a 64 percent approval rating in his last month in his governorship, has been a bit more financially successful, and probably has to go to the big and tall section of mall department stores unlike George W.
Governor Bush and President Bush may not be the most educationally conferred governors in American History like Rhode Island Governor Gina Raimondo (has a doctoral degree from University of Oxford and J.D. from Yale University). Still they helped our country outlast others as a superpower. Altogether, George W. Bush has aided bringing an end to dictatorships for democracies, tried to save the economy, and helped us see our racial melting pot's progressions better.

Jordan Thomas Cooper is a 2015 graduate of the University of South Carolina with a degree in History and a 2010 graduate of the RealEstate School of Success in Irmo. He is the first African-American to serve in both the governor and lieutenant governor's office as an aide and first to serve in the Inspector General's Office in S.C. (Haley) He is also the first person to serve in the top three offices in the gubernatorial line of succession in South Carolina (Haley, Bauer, McConnell). He says research shows he is the second black presidential campaign speechwriter in American history and the first for a GOP presidential campaign (Bush 2015). He also played football for Coach Steve Spurrier.
Photo; Jimbo Wales, CC BY 2.0, https://commons.wikimedia.org/w/index.php?curid=2346