"Darkest Hour" Flies by in Two Hours (Movie Review)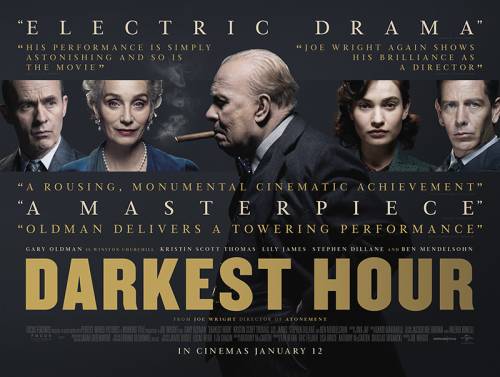 By Thomas Hoffman
Darkest Hour features a type of movie we haven't seen in years. Usually, two hours is too long for a movie or almost too much time. For the first time in years, there is a movie that tells a real story in two hours (no "video game" scenes, or anything supernatural). Darkest Hour is almost free of any action scenes or special effects. Usually war movies do not make good Christmas movies. However, wars do sadly occur on Christmas as well.
Ben Mendelsohn as the King of England in Darkest Hour contributes to the performance. However, this is the one aspect of the movie that does not feel completely accurate. The king in Darkest Hour speaks quite well.
It takes a minute or two to remember that this is King George VI, the same king that we see in The King's Speech. In The King's Speech, Colin Firth portrays a very different king, almost to the extent that it is a different character. Unlike Colin Firth, this king speaks considerably better and hardly stutters at all.
The transformation from Gary Oldman to Winston Churchill is worthy of an award in itself. No one would ever suspect Oldman is not as old in real life as he is portrayed in the movie.
Winston Churchill is not the warmonger he sometimes is portrayed as. He actually hates war, and is clearly haunted by the idea of sacrificing 4,000 soldiers to save another 300,000. Churchill provides the only kind of comic relief there can be in a movie like Darkest Hour. Unlike in many other World War II movies (and even documentaries), Churchill seems to temporarily ponder the idea of a negotiating a peace treaty with Nazi Germany with Italy serving as mediator. Of course he decides against this. As Churchill rightfully points out, "You cannot reason with a tiger when your head is in its mouth!"
In the beginning of the movie, a new employee is warned that it is impossible to catch every word Churchill says. Actually, he (and everyone in Darkest Hour) is considerably easier to understand than in movies like Dunkirk. It would be nice if the casts from The King's Speech, Dunkirk and possibly The Imitation Game could make cameos in Darkest Hour. The cast and crew from these movies deserve to meet this Winston Churchill, and it would an amazing technique to demonstrate how these stories did in fact overlap in real life. Alas, this casting technique apparently was not feasible.
President Roosevelt makes a "voice cameo." We get a glimpse of the relationship that Churchill and Roosevelt have. President Roosevelt is desperate to help Churchill but his hands are tied by the Neutrality Acts of 1930s.Churchill is said to have once stated "You can always count on the Americans to do the right thing, after they have exhausted all the other possibilities." This quote is missing from Darkest Hour. It also appears missing from this Churchill's attitude as he appears to seek help and reassurance from President Roosevelt.
The climax of Darkest Hour unfolds in an interesting scene. Churchill must rush to a meeting via the train. He boards a train, to the surprise of the rest of the commuters. "Haven't you ever seen a Prime Minister in the underground before?" Churchill demands of his fellow passengers. Churchill connects with his passengers and the audience during his train ride and emerges a new leader. The audience emerges with a new respect and understanding of Winston Churchill.