'The Court of Mad King Donald…Must Be Fiercely Resisted'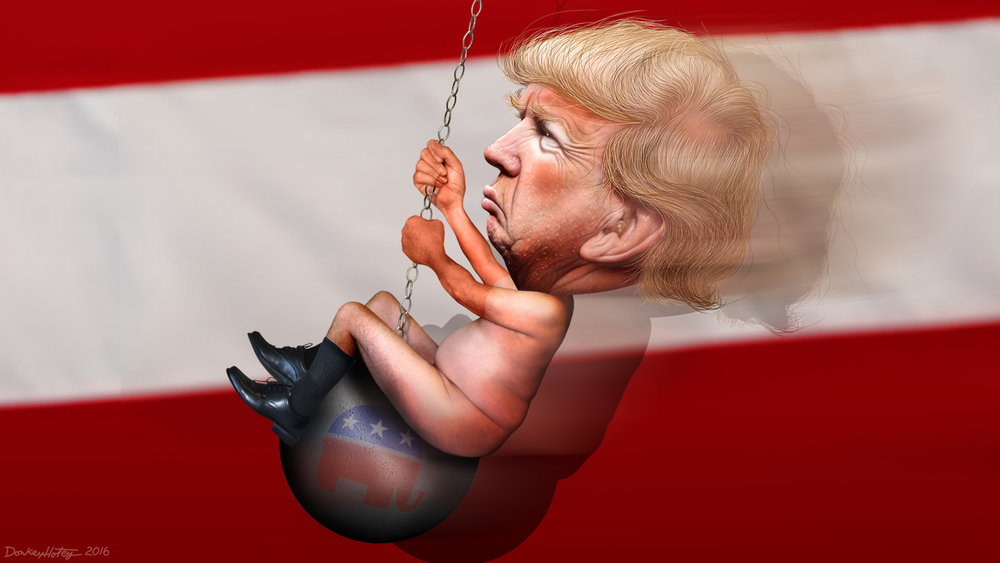 While many have been apologizing for, even "normalizing," Trump's outrageous behavior during his campaign for the highest office in the land and, now that he is the president, continue to give him a pass ("Trump will be Trump"), I for one have been steadfastly cried "basta" (enough is enough) and exhorted folks to "resist."
Fortunately, others much more influential, convincing and eloquent than yours truly have voiced the same exasperation and calls to battle and to resist.
Among them Pulitzer Prize winning columnist Eugene Robinson.
In his most recent column at the Washington Post, Robinson writes:
The Court of Mad King Donald is not a presidency. It is an affliction, one that saps the life out of our democratic institutions, and it must be fiercely resisted if the nation as we know it is to survive.
"I wish that were hyperbole," Robinson writes and continues:
The problem is not just that President Trump is selfish, insecure, egotistical, ignorant and unserious. It is that he neither fully grasps nor minimally respects the concept of honor, without which our governing system falls apart. He believes "honorable" means "obsequious in the service of Trump." He believes everyone else's motives are as base as his.
Robinson compares the Trump administration to "the court of some accidental monarch who is tragically unsuited for the duties of his throne," an administration one must never allow him- or herself to think of "as anything but aberrant."
Reflecting on the events of just the past week, Robinson says "it gets worse and worse" and provides the examples of Trump's "sustained campaign to goad or humiliate Attorney General Jeff Sessions into resigning;" Trump's use of Twitter "to announce a ban on transgender people serving in the military, surprising his own top military leaders;" the "internecine battles" raging inside "the mad king's court," such as Scaramucci's profanity-laden attacks on Reince Priebus.
"Why bring in Scaramucci?" Robinson asks and answers: "Because, I fear, the mad king is girding for war. Trump is reckless enough to fire Mueller if he digs too deeply into the business dealings of the Trump Organization and the Kushner Companies."
Robinson poses another (rhetorical) question, "What then?" and answers with some more questions:
Will Senate Majority Leader Mitch McConnell (R-Ky.) draft and push through a new special-prosecutor statute so that Mueller can quickly be reappointed? Will House Speaker Paul D. Ryan (R-Wis.) immediately open debate on articles of impeachment? Will we, the people, defend our democracy?
Robinson concludes, "Do not become numb to the mad king's outrages. The worst is yet to come."
This author, along with so many other Americans, must ruefully agree.
Read the full column here
Lead image: Courtesy donkeyhotey.com