Of Courage, Dignity, Love and Tears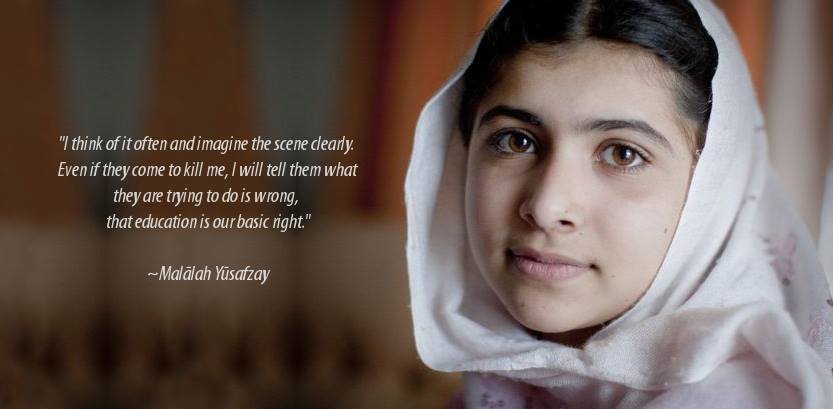 In the wake of the December 12 Alabama election, the words "decency" and "respect" have been evoked as tenets that perhaps are finally beginning to return to our national scene.
However, individuals all over the world have been displaying, living, those articles of faith for as long as humans have been on earth.
Take the 15-year-old girl who – while riding home on a school bus in her native Swat Valley, Pakistan, five years ago – was shot and nearly killed by a masked Taliban gunman.
Why? Because she dared to tell the world about life under the Taliban and because she had the courage to speak out for girls' education – a basic right banned by the Taliban.
We all know her name, just as we all know her courageous fight for survival after the attempt on her life and her continuing fight for girls' rights, equality and education.
For her efforts, Malala Yousafzai has received numerous honors and awards world-wide and, at age 17, became the youngest ever Nobel Laureate (for peace).
Currently living with her family in the United Kingdom, Malala continues her campaign for girls' rights and education and, along with her father, founded the Malala Fund, dedicated to give all girls access to education. Please read more about Malala and her fund here.
In this time of "normalizing" all things wrong, it is inspiring to look once again at a young woman who has gone through an assassination attempt, has experienced pain and tears and yet continues to display courage, dignity and love.
Peter W. Johnson — a former TMV commentator — recently published a lovely poem at Poets Unlimited beautifully capturing the essence of Malala's fiber and expressing his hope that "we might do the same."
Malala Is Here
Courage does not charge up a hill,
Doesn't vainly grasp a bullet ridden flag
Doesn't go 12 rounds with a broken jaw
Just to be champion of the world
It doesn't gather stocks and bonds
Or gain the world and lose its soul
It doesn't rip flowers from the Earth to feed a hungry God
Instead it feeds children as God wants us to do
Courage does not speak like politicians
Or voices deep in empty wells
It speaks only what it knows to be true
Never needs a teleprompter
Love doesn't genuflect and then do the will of tyrants who'll never bend
It stands proud amidst all of Earth's nations
Inspiring both love and tears
Always gives witness to amazing grace
It seeks to fill our hearts
Will not be deterred by shame
Or human imperfections
But speaks with simple dignity as we emerge from the darkness
It was 15 when bullets ripped into its body
Yet created even more courage and love
And face to face with death it still endured
Passing ultimate tests without eclipsing love
I have heard it speak
It's a young girl named Malala who forgave her assassins
Wanted to do unto them what she would want done to her
Cause that's what God would want, simply what god would want
A girl beautiful inside and out
Who doesn't rumble like a hollow drum
A girl who knows Jesus didn't come to save the righteous
But to touch sinners like ourselves
Perhaps God sends people like her, hoping we might do the same
Just a teenaged girl who survived the hatred of our times
He sent us Malala to give witness to undefeated love
Yes he sent Malala and Malala is now here
Lead photo from Malala Yousafzai's Facebook page