'Christmas Creep'? Bah Humbug, Merry Christmas to All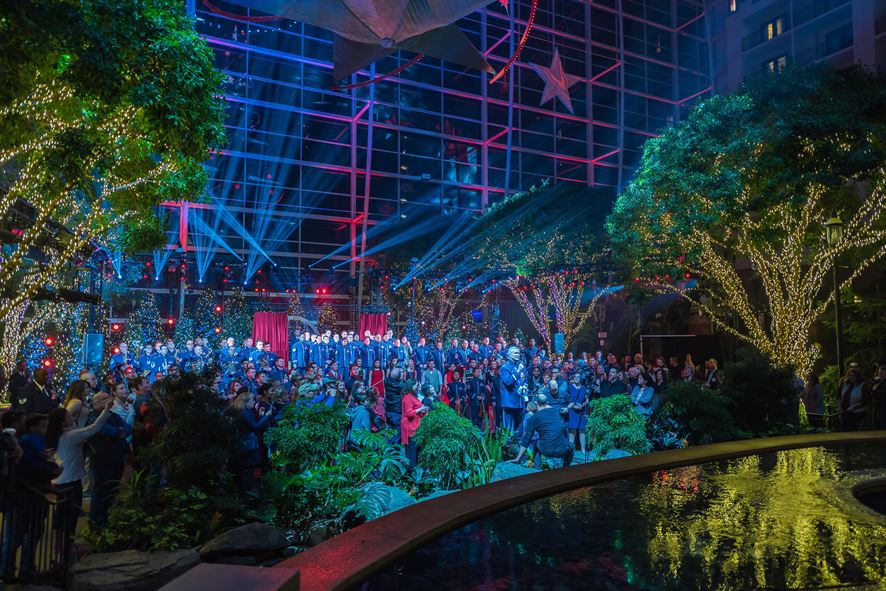 A couple of days before Thanksgiving, with temperatures still in the 80s here in Texas, I tuned the car radio to a local station and, lo and behold, Christmas music came out of the speakers, and it has continued ever since.
Stores, it seems to me, have been decorated for Christmas since Halloween – even earlier.
Some feel this "Christmas Creep" detracts from the real Christmas spirit. Others see no harm in "moving up" and extending this magical time of joy and goodwill, especially during troubled times.
Whatever one's view, for the thousands of service men and women who will be fortunate enough to be at home or who will be coming come home for the holidays, Christmas is never too early.
In fact, preparations for Christmas have already started at many military installations. Such preparations invariably include making sure that others, especially the children, will have something to cheer about this Christmas.
Some examples follow, but first — to get readers in the "Christmas Creep" spirit — here is the U.S. Air Force Band surprising visitors at the Gaylord National Convention Center in National Harbor, Maryland with a delightful performance of "Dona Nobis Pacem" and "We Wish You a Merry Christmas."
Enjoy!
Now, some of those promised photos: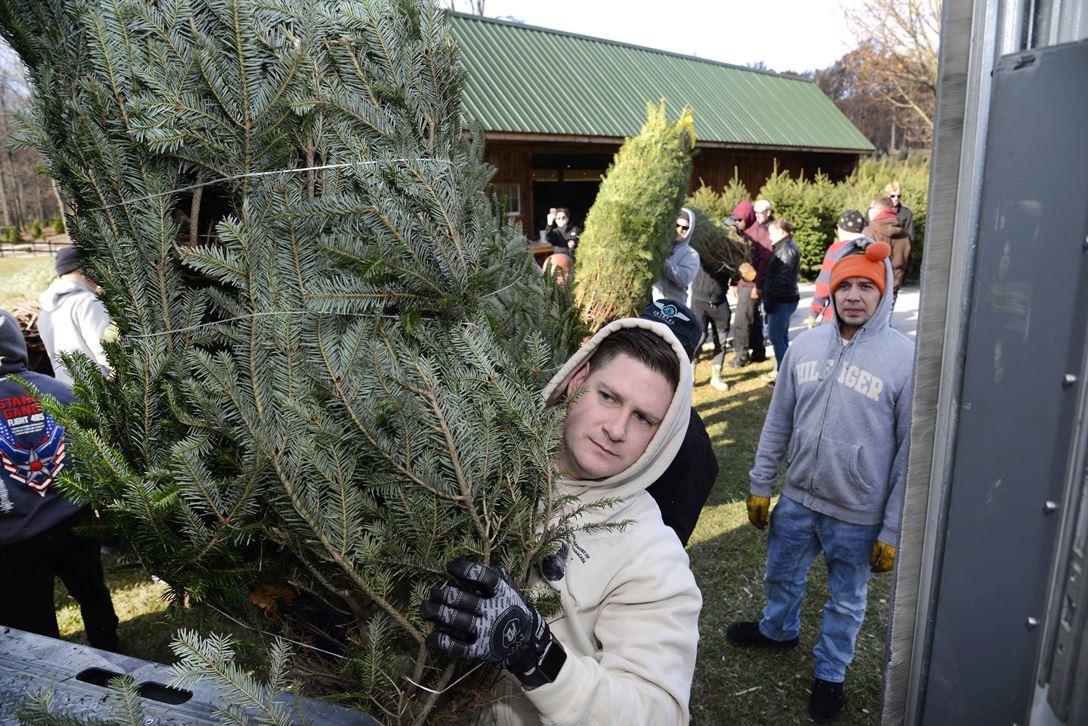 New York Air National Guardsmen and family members help load Christmas trees onto trucks for Trees for Troops in Cornwall, N.Y., Nov. 27, 2017. The trees will be distributed to veterans across the country at no charge. Air National Guard photo by Staff Sgt. Julio A. Olivencia Jr.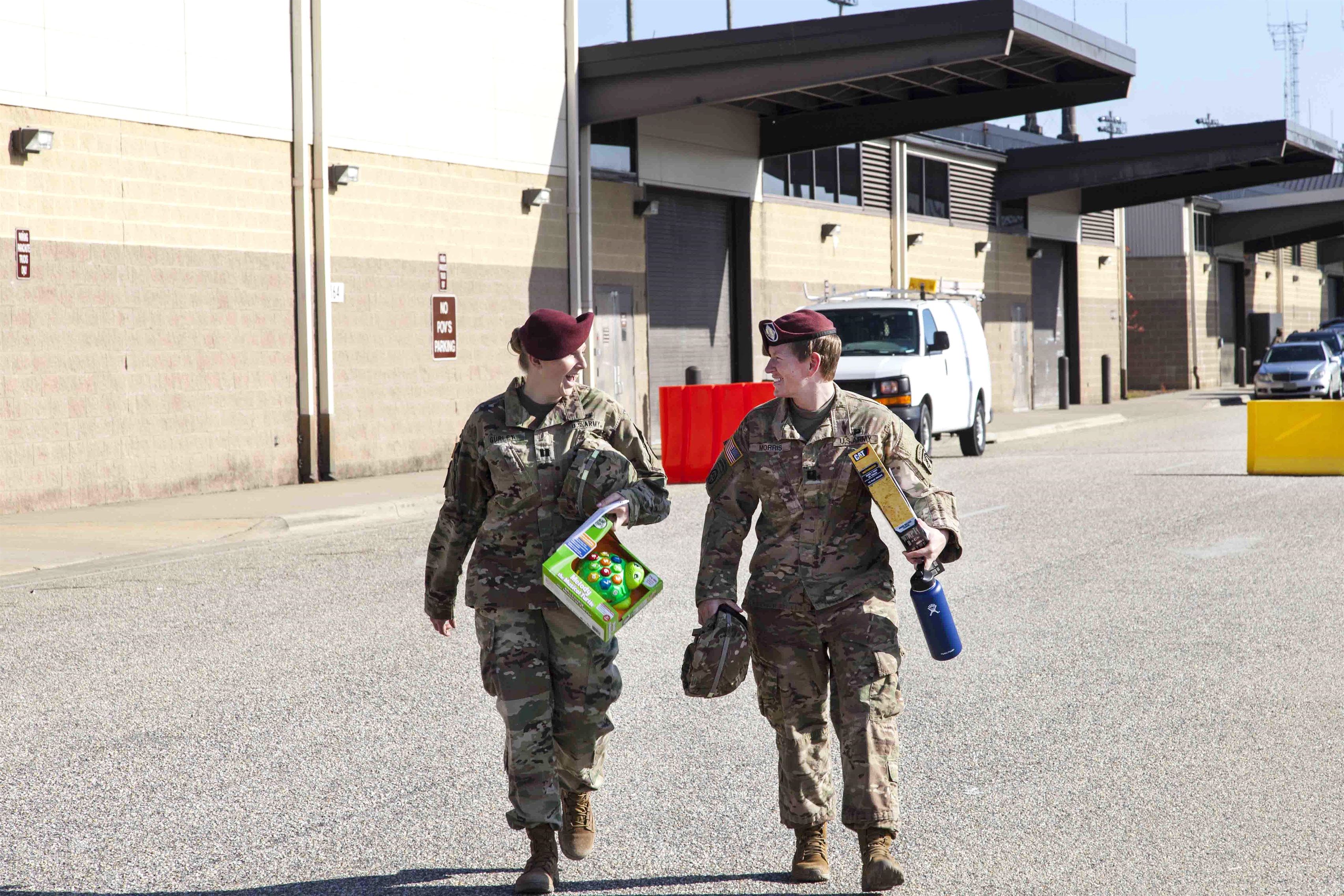 Soldiers share a moment before donating toys for the 20th Annual Randy Oler Memorial Operation Toy Drop at Fort Bragg, N.C., Nov. 30, 2017. The event allows soldiers the opportunity to train on their military occupational specialty, maintain their airborne readiness, and give back to the local community. Army photo by Spc. Lisa Velazco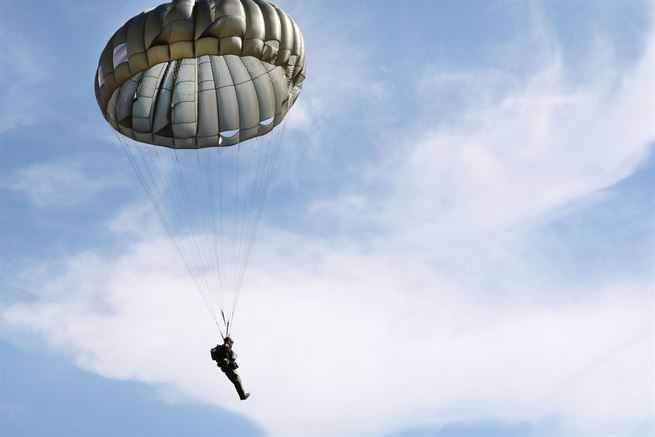 A jumpmaster prepares to land after jumping from a UH-60 Black Hawk helicopter during the 20th Annual Randy Oler Memorial Operation Toy Drop at Luzon drop zone, Fort Bragg, N.C., Nov. 30, 2017. Army photo by Spc. Madelyn Hancock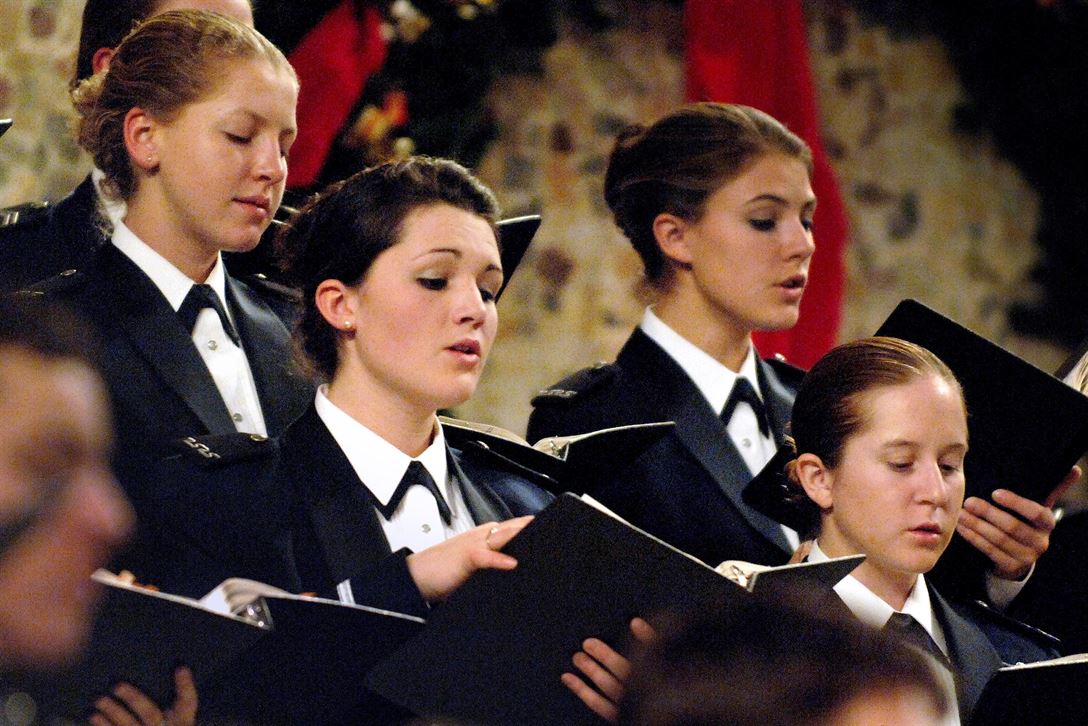 Members of the U.S. Air Force Academy's Cadet Chorale perform during a holiday concert at the Cadet Chapel in Colorado Springs, Colo., Dec. 1, 2017. Air Force photo by Mike Kaplan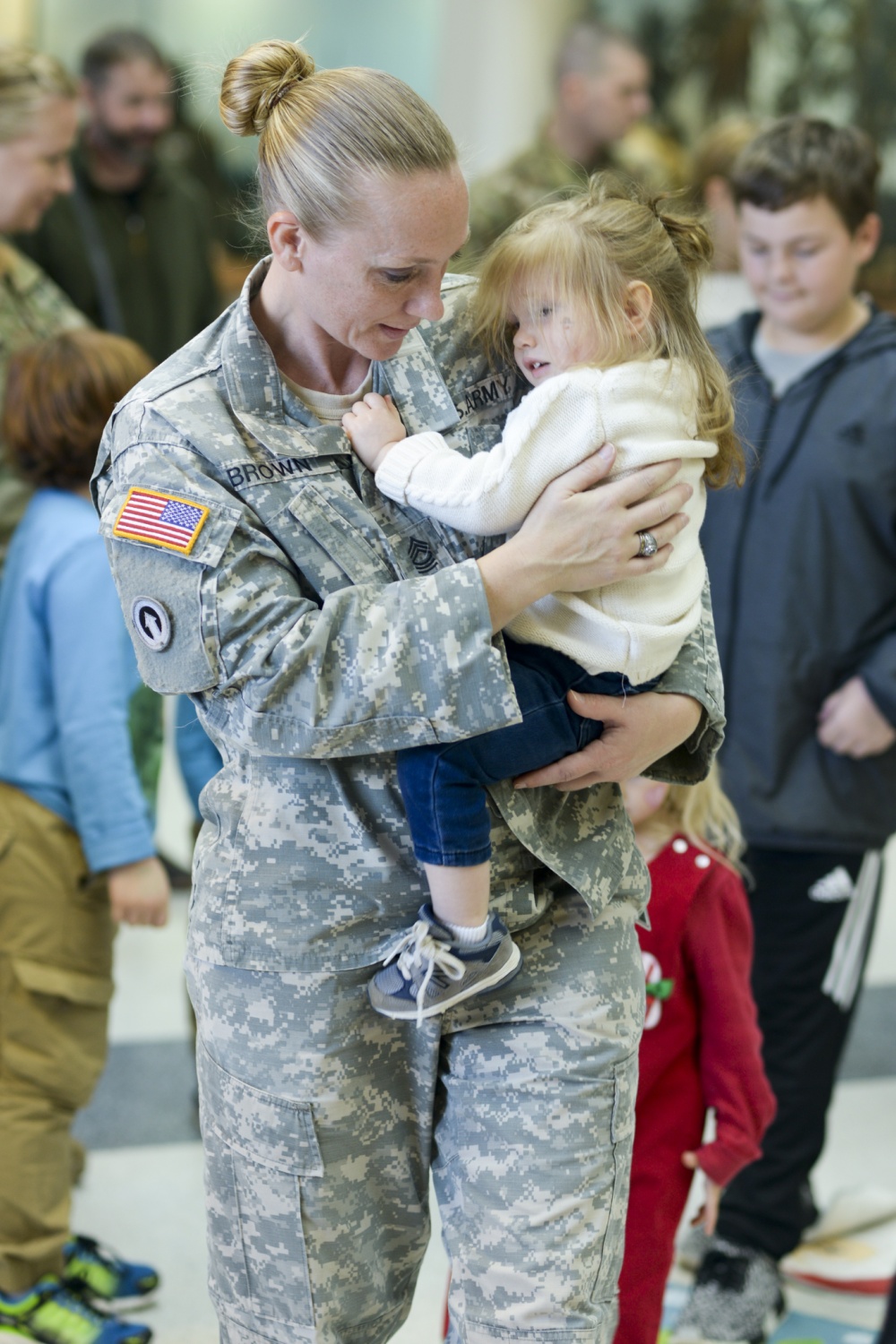 Army Master Sgt. Sommer Brown, an Operations Noncommissioned Officer, holds her daughter during a cakewalking event at a holiday party in Raleigh, North Carolina., Dec. 3, 2017. The party included a visit from Santa, crafts for the children, a reading corner and a holiday meal. (U.S. Army National Guard photo by Staff Sgt. Mary Junell)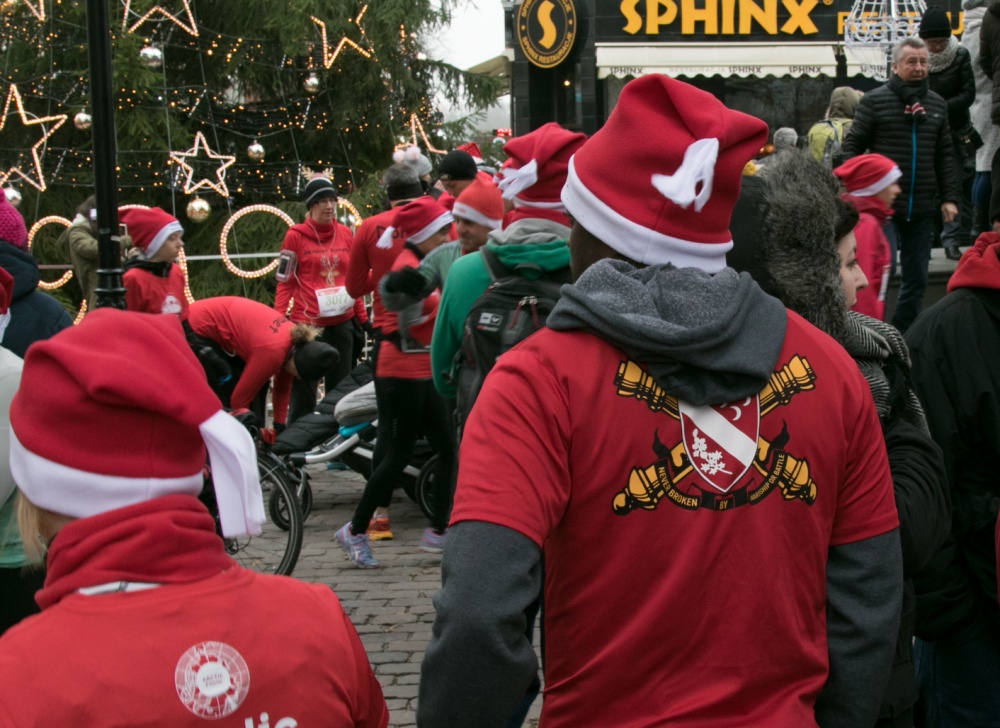 U.S. Soldiers currently deployed in Europe in support of Atlantic Resolve, participated in a Christmas celebration 5K, 10K or half-marathon runs in Torun, Poland, Nov. 3, 2017. (U.S. Army photo by Spc. Andrew McNeil / 22nd Mobile Public Affairs Detachment)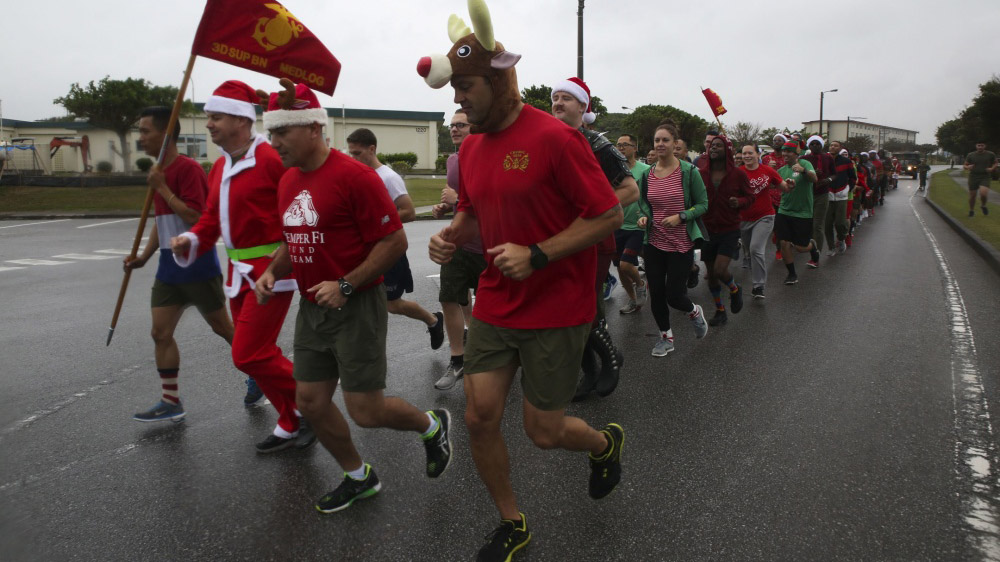 Marines and Sailors at Camp Kinser, Okinawa Japan, run across base during the 7th Annual Jingle Bell Run hosted by Marine Corps Community Services at Camp Kinser. The event featured a costumed fun run, Christmas caroling, games and prizes for Marines and Sailors, who attended to celebrate the holiday season.
For those who enjoyed this year's USAF Band Holiday Flash Mob National Harbor, Maryland, here is their classic 2014 performance at the Smithsonian's National Air and Space Museum, Steven F. Udvar-Hazy Center.
Finally, let's not forget the North American Aerospace Defense Command (NORAD). For the 62nd year, NORAD — in addition to providing warning of impending missile and air attacks — will be performing another essential mission: Tracking Santa's flight from the moment he departs the North Pole until he has delivered the last toy to every child around the world.

To see how NORAD is gearing up for what some may lightheartedly call "Christmas Mission Creep," please visit NORAD's Santa Tracker here.
Lead photo: Col Lang addresses the audience after the performance of this year's flash mob at the Gaylord National Resort (U.S. Air Force photo by MSgt Brandon Chaney)