Bush Reaffirms And Increases Verbal Support Of Pakistan's Musharraf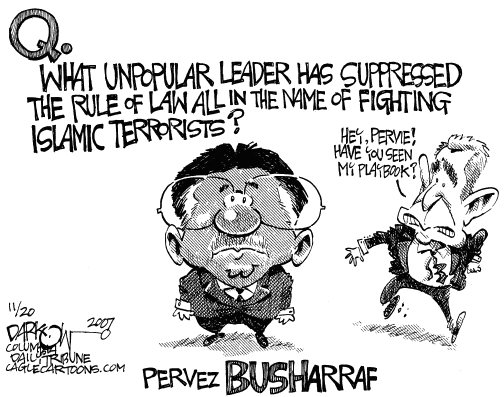 For President George W. Bush it may now becoming down to "eeney meeney miney moe…"
So whom does he decide to back in the tempestuous developments and political upheaval in Pakistan in South Asia? And how does he frame it?
And now there's a sign: He's backing Pakistani President Pervez Musharraf as not just a bulwark against terrorism but as a champion of…..democracy:
President Bush yesterday offered his strongest support of embattled Pakistani President Pervez Musharraf, saying the general "hasn't crossed the line" and "truly is somebody who believes in democracy."

Bush spoke nearly three weeks after Musharraf declared emergency rule, sacked members of the Supreme Court and began a roundup of journalists, lawyers and human rights activists. Musharraf's government yesterday released about 3,000 political prisoners, although 2,000 remain in custody, according to the Interior Ministry.
In this instance, the facts would suggest that saying that Musharraf — who recently removed pesky Supreme Court justices and packed it with supporters so they could issue a key decision which they did saying his election was legal — is as respectful of democracy would be as accurate as Bush administration officials who say the administration works to protect the environment.
The Washington Post goes on:
The comments, delivered in an interview with ABC News anchor Charles Gibson, contrasted with previous administration statements — including by Bush himself — expressing grave concern over Musharraf's actions. In his first public comments on the crisis two weeks ago, Bush said his aides bluntly warned Musharraf that his emergency measures "would undermine democracy."
According to reports, this is all part-and-parcel of an effort to defuse the Pakistan ticking political time bomb. Last weekend Deputy Secretary of State John D. Negroponte personally delivered a message asking Musharraf to step down as army chief. In this context, Bush's statement should be seen as providing the Pakistan President a durable fig-leaf so that he can take off his Army uniform soon — a key concession to opposition leaders.
But Bush's comments have caused consternation in some quarters:
Several outside analysts and a key Democratic lawmaker expressed incredulity over Bush's comments and called them a sign of how personally invested the president has become in the U.S. relationship with Musharraf.

"What exactly would it take for the president to conclude Musharraf has crossed the line? Suspend the constitution? Impose emergency law? Beat and jail his political opponents and human rights activists?" asked Joseph R. Biden Jr. (D-Del.), chairman of the Senate Foreign Relations Committee and a presidential candidate. "He's already done all that. If the president sees Musharraf as a democrat, he must be wearing the same glasses he had on when he looked in Vladimir Putin's soul."

Bush was asked in the interview if there is any line Musharraf should not cross. "He hasn't crossed the line. As a matter of fact, I don't think that he will cross any lines," Bush replied, according to an ABC transcript. ". . . We didn't necessarily agree with his decision to impose emergency rule, and . . . hopefully he'll get . . . rid of the rule. Today, I thought, was a pretty good signal, that he released thousands of people from jail."

Tom Malinowski, Washington director of Human Rights Watch, said that "it's hard to imagine how the administration will be able to achieve anything in Pakistan if the president is so disconnected from reality."

"Almost everyone in Pakistan who believes in George Bush's vision of democracy is in prison today," Malinowski said. "Calling the man who put them in prison a great democrat will only discredit America among moderate Pakistanis and give Musharraf confidence that he can continue to defy the United States because Bush will forgive anything he does."
Bloomberg's Ken Fireman writes that Bush faces a difficult choice:
President George W. Bush, who has been promoting a power-sharing agreement between Pakistan President Pervez Musharraf and opposition leader Benazir Bhutto, may instead be forced by events to choose between them.

Over the weekend, Musharraf rejected Deputy U.S. Secretary of State John Negroponte's face-to-face demand to end the state of emergency he declared in the country, and Bhutto told CNN she doubted free elections — a crucial element of any power- sharing arrangement — could be held under current conditions.

The result is that the U.S. may have to decide which of them would be more effective against terrorism and indigenous Islamic radicals. The choice isn't an attractive one: While some U.S. officials are skeptical of Bhutto because of what they regard as her ineffectual rule as prime minister, there's a growing awareness that time may be running out for longtime ally Musharraf.

"The war on terror is to some extent a battle of narratives," said P.J. Crowley, a former Air Force colonel who served in President Bill Clinton's White House and is now a national-security analyst at the Center for American Progress in Washington. "The extremists' narrative is that we are at war with Islam and are propping up illegitimate governments. The last thing we can afford is to do things that support their narrative."

Bush's paramount aim is to preserve stability in the nuclear-armed nation and allow Pakistan's army to focus on fighting al-Qaeda and Taliban fighters in the region bordering Afghanistan.
Meanwhile, Islamonline.com reports that Negroponte may have put a possible deal on the table:
US Deputy Secretary of State John Negroponte has succeeded in reopening the door for a possible deal between embattled President General Pervez Musharraf and former premier Benazir Bhutto, sources close to both sides have said.

"The only outcome, which you can say, of the meeting is that Ms Bhutto has agreed to continue talks with General Musharraf but she doesn't look confident about the positive outcome of the proposed talks," a senior leader of Bhutto's Pakistan Peoples Party (PPP) told IslamOnline.net, requesting anonymity.

Negroponte, the State Department's number two, spoke to Bhutto by telephone after a weekend of face-to-face talks with Musharraf and other senior officials.

"She complained that almost all the promises made by General Musharraf were not fulfilled at her arrival," said the PPP leader.

"She said her party's reputation has been badly damaged because of the dialogue with General Musharraf for restoration of democracy in the country."

The PPP leader said Bhutto told Negroponte she would not halt her anti-Musharraf movement "until something substantial appears".

Before leaving on Sunday, November 18, Negroponte urged Musharraf and Bhutto to resume US-backed power-sharing talks.

He asked Musharraf to end the emergency, free political prisoners, lift curbs on the media and ensure fair elections.
If this is true, then Bush's comments should indeed be seen as a backdrop to trying to maneuver the Pakistan President to give the opposition enough of what it wants so that the crisis can de-escalate.
But his comments will prove a double-edged sword. To the average person around the world, championing Musharraf as a role model for protectors of democracy is sort of like presenting the Japanese government as being protective of whales. The Kansas City Star's Stephen Winn says flatly that Bush's international stature has now taken a beating for it.
UPDATE: The Heretik has some thoughts.