Angela Merkel: Germany can no longer rely on the United States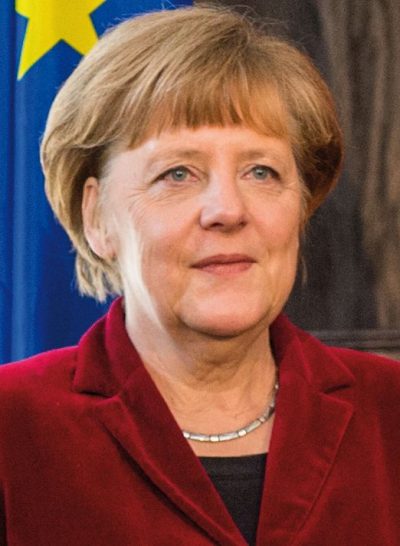 At a time when President Donald Trump is letting associates know that he's about to pull the US out of the Paris climate deal, his overall performance and impression he left with European leaders led German Chancellor Angela Merkel to say Germany can no longer rely not just on the post-Brexit UK but on the United States under Trump.
Speaking at a campaign event held in a Bavarian beer tent, the German Chancellor emphasised the need for friendly relations with the US, Britain and Russia, but added: "We Europeans must really take our destiny into our own hands."

Ms Merkel said that as the traditional western alliance is threatened by the new US presidency and Brexit, "the times in which we can fully count on others are somewhat over, as I have experienced in the past few days.
Russian President Vladimir Putin is likely smiling and having a few extra chugs of Vodka this weekend: splitting up the United States and Germany has been one of Russia's long term post-World War II aims, as has been splitting up NATO, which has been one of Putin's goals. started 67 years ago by the United States, Canada, and several Western European nations as collective security against the Soviet Union.
Although Trump is calling his trip a big success and some pundits do echo his opinion, by most other accounts, it was anything but a boffo performance.
In fact, the headline of this post should be TRUMP BOMBS (IN) NATO.Trump also wasn't exactly a hit with Pope Francis. But Vladimir must be thinking his investment really paid off handsomely.
Word had spread around by then about his handshake domination game, and French President Emmanuel Macron came prepared. Trump had to let go first. He got a chilly response from some when he got there and it turned close to frigid when he lectured them on their contributions to the alliance and didn't say what they wanted him to say: reaffirming the U.S. commitment to mutual defense. CNN:
"Diplomatically, the speech was inept at best and deliberately insulting at worst," said Jeff Rathke, deputy director of the Europe Program at the Center for Strategic and International Studies.
Trump's remarks Thursday, alongside his continued misrepresentation of how the alliance works and his failure to reaffirm US commitment to the group, is likely to further unsettle US allies, sowing doubt about US leadership and possibly making it harder for NATO leaders to convince their people of the need to spend more on defense.
Ivo Daalder, a former US ambassador to NATO, said that "this was a perfectly scripted event to deliver a very simple message that every president of the United States has delivered at the first possible opportunity, which is that the United States stands firmly behind its commitment to the defense of NATO."
"We signed a treaty, we uphold it. It was really easy," Daalder said. "And the fact that he didn't do it was disturbing and will take a long time to overcome in Europe."
The Daily Beast's Scott Bixby has a piece titled: "President Trump Turned International Diplomacy Into A Fistfight—And Lost." It's subtitle: "President Trump's performance in the last leg of his first international trip has European leaders fuming—and American diplomats likening him to a 'drunk tourist.'" A small part of it:
Rather than speak to leaders from the 28 nations of which NATO is comprised, Trump instead, it appeared, spoke to his base. Trump declined to recommit the United States to upholding Article 5 of the NATO Treaty, which stipulates that an attack against one member nation is considered an attack against all. The omission—later downplayed by White House press secretary Sean Spicer—underscores threats Trump made as a candidate to treat Article 5 as conditional, based on whether a country was spending enough on defense.
The only form of offensive action Trump seemed to endorse during the event, it seemed, was shoving the prime minister of Montenegro.
And:
"When it comes to diplomacy, President Trump is a drunk tourist," a State Department official told the Daily Beast. "Loud and tacky, shoving his way around the dance floor. He steps on others without realizing it. It's ineffectual."
But far more concerning, the official said, was Trump's "arrogance" in threatening to single-handedly thwart the Paris Agreement, which obliges member states to slash carbon emissions to combat global climate change. Trump's reality-show declaration that he'll make a final decision on his commitment to the accord "next week!" is, in the official's terms, "an abdication of American leadership."
"One hundred and ninety-five nations never agree on anything, so when they do, accepting the measure should be easy," the official said. "The United States needs to be out front on this pact."
Trump's explicit skepticism of multinational diplomacy comes at a time when internal tensions within allied nations make stepping back from Europe particularly risky. As recent elections in France, Austria, and the United Kingdom have demonstrated rather dramatically, the European Union's nationalist-vs.-globalist battles are threatening the world's largest economic and political union from within.
Meanwhile, an increasingly bellicose Russia—whose post-Cold War ambitions of European expansionism have heretofore largely been contained by NATO—needs little more excuse than a crack in the facade of NATO's collective defense agreement to encourage more aggression in the vein of past actions in Crimea and South Ossetia.
The Atlantic's David Frum writes that Trump's European trip was a "catastrophe" for U.S. German relations. If they were rocky when Trump took office then his trip was the equivalent of dumping a rock quarry on ties between the two once-warring countries:
Whoever was elected president in 2016 would face quite a challenge renewing and rebuilding the German relationship. Trump has instead done further damage.

Since the war, German politics has been founded on two fundamental commitments: to liberalism at home; to Atlanticism abroad. Only a tiny minority question the first, but a much larger minority doubt the second. Like Americans, the Germans remember the Nazi past. Much more than Americans, the Germans remember that British and American bombers burned the cities of Germany to the ground. Germans have gained voice to speak about their own history—and to express their own emotional distance from partners they no longer need so much as they used to. "We will never be family," a semi-inebriated German Air Force general once insisted to me at a NATO conference in Tallinn. "Americans, British, Canadians, Australians, New Zealanders: You are family. We will never be." That feeling is reflected in strategic decisions like the German hesitation to join the "Five Eyes" intelligence-sharing agreement.

Donald Trump is giving permission to U.S.-skeptic elements in Germany.
He notes what he wrote in November:
Yet even in the face of all these strains and difficulties, German friends of the United States have retained one clinching argument and decisive asset on their side of the debate: a wide and deep public intuition that people highly critical of the United States were probably animated by extremist and illiberal ideas. So long as the Germans most hostile to the U.S. alliance espoused various shades of fascism and communism, then the mighty German middle would cling determinedly to the U.S. alliance as a bulwark of stability and liberalism.

The election of Donald Trump to the presidency up-ends German political assumptions about the United States, at a time when Germans are already ready to have those assumptions up-ended. …

Ominously, the U.S.-Germany rift coincides with the United Kingdom's exit from the European Union—an exit that will greatly weaken London's clout versus Berlin. Britain will need to renegotiate access to the EU market; Germany will have power to approve or refuse. The post-1945 vision of a secure and liberal Germany joined in an intimate partnership to the United States and the United Kingdom will fail. In its place: a Germany more distant from its former English-speaking allies, more vulnerable to an aggressive Russia, more polarized and afflicted by extremism in the wake of Merkel's welcome of almost 2 million Middle Eastern and North African migrants.
He concludes:
There's an effort now to spin words to present this trip as something less than an utter catastrophe for U.S. interests in Europe. National-Security Adviser H.R. McMaster has insisted that President Trump did indeed affirm Article 5. Compare Trump's words to those of his predecessors, and you can see for yourself how untrue that is. The Republican chair of the Senate Foreign Relations Committee, Bob Corker, went on record to declare that he could not have been more pleased with the trip. If true, that would reflect poorly on Senator Corker's judgment. I prefer to think that the statement reflects poorly on his candor.

Here's what's really true: Donald Trump is doing damage to the deepest and most broadly agreed foreign-policy interests of the United States. He is doing so while people associated with his campaign are under suspicion of colluding with Vladimir Putin's spy agencies to bring him to office. The situation is both ugly and dangerous. If it's to be corrected, all Americans—eminent Republicans like Bob Corker above all—must at least correctly name it for what it is.
But it's a happy day for you-know-who: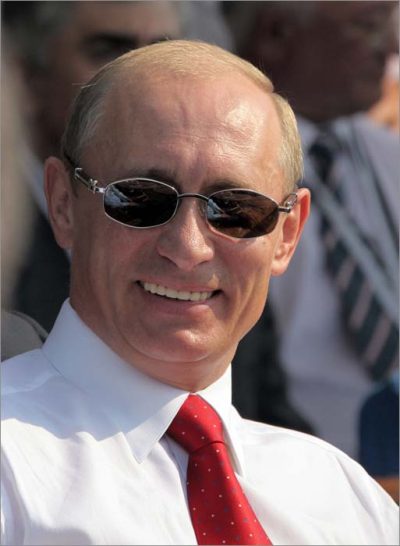 Merkel photo Müller / MSC [CC BY 3.0 de (http://creativecommons.org/licenses/by/3.0/de/deed.en)], via Wikimedia Commons
Putin photo by Marina Lystseva (http://album.foto.ru/photo/413866/) [GFDL 1.2 (http://www.gnu.org/licenses/old-licenses/fdl-1.2.html) or GFDL 1.2 (http://www.gnu.org/licenses/old-licenses/fdl-1.2.html)], via Wikimedia Commons