"Ale To The Chief": Obama's Beer Summit Wasn't Pour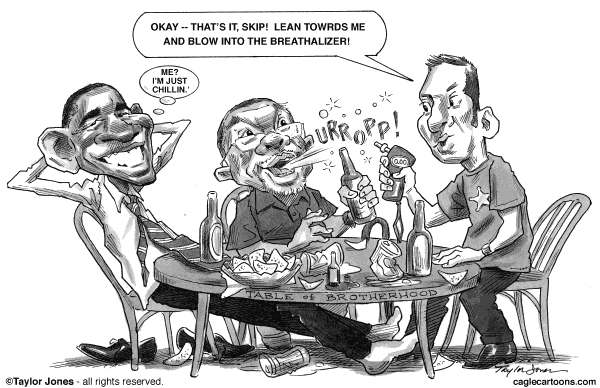 THIS JUST IN! Forget Iran, forget health care — what the world REALLY wants to know about is: how did that "beer summit" called by President Barack Obama featuring himself, a prominent African American Harvard professor and the policeman who arrested the prof (with Vice President Joe Biden at the table) go? So it's time for (what else?) the analysis.
Rather than bore you with ours (we'll have plenty of that from TMV writers later…) here's a 10 minute take on the summit from MSNBC's "Hardball" — complete with the Washington Post's award-winning columnist Eugene Robinson. So far it seems to have been productive (as a media event). But don't expect the end of this: The burning issue remains: was there an apology from anyone (apparently no). So let the blogs, talk show hosts and politicians line up in their familiar polarized lines and let the adjective hurling continue. Here's Hardball:

In an earlier report, here's what Hardball said would come of the beer summit:

Meanwhile, You Tubers have had fun with the meeting. Here's just one of the entries:
http://www.youtube.com/watch?v=qJWdJ77Tusg
UPDATE: And the media coverage proceeds. The Washington Post:
Two weeks after a noted black scholar accused a white police sergeant of racial profiling for arresting him at his home near Harvard University, the men hoisted mugs of beer Thursday evening at the White House with President Obama and Vice President Biden.

Henry Louis "Skip" Gates Jr. and Cambridge police Sgt. James Crowley sat at a round table in the Rose Garden with Biden and Obama talking, sipping beer and munching peanuts and pretzels out of silver bowls. News cameras and reporters were kept 50 feet away and allowed to view the meeting for less than a minute before being shooed away.

But it was an extraordinary scene that the president's aides hoped would convey a hopeful message about race relations and bring to an end a ballooning controversy that has proved to be a major distraction for Obama.
Crowley's News Conference | 7:30 p.m.

During his short opening remarks, Sgt. Crowley said that he had a "cordial and productive discussion" with President Obama, Mr. Biden and Mr. Gates. He also said that he and Mr. Gates planned to have a telephone conversation in the future.

Afterwards, Sgt. Crowley took several questions from reporters. He declined to go into specifics of what was discussed during the event but did say that there was "no tension" between him and Mr. Gates.

And with that, we are wrapping up this blog post. Thanks, as always, for reading and commenting.
For all the attention surrounding this widely publicized "beer summit," it was an essentially private meeting for a president who had chided the Cambridge police for "acting stupidly" in the arrest of Gates after he forced his way into his own home because of a jammed door earlier this month. The president later telephoned the officer to offer his regrets about his "choice of words," and the sergeant suggested they all get together over a beer.

"This is three folks having a drink at the end of the day, and hopefully giving people an opportunity to listen to each other – and that's really all it is," Obama told reporters this afternoon. "This is not a university seminar. It's not a summit. It's an attempt to have some personal interaction when an issue has become so hyped and so symbolic that you lose sight of the fact that these are people involved – including myself – all of them imperfect."

The president, of course, helped "hype" the issue with his characterization of it at a prime-time televised news conference. Obama asserted that Gates' arrest was not only stupid, but also emblematic of problematic racial profiling in America.

The president may already have paid for this in some quarters. A Pew Research Center poll released today, mirroring Gallup polling that has shown the president's job-approval rating sliding to 54 percent, found a marked difference in opinion among white voters in its surveys before the incident and after the incident.
The media was cordoned off approximately 45 feet away from the patio furniture where the beers were being quaffed, so we have no idea what was being said.

President Obama and Vice President Biden appeared to be doing what they could to keep the mood light, wearing just shirt sleeves and appearing more relaxed than the professor and the policeman, who were in suits and more rigid.

In the less than two minutes that we were out there, Professor Henry Louis Gates Jr. and Sgt. Jim Crowley did almost all of the talking.
The cartoon by Taylor Jones, Politicalcartoons.com, is copyrighted and licensed to run on TMV. . All Rights Reserved. Unauthorized reproduction prohibited.

UPDATE II: A slide show from TPM.
And blog commentary has begun, such as:
—Below The Beltway:
And, that, Dear God in Heaven I hope, is that. Let this be the last we hear of Henry Louis Gates, Thomas Crowley, and Cambridge, Massachusetts. And it'd probably be a good thing to shelve the ridiculous pagentry of "beer summits" as well.
—Political scientist Steven Taylor:
I was scanning El Espectador for news on the reelection referendum and I see a story on the front page about Obama's beer summit: A punta de cerveza Obama zanja crisis racial.

So, I surfed over to El Tiempo and what do I find? Barack Obama se tomó una cerveza en la Casa Blanca con protagonistas de incidente racial.

The BBC? Obama hosts race row beer reunion…No mention, however, at Al Jazeera English.
Just when you thought the Beer Summit silliness couldn't get any, well, sillier:

President Barack Obama: Bud Light
Vice President Joseph Biden: Buckler non-alcoholic

People, those choices have to have been made by Karl Rove. I mean, come on.
—The Satirical Political Report:
"GENTLEMAN, SINCE THIS MEETING SEEMS TO BE GOING SO WELL, WHY DON'T WE BUILD ON THIS BY BRINGING YOU GUYS BACK, ALONG WITH O.J SIMPSON AND MARK FUHRMAN."
Don't Obama and Biden have anything MORE important to do?

Like putting people back to work?

But, Noooooo – Obama makes a stupid remark about cops being stupid about African American Harvard Professor Henry Skip Gates and it is beer summit time at the White House….This one incident may just taint Obama's entire Presidency.
A Bud Light for the president and a Blue Moon for Crowley. Gates drank a Samuel Adams Light, not a Red Stripe. Biden drank a non-alcoholic beer, Buckler. All served up by a white guy so Gate's doesn't go ballistic.

Massive unemployment, wars overseas and huge political issues at home and Obama drops it all for a photo op to show what a regular guy he is! Give me a break!

Related Story: Black Cop who supports Crowley called "Uncle Tom" and "traitor!"

This is what happens to anyone of color who fails to fall in with the racebaiters!
Not long after that [Obama's] statement was released, Crowley held a press conference. He didn't disclose the details of the conversation he'd had, and appeared to be pretty well-coached in how not to make further news. But he did say he and Gates have already planned another meeting, that no one at this one apologized to anyone else and that Obama hadn't talked much — he was there to facilitate conversation between the arresting officer and the arrestee — but seemed like a normal guy.

If you now feel like you need a beer, or maybe 14 of them, I'm right there with you.
Obama, Biden, Gates and Crowley had the Suds Summit earlier today. Here is the 'touch all the bases' statement from Gates, posted at The Root. Crowley says he is moving forward. The Times and ABC have coverage.

Editors at The Onion are either in heaven or redundant.
Exit question: How many beers did Biden have before he brought up the birth certificate? I'm guessing one and a half.
Whatever happy spin he tries to put on it, the President is trying to put this behind him as a lot of Americans reacted negatively to his reflexive attack on the police without knowing the facts. Among other things, it diminishes his political capital at a time when he needs it the most to sell his health care plan.

As for the beer session itself, what did it really accomplish? I'll agree with Obama in noting that it's nice to see that Crowley and Gates have already talked about the subject and plan to talk again. Officer Crowley called the meeting productive and said all parties are looking forward (a relief to the President, I'm sure), but according to him he and Gates "agree to disagree" about the confrontation. Doesn't that leave us back at square one? I'm all for people of all colors sitting down together, particularly for a nice cold one, and I'm all in favor of a frank, candid, and civil discussion on race.

But let's be honest – this moment wasn't about that. When you have news agencies breathlessly reporting each man's beer of choice, you know it's less about substance and more about style. This "beer summit" was only about a photo op and providing damage control for the President. The honest discussion on race will have to wait for another day.