Chicago's Velveted Heart

Chicago's Velveted Heart
by Daniel Sherman
In the dead of winter, on the wind-lacerated littoral of an inland sea, the sprawling fortress of the Art Institute of Chicago shelters her secrets. To find them you have to fight your way in through a sniffling scrum of once-a-year art goers, who are loading the coat-checkers with mountains of hats, gloves, scarves, and those Canada Goose parkas that cost enough to feed three villages in a poor country for a year.
Drive past the red-faced masses, they're easily drawn off to overheated rooms full of masterpieces. I'm told there's a stairway somewhere in the complex that has just the right light for the perfect selfie, a batch will wind up over there. The crowd starts to thin out through Asian antiquities, a minor hoard splits for the cobalt blue reverie of Chagall's American Windows. Down a staircase, past a few lost souls in Islamic Art, around a corner, behind something else and perhaps another floor down, you're almost there but if you ask a museum guard they might not even be sure what you're looking for.
Push through a massive glass door and enter a dim, cool gallery containing some of the most spectacular treasures a set of eyes may ever see.
Modern Velvet: A Sense of Luxury in the Age of Industry, is a brilliant introduction to the marvels of velvet. Like most artistic genres you're not familiar with, to enter the universe of velvet is to tumble down a rabbit hole with infinite bifurcations. Velvet is made by a looming and cutting method, regardless of whether the material is silk, cotton, wool, rayon, pubic yak hair, whatever. It has a long and storied history, unfolding from a birth in Baghdad in the 1200's, through spectacular refinements in France and Italy, to the invention of the Jacquard loom and wider-scale production for mass consumption. There are endless topics of weaving and cutting and piling, materials and colors, design influences, borrowings from other genres, and on and on.
In recent times velvet has foundered on Hugh Hefner's smoking jacket, 1970's striped couches, and as a black background to yard sale
Elvis paintings. Like an unmarked pauper's grave, the word itself ends life as a root for Velveeta, an anodyne cheese-like substance seemingly embalmed in plastic and fed to schoolchildren.
We don't need to tarry on everything there is to know about velvet, let's just rest our sight on some marvelous examples.
These fantastical French velvets use color and ornate botanicals to create a nearly psychedelic effect.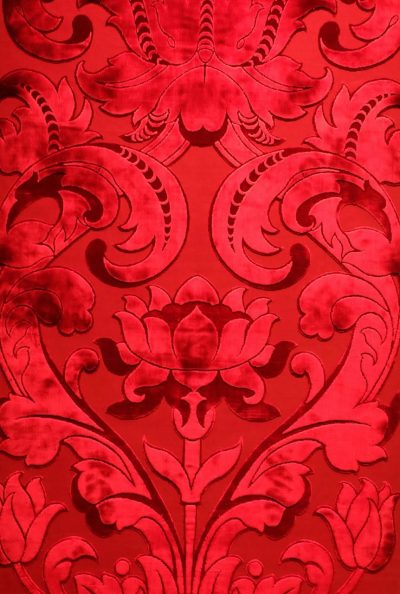 Tone-on-tone red allows the subtle effects of piling and cutting to produce a three-dimensional appearance.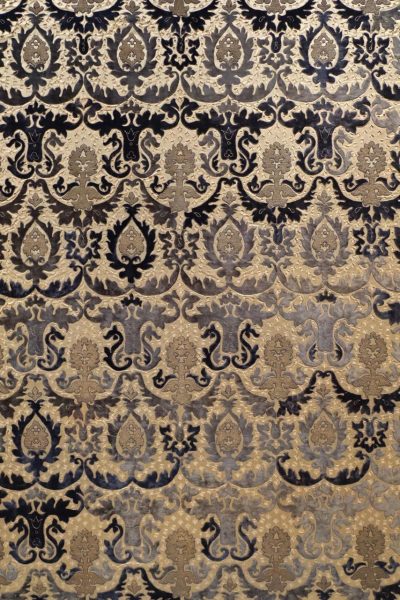 Soft transitions and shimmering colors give this velvet a sumptuous and royal feel.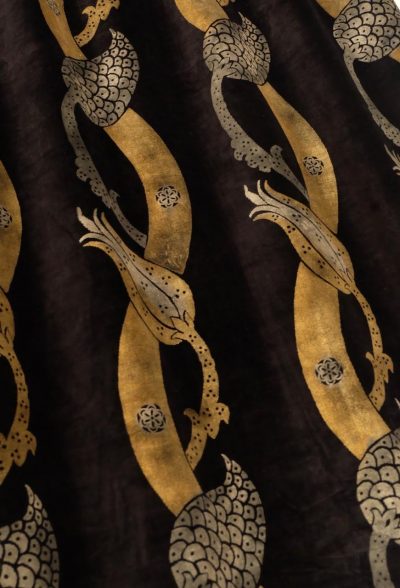 Italian textile designer Maria Monaci Gallenga uses black and gold in an elegant Jazz Age masterpiece.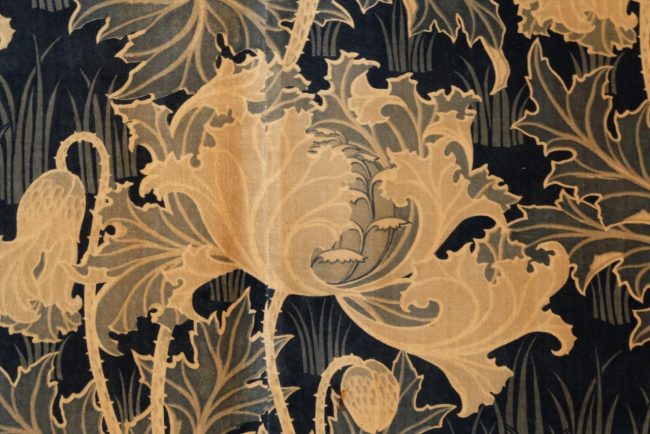 Fine detailing combines scientific precision with dramatic form.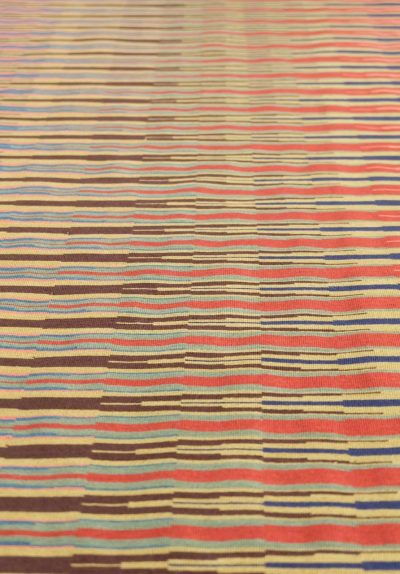 A pleasing geometric pattern with coarse fiber maintains a natural feel.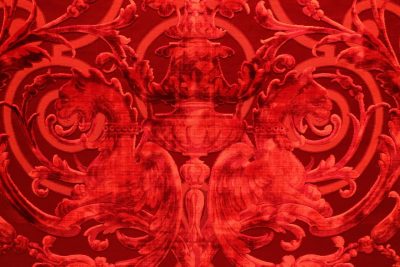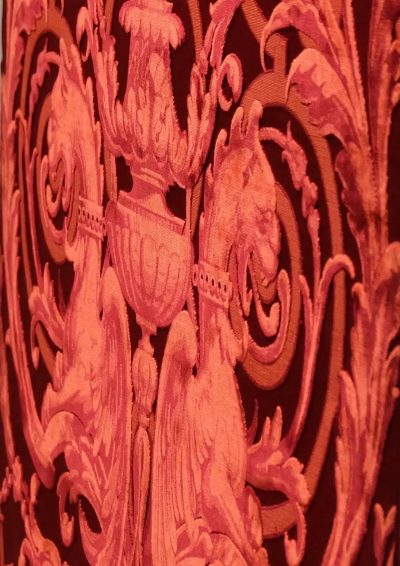 Straight on or at an angle, an essentially flat panel maintains the perceived dimensionality.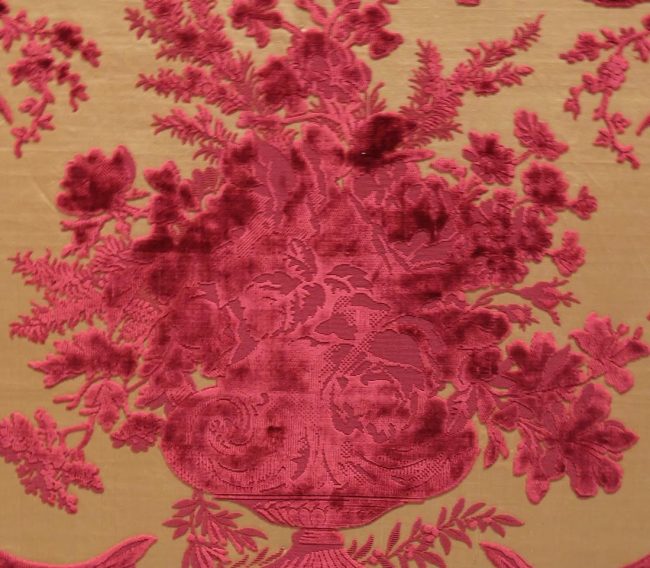 Exquisite workmanship on display. You can look at this for hours and not figure out what, exactly, the image represents. Is it an urn becoming a tree?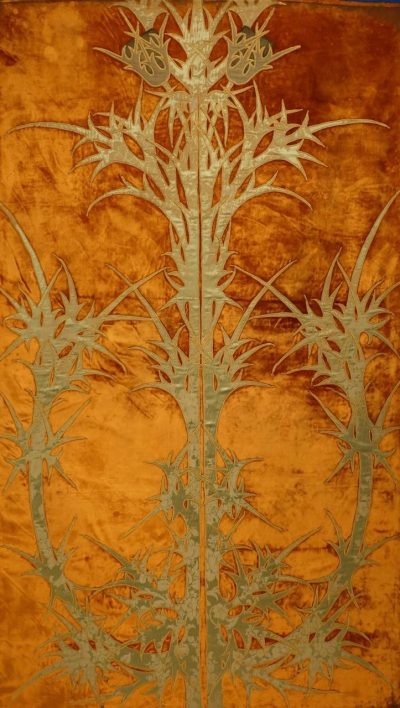 If any offense is worth getting thrown out of the museum for, running your fingers across this burnished gold velvet might be worth it.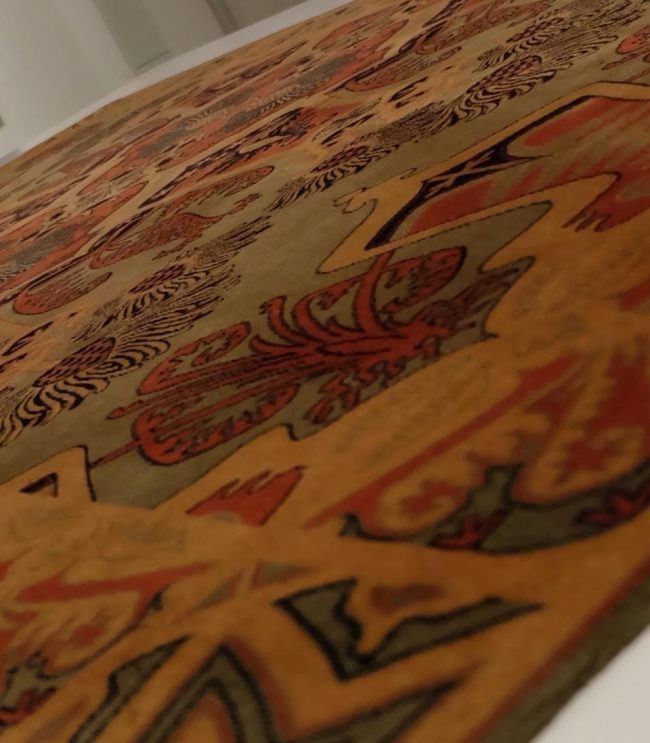 A carpet you could stretch out on and take the best nap of your life.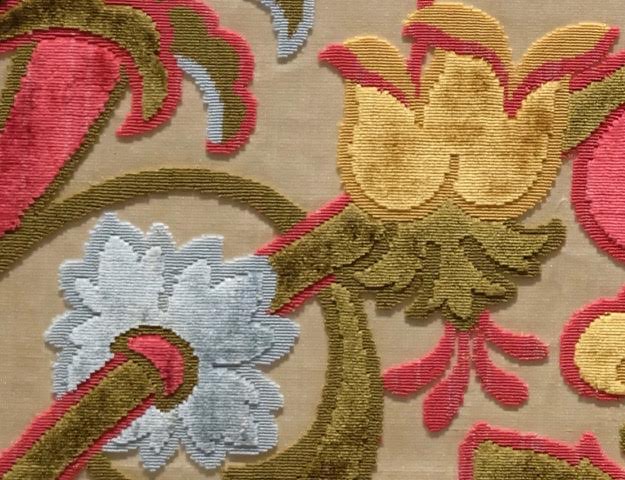 If you were born in the 70's or earlier, you remember touching shaped fabrics like this.
The exhibition runs through March 19, but let's be honest, even if you find yourself in Chicago, it's unlikely you're going to wake up one day, look out the window at the heaving ice floes on Lake Michigan, suit up for a ride on the rolling homeless shelter of the CTA, and engage in the sort of hand-to-hand combat that is required to get a ticket and unload your gear. Even if you do you'll probably wind up swapping viruses with tourists in the French Impressionism gallery, and with a pm closing time it's going to be a challenge to even find the velvets.
It's enough to know that they are there.

All images by Daniel Sherman.
Daniel Sherman is an entrepreneur in the import/export business.He divides his time between Italy and Chicago. He is developing a book, Good Enough, for adolescents on the topic of ethics.