Final Election Day Predictions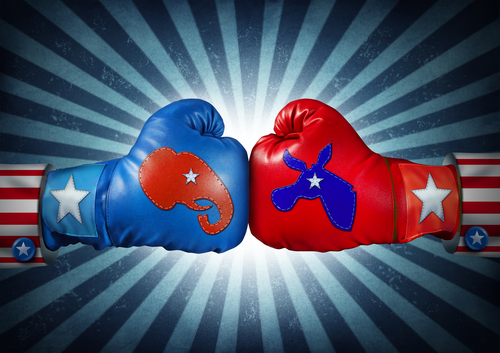 First, nothing in the last day of Early Voting has tempered my belief (see earlier post) that Hillary Clinton will win easily in the popular vote and in the Electoral College. The Comey "Never Mind" letter may have marginal impact in encouraging Dems to vote, but I doubt it will matter much.
However, I am adjusting one thing based on what looks like the continued fall-off of support for Gary Johnson and other third party candidates among Early Voters. To be conservative here, I will give one point from Johnson and others to Trump.
That makes the final popular vote total:
50.1 (Clinton) to 44.1 (Trump) to 3.5 (Johnson) to 1.3 (Stein) to 1 (Others).
As of now, 538's national poll average is 3.3; Pollster/HuffPo is 5.2; RCP is 2.9 – averaging to 3.8. I added 3 points for Hillary's ground game yesterday but I'll add 2.2 this time, which is probably more realistic given Obama beat his final polls by 2, and Romney's turnout operation was not as good as I originally thought (lots of technological goofs). FWIW, my prediction is exactly what the final margin is from Monmouth University Poll (an A+ pollster at 538), so there ARE some quality pollsters calling for a sizable Clinton win.
What about Electoral College? Let's start with 323, the minimum I think HRC will get. That's the Blue Wall plus FL, NC, NH and NV. I will go out on a limb here and say that she takes Arizona and Ohio. Arizona because of Latino turnout and Ohio because the GOP-Trump turnout operation is a mess. She loses Iowa and barely loses Georgia. Texas will be closer than ever before but she will not win it.
Final margin: 352 – 186.
As for the Senate: Dems hold Nevada and pick up Illinois, Wisconsin, Indiana, Pennsylvania, New Hampshire and, the big shock, Missouri. I think Burr holds on for the GOP in North Carolina. GOP holds on in FL, OH, AZ and GA as well. That's a 6-seat gain for the Democrats, giving them a 52-48 advantage.
I have no idea re: the House, so I won't make any predictions there.