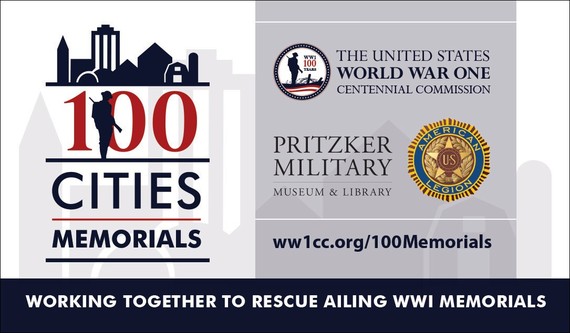 About a year ago, the World War One Centennial Commission — the same organization that is sponsoring the design and construction of the new National World War I Memorial in Washington, D.C. (below) — along with the Pritzker Military Museum and Library announced a unique project to encourage individuals and communities across the country to restore and preserve their local World War I memorials.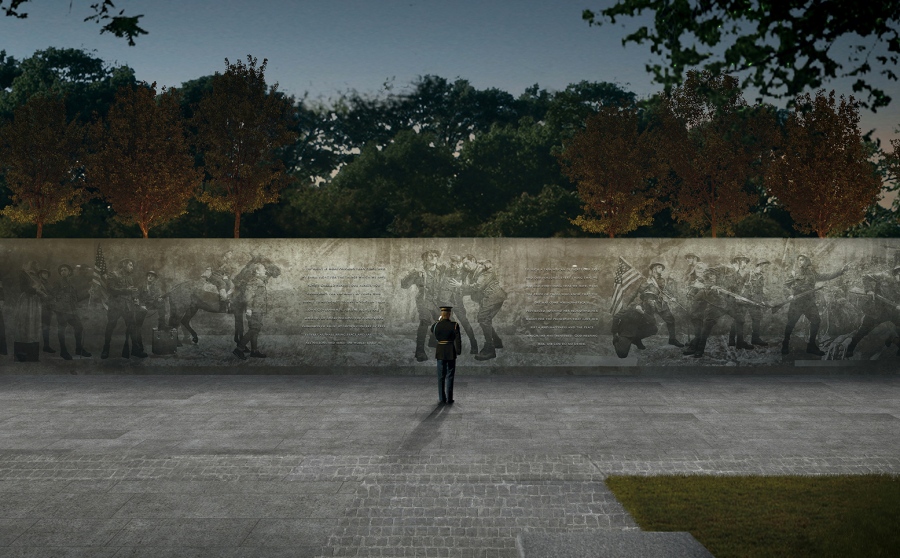 Perspective of "The Weight of Sacrifice," the proposed, new National World War I Memorial (Courtesy World War One Centennial Commission)

The purpose of the project, known as the 100 Cities / 100 Memorials program, was, according to the Centennial Commission, to "motivate and support the efforts of local organizations across the country to honor the memory of their hometown war heroes, to build awareness of the war's impact on their local communities, and to restore and provide for the ongoing upkeep of their local World War I memorials"
The Centennial Commission and the Pritzker Military Museum and Library provided $200,000 in initial matching grant funding and urged local organizations and individuals, including civic groups, service organizations, veterans groups and others, to nominate their restoration and commemoration initiatives for consideration for selection as one of the 100 Cities / 100 Memorials matching grant recipients.
One hundred of these local initiatives are to be selected to receive matching cash awards of up to $2,000 to help fund their restorative efforts.
On September 27th, the United States World War One Centennial Commission and the Pritzker Military Museum & Library announced the first 50 official "WWI Centennial Memorials" awardees of the 100 Cites/100 Memorials program.
They include: The Cape May Soldier and Sailors Monument, Cape May City, NJ; Carmel-by-the-Sea World War I Memorial Arch, Carmel-by-the Sea, CA; Chinese Americans Veterans Memorial, San Francisco, CA; Dough Boy Statue, Morton Grove, IL.; Sgt. Alvin C. York Gravesite, Pall Mall, TN; War Memorial Natatorium, Honolulu, HI; Victory Eagle WWI Memorial, Lawrence, KS; The Spirit of the American Doughboy, Swanton, OH.
For the complete list of winning entries, please click here.
The awarded memorials have been designated as "WWI Centennial Memorials" and will be presented with an official certificate to that effect and a bronze medallion suitable to be affixed to them.
If an organization, individual or civic group has not yet taken advantage of this unique program to restore their monuments or memorials, there is good news. The 100 Cities/ 100 Memorials program has opened a new submission period starting today, September 27, 2017 through January 15, 2018.
Additionally, all entries that were submitted in Round #1, but were not awarded a grant, are automatically entered into Round #2. Finally, those participants' entries will be opened for editing allowing the participants to modify, add to, edit and update their submissions until the closing of Round #2.
Kenneth Clarke, President & CEO, Pritzker Military Museum & Library, says:
"It is important to note that selecting the 50 awardees was very difficult. We found that every project submitted is amazing in its own right. Though we are announcing 50 awardees now, literally every submission received, deserves recognition and congratulations…The dedication and honor the participants have shown to their community, their history and our national heritage is genuinely humbling."
So, this author repeats:
Please look around your community, your nearby cemetery and help the American Legion and the Centennial Commission preserve the memories of the more than 116,000 American troops who gave their lives in combat during the Great War and of the more than four million Americans who served during that war by helping restore and preserve their memorials and monuments for posterity.
If your town or your organization has such a memorial or monument that needs to be conserved, spruced up or restored, "be it humble or grand," please visit 100 Cities/100 Memorials for information on how to submit your grant application.
Lead image, courtesy World War I Centennial Commission
Click here for reuse options!


Copyright 2017 The Moderate Voice