Wild Beyond Belief! A review of those crazy 60s and 70s indies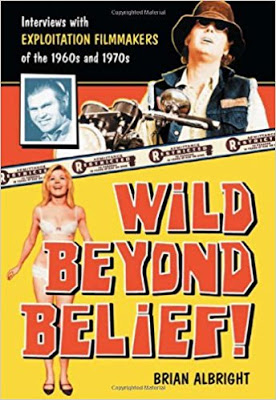 Fellow cult film nerds, wouldn't you love to go back in time and witness what we obsess over? How cool would it be to buy a ticket in 1928 and watch "London After Midnight" or "Heart Trouble"? Both apparently long lost. Or what about dipping into a theater and seeing "Dracula" on opening day? Or maybe head 25 years into the future and catch Ed Wood in a tiny studio helming "Plan 9 From Outer Space," or dip into a drive in or Saturday late night cinema show in the '60s and '70s to catch "Incredibly Strange Creatures …," "Dracula Versus Frankenstein," "Cain's Cutthroats," "Bigfoot," "Spider Baby," … some readers have probably enjoyed these later-times bucket lists.
But, for most of us, all we have are the genre books to understand what it was like to be in on the genesis of cult films and cult genres. "Wild Beyond Belief: Interviews with Exploitation Filmmakers of the 1960s and 1970s" (www.mcfarlandpub.com … here … 800-253-2187) takes you into the world of the very small budget films of that era. Many of the players, from the lesser known (Jenifer Bishop, Ross Hagen, Joyce King …) to the more famous (Jack Hill, Sid Haig, Al Adamson, Sam Sherman …) recollect their experiences creating films such as "Blood of Dracula's Castle," "Spider Baby," "The Hellcats," "The Thing With Two Heads," "The Mighty Gorga," … and so many more.
The interviewer, and author of this McFarland offering, is Brian Albright, a well-known name in genre writing. I really enjoyed his more recent book "Regional Horror Films: 1958-1990" and reviewed it here. Albraight manages to capture the era, the slap-dash, get-it-shot-and-put-it-together urgency of indy movie making in that era. Films such as "Gallery of Horrors" and "The Female Bunch" couldn't rely on video or DVD sales, or inclusions on streaming services like NetFlix to make money. They had to get into the theaters, in the drive-ins, often as a third feature, or on 42nd Street, to make those dimes. Penny-pinching was not an exception; it was the norm.
One interviewee relates to Albright how only $50 was coming in a week for the work, less than what was promised. But the interviewee was still happy, because pay was actually occurring! Not getting paid was a reality to the cast and crew of these films.
Many personalities flit through these interviews though they were not interviewed. Jack Nicholson, Roger Corman, Bruce Dern, Jill Banner, Carol Ohlmart, Harry Dean Stanton, John Carradine, Lon Chaney Jr., Mantan Moreland, Dennis Hopper, Scott Brady, etc. It's a reminder that many famous actors moved through both the big-budget and the micro-budget films, or that many big names rubbed shoulders with low-budget directors as their stars fell. And many stars started their careers in the basement.
Spahn's Ranch, the California, Nevada and Utah deserts, Bronson Canyon, a castle an hour or so away from Hollywood, crew members volunteering to take bit acting parts in the films, penny-pinching directors surrounded by talented but still-starving actors and crew members (think Vilmos Zsigmond) producing films so uniquely bizarre that they have survived longer in memory and fondness than the bigger-budget studio films of the same eras. (That's a mouthful of a sentence-paragraph, I admit).
Sam Sherman, in his interview, notes that the success of these indie low-budget films prompted calls from the bigger studios asking to share space on the screens. One example he recalls was the producers of "The Molly Maguires" requesting "Satan's Sadists" to play on the same bill. But, as Sherman notes, eventually the majors learned that they could produce the same type of films, such as "Halloween," for low budgets and usually better production values. That signaled the beginning of the end.
"Wild Beyond Belief" is an homage to an era that really doesn't exist anymore. Thanks to technology, even the derivative cheapie horror duds that debut on Netflix or Amazon Prime are slicker than the '60s films made by a David Hewitt or Adamson.
But they lack what these oldies have — heart and a unique style, for better or worse. That's why we love them, and we're so happy that writers like Albright have taken the time to collect and preserve its memories. This book (its Amazon page is here) is an excellent companion to Fred Olen Ray's "The New Poverty Row …" This review is cross-posted at Plan9Crunch blog here.