(UPDATE III) Who Is Sicker? Wife Beater Ron Porter Or John Kelly, His Big, Bad Defender?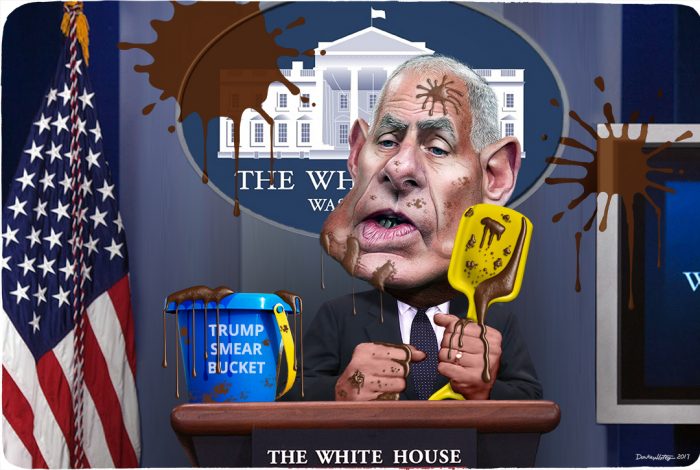 One of the greatest perversities (pun intended) of living through the Donald Trump presidency is that I still cling, my fingernails on the window ledge of the top floor of a high-rise building engulfed in flames, to the notion that there has to be some good in this godawful disaster. And so it seemed when Marine General John F. Kelly was named Trump's White House chief of staff. But yet again — yet-a-freaking-gain — I have been fooled as Kelly turned out to be not a force for order and sanity (you know, "the adult in the room") but just as despicable as Trump, albeit with a tighter tummy and better posture.
Kelly, fresh off of making headlines for suggesting that some young immigrants are unable to qualify for the federal Dreamers program because they are "too lazy to get off their asses," has stepped from one excrement-filled hole into a deeper one in defending a top administration official, Trump gatekeeper and close ally, staff secretary Rob Porter, as "a friend, a confidant and a trusted professional . . . a man of true integrity and honor, and I can't say enough good things about him."
This was mere hours before the rest of us became aware of what Kelly had known since October, according to CNN and Politico, and perhaps as early as August, according to The New York Times: Porter had physically and mentally abused his first and second wives, Colbie Holderness and Jennifer Willoughby, with whom he was involved in back-to-back marriages from 2003 to 2013.
Kelly and other officials were aware of this because the former Mrs. Porters had detailed Porter's behavior in the course of FBI background checks on him and he still has not been given a full security clearance, yet Kelly handed Porter still more responsibilities, some of them sensitive and classified documents, to control the flow of information to the beleaguered president. (White House Counsel Donald McGahn may have learned of Porter's situation in January 2017, reported The Washington Post, but also did nothing.)
According to The Times, Kelly bought Porter's line that his ex-wives were fabricating stories and just trying to cause trouble. Even after the allegations were made public, Kelly fought for Porter to stay on staff, telling him he would be able to withstand the heat, according to CNN and Axios, and an elaborate pushback was initiated when it became known on Tuesday afternoon at the British tabloid, the Daily Mail, was about to break the serial abuse story.
This pushback included an urgent request to Senator Orrin Hatch to throw together a statement praising Porter, the Utah Republican's former chief of staff, and whispers loud enough to be heard by the news media that Porter was the victim of a smear campaign orchestrated by Corey Lewandowski, former Trump campaign manager, among others.
The White House had pushed back against multiple allegations of sexual harassment and assault by Trump himself and had endorsed and defended Senate candidate Roy Moore in the face of multiple allegations (there's that phrase again) that he engaged in sexual misconduct with teenage girls when he was in his 30s, so it was believed that the Porter debacle could be contained.
So what's another abuser among friends?
But the debacle escalated into a scandal as pictures circulated of Holderness sporting two bruised eyes, one of them black and blue, and a swollen cheekbone gifted by Porter while they were vacationing in Florence, Italy in 2005. Kelly dutifully hemmed and hawed before mumbling to the press about being "shocked" and "there being no place for domestic violence in our society."
But — and you just knew there was going to be a but — Kelly added: "I stand by my previous comments of the Rob Porter that I have come to know since becoming chief of staff, and believe every individual deserves the right to defend their reputation."
Porter, meanwhile, cleaned out his desk on Thursday afternoon and may be seeking solace from his current object of affection — White House communications director Hope Hicks — who in the best tradition of the West Wing Circular Firing Squad, is said to have helped draft Kelly's statement defending Porter and also had urged him to stay on.
To make matters worse — if that is even possible in this extraordinarily sordid episode — Politico reported that an ex-girlfriend of Porter, who also works in the Trump administration, warned McGahn of Porter's history of abuse in November when she learned that he was romantically involved with Hicks.
And to make matters worse still, The WaPo reported that on Friday morning Kelly instructed senior staff to communicate a false version of events about Porter's departure — that he took "immediate and direct action" when Porter's behavior became public — which contradicts media reports and the accounts of White House insiders that he had known about it for months.
Trump, for his part, praised Porter on Friday morning and then did so even more effusively on Saturday while bemoaning in a tweet that "There is no recovery for someone falsely accused — life and career are gone. Is there no such thing any long than Due Process?" This tone-deaf outburst played nicely into Republican fears that the party's already shaky relationship with women would further benefit the Democrats.
Willoughby expained that the #MeToo movement was a reason for her coming forward. "Rob is in fact charming and intelligent and diligent and extremely good at his job." she said. "And, in capital letters, abusive and manipulative and toxic in his personal relationships."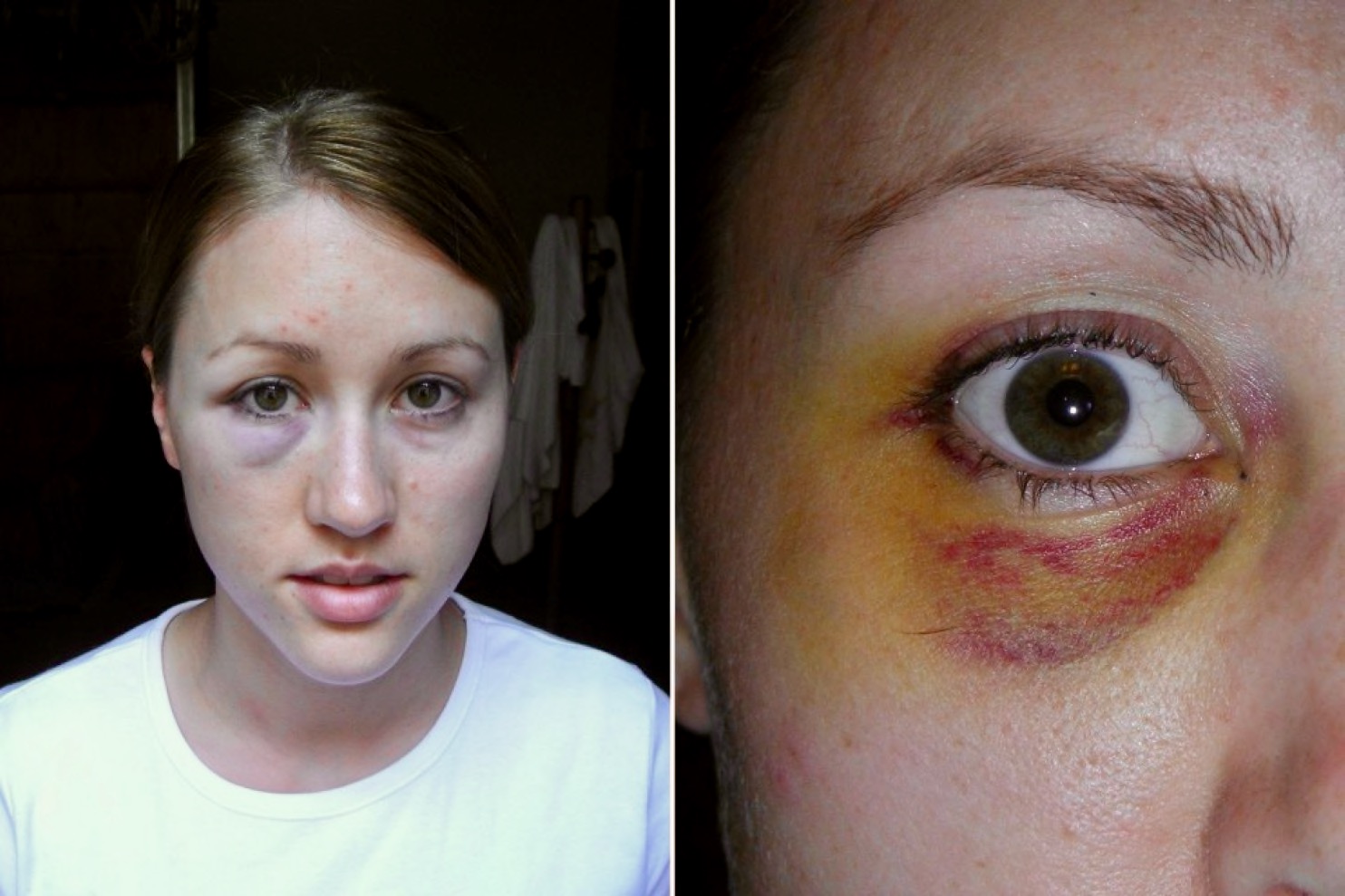 That Kelly did not extend the right to defend oneself to the former Mrs. Porters is not surprising when we recall the case of Myeshia Johnson.
Johnson's husband, Army Sergeant La David Johnson, won't be able to make Trump's big military parade in Washington because he was killed on October 4, along with three other Special Forces soldiers, while serving on a still unexplained mission in Niger.
Trump failed to acknowledge the deaths for 12 days and happened to be (guess what?) golfing on October 7 as Johnson's remains were returned to Dover Air Force Base in Delaware. Trump would golf four more times before aides convinced him to make a condolence call to Mrs. Johnson, which he did under Kelly's watchful eye, but went badly off script as he seemed to forget her husband's name and then lectured her that La David knew "what he was signing up for."
When Mrs. Johnson criticized Trump for his insensitivity, he could not resist picking another fight with a Gold Star family, having tried to belittle Khizr and Ghazala Kahn, the parents of a Muslim soldier killed in Iraq, after they denounced him during the presidential campaign.
Like the call to Mrs. Johnson, the inevitable attempt at damage control also went badly.
Trump denied forgetting La David's name and lecturing his widow, and even when it turned out that Representative Frederica Wilson, a family friend, had heard the call on a speakerphone and also criticized Trump, he did what comes naturally. He lied, falsely claiming that Barack Obama and other former presidents didn't even bother to call the families of soldiers killed in action.
Kelly's response as the adult in the room was to make matters even worse.
In an emotional speech choreographed by Trump, he noted that his Marine son had died in Afghanistan in 2012 and he hadn't whined about it. And then he assailed Wilson — apropos of nothing other than her being a convenient target — for taking credit for getting funding for an FBI building in Miami named after two slain agents at the 2015 dedication ceremony for the building.
"We are stunned," Kelly harrumphed to reporters. "Stunned that she had done it. Even for someone that is that empty a barrel, we were stunned. But none of us went to the press and criticized."
When a video surfaced of the dedication ceremony, it turned out the empty barrel — apparently a code word for a black woman who happens to serve in Congress — had not taken credit in her speech but made sure others, whom she named, did get credit. An apology was in order, but Kelly became defensive instead of contrite and said he would not apologize.
The Johnson-Wilson disaster had followed Kelly's star turn as an historian.
Asked to comment on Trump's remarks praising white nationalists and supremacists in the wake of the Charlottesville march tragedy in August, Kelly theorized that the Civil War was caused by "the lack of an ability to compromise."
Decent people take responsibility for their actions. But neither Kelly nor Hicks nor McGahn nor anyone else will follow Porter out the West Wing door.
Kelly may have had an exemplary Marine career but failed in his final act of service to his country in ostensibly trying to bring order to a White House run by a madman deeply unqualified to be commander in chief. Trump reliably brings out the worst in the people around him, and Kelly has been no exception in succumbing to and then actively conspiring in the ignorance, race baiting and lying that characterize this presidency.
CARICATURE © DONKEYHOTEY / USED WITH PERMISSION