A DoD Assessment of Puerto Rico Two Weeks after Maria Struck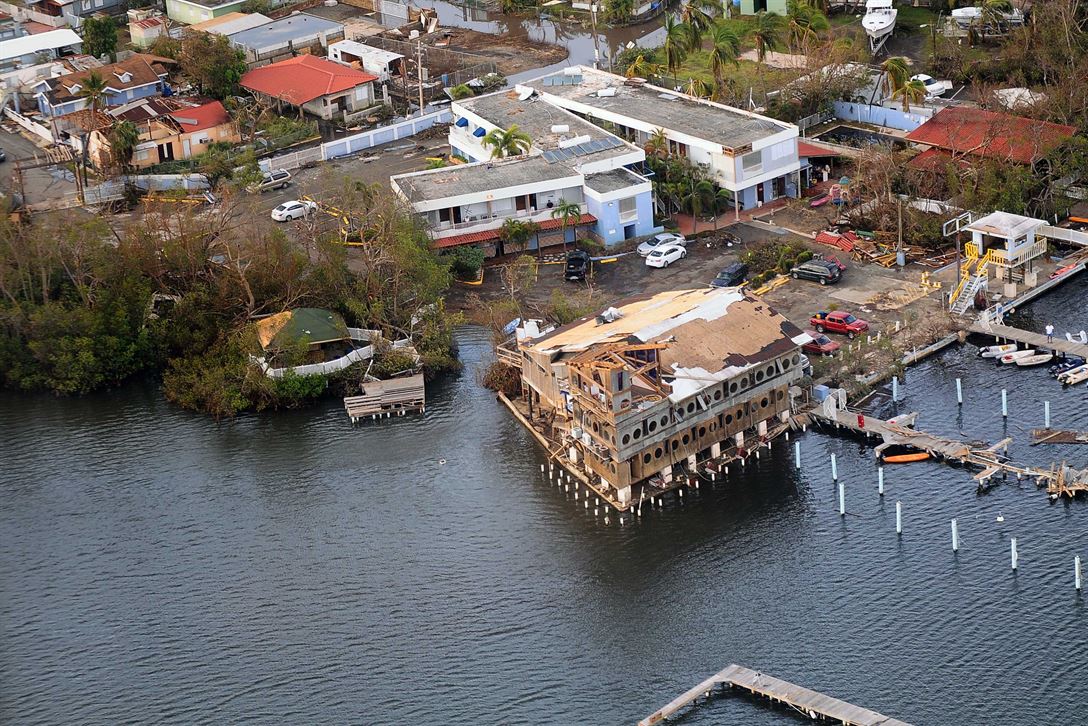 The following is DoD's "Understanding [of] Maria's Damage and the Job Ahead for Puerto Rico," as reported by Jim Garamone at the Defense Media Activity.
"To understand the problems the people of Puerto Rico face, it is important to understand the violence of Hurricane Maria, officials involved in the effort said.
The eye of the hurricane hit Puerto Rico on Sept. 20 as a Category 4 storm after laying waste to the U.S. Virgin Islands and other islands in the Caribbean. It was the strongest storm to hit the American territory since 1928.
Maria brought the full plate of threats — wind, rain, storm surge and flooding — and the island commonwealth was devastated.
When the storm passed, Puerto Rico had no electricity. Communications were out. Neighborhoods were flooded. Scarcely a building on the island was spared from wind damage. Flooding washed out roads and bridges, and toppled trees and tons of building debris blockaded roads. Officials estimate that 80 percent of all agriculture was wiped out. All airports were inoperable, and all seaports were blocked.
Maria had pummeled and isolated more than 3.5 million American citizens.
The extent of damage was so great that it required a whole-of-government effort, and planning for recovery began before the storm. The government of Puerto Rico, the Federal Emergency Management Agency, U.S. Northern Command, the Department of Health and Human Services, nongovernmental organizations and others worked together, and as soon as the storm passed, they began emergency operations.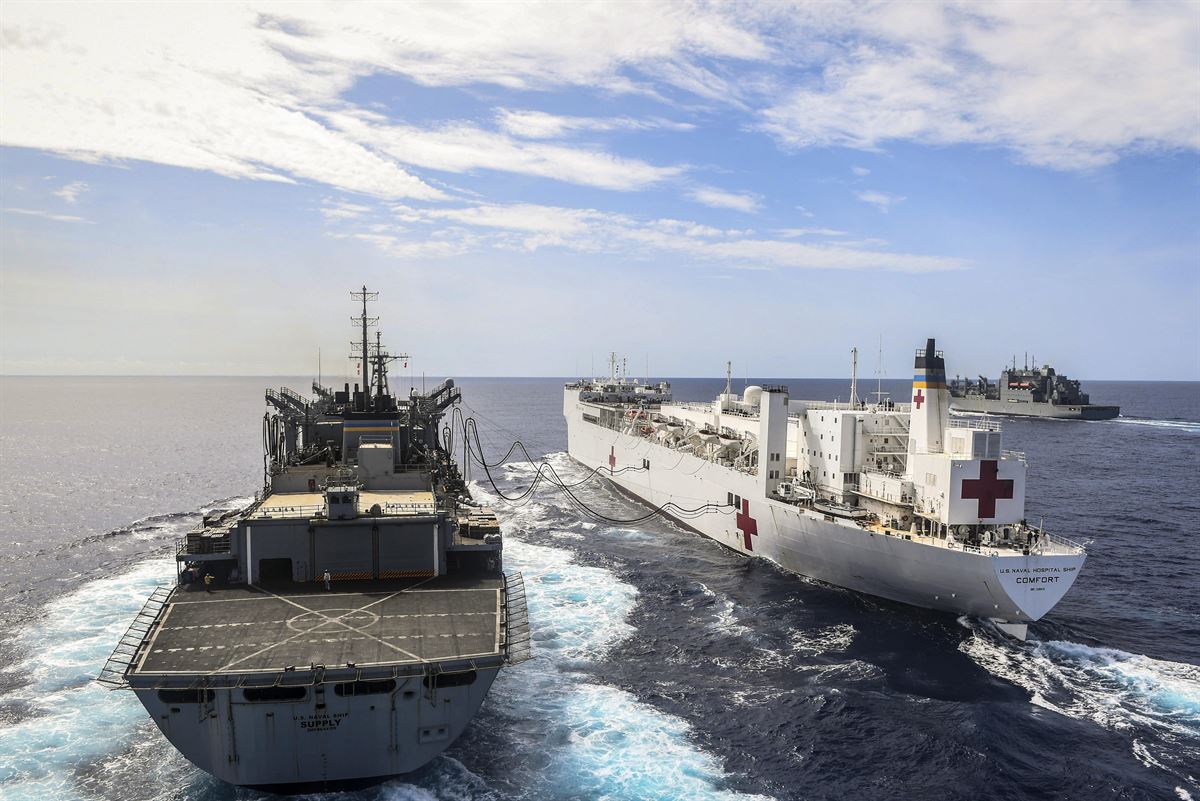 The USNS Comfort, center, conducts an underway replenishment with the USNS William McLean, left, and the USNS Supply in the Atlantic Ocean, Oct. 1, 2017, while en route to Puerto Rico to assist with Hurricane Maria relief efforts. Navy photo by Petty Officer 1st Class Ernest R. Scott
Providing Access
Access to the island was a priority, and the Puerto Rico National Guard began operations immediately. They were supplemented by the sailors and Marines of the Kearsarge Amphibious Ready Group, landing Marines over the beach because the ports were blocked.
Puerto Rico National Guardsmen work with residents to clear a road leading to homes and a Doppler radar location in Cayey, Puerto Rico, Sept. 30, 2017, in Hurricane Maria's aftermath. Army National Guard photo by Staff Sgt. Wilma Orozco Fanfan
Food, water and fuel also were priorities, and commonwealth, FEMA and Defense Department personnel worked to get these commodities to people who desperately needed them. Seaports began reopening. Runways were cleared and air traffic control capabilities were rebuilt, allowing airports to reopen. Air Force C-17s and C-5s began delivering critical equipment and personnel to the island.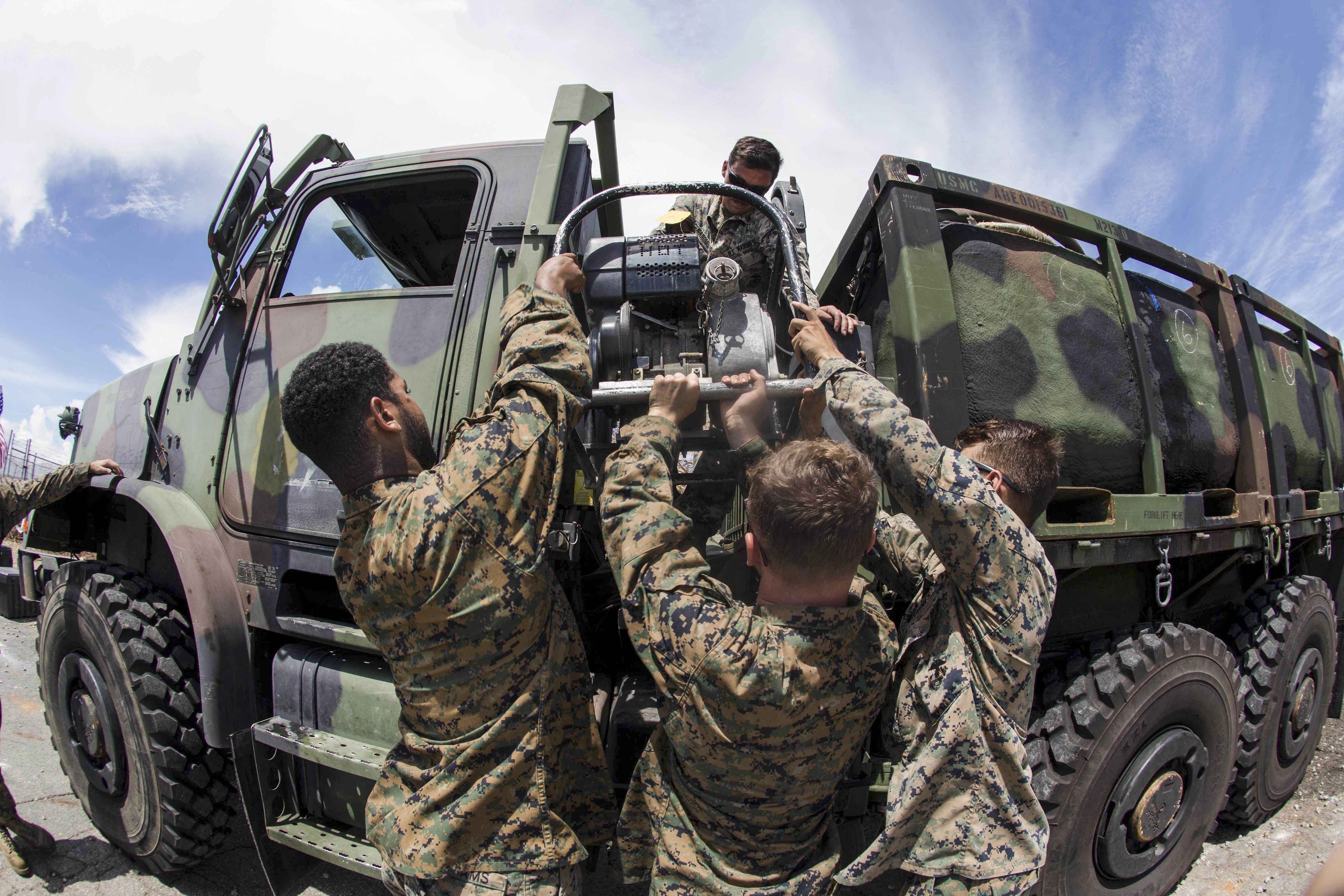 Marines lower a water pump to support Hurricane Maria relief efforts in Ceiba, Puerto Rico, Sept. 29, 2017. Marine Corps photo by Lance Cpl. Alexis C. Schneider
Lights began going on again, powered by generators. Critical nodes – the airports, seaports, hospitals and command-and-control centers – stood up. Each day featured progress, FEMA Region 2 director John Rabin said.
More Remains to Be Done
Food and water remain critical, and thousands of people are working on the logistics system to ensure all Puerto Ricans receive life-sustaining commodities. Hospitals have reopened. Electricity is trickling to key infrastructure. Roads are being cleared. Stores and gas stations are reopening. Tarps to protect damaged houses are being distributed.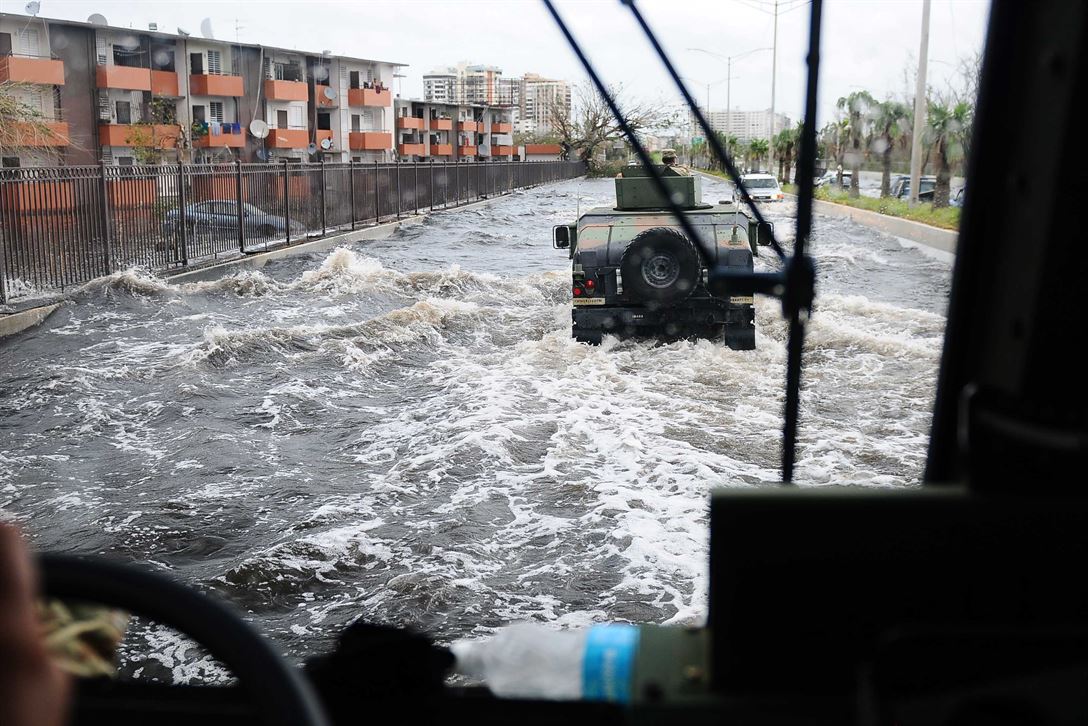 Puerto Rico National Guardsmen patrol a highway in Carolina, Puerto Rico, Sept. 22, 2017, after Hurricane Maria caused extensive flooding. Puerto Rico National Guard photo by Sgt. Jose Ahiram Diaz-Ramos
Much more needs to be done, Puerto Rico Gov. Ricardo Rossello said, noting that the island commonwealth is still in the emergency phase of operations, but that there has been progress.
Thousands of U.S. service members — National Guardsmen, reservists and active duty — are working with thousands of commonwealth and federal officials to get out of the emergency phase and enter rebuilding."
Lead photo: An areal view of areas of San Juan that were devastated by Hurricane Maria, Sept. 23, 2017. Puerto Rico National guard photo by Sgt. Jose Ahiram Diaz-Ramos