As the 70th Anniversary of D-Day Approaches, a Grateful Ally Remembers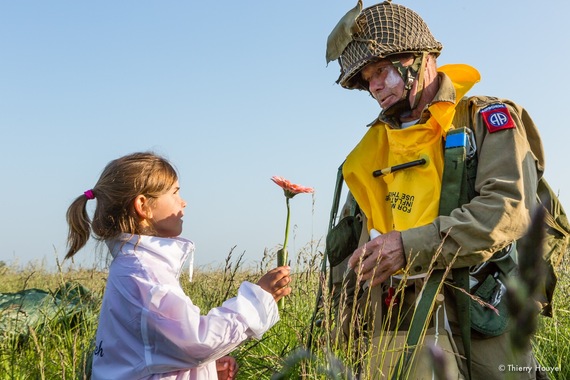 While, politically, Franco-American relations have seen their ups and downs, the historical and cultural ties that bind the French and the American people are deep, solid and lasting — Congressional "Freedom Fries" and other silliness notwithstanding.
Recently, relations between France — our oldest ally — and the United States have been "especially robust" and France has been described as "the United States' strongest European security partner," especially when it comes to supporting U.S. policy towards Syria and Iran. Last year saw numerous instances of increased political, economic and military cooperation between the two countries, including U.S. materiel and logistics support for the French intervention in Mali. Even more recently, France has stood shoulder-to-shoulder with the United States and other European allies in condemning Russia's illegal military intervention in Ukraine.
But nowhere is this special relationship more evident than in the appreciation, honor and respect the French people steadfastly demonstrate for the American soldiers, sailors and airmen who helped liberate their country in World War II.
I was reminded of this special affection when we traveled through France a few years ago and saw the numerous monuments and memorials — in small hamlets, towns, big cities and throughout the beautiful French countryside — that the French people have dedicated to the American and allied military who gave their lives in so many battles and missions on French soil and in the skies above.
Memorials such as the one we came across on the side of a narrow, winding road, "in the middle of nowhere," as Americans would say, in memory of the crew of an American B-17 bomber named "Touch The Button Nell II" that had crashed there in July 1944. The ill-fated B-17 had been at the start of a bombing run intended to destroy a strategic bridge over the Loire River in German-occupied France.
In 1998, the people of nearby Persac erected a simple monument at the site of the crash in honor of the American heroes. Etched on a white-stone, cylindrical column are the names, ranks and duty titles of the seven young Americans who died and of the two who survived that morning almost 70 years ago. The two survivors were rescued by the French Résistance. A pot with beautiful, freshly cut flowers is always present at the memorial.
Monument in memory of American airmen killed during World War II in a B-17 crash near Persac, France. (Photo by author)
I also recall the tragic crash just outside the village of Taillefontaine, near Paris, of an Army Air Corps C-46 "Commando" aircraft with a crew of four and carrying 40 wounded American soldiers and repatriated prisoners of war on their way to hospitals in the Paris area and, then, finally home. All aboard, including the wounded on their way to recovery and home were killed.
The date was May 23, 1945; just 15 days after Germany had surrendered.
For the next 57 years, residents of Taillefontaine remembered and honored the Americans by placing flowers at the site of the horrific crash. Not knowing who or how many had perished, but knowing the Americans had died for them, the Taillefontaine residents adopted them as their own.
Thanks to a French-American lady, Jacqueline Pailthorp, who herself lived through the horrors of the Nazi occupation of France during World War II, and because of the efforts of Talleyrand officials and residents a monument was built in 2002 on a hill overlooking the crash site in honor of the American heroes.
At the dedication ceremony (below), Daniel Cartigny, a French World War II veteran who fought with U.S. troops, referring to the fallen Americans, said, "Today, they are among us and can sleep in peace. They are not forgotten."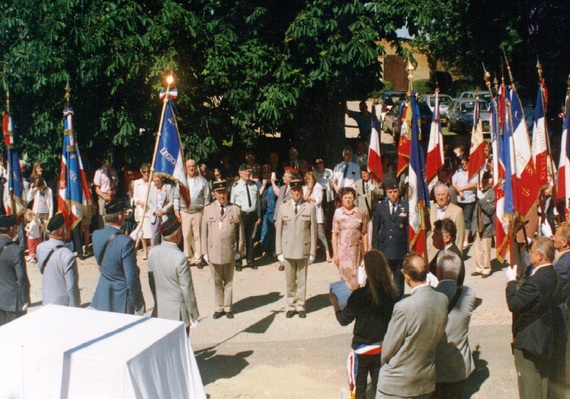 Photo: Courtesy Jacqueline Pailthorp
I am also frequently reminded of that special relationship between America and France when I listen to the fascinating stories my dear 93-year-old French-American friend, John Tschirhart, tells me in his charming French accent.
Born in Texas and brought up in France for the first two decades of his life, Tschirhart, a young American in Nazi-occupied France is forced to leave his home, family and sweetheart behind in 1941 and to make a hasty escape to the U.S. There, he joins the Army Air Corps, becomes a B-17 bombardier and ships to England from where he flies 35 combat missions over Nazi-occupied Europe. Then, just two days after D-Day, Tschirhart rolls out onto Omaha Beach as an Army Air Corps officer attached to the landing forces on special assignment.
After World War II, a decorated Major Tschirhart continues to serve in the United States military, but never forgets his French heritage.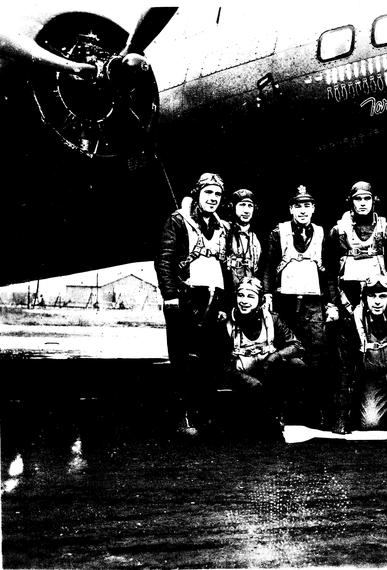 John Tschirhart, bottom row, left, in front of his B-17 in England (Photo courtesy John Tschirhart)
And neither have the French forgotten their American liberators.
As our World War II veterans leave us at an alarming rate of approximately 680 each and every day, France has been intensifying its efforts to locate, thank and honor those American veterans who risked their lives during World War II by fighting in one of four main campaigns for the liberation of France. Those who qualify are decorated as Knights in the Order of the Legion of Honor (Chevaliers de la Légion d'Honneur), Frances' highest distinction, first established by Napoleon in 1802 and approved for these veterans by the President of France on the 60th Anniversary of D-Day.
On Veterans Day 2013, Sujiro Seam, Consul General of France in Houston, awarded this high honor to nine Texas World War II veterans.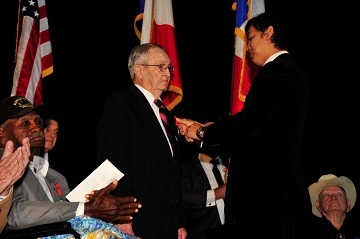 Sujiro Seam, Consul General of France decorates 92-year old World War II veteran U.J. King with the Legion of Honor, November 11, 2013. (Photo: Courtesy France Consulate General, Houston)
As the world prepares to commemorate the 70th anniversary of the Normandy Invasion, or D-Day, numerous ceremonies and events are planned in France and elsewhere, including a ceremony at Sword Beach which will be attended by President Obama, French President Hollande and other heads of state of allied countries.
There is one region in France, however, the La Manche region or département La Manche, that is pulling out all the stops to show the world that, indeed, the French have not forgotten.
And fittingly so, for it is on La Manche's 3-mile long "Utah Beach" where, at H-Hour on D-Day and nearly simultaneously with the landings at Omaha Beach, the first assault craft lowered their ramps and the first 600 men of the 8th Infantry Regiment waded through waist-deep water to the beach — another 23,000 American troops would follow.
So started, along with the landings at four other Normandy beaches, the largest amphibious landing mankind had ever seen: 156,000 Allied troops, 5,000 ships and landing craft, 50,000 vehicles supported by 11,000 aircraft. The liberation of La Manche, France, and Europe had begun.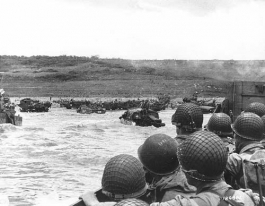 Soldiers crowd a landing craft approaching a Normandy beach on D-Day (Photo: Courtesy army.mil)
For it is also La Manche where St. Mère-Eglise is located, the first town to be liberated in France from the air by U.S. airborne division paratroopers — even before H-Hour. St. Mère-Eglise was followed closely by St Marie du Mont, the first town to be liberated by troops landing by sea at Utah Beach.
The emotive names of these and other La Manche towns liberated by allied forces and of the battles fought there between D-Day and the middle of August 1944, before the entire La Manche department was liberated — Cherbourg, Saint Lô, Carentan, Picauville, Granville, the Battle of the Cotentin, the War of the Hedgerows, Operation Cobra — are engraved in our memories and in history, along with the names of the thousands who fell there.
Freedom came at a heavy price to the Americans and Allies and to "les Manchions."
La Manche suffered 3,295 civilian casualties between D-Day and August 14, 1944.
The many American cemeteries — too many — with those neat, endless rows of white crosses speak for themselves.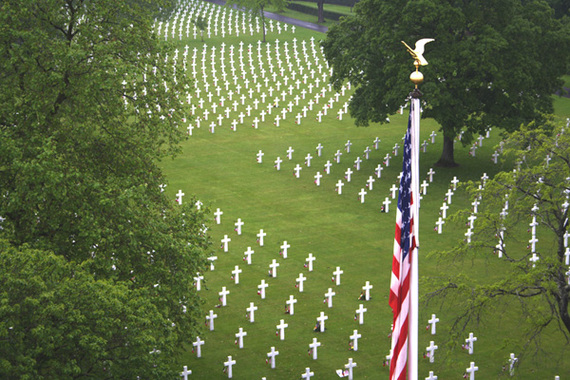 Brittany American Cemetery, Saint-James, France (Photo: Courtesy American Battle Monuments Commission)
No wonder La Manche has not forgotten.
As part of the remembrances, a delegation of officials from La Manche, including Jean-François Le Grand, president of the General Council of the Manche region, Marc Lefèvre, Mayor of Sainte-Mère-Eglise and Henri Milet, Mayor of Sainte-Marie-du-Mont traveled to Texas in March to honor and thank, on behalf of the people of La Manche and France, several of the Texas World War II heroes who, in one way or another, were part of that epic odyssey 70 years ago.
During a reception launching the La Manche initiative in Texas, hosted by the Lt. Governor of Texas, David Dewhurst, Le Grand poignantly reminded the guests that Dewhurst's father, Lieutenant Colonel David H. Dewhurst Jr., "on the morning of 6 June 1944, took command of the last group of B-17 Bombers to pound the enemy defences over Utah Beach," helping liberate France from the Nazi oppression. Le Grand added, "Importantly, tomorrow and on Sunday, we will have the opportunity to meet many of those who strove for this liberation."
Under the auspices of the France General Consulate in Houston, the French delegation did exactly that.
On March 15, the delegation honored 23 former crewmembers of the now retired, 100-year-old battleship USS Texas. A ship that on D-Day was relatively young and a ship that in the early hours of D-day, off Omaha Beach, silenced the German guns near Vierville, and a few days later went on to shell German gun batteries off the coast of Cherbourg.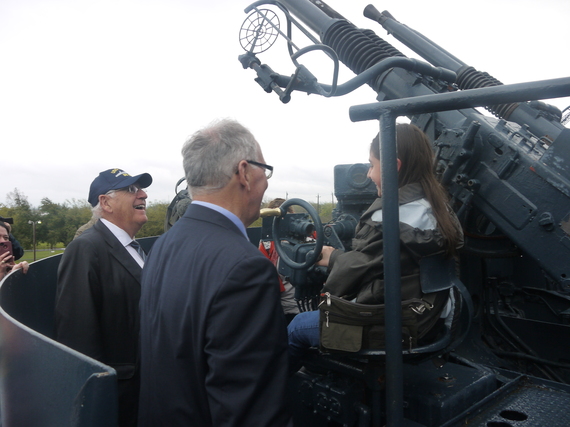 Jean-François Le Grand along with World War II crewmembers visit the Battleship Texas. (Photo: Courtesy France Consulate General, Houston)
The next day, March 16, the delegation thanked and honored more than 20 veterans who served in France during World War II (below).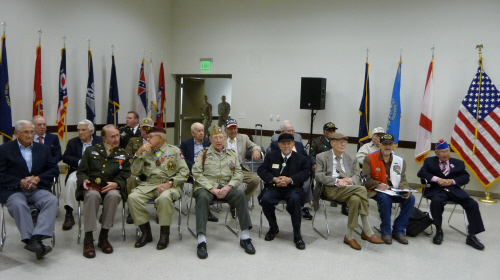 Photo courtesy La Manche Conseil General:
All veterans were presented with unique, beautiful medals containing sand from Utah Beach (below). "Grains of sand as a reminder of a commitment, a reminder of friends fallen on the field of honour and a reminder of the landings that liberated the world from the yoke of Nazi oppression," Le Grand said.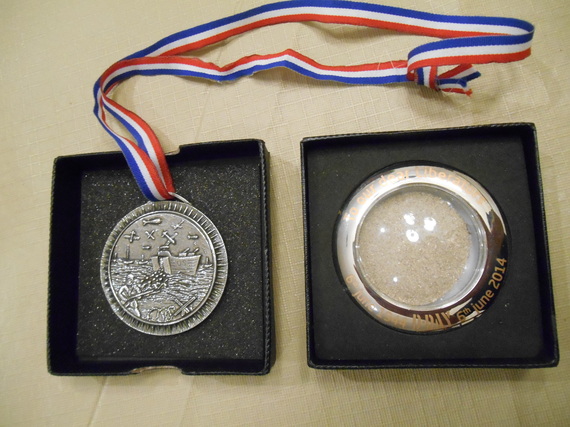 Photo by author
One of the recipients was my friend John "Frenchie" Tschirhart.
In one of his eloquent speeches, Le Grand thanked those "who left everything behind here in America to give Freedom back to France and dignity to the world."
Ironically, Tschirhart left everything behind in France first, then left everything behind in America to give freedom back to France.
French by heritage, American by citizenship and patriot by nature, Tschirhart uniquely represents the close, enduring, almost family-like nature of Franco-American relations.
Mr. Sujiro Seam, France's Consul General in Houston, perhaps said it best when he welcomed the American World War II veterans to the "French-American family reunion" at Ellington Field, Texas. A family with founding fathers, he said, "the like of Washington and Lafayette," with the sons and daughters represented by "the American soldiers who fought in France during the First and Second World Wars" and — pointing to the French delegation — "your cousins from Normandy."
CODA:
The captivating lead image of a little girl offering a flower to an American paratrooper is by renowned Normandy photographer Thierry Houyel and used by permission here.
In the author's opinion, the image captures the message the La Manche delegation wants to convey, on this 70th anniversary of D-Day, to our children and grandchildren who "no longer look upon this conflict in the same way" we — the older generation — do.
According to Jean-François Le Grand it is a message of remembering the "legacy of freedom and democracy that we have inherited," of appreciating the "values of brotherhood between our own nations and people." He adds, "It is really a message of shared peace that we should be delivering today in our commemorations."
Finally, in a poignant way, for so many of our veterans who were part of this momentous occasion 70 years ago, this may be the last decennial anniversary they will celebrate.
Thank you La Manche, thank you Normandy, thank you France for making it so special for them.
Acknowledgment:
The author extends his most sincere thanks to Véronique Lhemann, Press Officer at the Consulate of France in Houston, for patiently and expediently providing much of the information and photographs used in this story

~~
Sources:
1. National World War II Museum
2. The 70th Anniversary Normandy Committee
Cross-posted from the Huffington Post