Agua (Cartoon, Column and Video)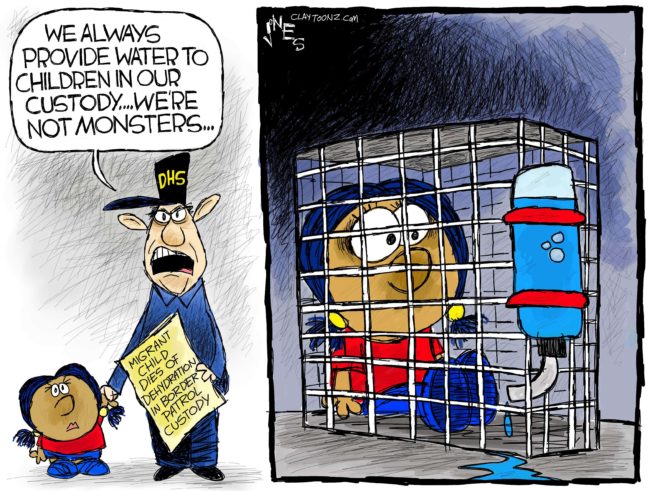 A seven-year-old Guatemalan girl died in the Custody of Border Patrol (CBP) last week. The Department of Homeland Security's (DHS) statement has only raised more questions than it answers.
The girl and her father were apprehended with a large group of migrants in a remote span of the New Mexico Desert. Reportedly, she hadn't eaten or consumed water for several days. After being in the custody of CBP for over eight hours, she started having seizures. She was transported to an El Paso hospital where she died of dehydration and shock.
Asked if food and water were given to the child, DHS only replied with blame for the father for taking his daughter on the journey to the United States through dangerous elements. She didn't die on the journey. She died in Border Patrol custody. She died when she was their responsibility.
CBP and DHS need to take responsibility. If someone's life is in danger after they're apprehended, saving their life should take precedent over detainment. The Trump administration needs to take responsibility too.
White House spokesperson Hogan Gidley said the administration isn't to blame for the child's death. Gidley said, "Does the administration take responsibility for a parent taking a child on a trek through Mexico to get to this country? No." He then heaped additional blame on Democrats saying, Congress should "pass some common-sense laws to disincentivize people from coming up from the border and encourage them to do it the right way, the legal way, then those types of deaths, those types of assaults, those types of rapes, the child smuggling, the human trafficking, that would all come to an end. And we hope Democrats join the president.
While the U.S. government will only consider claims of asylum from migrants presenting themselves at ports of entry, the Trump administration has disincentivized them from doing so, forcing them to wait in Mexico for lengthy, indeterminate periods of time before considering their claims.
Homeland Security Secretary Kirstjen Nielsen also avoided addressing concerns about how CBP treated the girl but instead characterized her death as "just a very sad example of the dangers of this journey." Nielsen is a sad example of a cabinet member.
The Guatemalan girl's death comes months after a toddler died of an illness she developed at an Immigration and Border Customs Enforcement facility in Dilley, Texas.
Aura Bogado, an immigration reporter with Reveal, sent a tweet detailing conditions in the "hieleras," the Spanish word for "icebox" that detainees and guards alike use to describe CBP's frigid holding cells.
She wrote, "This is the water people are forced to drink. It's grey and it's disgusting. It routinely makes people sick. There isn't even a place to dry your hands after you wash them. Everything is full of fecal matter."
Cynthia Pompa, an advocacy manager for the American Civil Liberties Union's Border Rights Center, said the girl's death "represents the worst possible outcome when people, including children, are held in inhumane conditions."
"Lack of accountability, and a culture of cruelty within CBP have exacerbated policies that lead to migrant deaths. In 2017, migrant deaths increased even as the number of border crossings dramatically decreased." Pompa added.
There is a culture of cruelty within CBP, as Border Patrol agents are known for pouring out water in the desert left for migrants by humanitarian groups.
The conditions migrants are escaping from are so bad that Donald Trump's threats and racist fear mongering isn't discouraging them. People seeking asylum, at least those below our southern border, know they won't be welcomed with open arms. Now, it seems they can't be met with compassion or humanity.
We're the United States, and we're supposed to be better than this. Before January 20, 2017, we were.
Watch me draw.
Email Clay Jones at [email protected]