Yes, I Use Cover-Up
March 30, 2017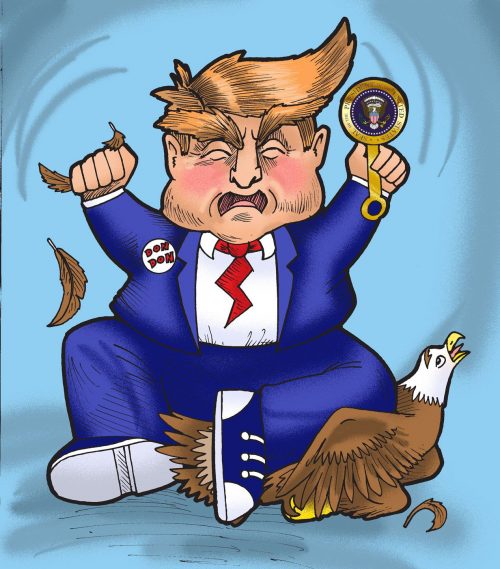 Note to readers: This is the latest entry in Super Baby DonDon's diary. The series imagines that President Donald Trump has the emotional make-up of a five-year-old and confides his deepest thoughts—such as they are—to Andrew Feinberg, and to readers, every day. In his private moments, he always thinks of himself as Super Baby DonDon.
Hey, what can I say, Super Baby DonDon has been busy so he/I/we been out of touch. I've been on a 10-day Taco Bowl cleanse. Intense!! Cleans you out like nobody's business. Christ, I've been flowing like the Rio Grande.
Speaking of liquids, can that Devin Nunes carry water or what? Unfortunately, my Gunga Din got caught getting his don't-look-there-look-HERE distractifatory info from the White House, so now people are attacking him for conducting the most obvious cover-up in history. (Sorry, Devin, that title will always belong to me.) Frank Bruni of the New York Times said Rep. Nunes might be a "complete boob." Folks, I know one or TWO things about boobs and, from where I sit, Devin the Incomplete looks a little light in the lingerie. Bruni also quoted some asswipe as saying of Nunes that "No one is asking him to bring the potato salad to the Mensa picnic."
Does anyone even know what that means? Elitist idiots. Nunes went to the College of the Sequoias, which is, like, one of the best colleges named for sequoias.
Look you Timesbaggers, when I change the libel laws, you'll be sorry.
Andrew Feinberg is the author of Four Score and Seven (https://www.amazon.com/Four-Score-Seven-Andrew-Feinberg/dp/0692664009), a novel that imagines that Abe Lincoln comes back to life for two weeks during the 2016 campaign and encounters a candidate who, some say, resembles Donald Trump. He also writes an anti-Trump humor page at www.babydondon.com or https://www.facebook.com/MeBabyDonDon.