The Ultimate Fixer-Upper: An Island Fortress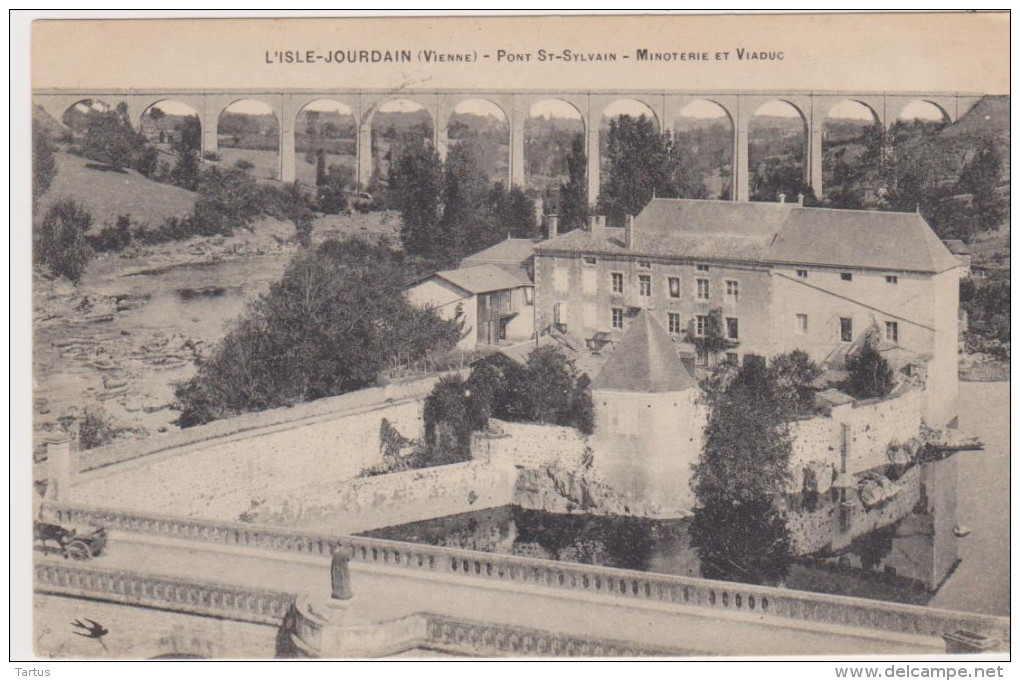 The message on "workaway.info" (a site to promote worldwide "fair exchange, volunteering and work opportunities between budget travelers, language learners or culture seekers…") is both intriguing and understated.
Here is part of it:
"We are a British couple restoring a property in L'Isle Jourdain, Vienne [France], parts of which are 1,000 years old. We began this project about a year ago and have been turning what was an overgrown, leaky deathtrap into what we hope will be a beautiful home for our family."
The message goes on to describe "the property" (a centuries-old structure) as "a building on an island separated from the town by a private bridge, and is only occupied by me (Helen), my husband (Muayad) and a few chickens, pigeons, two cats and a little dog."
Finally, the message asks for help with gardening, building, etc. in exchange for room and board.
Through some relatives living in lovely L'Isle Jourdain in rural, central France, we were fortunate to visit the "property" (in fact a château-fort) recently and to meet the very enterprising and optimistic (Pollyannaish, some may say) proud, new owners, Muayad and Helen Al-Rubeyi, both British.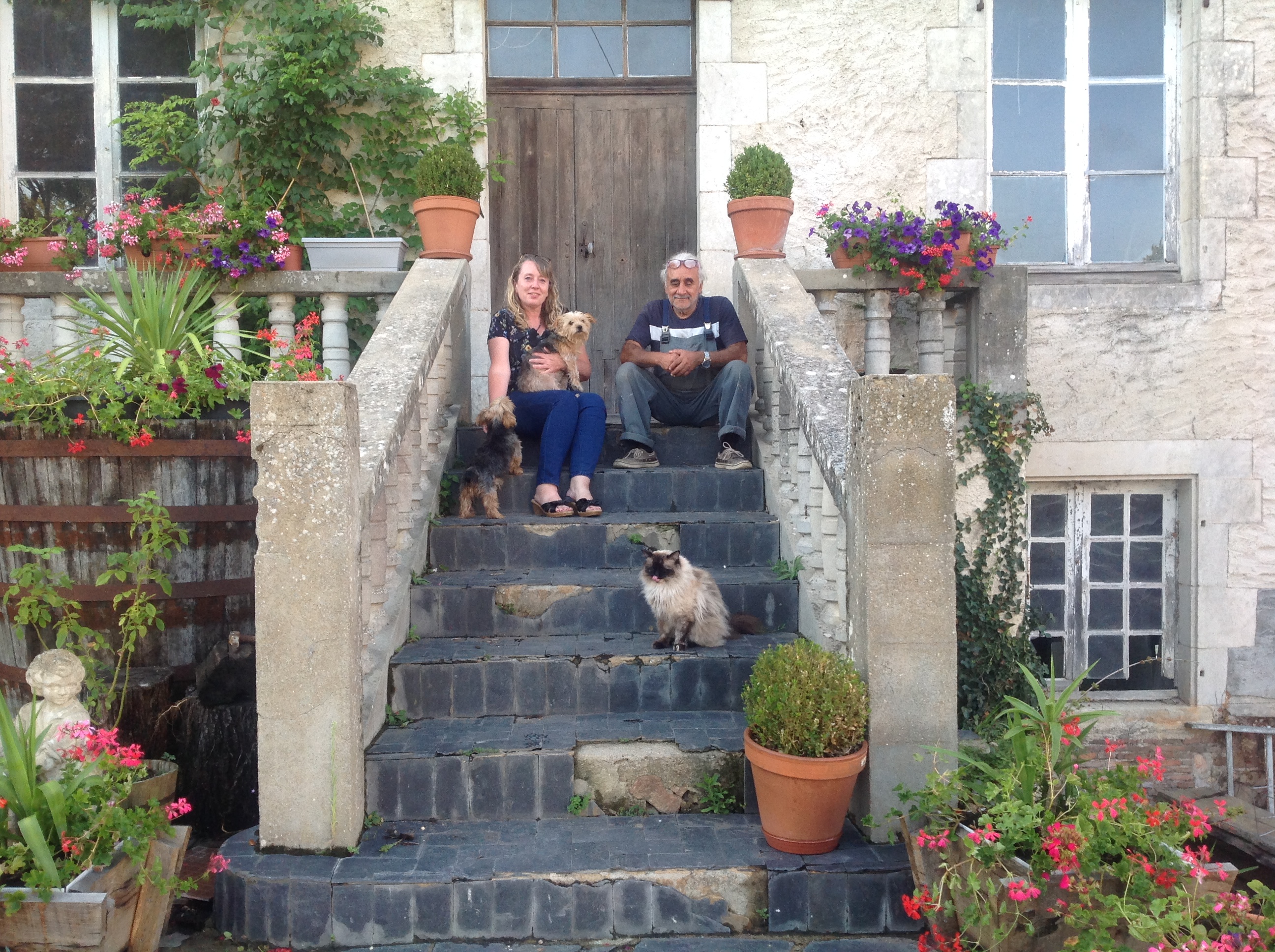 The Al-Rubeyis and trusted companions in front of their "fixer-upper"
The property, named L'Isle Fort, is proudly perched on a small island on the scenic Vienne River. It boasts breathtaking views of the river, of the historic viaduct and of the idyllic village of L'Isle Jourdain to which it is connected via a small bridge which, in turn, is linked to the beautiful bridge spanning the Vienne River.
The viaduct as seen from the fort (Photo by Brian Capaloff)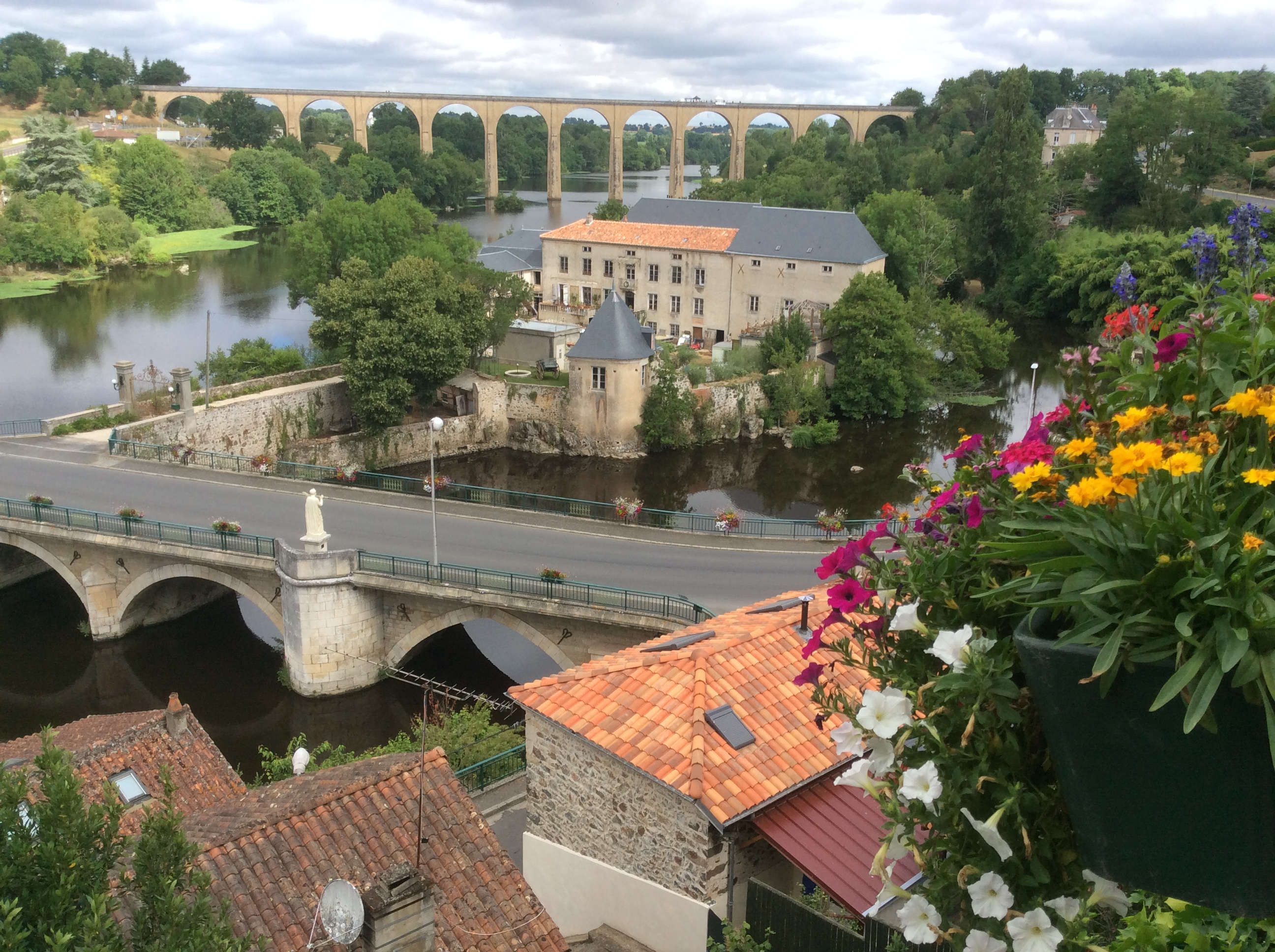 Recent photo of L'Isle Fort after significant restoration, showing bridge connecting it to the bridge over the Vienne River (Photo by author)
L'Isle Fort is both imposing and charming, comprising of six buildings spanning approximately 8,000 m² (approx. 86,000 ft²) of space, including a delightful "stand-alone" tower — one of the oldest structures of L'Isle Fort. (Below)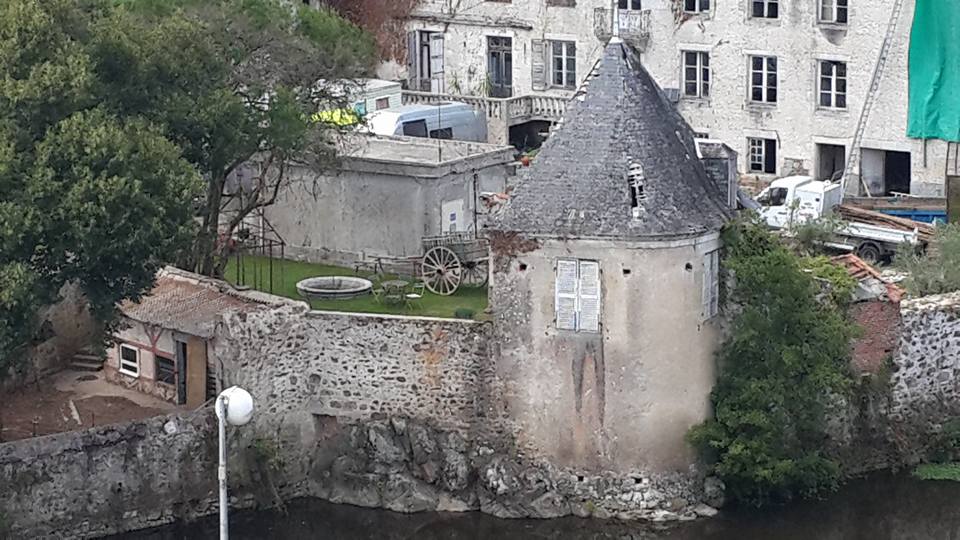 The "Tower" as restoration started
All the buildings surround a large, romantic courtyard. The fort is further adorned by gardens, a walled olive garden and what Helen calls "a sunken garden – a tranquil riverside area in the summer, disappearing when the river rises."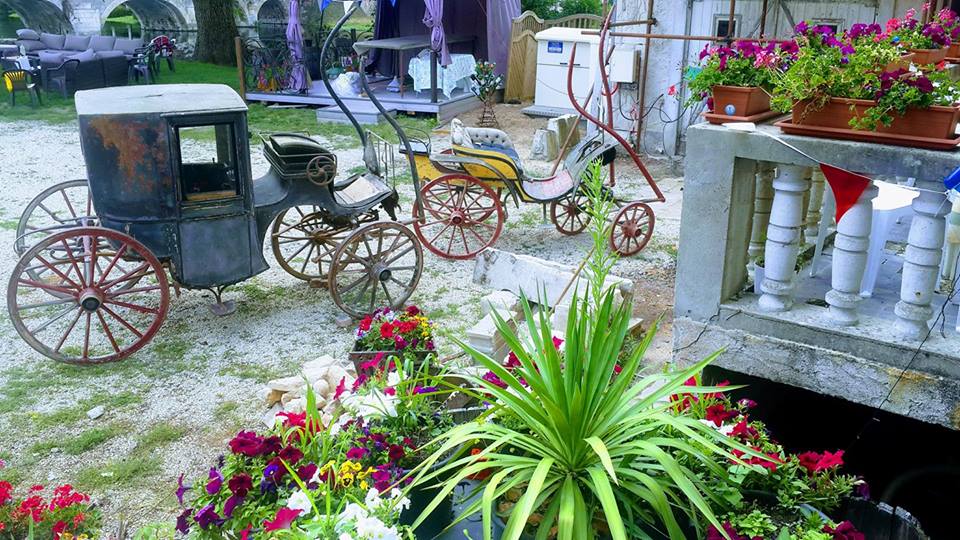 The romantic courtyard being restored, complemented by two antique carriages.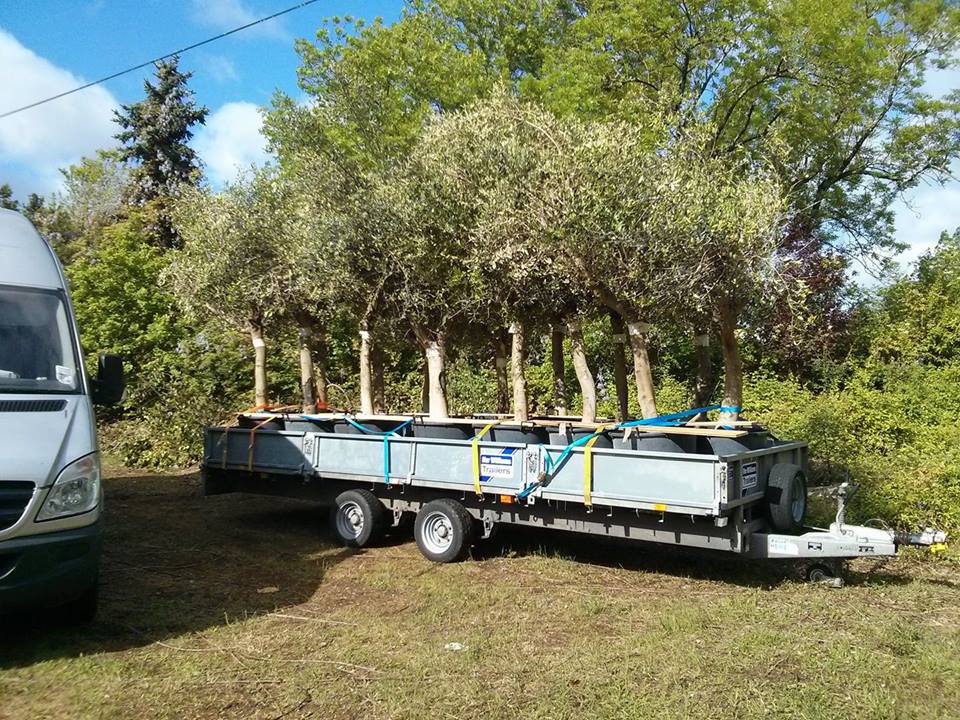 A shipment of olive trees arrives to help bring the gardens back to their former beauty.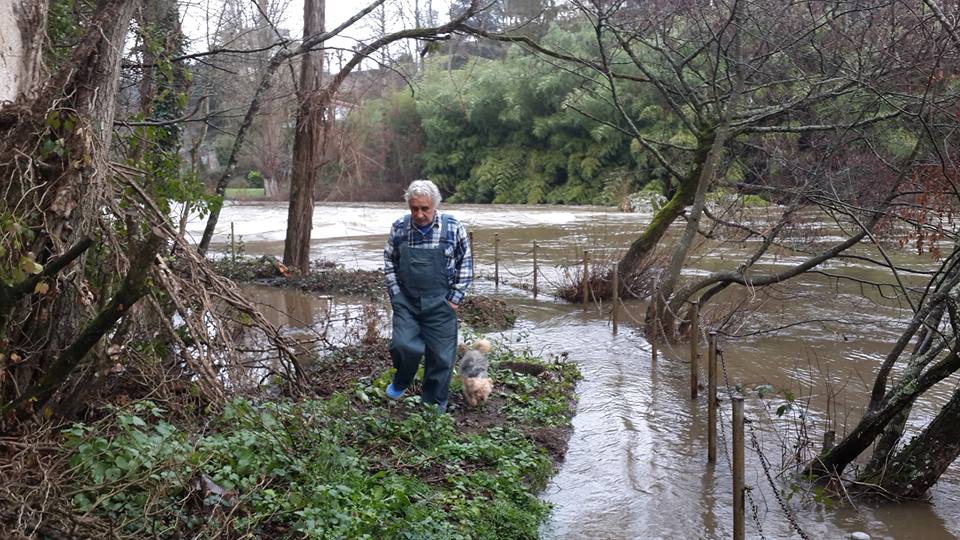 Muayad and trusted companion "Elvis" slogging through the "sunken garden"
Access to the fort is via the aforementioned bridge and through a magnificent set of gates (below) adorned with the initials "BM," after Bezagny Maillon, one of the more recent owners of L'Isle Fort.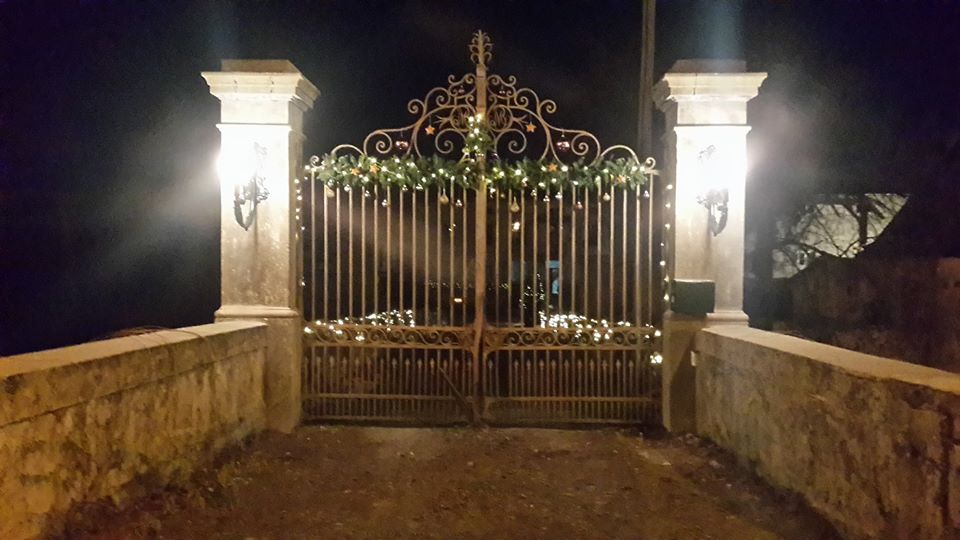 The origins of the fort, albeit intriguing, remain sketchy and scarce. A few sources date L'Isle Fort – variously described as a fortress and a château – to the 11th century, when it was owned by a Lord Jordanus de Hisla (Jourdain de L'Isle), a family of "mysterious" origins but closely tied to French noblesse. Lord Jordanus also gave the name to the town.
The château, or fortress, was built on one of the highest islands in the river in the area, presumably permitting surveillance and control of navigation on the river and probably defense, as suggested by the narrow "arrow loops" or "arrow slits" cut through the one-meter walls to permit defenders to shoot their arrows.
Through the centuries, L'Isle Fort has seen several transformations, both in appearance and in its use and purpose, reflecting changes in personal fortunes and French noblesse, and as a result of political and economic developments in the region.
The arrival of the chemin de fer to the area and the construction of the beautiful viaduct to carry the train traffic brought economic growth to L'Isle Jourdain and changed the character of L'Isle Fort. A mill (moulin à blé) was added to the fort in 1817 and then modernized into a flour mill with "four paddle wheels" in 1875. The fort became known as "la minoterie" (the flour mill). The mill continued to operate until 1970 when it was replaced by a small manufacturing activity.
Eventually, the fort was left to fall into serious disrepair, an understatement when one listens to the Al-Rubeyis' account of the condition they found L'Isle Fort in when they first arrived at the property:
"The main building was completely soaked as the leaking roof had collapsed…floors and ceilings were rotten, disintegrating and dangerous, making most of the building inaccessible. The upper floors were packed up to ceiling with a combination of rubbish, old mill equipment, etc."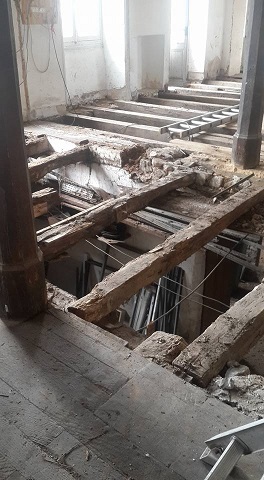 …floors and ceilings were rotten…
The new fort owners even had a challenging time reaching the main buildings: "We were barely able to walk down the driveway – driving was impossible – due to the overgrown wisteria and vegetation…an inaccessible jungle full of rubbish and abandoned vehicles" recalls Helen Al-Rubeyi.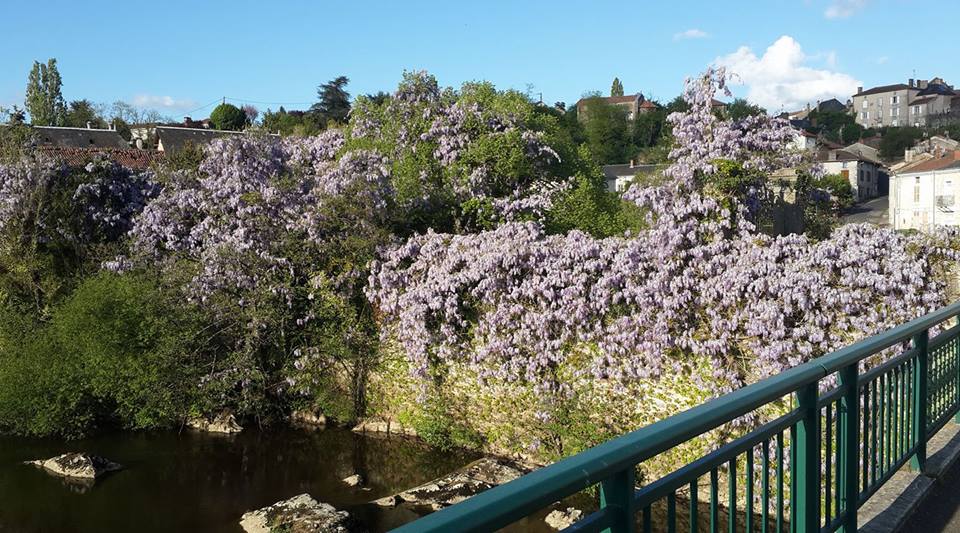 "Overgrown wisteria and vegetation…"
Once the Al-Rubeyis could hack their way to start the restoration effort ("…after filling 20 huge farmer trucks with debris, we were finally able to see the buildings and garden properly…"), they discovered what so many other dreamers and entrepreneurs have discovered: There is nothing easy about owning, renovating and maintaining a castle or any other major historic property.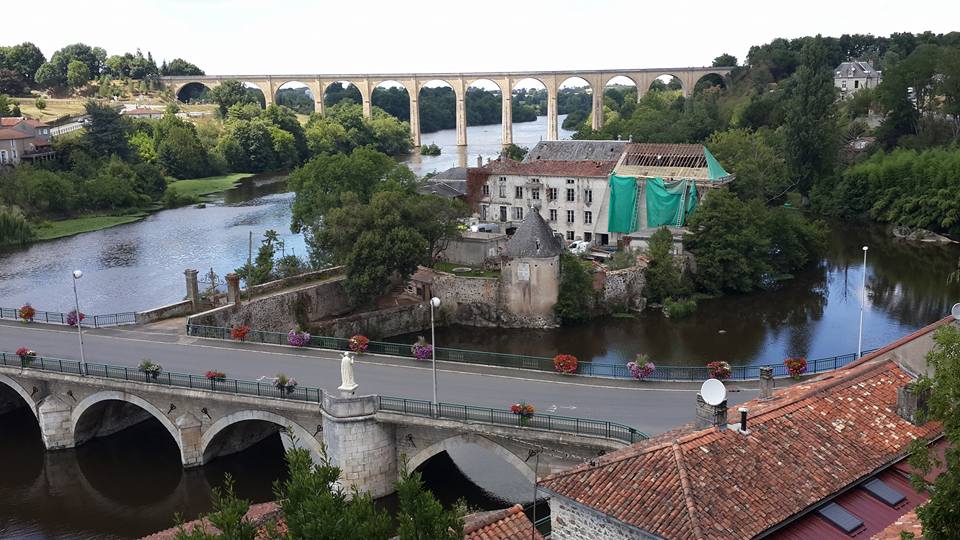 L'Isle Fort, May 2015, shortly after restoration started.
After seven months of living in and working from a mobile home parked on the property, the Al-Rubeyis finally "moved up" to a couple of restored rooms in the fort, but still had to do without adequate heating and sometimes without water or electricity, while fighting bureaucracy and coping with immense and never-ending expenses.
When we met the Al-Rubeyis at L'Isle Fort, we asked the couple how they decided to take such a gigantic and risky step: the purchase and restoration of a centuries-old chateau.
Dressed in his work overalls and glad to take a short break from another long and arduous work day, Muayad just smiled and let Helen explain.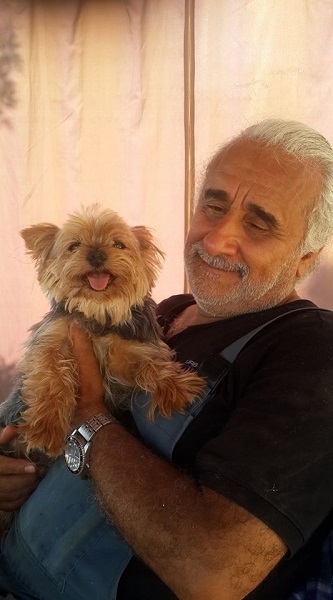 Muayad and Elvis.
"We found the place entirely by accident," Helen says, adding that Muayad and she were looking for a place in Britain to downsize from their three-bedroom bungalow in Surrey, England. Now, it is Helen's turn to smile:
"Muayad, not quite as internet savvy as the rest of us, doesn't quite remember how he got from 'bungalow in Epsom' to 'Island Fortress,' but it proved to be quite a good accident. Coming here, we expected an adventure but what we learned from day one was just how much of a responsibility it is, too!"
And an exhilarating adventure they got, along with the opportunity to make a badly dilapidated historical landmark habitable again and to return to it some of its former splendor.
At the same time, the Al-Rubeyis are giving young "budget travelers, language learners and culture seekers" the once-in-a-lifetime opportunity to literally bring history back to life.
These young men and women, called "workawayers" who return to L'Isle Fort time and time again, work extremely hard, are very aware of the significance of their work and have nothing but praise for their hosts.
Below, three young workawayers sharing a moment of companionship with the Al-Rubeyis.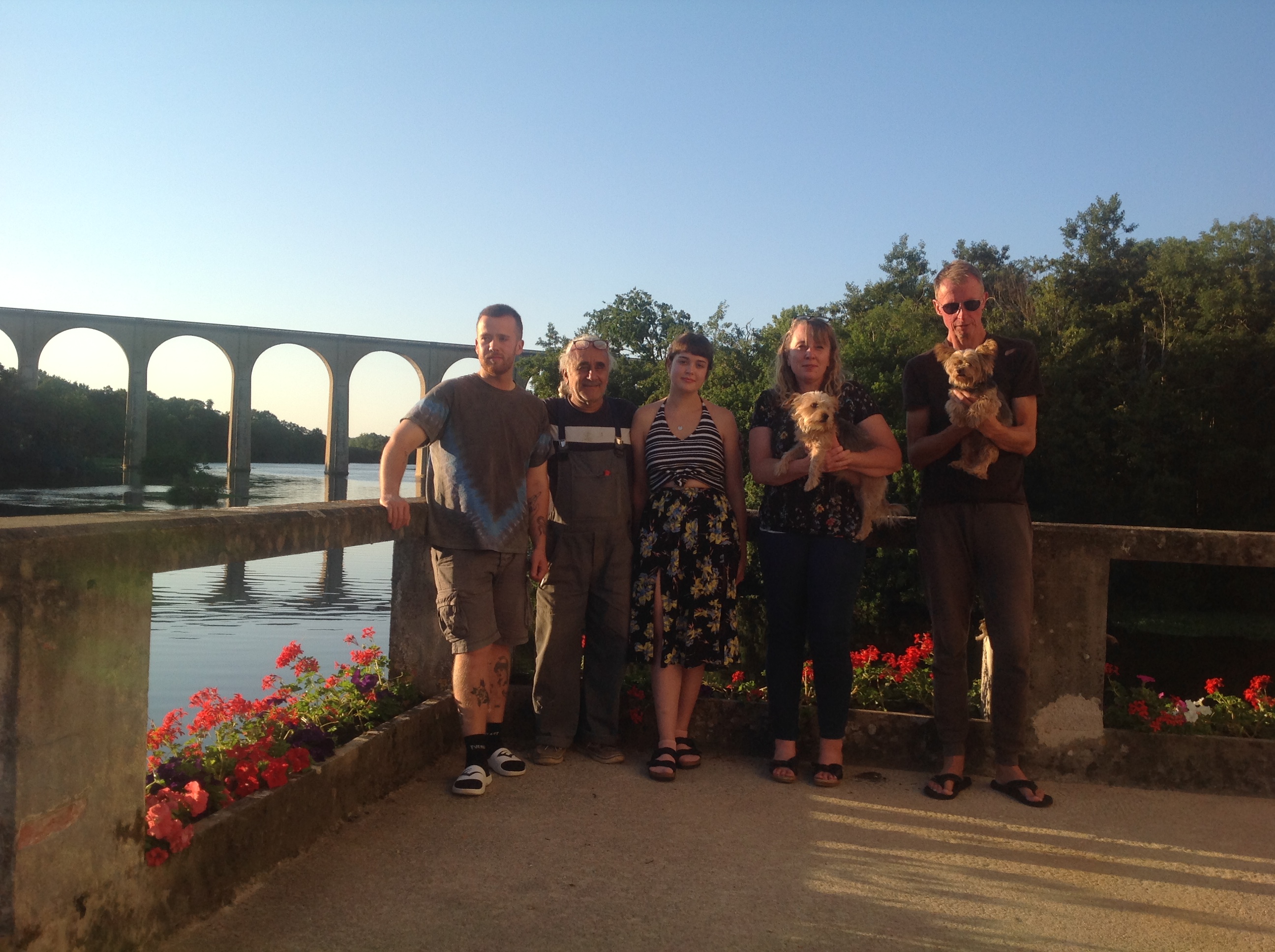 One of these young workawayers, Darren, who hails from England, took the author on a boat ride around the fort.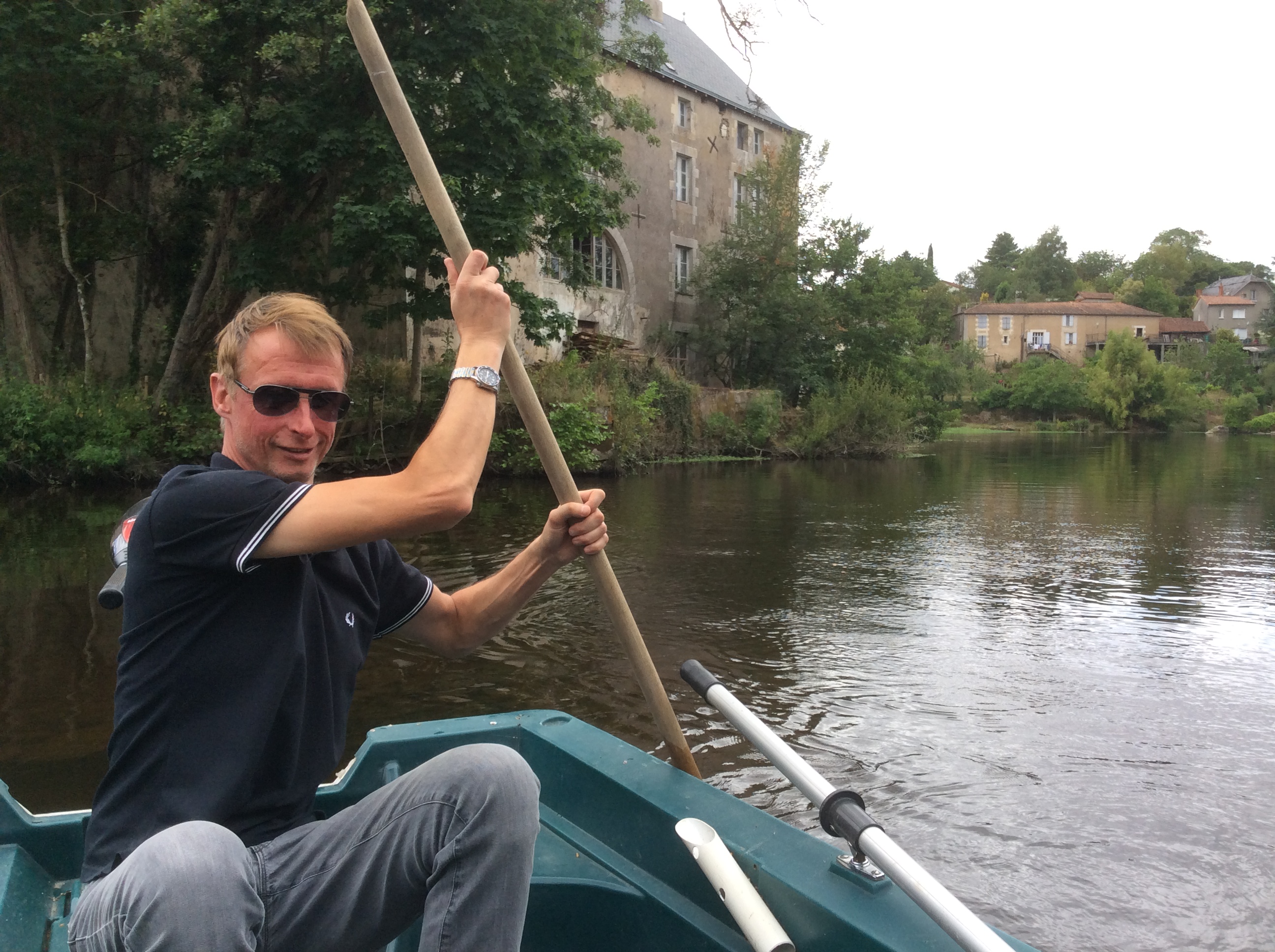 Darrell conducting a riverside tour of L'Isle Fort. (Photo by author)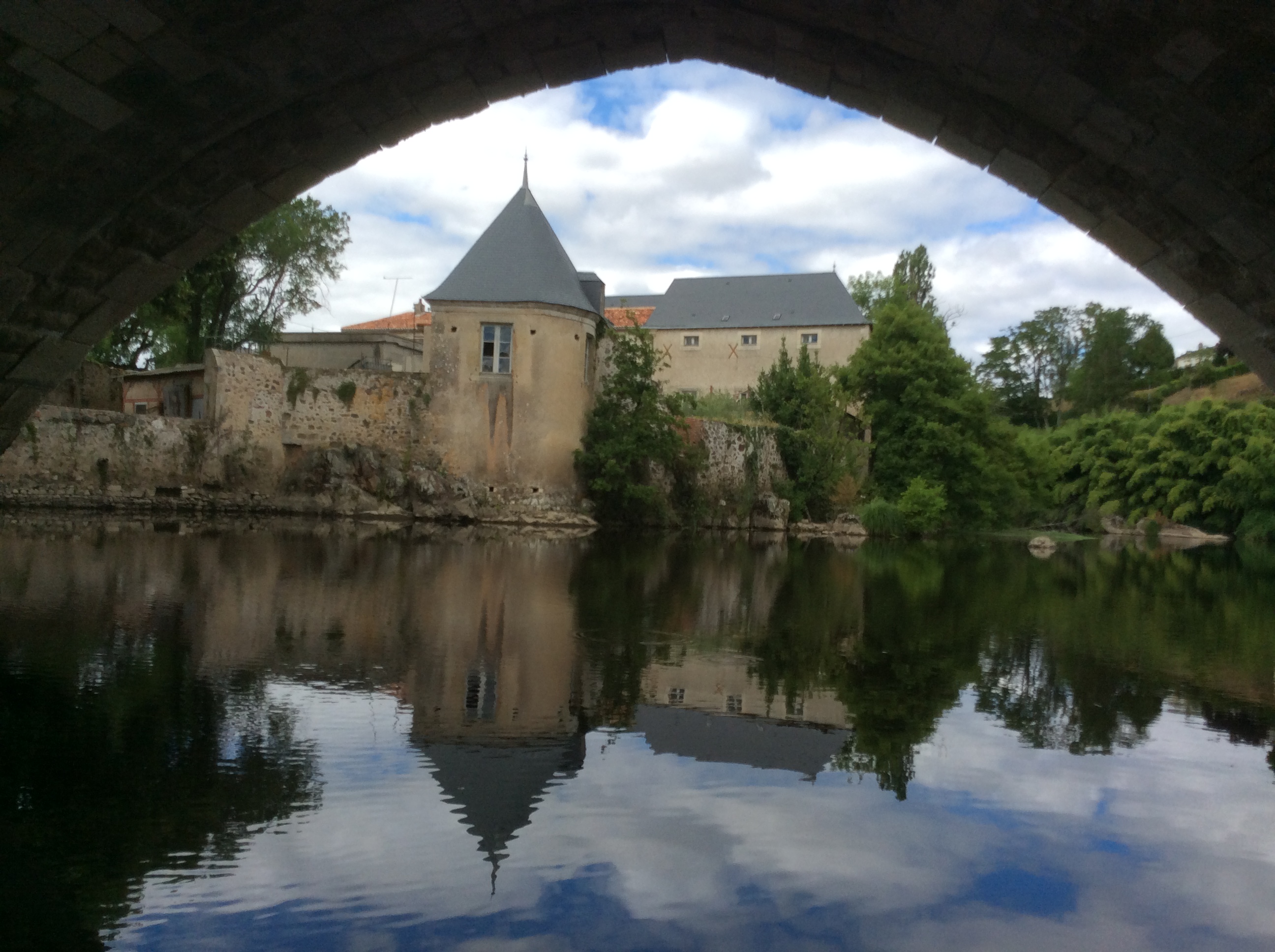 Riverside view of the fort (Photo by author)
The Al-Rubeyis, along with the young "culture seekers," still have a tough and long road ahead. The fact that Helen and Muayad plan to celebrate their son's wedding at L'Isle Fort in September is a testament to the progress they have already made and to the confidence they have in making their dream come true.
Once the "fixer-upper" work is done, the Al-Rubeyis plan to start restoring the old mill. For that ambitious, additional work they will have to rely on generous donations.
We wish them good luck and success and we will continue to report on their adventure.
Please watch the wonderful video, below, clearly showing the ongoing restoration of L'Isle Fort and the splendid surroundings of L'Isle-Jourdain. (Video produced by Paul Marshall on Phantom 3 advanced, edited in fcp and music by vinylmorphic).
Unless otherwise noted, all photos courtesy of Muayad and Helen Al-Rubeyi .
Lead image: L'Isle Fort in the early 1900s. Source www.delcampe.net