The price of denouncing Trump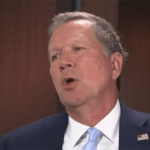 The Cleveland Plain Dealer has a story today speculating that Ohio Governor John Kasich is already making plans to contest the GOP presidential nomination in 2020.
They note that Kasich is scheduled to be in New Hampshire on August 28-29 "for a reunion with his supporters there and to campaign and raise money for GOP gubernatorial candidate Chris Sununu."
Kasich finished second to Trump in the state primary back in February and has so far declined to endorse Trump. Most interesting is the observation that Kasich has "kept alive his political operation to campaign for down-ballot Republicans across the country this fall."
Having said that, a story appearing on the CNBC website earlier in August suggests that Kasich's intentions are anything but clear. His campaign manager John Weaver had this to say:
"I suspect he doesn't know yet," . . . when asked about Kasich's presidential plans. "The day we got off the plane after he pulled out [out of the race], it was a 1 or 2 percent chance he would ever do it again. But I would say the chance has gone up, because of how outrageous Trump is."
Still, Weaver added, "Anybody who is trying to game plan what is going to happen tomorrow, much less what is happening in 2020, is crazy."
In all the reporting on this, one thing stands out: concern among some Kasich supporters that remaining on the sidelines while Clinton potentially wins Ohio, and the presidency, could direct some blame towards Kasich and hinder his 2020 chances.
Similarly, Ted Cruz's non-endorsement of Trump, while unlikely to jeopardize the status of Texas as a red state, may not be so easily forgotten.
Here are the important questions: Will Trump be so toxic by the end of the general election campaign that refusing to endorse him will be seen as a badge of honour among the party leadership and the party rank and file (or enough to of them)? If this happens, Kasich and Cruz have nothing to worry about. But if they are seen as having unnecssarily contributed to a Republican loss, even of Donald Trump, will the taste left be just bad enough to disqualify them?
We should also keep in mind that a Clinton presidency will be as much reviled as has been Obama's, so any Repubican who can be charged with helping make it happen could be in trouble.
I'm leaning towards option number two: You don't typically get to disavow your party's nominee and live to soldier on.
Put another way, when John Kasich or Ted Cruz take the debate stage in 2020 (if they do), any one of their Republican opponents will be able to say, "you stood by and let Hillary Clinton become president." No explanation will be sufficient.
Cross-posted at Phantom Pubic.