The Military Pilots 'Quiet Crisis'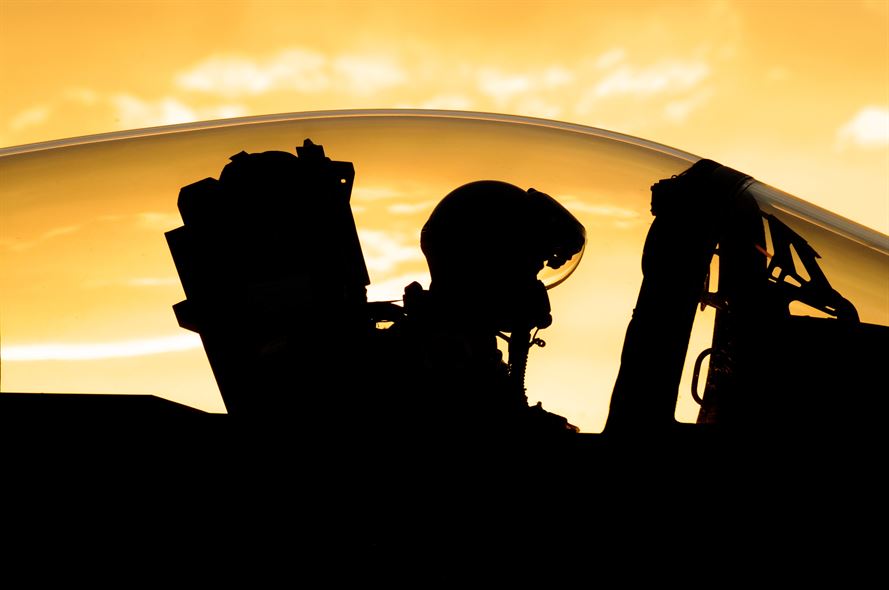 A recent Washington Post article asks, "What are the odds of a former fighter pilot being at the controls of your plane?"
The article is referring to Southwest Airlines Capt. Tammie Jo Shults, a former Navy fighter pilot — personifying "a dying breed" … "the last big generation of military-trained pilots." — who heroically brought her badly damaged Boeing 737 with 149 souls on board safely to the ground.
As the Post article suggests, the odds are not very good and are constantly decreasing.
It so happens that, on Southwest Flight 1380, the First Officer, Darren Ellisor, is also a former military pilot, a veteran of the U.S. Air Force where he flew E-3 (modified Boeing 707) Airborne Early Warning and Control System (AWACS) aircraft in the U.S, the Middle East and for NATO.
The odds of having two former military pilots in the cockpit of a commercial aircraft are even smaller.
While in the 1960s more than 80 percent of U.S. private sector pilots had military backgrounds, today only a third of those pilots have such background, according to the Post.
This is due to rising commercial demand and "changes in how the military recruits and retains its pilots," the Post adds.
The above is an understatement.
Because of a dire shortage in aircrews, for several years now, the military has begun to zealously "protect" its pilots and is desperately competing with the commercial airline industry to recruit (and retain) new talent as the airline industry "embarks on a prolonged hiring wave fueled by many of its senior pilots hitting mandatory retirement age."
Already two years ago, the U.S. Air Force was expecting its shortage of fighter pilots to grow from 500 to more than 700. The Navy and Marine Corps were facing similar challenges.
At that time, civilian airlines were hiring about 3,000 to 3,500 pilots annually and the Air Force, which was turning out between 1,000 and 1,200 pilots per year, was seen as an ideal place for airlines to recruit its pilots, according to Lt. Col. John Hale, commander of the 77th Fighter Squadron at Shaw Air Force Base.
One month later, Maj. Gen. Scott Vander Hamm, assistant deputy chief of staff for operations at Air Force headquarters, said that if nothing is done to stop it, the shortage could swell to about 1,000 pilots by 2022.
But just one year later, what then Air Force Secretary Deborah Lee James had earlier called a "quiet crisis," became a real crisis.
Discussing the pilot shortage during the September 2017 Air Force's Aircrew Crisis Task Force's "summit," Air Force Chief of Staff Gen. David L. Goldfein declared, "We are in a crisis…We're 1,500 pilots short, and if we don't find a way to turn this around, our ability to defend the nation is compromised."
Brig. Gen. Mike Koscheski, the Air Force's Aircrew Crisis Task Force director, called it "a wicked problem, one that "is not only ever-changing, [but] fights back. You can't just fix one aspect. They're interrelated."
The airlines have always seen the military as a "fertile ground" for the recruitment of "near-instantly qualified" pilots. (Military pilots can get their full air transport pilot license with relatively few flight hours.)
In an Air Force Times interview in September 2016, John Weigand, a former Air Force fighter pilot and then a United Airlines recruiter said:
When we recruit pilots, we know that the military pilot offers a known quantity, a known background…Military pilots are trained with rigor and discipline. Not that civilian folks are not, but the discipline and rigor that [military pilots] learn from the very start of their pilot training … is excellent. There are so many [civilian pilot training programs] that sometimes we don't know what we're getting.
According to the Government Accountability Office, an annual average of about 2,400 trained pilots were leaving the military every year between fiscal years 2001 and 2012.
Considering that "it costs $11 million to train a fighter pilot on the latest hardware," and that basic flight training alone lasts 1 to 2 years, it is no surprise that the military "has grown increasingly reluctant to let these million-dollar investments walk off into the private sector after a few years."
Some of the actions the Air Force is taking, or recommending, to mitigate the crisis are:
• Requiring pilots to serve longer after earning their pilots' wings.
• Offering fighter pilots "aggressive" retention bonuses for extending their service 13 more years and annual bonuses for extensions of fewer years.
• Offering other categories of pilots increases in their maximum possible bonus.
The Air Force recently approved a program encouraging certain retired pilots who retired within the last five years in certain ranks and are under age 60, to apply for a program to return to active duty in certain rated positions "to help alleviate the existing manning shortages within the Air Force rated pilot community."
In addition, the Air Force is working hard to increase the number of pilots it produces each year.
Perhaps most importantly, the Air Force is taking significant steps to improve pilots' quality of life and quality of service — a critical component of the Air Force's Aircrew Crisis Task Force's mission.
Yes, the odds of finding a former military pilot "at the controls" on your next flight are diminishing. So, if one of the pilots has the credentials of a Tammie Jo Shults, a Darren Ellisor or a Chesley "Sully" Sullenberger, you should thank your lucky stars.
Lead photo: DoD